Turkey Swedish meatballs
Look at me, all good and Scandinavian and stuff.
Swedish meatballs and egg noodles, sour preserves, and homemade pickled cucumber dill salad. I mean, let's be honest: I can barely say that I'm Scandinavian. One-quarter Swedish, with cultural ties consisting almost entirely of herring at family occasions, annual (maybe annual) visits to the Swedish Institute in Minneapolis, and a predilection for Scandinavian design.  But let's not let that distract us from how tasty this meal is.  We first made this recipe a year or two ago and we both agreed it should be "into the rotation." Too bad we always have so many things we want to cook that our rotation is about a 1.5-year cycle, on average (exception: eggs on things).  So it took us a while to make it again, but I'm definitely glad we did.
I wouldn't ever try to pass this off as a traditional, authentic Swedish meatball recipe. A true Swedish meatball would use some combination of ground beef, pork, and veal, and certainly wouldn't use challah bread crumbs. But we don't eat a lot of beef or veal at home, and the challah helps protect agains the dryness that so often comes with ground turkey.  And if using turkey means I can eat more without as much guilt (note I did not say guiltless – that is a creamy, creamy sauce), then so be it. They're delicious, no question. (But if you have a favorite meatball recipe, feel free to substitute it here.)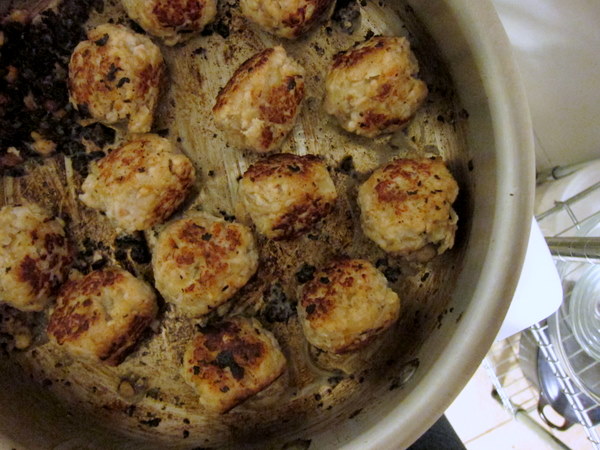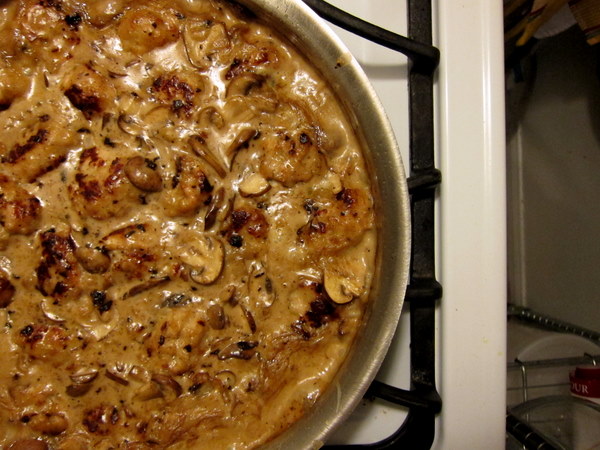 Together with some sort of homey starch – mashed potatoes or egg noodles are typical – this is the ultimate in comfort food. Creamy sauce, savory browned meatballs, luscious sauteed mushrooms, cut with the slightly bitter tang of lingonberry or other sour preserves and well-paired with a slightly sweet white wine. Best served in a cozy, warm house while the bitter cold swirls outside (but still pretty good on a balmy Southern California January evening).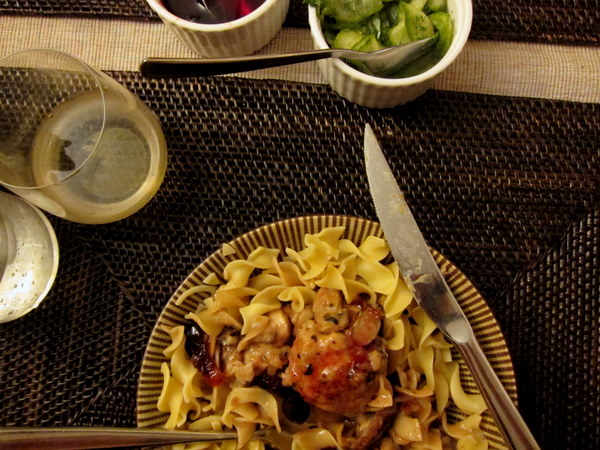 Turkey Swedish meatballs
Adapted from Food Network

For the meatballs:

Olive oil
1 medium onion, minced (pulsing in a food processor makes this easy)
1 3/4 to 2 pounds ground turkey (we grind turkey breasts in our food mill, but you can buy pre-ground)
10 ounces challah bread, food processed or blended into crumbs (about 3 1/2 cups)
1 large egg
1/2 teaspoon ground allspice
Salt and pepper

For pan sauce:

1 tablespoon butter
16 ounces cremini or white mushrooms, sliced
1/3 cup medium-dry sherry or madeira
1 cup chicken stock
1/4 cup flour
1 cup heavy cream or whole milk (or combination)
2 teaspoons Worcestershire sauce
2 bay leaves
Salt and pepper

For serving:

Starch base – usually Swedish meatballs are served with mashed potatoes, cooked egg noodles, or some other starch.
Tart berry preserves or sauce – lingonberry preserves (available at IKEA) or cranberry sauce works particularly well because it has bitter tones, but sour cherry or other similar preserves would work well too.

Note: I give directions below for using a large (10.5″) ovensafe sautee pan. You can easily sautee the mushrooms in a frying pan and use a baking dish when it comes time to put the meatballs in the oven. In a deeper dish all the meatballs don't need to be in one layer, but you do want them to be almost covered with sauce when you bake them.

– Preheat oven to 375F.

– Saute onions in olive oil in a large skillet (large enough that all of the meatballs can fit in one layer), until soft and translucent. Set onions aside to cool for a few minutes.

– In a large mixing bowl, combine the cooled onions with the turkey, bread crumbs, egg, allspice, and salt and pepper. If you want to test the seasoning, you can cook a small bit of the meat in olive oil and taste when cooked.

– Form the mixture into 1 1/2″ balls.

– Generously cover the bottom of the skillet with oil and brown the meatballs on all sides. You may have to do this in a few batches. At first the meatballs might stick, but that's okay. All of those browned bits will be incorporated into the pan sauce.

– Set meatballs aside. Add the butter and mushrooms to the pan and saute until lightly browned. Add the sherry and chicken stock, sprinkle in the flour, stir to incorporate any bits on the pan bottom, and cook until sauce thickens. Add the cream and/or milk, the Worcestershire, and the bay leaves. Bring to a simmer, stirring, until slightly thickened. Season to taste with salt and pepper.

– Add meatballs back to the pan and bake for 25 minutes. Discard bay leaves before serving.

– Serve meatballs and sauce with starch and tart fruit preserves.