All work and lots of cheese makes Bowen pretty happy, actually.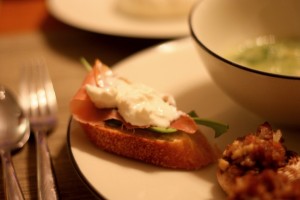 Life has lately been of the work hard, play hard variety. And as you can probably tell, "play hard" in this house means eat hard, cook hard, dine hard. As our weekday evenings slip away into class, TA sessions, work events, gym classes (strangely enough, I discovered my passionate love for pilates and for cabbage on the same evening), our weekends have run head on into baking, braising, browning, rising, breading, kneading, spreading, and on down the line.  All of which means this blog's biggest sponsor is the day Sunday, when I get the chance to sit down and record it all.
But I've gotten behind, and a bit overwhelmed with my "to blog" list. I haven't even gotten to potato/cannelini/rabe soup, eggs florentine, strawberry lemonade, or chili, and that's all from last weekend! And now it's Sunday afternoon yet again, with over a week of breakfasts, lunches, and dinners waiting to be recorded. All of these tasty stories left untold leaves me feeling a bit overwhelmed. And grateful. Grateful that I have the time, resources, and friends that allow all of these things to happen, when so many people don't have anywhere near that luxury. Life might be a little more stressful these days, a little busier and a little faster, but it's definitely good.
And speaking of good, let's start with burrata.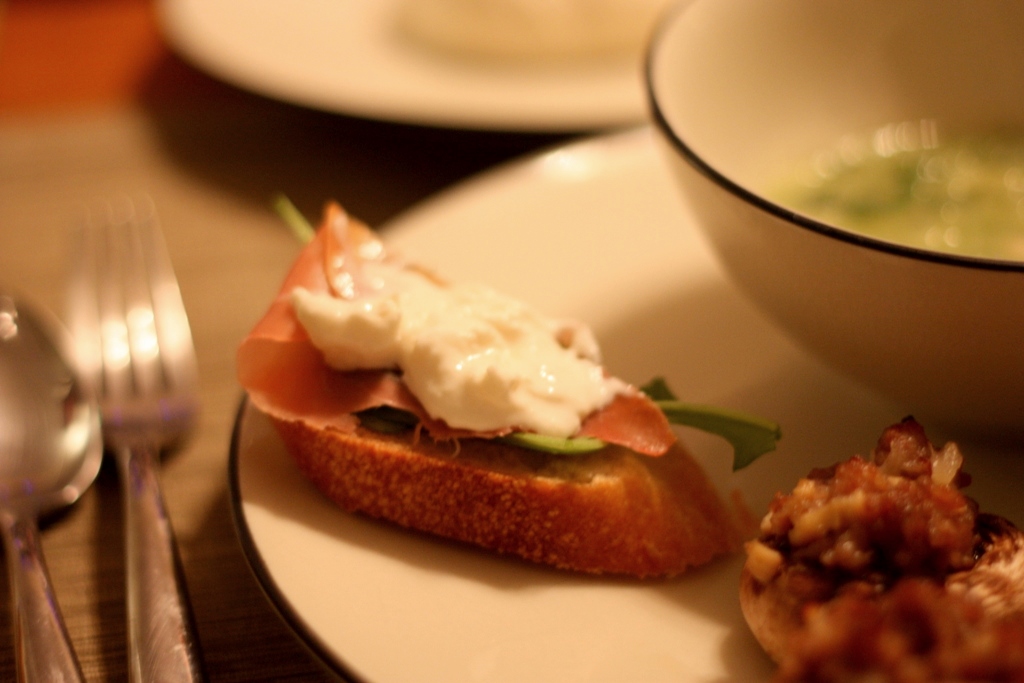 As you can recall, this delicious smear of cheese was on my list.  We happily ventured into LA for a burrata-centered dinner with Lori and Jason (and Boba, who is officially the scruffiest and cutest dog that has ever happened), toting a wedding-induced soup tureen and the makings for what turned out to be a pretty good Italian potato/cannelini bean/broccoli rabe soup (you can see it, sort of, in the top corner of the photo above).  The Lopezes provided an impressive spread to accompany the main attraction, including baguette, arugula, paper-thin slices of deliciously melty prosciutto, sausage-stuffed mushroom caps, and brussel sprouts they must have secretively sprinkled with crack, considering even after we sat back, held our full bellies, and proclaimed the dinner done I ate at least a dozen more straight from the serving bowl.
The burrata was everything I was hoping it would be … creamy, delicate, and fresh. Don't let me underemphasize that last one – this stuff tasted like it was right from the cow. If you've ever had raw milk or milk "harvested" only minutes previously, you know that fresh milk is like nothing you'd ever get in a store – it's grassy, creamy, and clean, and blows all other dairy out of the water.
It started like this: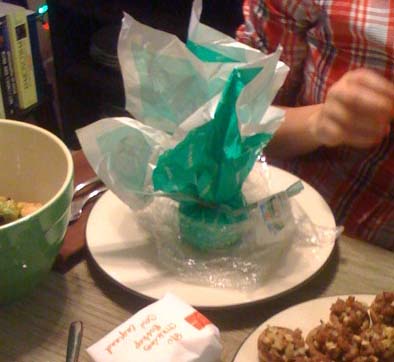 And progressed to this: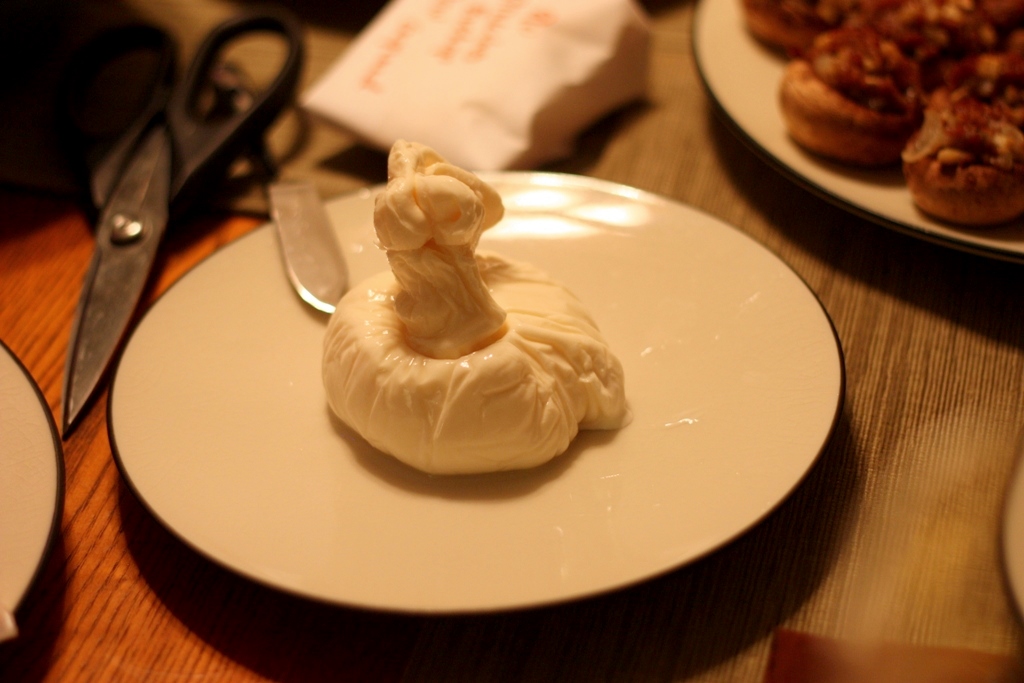 That's it right out of the package, quite a sight to behold.  We debated over eating the rather questionable-looking knob on the top (hold the unsavory jokes for the dinner table, please), but especially since the saleslady at the cheese shop had apparently noted with snobbish disgust that the top would be "way too bitter, you DEFINITELY don't want to eat THAT," we had to at least try it. I have to say it was a bit bitter for my taste, but the rest of the group liked it well enough that we polished off every little last bit of the burrata, knob and all.  The bottom (the part we were "supposed" to eat) was a package of soft, curd-studded cheese wrapped in a layer of silky, firmer cheese, which is about as good as it gets.
Definitely worthy of a culinary "bucket list," in case you ever decide to make one for yourself.