Last minute cooking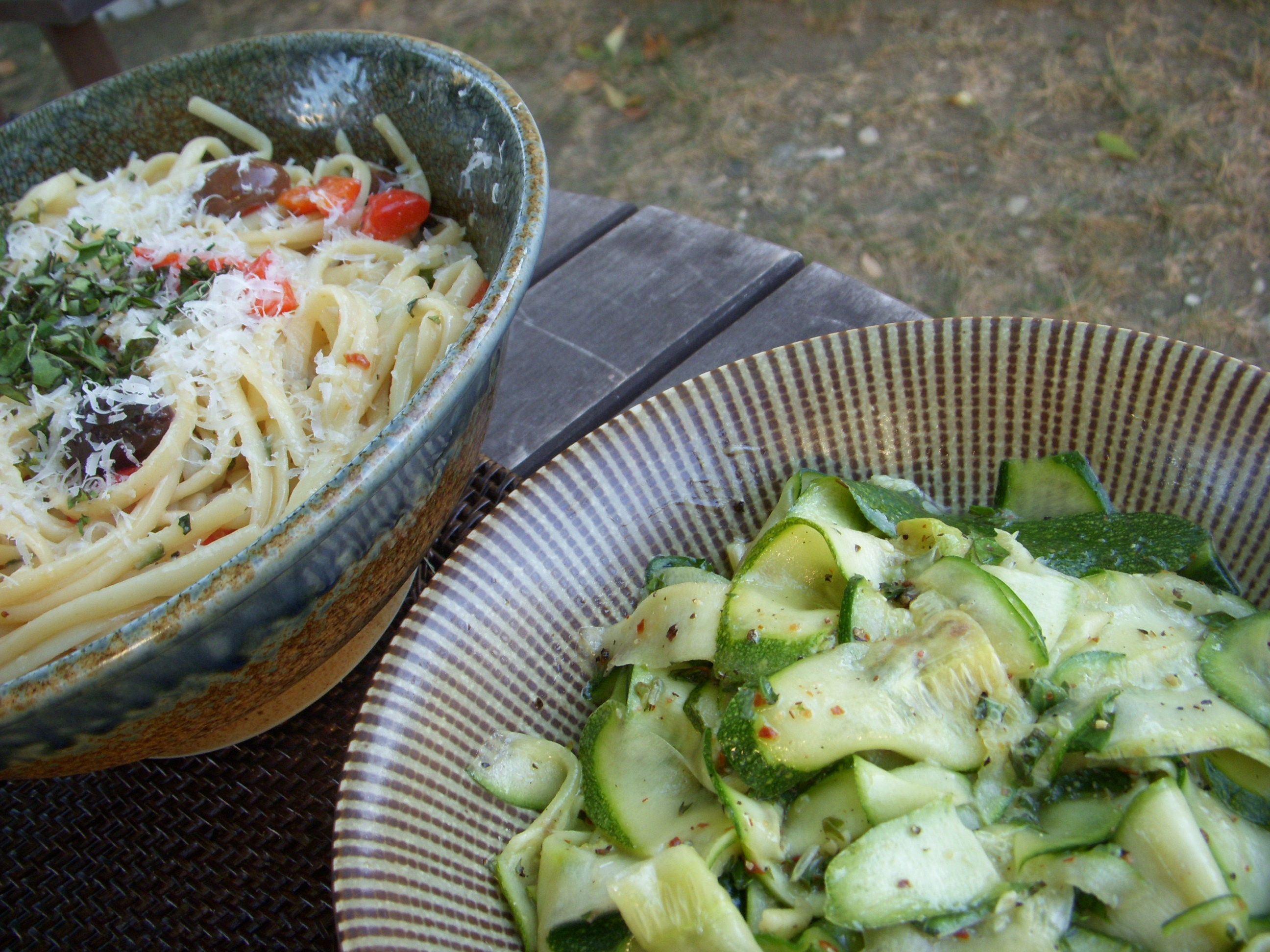 I'm going to be quick about this one, but it's been sitting in my drafts folder for about a month now. One Friday night Brett and I had plans to make something for dinner – I can't even remember what it was, so it couldn't have been that exciting. But he was running late coming home from work, and I was restless, as I often am on Friday evenings, when I have trouble winding down from work.  We didn't have much in the house, except a metric ton of zucchini and four red peppers nearing the end of their useful life. I appear not to be the only one with such a situation, since the two magazines I subscribe to (Bon Appetit and Sunset) had features in their August issues geared toward kitchens stocked with summer produce  – heavy on the volume, light on the variety.  Sifting through dozens of recipes focused on tomatoes, corn, peppers, and zucchini, I picked out a few quick, easy choices and had dinner ready by the time Brett walked in the door 25 minutes later.
The pasta is pretty straight-forward, but I cannot recommend enough the zucchini salad. I really did not expect it to be as good as it was, but it was light, refreshing, and healthy.
Raw zucchini salad
Adapted from Bon Appetit, August 2010

1/4 cup olive oil
1 Tbsp. lemon juice
1 tsp. salt
1 tsp. pepper
1/4 tsp. red pepper flakes
2 medium zucchinis
1/4 cup chopped basil

– Whisk oil, lemon juice, salt, pepper, and red pepper flakes in a bowl large enough to fit all ingredients.

– Use a vegetable peeler or mandoline to slice zucchini into ribbons – I found it easiest to lie the zucchini on the cutting board and drag the peeler across it, lengthwise.

– Add the zucchini strips and basil to the dressing and toss. Let it sit at least 10 minutes so the dressing can somewhat soften the zucchini.

Red pepper and olive pasta
Adapted from Bon Appetit, August 2010

4 servings of pasta (I used linguini, which is what the original recipe calls for, but you could really use almost anything)
3 Tbsp. olive oil
1 medium red bell pepper (from your garden, if you're cool like me), coarsely chopped
~20 Kalamata olives
4 garlic cloves, pressed or minced
1/2 tsp. red pepper flakes
1 cup fresh basil, chopped
1 cup Parmesan cheese, grated
1 Tbsp. white balsamic vinegar

– Cook pasta al dente, drain and reserve 1 1/2 cups of the cooking liquid.

– While pasta is cooking, heat oil in a large skilled over medium-high heat. Saute bell pepper, olives, garlic, and red pepper flakes for about 5 minutes.

– Add cooked pasta, basil, cheese, and vinegar to pan. Add 1/2 of the cooking liquid to start, adding more as necessary to keep everything moist. Toss in the pan and cook for a minute or two, season with salt and pepper to taste.

– Serve, sprinkling with more basil and/or cheese if desired!