Football season is the best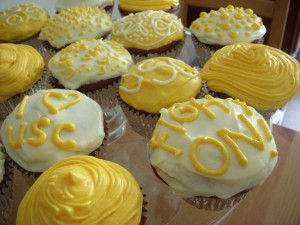 I've been traveling like a nomad lately and haven't really had time to do much of anything, much less cook … but this is just a quick note to say that Smitten Kitchen's Red Velvet Cake recipe is by far the best I've had. And I mean the best either homemade or store-bought. I sometimes find red velvet cake a little heavy, a little chalky, a little flavorless … but this is moist, light, and flavorful. The buttermilk and the baking soda/vinegar combo are key to this recipe (I almost forgot the latter, but the batter took on a very different and complex taste after adding it at the end), and these ingredients go a long way to make a really interesting and absolutely delicious cake.
I totally agree with Deb's thoughts on red velvet re: the color issue. Granted, a bright blue or green or purple cake might be a little hard for me to deal with (flashbacks to blue raspberry candy, anyone?), but I don't really understand why people go so ga-ga for the red velvet. Especially when it must be a little difficult to get right, considering how often I'm left unsatisfied or regretful when I've had it from bakeries or restaurants. But when it's good, it's good, and significantly different than a regular chocolate cake (I think). At least these cupcakes are, and I've been waiting all day to break into the tupperware container in the fridge for my second round.
A few notes:
1. It's really important to keep your eye on the baking time toward the end; when I checked at 20 minutes they weren't quite done yet (streaks of batter on the toothpick), but at 21.5 minutes there weren't even any crumbs on the toothpick, which is what you want to look for in a moist cake like this one. Taste tests confirmed that the second batch, which I kept a better eye on, stayed much more moist.
2. I halved the cake recipe so I wouldn't have 36 cupcakes on my hands, but ended up making all the frosting recipe because … well, because I accidentally softened that much butter and put it in the bowl and didn't want to deal with taking it back out of the bowl. Things happen. But this ended up being a good thing, and if anything I think the cupcakes could have even used a little more frosting. I don't know how the amount of frosting would work out for a cake versus cupcakes, but especially when cream cheese is involved, more is absolutely, definitely, 100% better.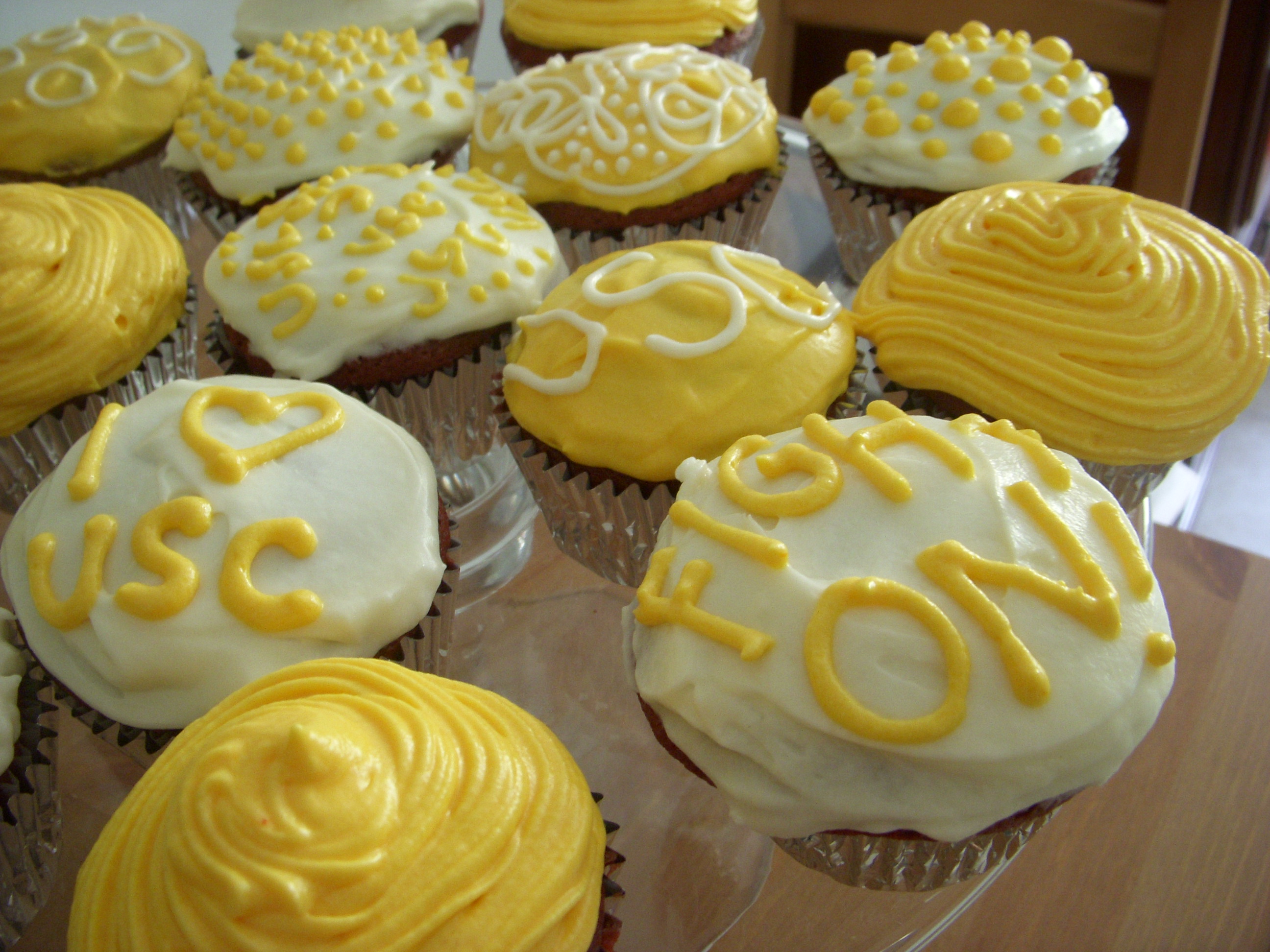 What, your husband didn't buy you a cake decorating kit for your birthday?

A little more explanation – we went to the USC v. Arizona State game last night (I may be the world's biggest Oregon fan, but I'm still a Trojany one …) and a friend who joined us requested I make a USC-inspired ice cream for the occasion. As much as I would have loved to, I was in Atlanta until late the night before, so thought a red-and-yellow (ahem, cardinal-and-gold, excuse me) cupcake might be a good substitute. It was, it surely was.