Chicken with tomatillos, potatoes, jalapeños (with veggie option)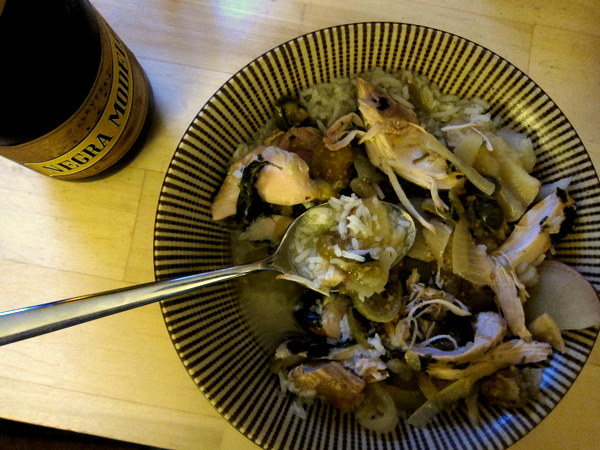 There's nothing quite so comforting as knowing that when you get home there will be dinner waiting for you, simmering away on the counter in a slow cooker. Something that has simmered all day, and is now ready to fall apart with tenderness as you scoop it into your bowl. Also as knowing you have a football game to watch, one in a dwindling reserve of games left before The Great Drought. Preferably the two together, especially after the first day back at work after the holidays.
If you're craving the sort of comfort I was on Monday – something filling and flavorful, but that wouldn't cause a belt-loosening heaviness that causes me to say "well, I'm already there, I might as well through some egg nog in too …" – this is for you. Tart tomatillos, a kick from some pickled jalapenos, a layer of sweet, almost creamy potatoes, hugged around tender chicken thighs and wading around in a flavorful, steaming broth. A bit of knife work in the morning, and all you need at dinnertime is a serving spoon and you're ready to go.  We served this with a bit of white rice and some tortilla chips, but some warm tortillas, hearty bread, beans, or other grains would work just as well.
This recipe is from Everyday Mexican, by Rick Bayless, which is our go-to Mexican food cookbook. We've never been disappointed by anything we've made, and with a few exceptions the recipes really are quite simple – everyday, in fact.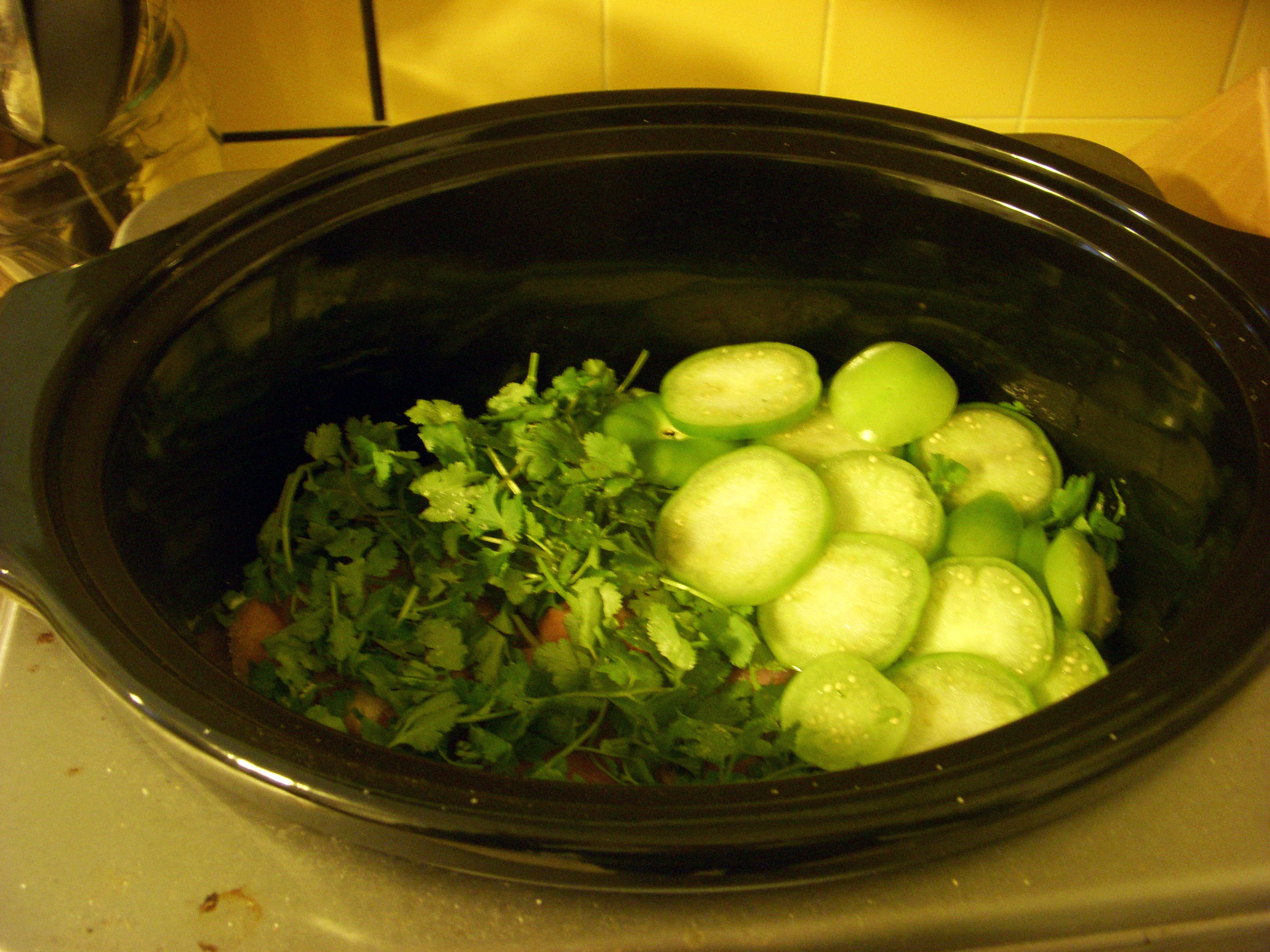 Rick also notes that this dish would work well vegetarian – substitute squash, carrots, and other hearty vegetables for the chicken and it would make an awesome Mexican vegetable stew.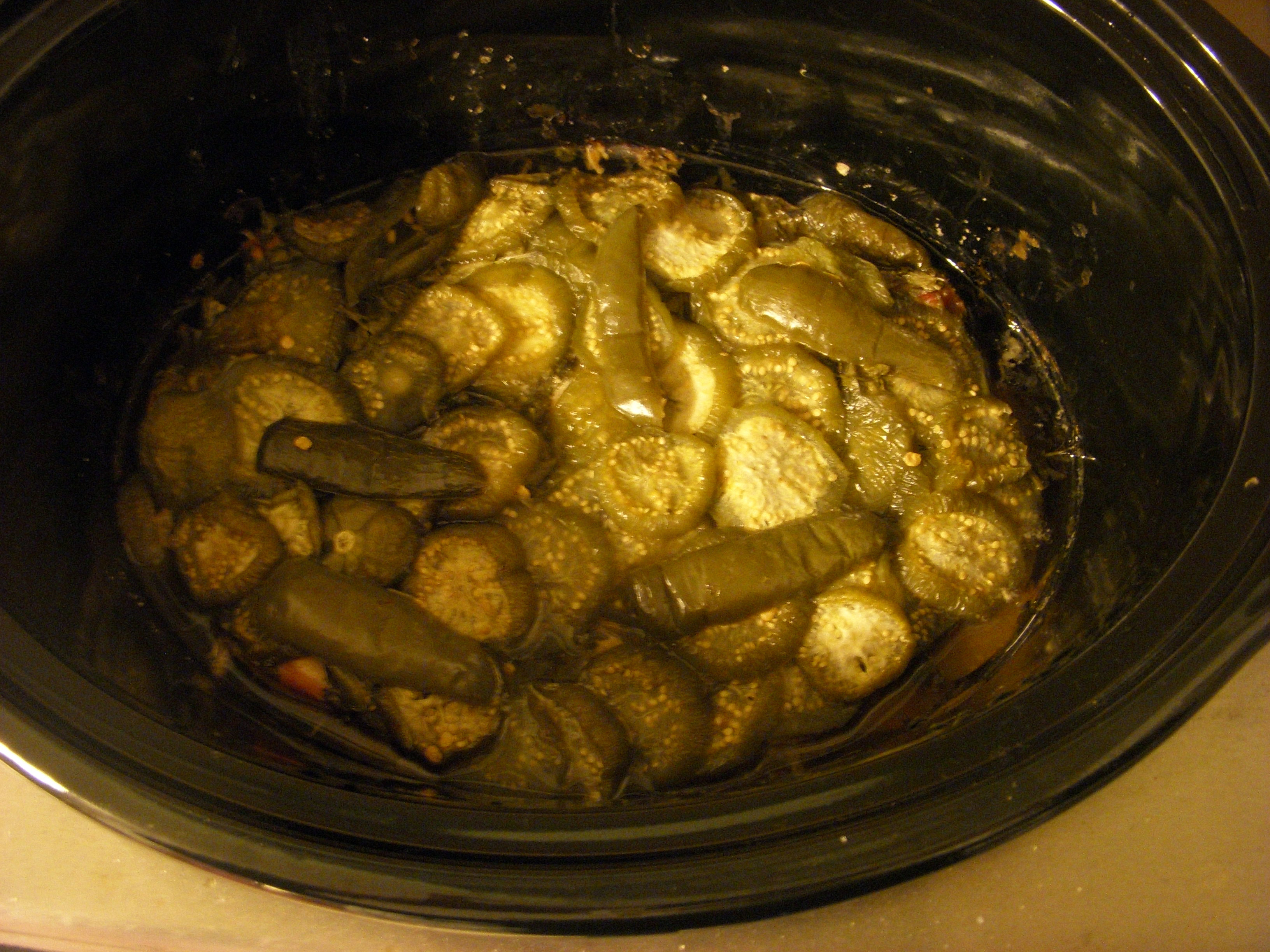 Food List 2011 completion, here I come. Slow cooker recipe? BAM. Cookbook recipe? BAM AGAIN.
And: Make rice? TA-DA, I did it.
Slow-cooker chicken with tomatillos, potatoes, jalapeños and fresh herbs
From Everyday Mexican by Rick Bayless

Serves 4, especially with rice and tortilla chips

1 medium yellow or white onion, sliced into rounds about 1/4-inch thick
4 medium (about 1 lb.) potatoes, also sliced about 1/4-inch thick
8 skinless, boneless chicken thighs (1.5 lbs – or 2 lbs. if bone-in)
1 cup cilantro leaves (yes, 1 cup – but it doesn't end up tasting too "cilantro-y" at all)
8-12 medium tomatillos, husked and rinsed and sliced 1/4-inch thick
1/4 cup sliced pickled jalapeños (likely available at a normal grocery store, but definitely at a store with a decent Mexican section)
2 Tbsp. pickling juice from the jalapenos

– Spread layers of the ingredients in the slow cooker as follows, sprinkling generously with salt after each layer: onion, potatoes, chicken thighs, cilantro, tomatillos. Rick notes that this is the only salt in the dish, so be sure to add enough. I sprinkled each layer as though I were just eating that.

– Scatter the jalapenos over everything, then drizzle on the pickling juice.

– Cover the slow cooker on high for 6 hours. If your slow cooker is awesome like mine and automatically turns to low after the timer goes off, know that it can sit on warm for another 4 hours or so before the chicken starts to overcook.

THAT IS IT. Seriously. A four-year-old could do this, if you let your four-year-old use large knives and handle raw meat.

Also: When serving, make sure to get a bunch of the awesome juice/sauce that accumulates on the bottom of the slow cooker. If you want, you can boil this down a bit to make it even richer and thicken it a bit.