A shower for Sarah
by Bowen Appétit on April 17, 2011
And, it's Sunday. How did that happen? Oh, wait, I know – I flew home from Minnesota late last Monday night, ate some pizza, went to bed, and then a bunch of days happened in which I spent little time sleeping and much less time at home accomplishing things like writing this post.
And even though I could be currently be doing things like: sleeping, or laundry, or staring off into that space two feet in front of my face that my eyes like to focus on so much, I'd so much rather be telling you about this bridal shower that I threw for my friend Sarah.  I've been looking forward to this for months, not only because it was my first real opportunity to put on a party all by myself – and a formal one at that, with decorations and paper invitations and the whole kit and kaboodle – but much more so because Sarah and I have been friends since before I even knew what a kit or a kaboodle was and I'm pretty darn happy I could throw this celebration for her.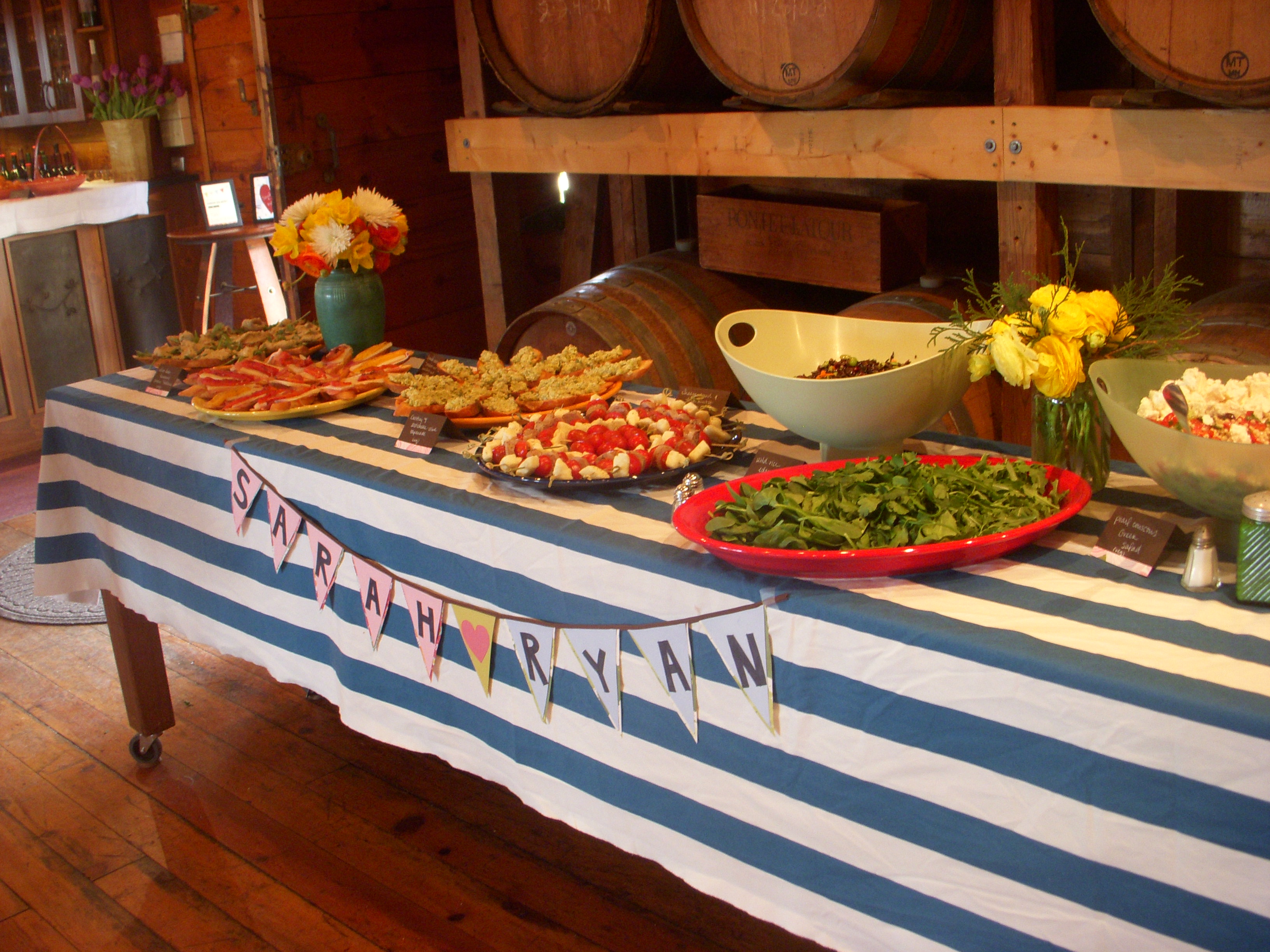 Last weekend was beautiful in Minnesota – high 60s, sunny, and the sort of day that brings the shorts out from the back of the drawers and brings people out in droves to walk around the lakes and dine at sidewalk cafes. Strange, considering just a few days later it was snowing (yes, really), but that tends to be how things go with spring in Minnesota.
We had the party at the vineyard – the one started and owned by members of extended family, that I've mentioned here before. It's about 45 minutes south of the city with an absolutely gorgeous tasting room and beautiful, rambling grounds (not to mention pretty tasty wine). A perfect setting for a celebratory, light-hearted occasion with cute party games and watching Sarah open her cocktail-themed presents (a very active process, in the case of the particularly precocious and adorable five-year-old – the ring-bearer – who assisted with throwing tissue on the floor and popping all the bubble wrap).

In planning the menu for the party, we had a few limitations – only items that could be made at least one day ahead of time or could be assembled quickly on-site that morning and that could be served at room temperature.  After a week or so of paging through magazines and cookbooks and looking through the archives of this site, I planned the menu based on some old stand-bys, some specific new recipes (most of which I tested over the last few weeks), and some general ideas I knew I could embellish based on ingredient availability and cost.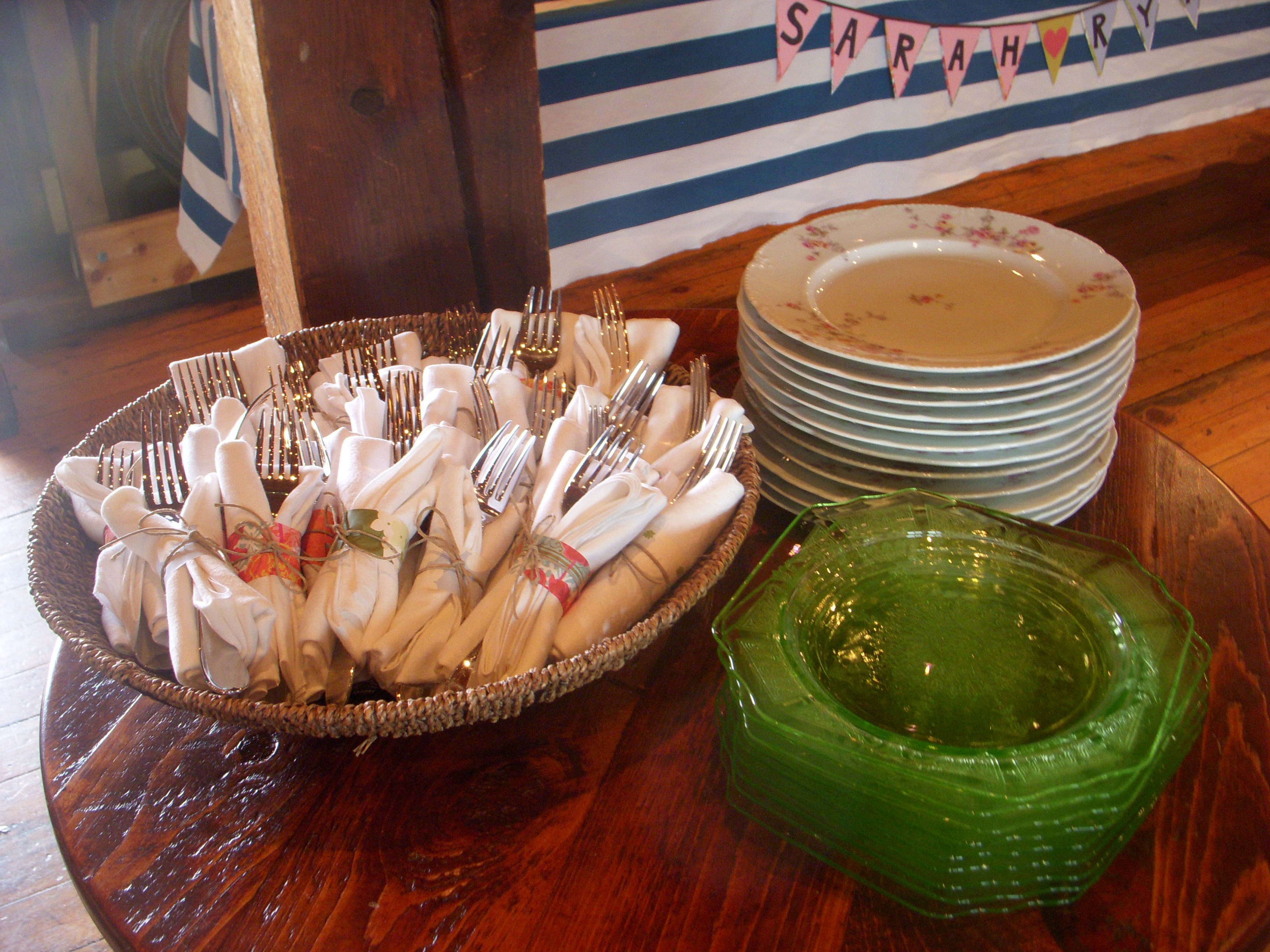 This was the first time I ever went through what amounted to a catering process – menu planning, shopping, scheduling the preparation and cooking process for a variety of items, packaging everything for transport, finishing dishes on-site, and styling everything for presentation.  We ended up with far more food than we needed, but overall everything turned out very well and that just meant that many guests got to take home a party favor of salads and cookies (and that I've eaten my weight in artichoke tapenade over the last week).
There are quite a few recipes to post from the party, and I'm going to post three of the recipes (in separate posts, coming soon) and link to others that I've posted before. If there's anything I haven't linked to or posted that you'd like in more detail, let me know. I'm happy to share, and every item we had is definitely share-worthy!
Crostini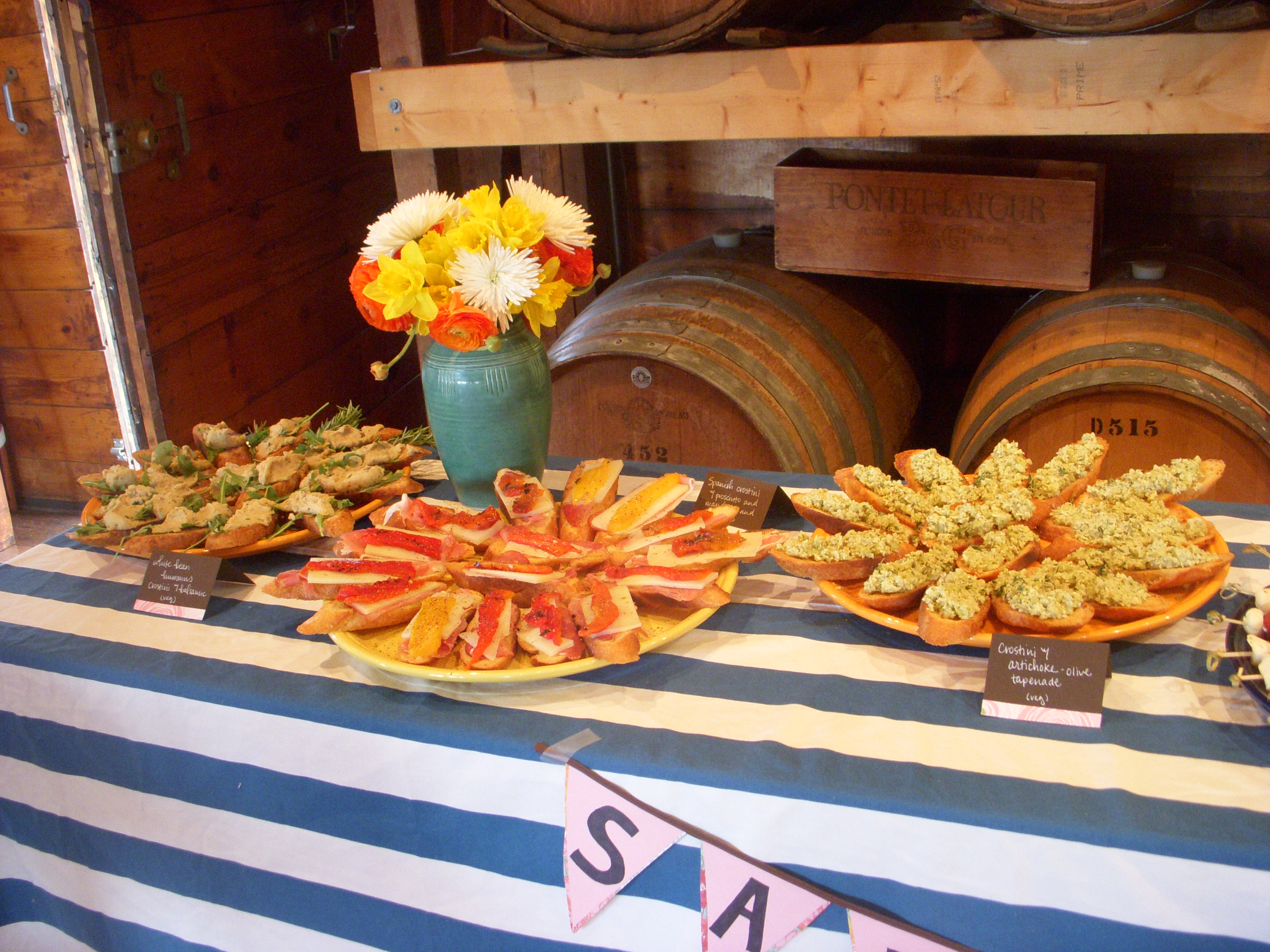 Prosciutto, manchego, roasted red pepper (jarred, from Trader Joe's), olive oil, fresh cracked black pepper
Salads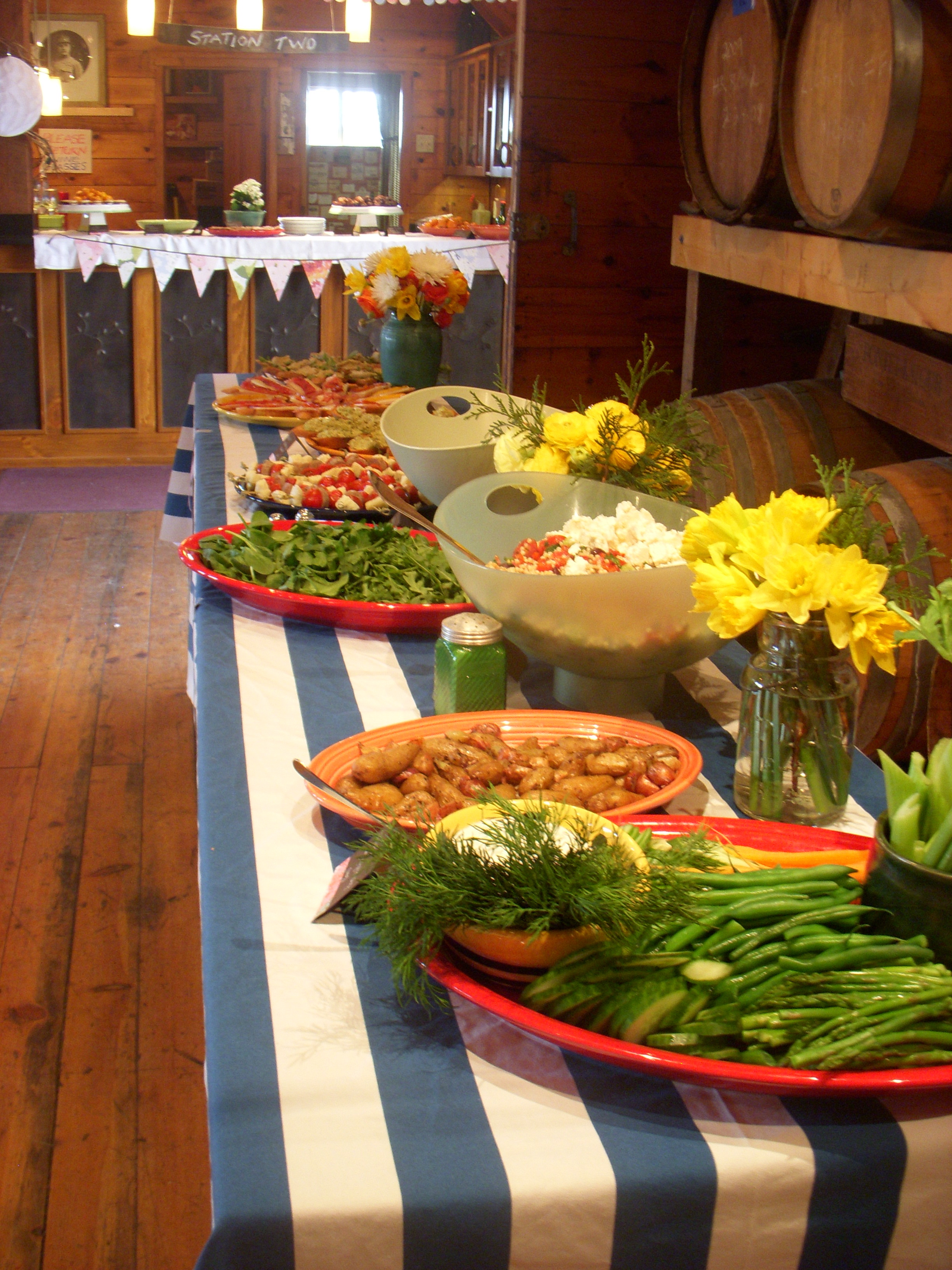 Mixed arugula, spinach, and parsley (undressed – I actually just had this leftover so put it out in case people wanted some greens with the rest of their food)
Other main items
Crudite (cucumbers, carrots, celery, blanched asparagus and green beans) with dill yogurt dip
Roasted pearl onions and new potatoes
Skewers of bratwurst, cheese curds, and cherry tomatoes
Desserts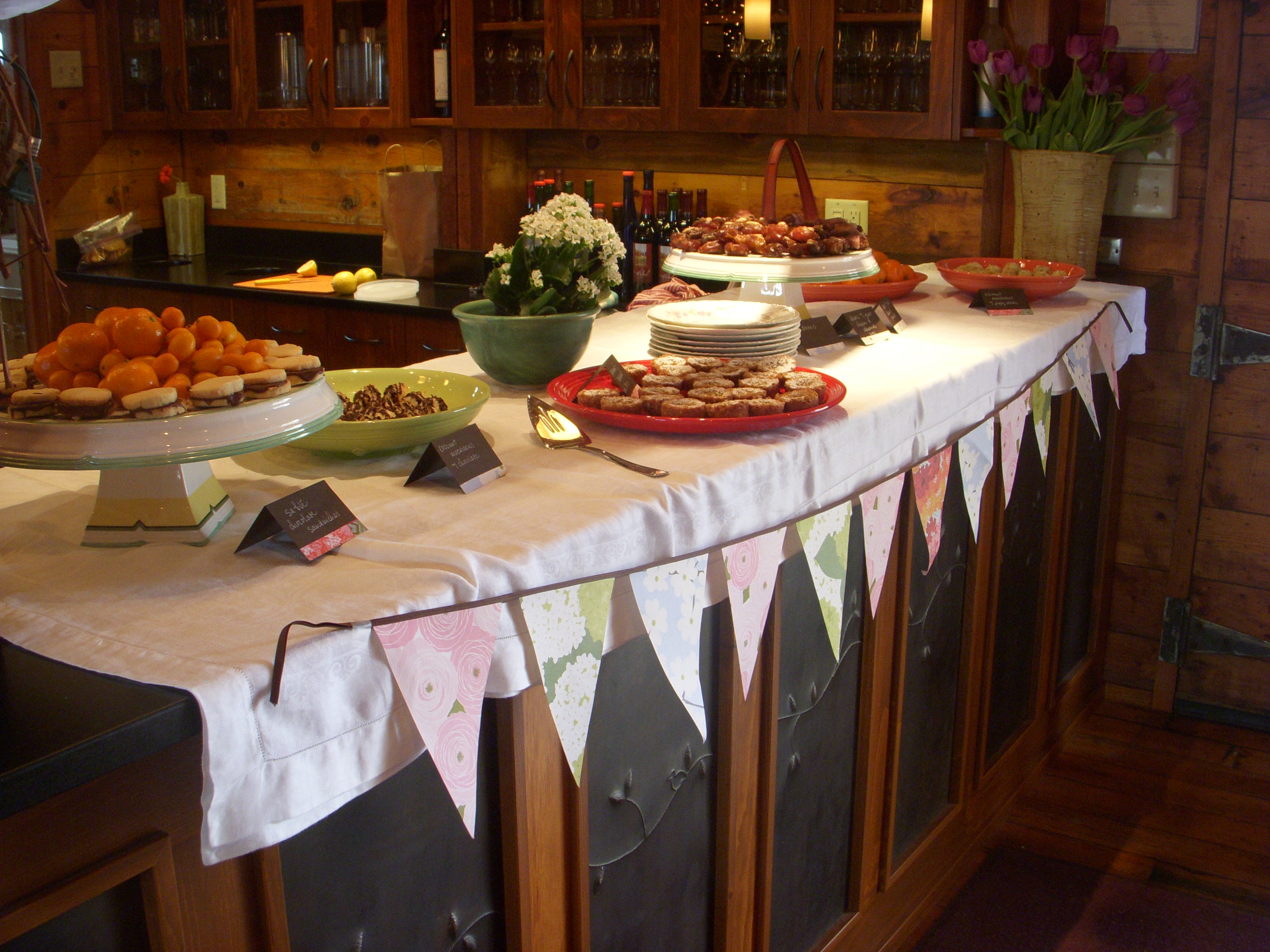 Sable chocolate sandwich cookies
Macaroons with orange zest and chocolate drizzle
Macaroons with orange zest and poppyseeds
Mini crack pies (made in mini-muffin tins)
Dates stuffed with goat cheese and almonds
Prosciutto-wrapped dates stuffed with goat cheese
Clementines and kumquats
Beverages
You can barely see here the vase filled with pink, yellow, and gray striped paper straws – a little awkward with the wine glasses, but one of my favorite party details. So festive!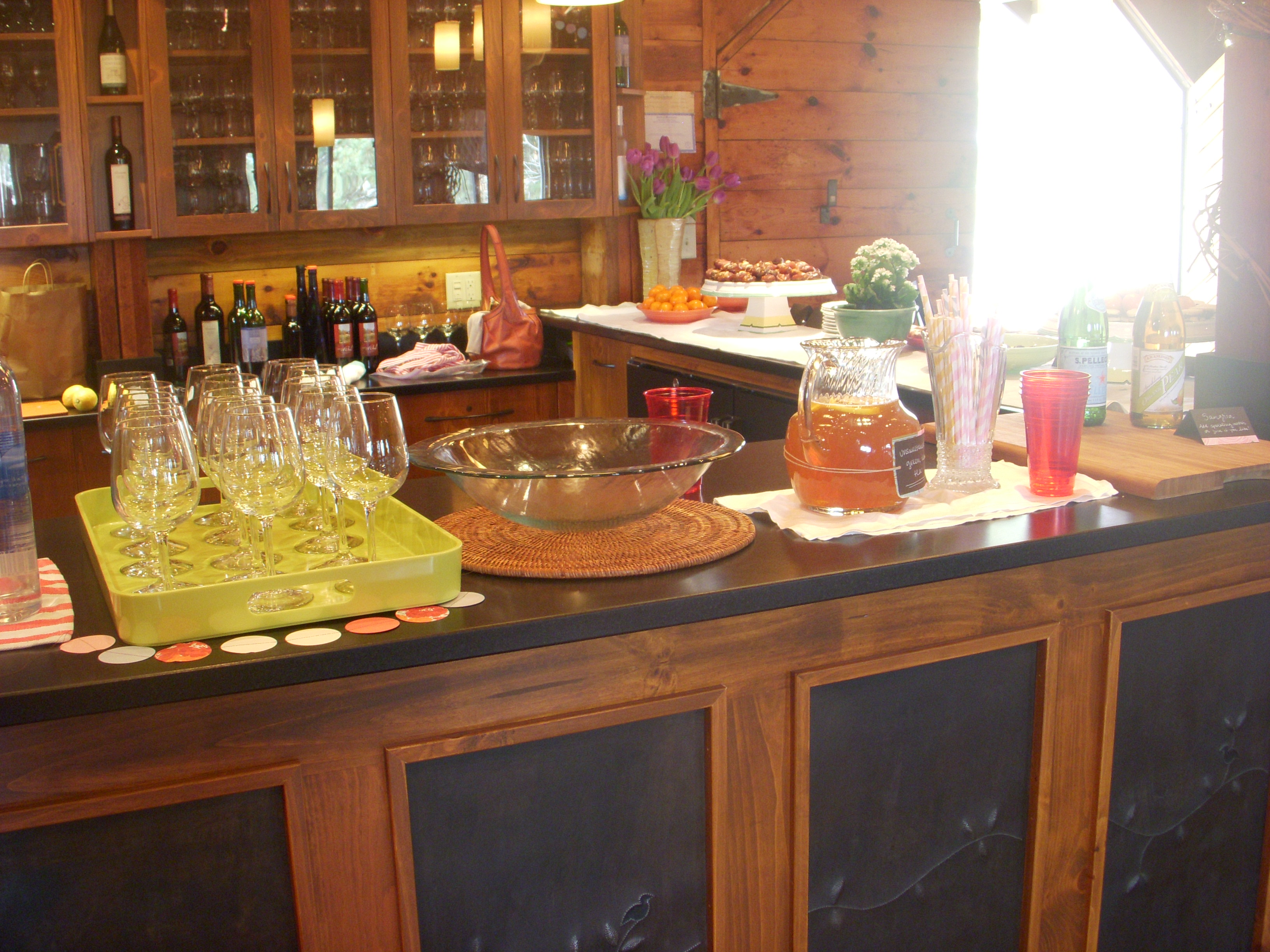 Sangria
Wine (Alexis Bailly Country White and Rose Noir)
Iced tea
Sparkling pear cider