Wild rice edamame salad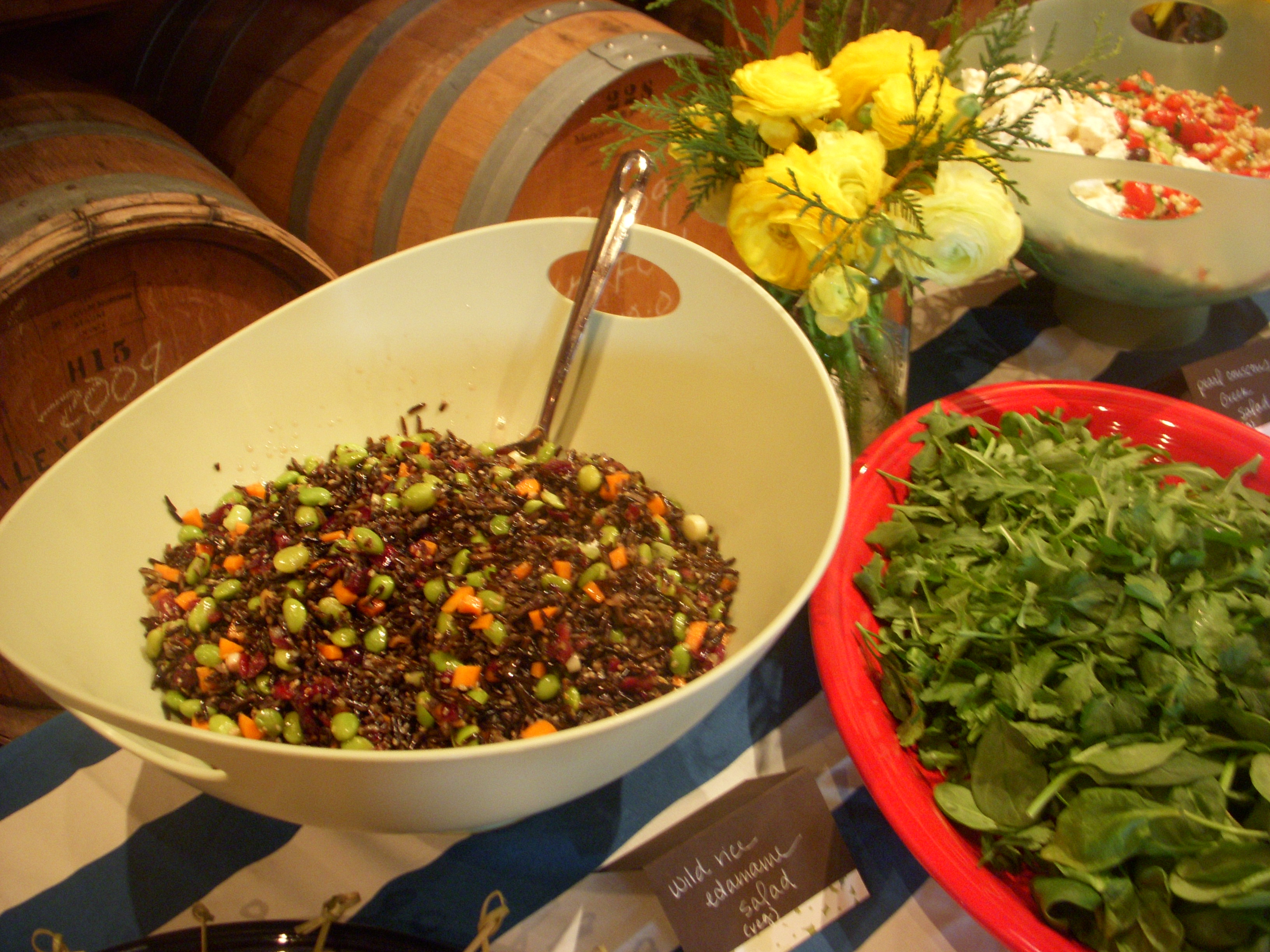 (This recipe is part of a post on a shower I threw – you can see more about it here.)
If there was any star recipe of the shower, this one was definitely it. This is one of the few I tested in the weeks before the party to see if it was something I might want to make, and it was a legitimate physical struggle not to eat the entire thing – all 6 servings of it – in the hours after I first made it. The hearty, hefty base of wild rice together with a strong sesame flavor, the crunchy brightness of the edamame, scallions, and carrots, and the chewy tartness and sweetness from the dried cranberries makes this a well-rounded, main dish-worthy salad perfect for spring (particularly spring in Minnesota).
Wild rice edamame salad
Adapted from Chow.com

Makes 6-8 servings (about 7 cups of salad)

3 Tbsp. white sesame seeds
4 cups cooked wild rice (about 2 cups uncooked)
3 scallions, thinly sliced
1 1/2 cups (approx.) of shelled cooked edamame – Trader Joe's sells packages of shelled edamame that are just about this size
2 medium carrots, diced
1/2 cup dried cranberries
2 Tbsp. olive oil
3 Tbsp. toasted sesame oil
1/3 cup rice vinegar
2 tsp. honey
Salt and pepper

– Toast the sesame seeds in a frying pan over medium heat. Stir often until they turn golden brown, which can happen quickly. Do not let the seeds burn. This should take about 2-4 minutes. Transfer the toasted seeds to a large bowl.

– Add the rice, scallions, edamame, carrots, and cranberries to the bowl with the seeds; toss to combine.

– In a medium bowl, whisk together the olive and sesame oils, rice vinegar, honey. Salt and pepper to taste.

– Toss the rice mixture with the dressing and season as needed with more oil, vinegar, salt, and pepper. Chill before serving.The flavors in this salad will develop over time, so you may want to season more right before eating.