Whole wheat buttermilk lemon muffins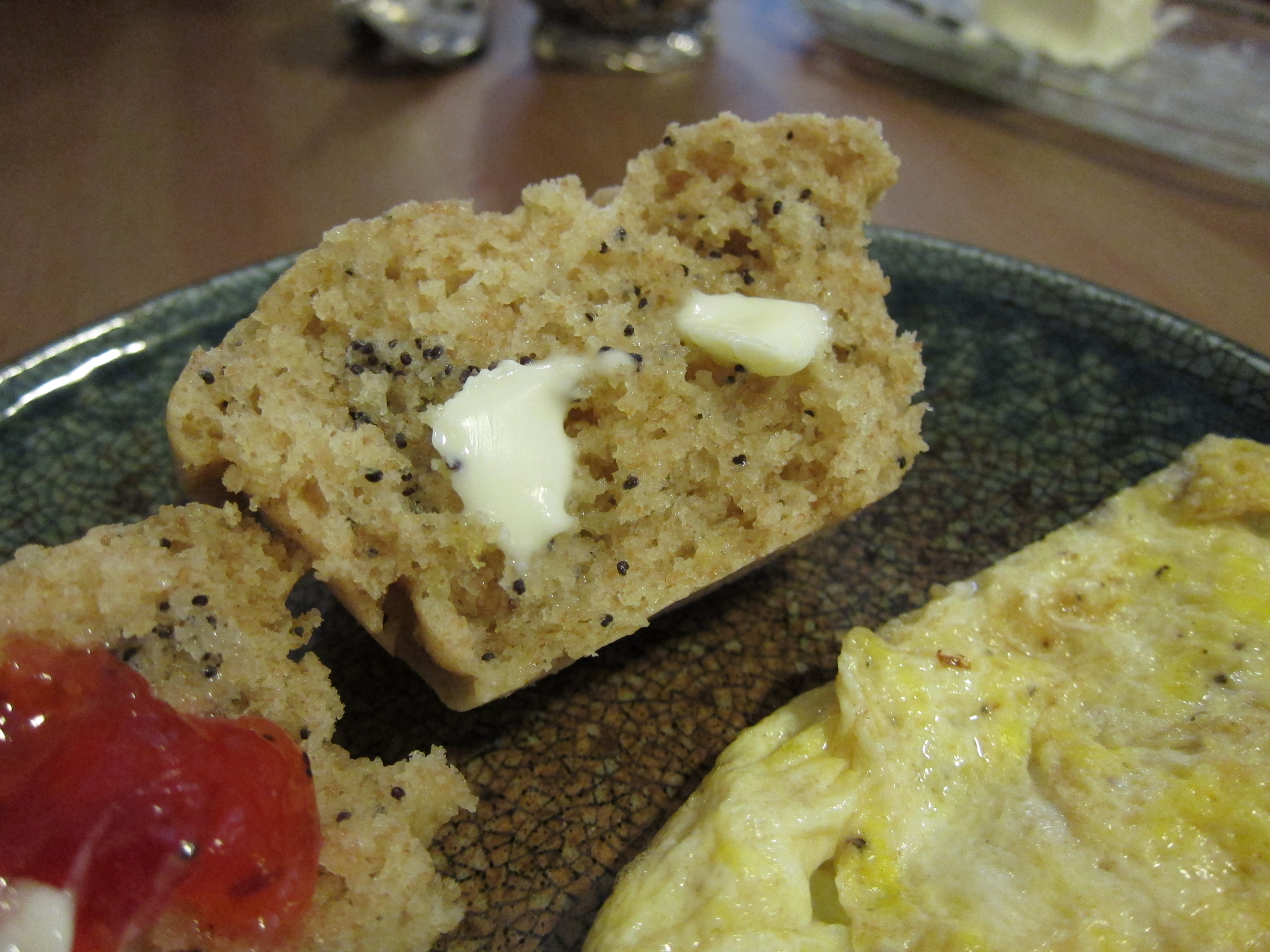 One of my favorite times to bake is a lazy weekend morning – a morning with no reservations at spin class or a goal for miles to run, with no 10 a.m. obligations to be at work or someone's house, or too many errands to run. I love spending time in the kitchen with natural light (my camera likes that too), baking in pajamas and with no thoughts about even coming near a hair brush. NPR or maybe some new Fleet Foxes on the speakers, mug of latte at hand.  (See entry Weekend Mornings, in "Utopian visions of what Bowen's life should be like" Vol. II.)
But you may notice there hasn't been a lot of breakfast baking around here lately. No muffins, no scones, none of what seems to be the mainstay of many other sites from people who like to bake.  Our weekends have been too full, too out-of-town, too jammed with to-do lists and appointments and other things we honestly can't seem to remember or categorize when we try to figure out why we're always so busy.  Breakfast baking is sort of an indicator species – once it goes away, you know things are not as they should be in the overall health of the ecosystem. (Or the Bowen-system, you might say.)
But earlier this week I looked ahead and saw that Sunday! Sunday would be free! And since I finally (thank god) finished my bridesmaid dress for the wedding just a few weeks away, and our house is relatively clean, and I don't have anything particularly urgent at work I need to be doing … that means I could bake these:
A bit of whole wheat flour for that nutty wheat flavor and slightest bran texture (also, makes it 100% healthy, of course). Buttermilk and sour cream for a smooth, soft crumb.  A good amount of lemon for some spring in your step, and some poppy seeds and glaze for a little bit of crispy crunch.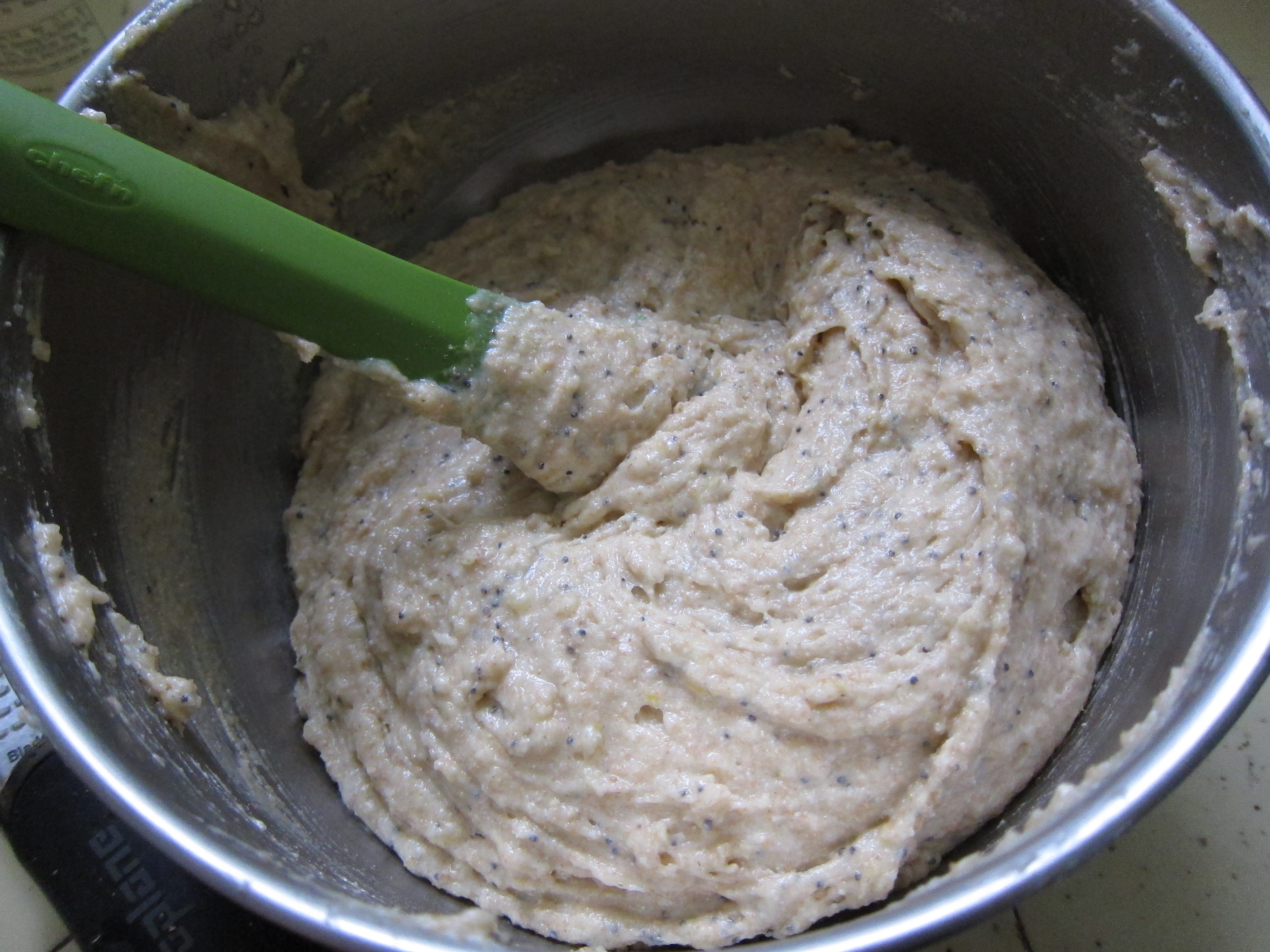 I was originally hoping to recreate something like a buttermilk-lemon sorbet I made a year or so ago, but in muffin form – a deep (but not too sour) lemon flavor from a good amount of zest, with a strong but creamy sour note from the buttermilk.  We had a bit of buttermilk and a bit of sour cream in the fridge with some yogurt for backup, so I figured I'd be able to make it happen. What I didn't expect to see was that so many basic muffin recipes already included a fair amount of buttermilk or sour cream, meaning I'd really have to intensify that flavor somehow.
But stumbling groggy out of bed this morning was not the time to go about messing with the basic wet-to-dry ratio of ingredients in a muffin batter, especially when I saw the rain drizzle on the car outside and felt the 20 degree drop in temperature from earlier this week, so instead I amalgamated together a variety of recipes and optional amendments to make something a bit warmer and earthier – a bit more satisfying for a gray, cool spring day.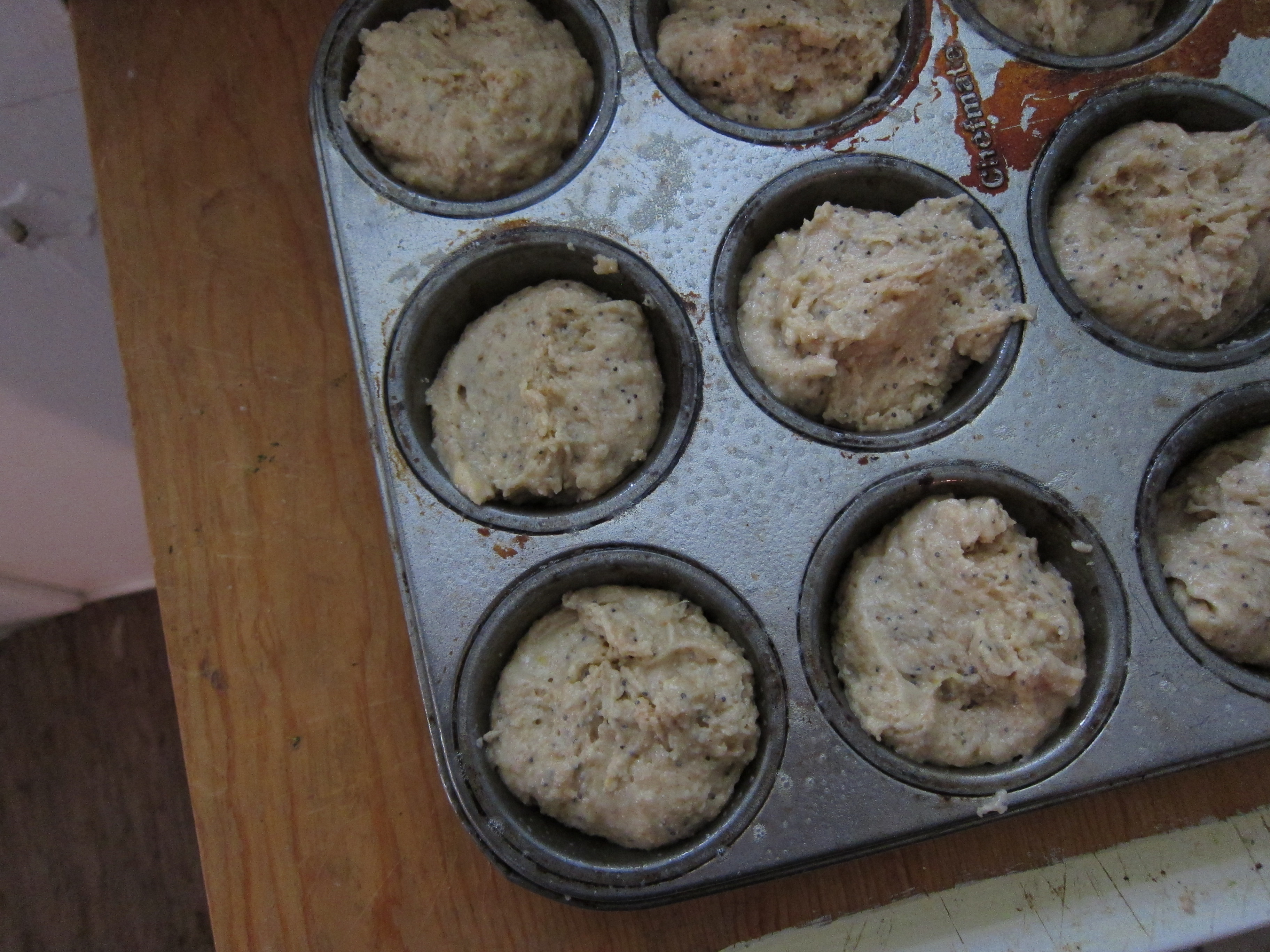 And with that, I've actually made myself kind of hungry again. So I'll just give you the recipe, and go get another one.
Whole wheat buttermilk lemon muffins

Makes 10-12 muffins, depending on how large you want them (I made 11)

1 cup all-purpose flour
1 cup whole wheat flour
2 tsp. baking powder
1/4 tsp. baking soda
1/4 tsp. salt
2/3 cup granulated sugar
Zest of 1 lemon
Juice of 1 lemon
2 large eggs
3/4 cup buttermilk and/or sour cream (and/or plain yogurt, on the firmer side)
1/2 cup (1 stick) unsalted butter, melted and cooled
2 tsp. vanilla
2 tsp. lemon extract (optional)
1 Tbsp. poppy seeds (optional)
For the glaze: Scant 1/4 cup sugar, scant 1/4 cup lemon juice (optional)

– Preheat oven to 350F and grease or line a standard-size muffin tin.

– Whisk together the flours, baking powder, baking soda, and salt in a medium bowl and set aside.

– In a small bowl, rub together the lemon zest and granulated sugar until fairly evenly blended. This will smell amazing and get you really excited.

– In a large bowl, whisk together the lemon juice, eggs, buttermilk/etc., butter, vanilla, and lemon extract. Whisk in the sugar mixture until blended.

– Add the dry mixture to the wet and fold together until blended. Add the poppy seeds and stir together.

– Fill the prepared muffin tin with the batter, 2/3 to full depending on desired size (I filled them almost full, as you can see in the photo above, made it through 11 cups and the muffin tops were about 1cm apart from each other).

– Bake for 17-22 minutes, until the tops start to brown around the edges and a skewer inserted into the middle comes out clean.

– If you'd like to make the glaze: while the muffins are baking, heat the sugar and lemon juice over medium, stirring occasionally, until the sugar dissolves.

– After removing from the oven, brush the muffins with the glaze. Cool in the pan for five minutes or so before removing and eating.