Buttermilk anything cake
Sometimes I go a bit overboard with fruit. Summer comes and suddenly there are peaches and apricots and cherries and everything all over the place, and I just can't help myself. I buy boatloads, and then we end up needing to eat eight pieces a day just to make it through.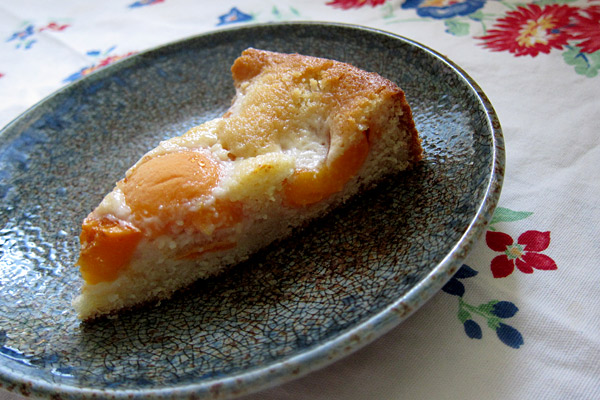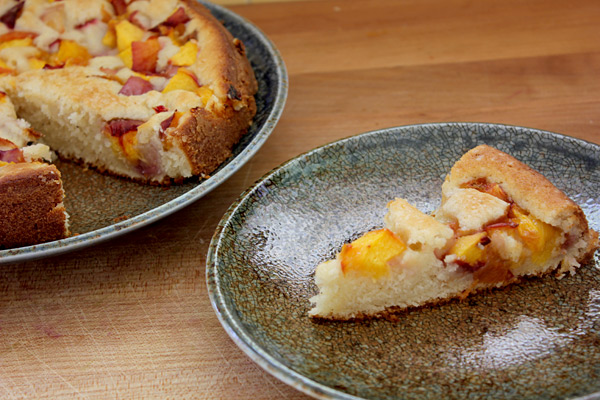 I kid, a little, but mainly because I know that when I buy that much fruit, more than a few of them will end up in a cake, between two crusts, or under some sort of crumble topping (if they're lucky). This buttermilk cake is one of my absolute favorite things to do with fruit – it takes almost any type, size, shape, and level of ripeness (and especially loves those over-ripened kinds that tend to hide in the corners of refrigerator drawers), and is as fast and easy as you could possible hope for.  And it's one of those "breakfast or dessert?" cakes that I love having around the house.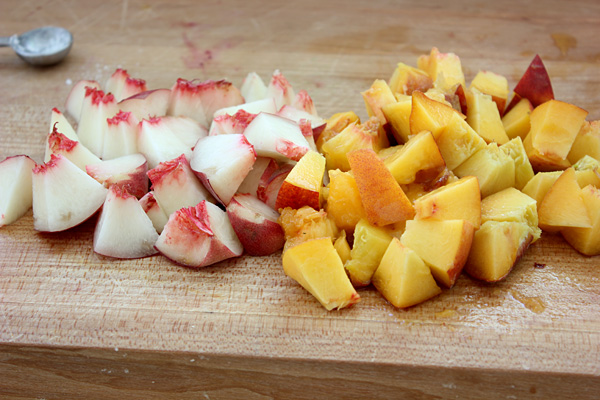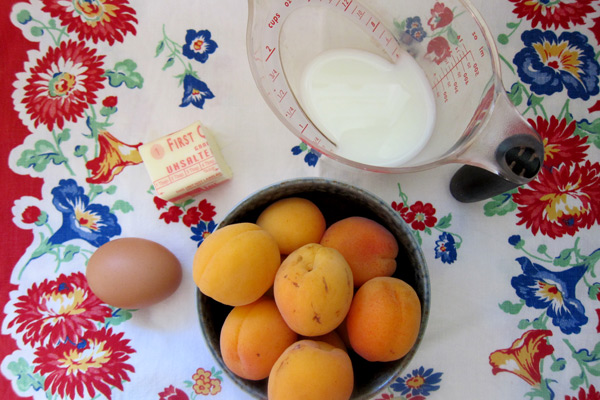 And it's perfect for experimentation – the basic recipe is perfect on its own, but is ripe (heh, get it?) for the addition of nuts, dried fruits, spices, fruit zests, or anything else your wild little baking mind can come up with.
Mango and coconut? Yes! Peaches and cardamom? Certainly! Apples and cinnamon! Cherries and almonds! Raspberries, lemon zest, and poppy seeds!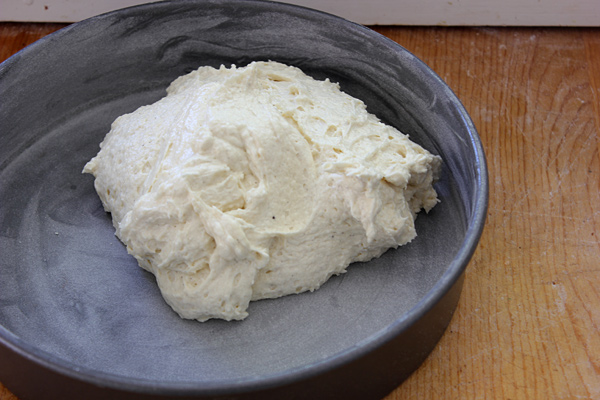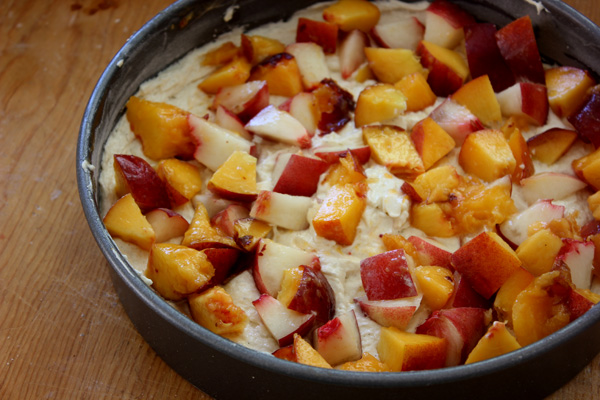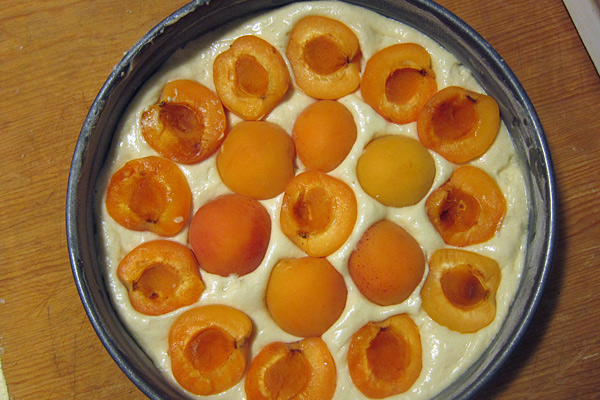 The cake is moist and dense and not too sweet – making it perfect for breakfast, snacktime, or dessert, as a good buttermilk cake should be – making it a perfect combination with juicy, tart fruits. Most fruits will soften and sink and slightly liquefy as the cake bakes, melting them into the cake a bit and making that fruit-adjacent cake territory particularly creamy and delicious.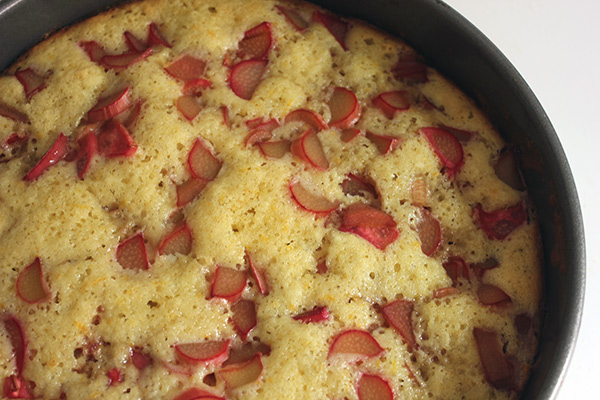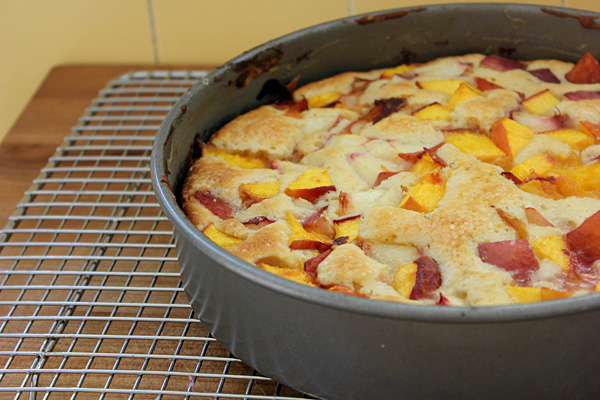 Buttermilk anything cake

Makes one 8- or 9-inch cake

1 cup (4 1/2 oz.) all-purpose flour, plus more for dusting the pan (can substitute up to half with whole wheat flour)
1/2 tsp. baking powder
1/2 tsp. baking soda
1/4 tsp. salt
4 Tbsp. (2 oz., 1/2 stick) butter, room temperature, plus more for coating the pan (or cooking spray)
1/2 cup (3 1/2 oz.)  sugar, plus more for sprinkling over cake before baking
1 tsp. vanilla extract (reduce if any other liquid flavoring, like almond extract, is added)
1 large egg
1/2 cup buttermilk

Additions – here's where things get exciting. This cake can take just about anything:

Into the batter: zests (~1-2 Tbsp. mixed with wet ingredients), seeds (~2-4 Tbsp. mixed with dry ingredients), spices (~1/2 tsp. mixed with dry ingredients), and liquid extracts (~1/2 tsp. mixed in with vanilla) will all work here.
On top of the cake before baking: Fruit and/or nuts – around 1 1/2 cups, or enough to spread over the batter in a relatively uniform layer. This would be just under a pint of berries, 6 or so apricots, 3 or so peaches. No need to peel fruits unless you want to, but remove any large pits or seeds (like peach pits).  If your nuts are raw, no need to toast them ahead of time (they'll toast in the oven as the cake bakes!).

Here are some combinations that I've tried and loved:

1 white peach and 2 regular peaches, diced, plus 2 tsp. cardamom into the dry ingredients
2 peaches plus 1 tsp. cinnamon with half whole wheat flour
6 apricots, halved and placed both peel-side down and peel-side up
Zest of two lemons and 1/4 cup poppy seeds, all added into dry ingredients (no fruit on top)
1 pint strawberries, halved lengthwise and placed peel-side down in concentric circles over the top of the cake
A few large stalks of rhubarb sliced small (about 1 1/2 cups total) and tossed with a small handful of brown sugar, plus zest of 1/2 large orange mixed into the wet ingredients

– Heat oven to 375F. Butter and flour a round 8- or 9-inch cake pan.

– Combine most dry ingredients Whisk together flour, baking powder, baking soda, and salt (plus any other additional dry flavorings) in a medium bowl. Set aside.

– Mix butter and sugar in a large bowl (or a stand mixer bowl), beating by hand for a few minutes (longer than you'd think) or with the stand mixer or an electric hand mixer for about three minutes.

– Add vanilla and egg and mix until fully incorporated.

– Combine dry, wet, and buttermilk At a low speed, add the dry ingredients and buttermilk to the butter mixture in three batches, starting and ending with dry (dry, buttermilk, dry). Stop mixing as soon as ingredients are combined, finishing with a spatula or wooden spoon to avoid overmixing.

– Bake and serve Scrape batter into your prepared pan. It will be fairly thick. Spread in the pan with a rubber spatula or spoon, and add any desired fruit and/or nuts over the top of the batter. If you want, sprinkle a bit of sugar and/or spices over the top. Bake until the cake is golden and a toothpick inserted into the center comes out almost totally clean (make sure to get around the fruit!). This should take 20-25 minutes. Depending on the fruit or other options you use, the cake may end up wetter/drier. Cool the cake in the pan for 10 minutes before turning out onto a rack to cool and then transferring to a serving plate. You can east it warm, room temperature, or cold the next day.

Making ahead/storage: Covered in a clean kitchen towel or wax paper, the cake will keep well at room temperature for 2 or so days. If your kitchen humid, the cake may get a bit sticky, but it will still be delicious. Well-wrapped, the cake will keep decently in the refrigerator for up to 5 days. You can also freeze the fully-baked cake and thaw in the fridge or at room temperature. It may be a bit soggier, but will still be delicious.