Summer cocktails: Front porch lemonade (with bourbon, ginger, and mint)
Here are some things I like: lemonade; fresh mint; front porches; bourbon; my husband.
Being a woman of action, here's what I do about that: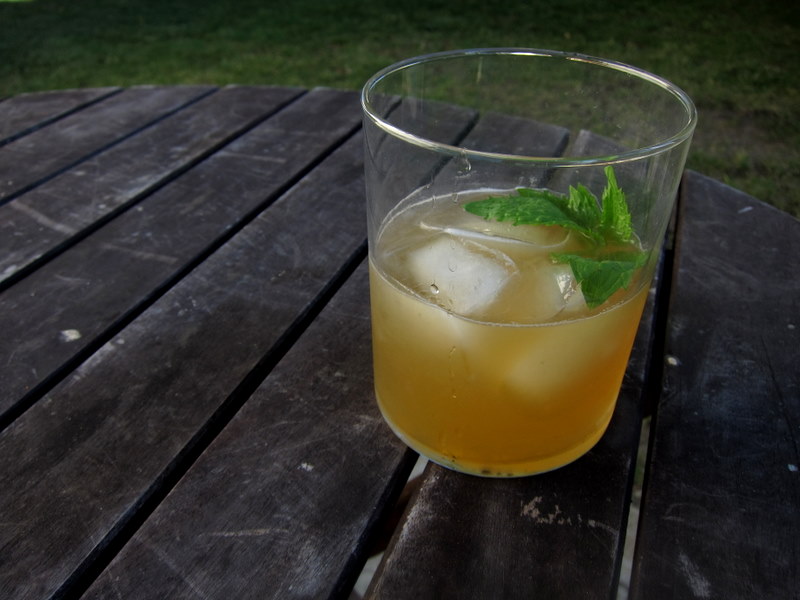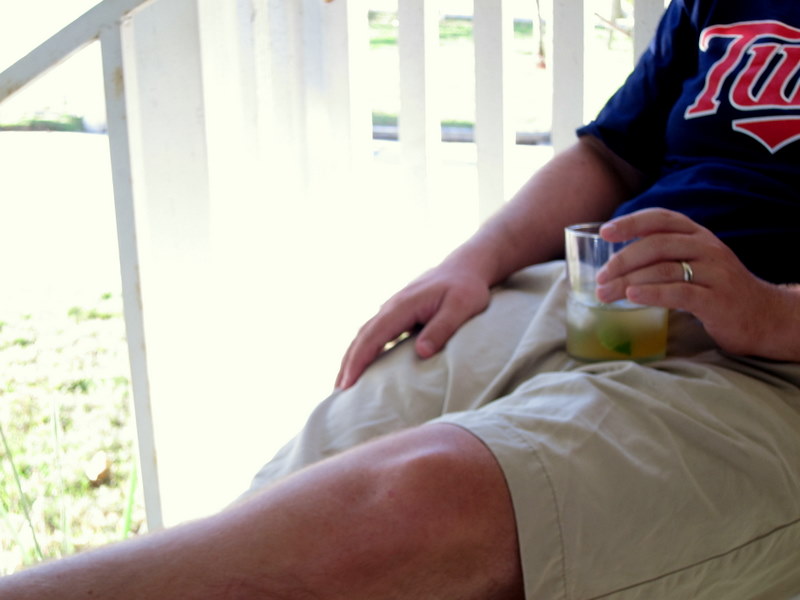 To be honest, I made it up as I went along. But it's hard to go wrong with a selection of ingredients that scream summer.
If you don't generally have ginger syrup on hand (um, who does?), you should consider making a jar of it for summer cocktails. Also for making homemade ginger ale (for use in tasty summer cocktails or alone), in which you can control the spiciness and sugar level. Homemade pop is a great way to avoid yucky artificial ingredients. It's also a good way to impress potential friends or romantic partners. Just a helpful tip.
In any case – Homemade ginger syrup is a useful thing to have on hand, especially for making cocktails. For instance: muddled cucumber, ginger syrup, lemon, sugar, and gin or vodka makes a very tasty drink to have at birthday parties or when lounging poolside. Now you know.
Also I just realized this is my third cocktail post in a row.  That's what happens when every meal you eat is pretty much the same: oil it, season it, throw it on the grill. Delicious, but not much to write home about. I now direct my creative kitchen-type urges to the liquor cabinet (ahem, liquor bookshelf).
Front porch lemonade

Makes 1 cocktail

4-5 mint leaves, plus mint springs for garnish (if desired)
1 1/2 oz. bourbon
3 oz. lemonade
1 oz. ginger syrup

– Muddle mint leaves in the bottom of a cocktail shaker (alternatively, chop leaves and strain out after shaking cocktail).

– Fill cocktail shaker halfway with ice.

– Add bourbon, lemonade, and ginger syrup to cocktail shaker. Shake. Strain into cocktail glasses with ice; garnish with mint sprig.

– Optional: As desired, you can play around with quantities and with extra ingredients – like squeezes of lemon juice, ginger ale, extra simple syrup, or bitters.

Homemade ginger syrup
Adapted from Joy the Baker 

2 cups coarsely chopped ginger (you'll mince more finely in a food processor or blender)
3 cups granulated sugar
6 cups water

– Process chopped ginger in a food processor or blender until minced.

– Place ginger, sugar, and water in large pot. Bring to a boil, then reduce heat to an active simmer.

– Simmer for 1 to 1 1/2 hours. After 45 minutes, pour the mixture through a mesh sieve or colander to remove the ginger. This can be done at almost any point during the simmering process, based on your preference for spice level. I removed it the first time about 1 hour in, which made it fairly spicy. You could remove it after 30 minutes (or less) if preferred; it's up to you!

– Continue cooking the mixture until it has reduced to about 4 cups of syrup, increasing the heat to a boil if you want to speed up the process. The syrup may be fairly thin, but that's okay – it will thicken a bit as it cools, and you want it to be pourable.  Remove from heat.

– Let the syrup cool a bit before pouring into a jar or other container (we love these bottles from IKEA). Cool completely before using in a drink, and keep in the fridge. This syrup will last at least an entire summer and into the fall/winter!