Chocolate coconut muffins with coconut flour
I baked something without gluten.
Yes. Even though gluten and I have a pretty close, dependent relationship (in which I depend highly on it to make tasty things), I did it. And I'll do it again, readily.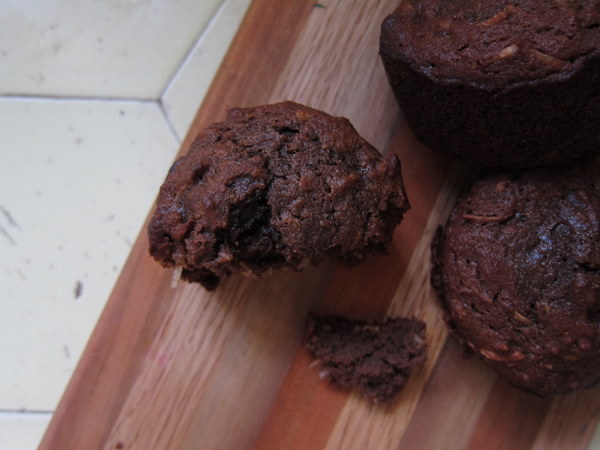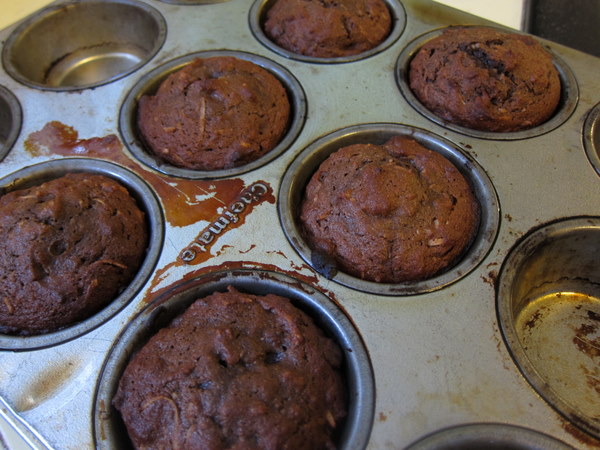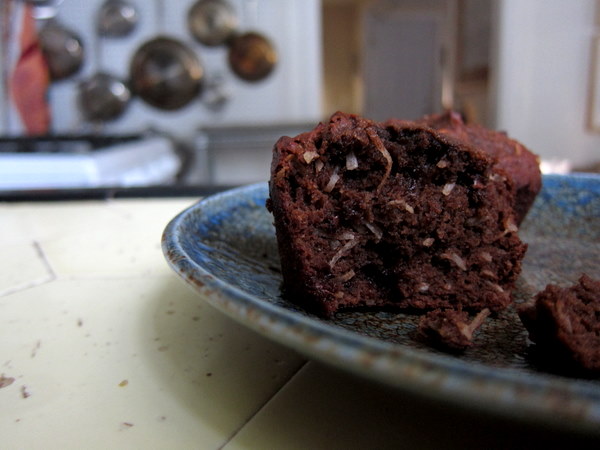 I'm generally not one for exotic baking ingredients – give me a tub of all-purpose flour (unbleached always, and every once in a while some whole wheat) and one of granulated sugar and I'm a pretty happy camper (er, baker).  But there's more than a little something to be said for healthier alternatives, and when my baking habit gets a little out of control (namely, any time Brett goes out of town) I start thinking about other options.  And since I already have a few friends with gluten intolerance or celiac and it drives me nuts to not be able to bake a little something for them every now and again, I've been meaning to find some good gluten-free recipes.
Last month while visiting a friend at her Boulder-area kitchen, she whipped together some killer chocolate coconut muffins made with coconut flour, which I'd been hearing about on food blogs here and there as a great gluten-free alternative. They were darkly chocolately, chewy with shredded coconut, and toned down enough in sweetness to count as a muffin (no cupcake-for-breakfast territory here).  I couldn't stop thinking about them for a few days, so when I got home I bought a bag of Bob's Red Mill coconut flour.
And immediately forgot about it for about five weeks.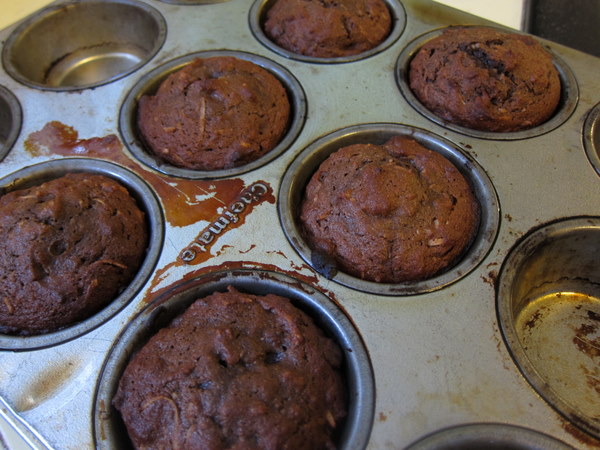 But yesterday I finally cobbled together a recipe, and they were pretty fantastic (if I do say so myself). I gave one to a new colleague and she said she really couldn't tell I had substituted the flour and sweetener, which is exactly the reaction I was looking for.  These make a perfect, filling breakfast – particularly because coconut flour is so high in fiber. They're not too sweet and satisfyingly chocolatey but not in an ugh-too-early-in-the-morning-for-this sort of way (you can eliminate or add more chocolate chips as desired to tweak this).
Your first reaction to all of this might be "um, I LOVE GLUTEN. Why would I bake without it?" And I would respond: "First of all, totally get where you're coming from. But second of all, these are delicious. And any of your friends who can't eat gluten will worship you forever."
And forever is a long time, so you should probably get on this.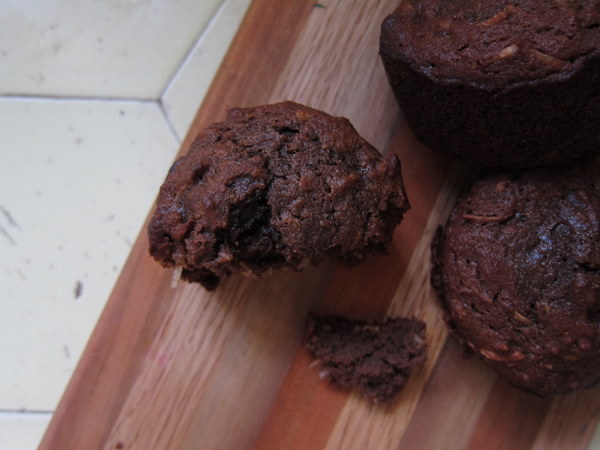 A note about coconut flour: Coconut flour is pretty interesting to work with. It's a super high fiber food, which means it's super healthy but also that it absorbs liquid like crazy and that you can't substitute it for wheat flour directly. If you don't have more liquid than you're used to, you'll see how quickly your batter or dough will seize up. I've been trying to find you a good overview of coconut flour and of things to keep in mind while using it, but I can't find one anywhere. This page has a pretty good overview of how to substitute coconut flour for wheat flour, but for now I might suggest going with recipes that specifically ask for coconut flour.
And would you look at that – here's one right here:
Gluten-free chocolate coconut muffins with coconut flour


Makes 1 dozen muffins

1/4 c. softened butter
1/2 c. agave sweetener
6 eggs
1 tsp. vanilla
1/2 c. coconut flour
1/4 c. cocoa powder
1/2 tsp. baking soda
1/2 tsp. salt
1/4 c. chocolate chips
1/4 c. coconut

Note: I bet some dried fruit and/or nuts would be pretty great in these too. The batter's thick enough that they shouldn't all sink to the bottom.
– Preheat oven to 400F. Grease a standard muffin tin, or line with muffin cups.

– Mix together butter and agave in a large bowl. Add eggs and mix until combined. Add vanilla and mix.

– In a medium bowl, whisk together coconut flour, cocoa powder, baking soda, and salt.

– Blend dry ingredients into wet ingredients. Mix until incorporated but no longer.

– Gently mix in chocolate chips and coconut until well distributed.

– Fill muffin cups at least 2/3 full (I put just under 1/4 cup in each cup). Bake for 15 minutes, or until a toothpick inserted into the center comes out clean (or with a few crumbs is okay).

– Let cool in the pan for a few minutes – when cool enough to handle, remove muffins from the tin and cool on a wire rack. These are particularly delicious while still warm!