Sprinkles and whole milk make almost everything better
You can learn a lot about yourself through spending time in the kitchen.
Are you a patient person? Are you a detail-oriented person? How do you like to learn? Do you like detailed directions, or a basic idea to work with? Are you willing to put hours of time into something that may not work in the end? How well can you deal with failure? When you bake a cake that immediately crumbles upon taking it out of the pan and a frosting that gloops like thin glue, are you a person who throws it away and instead finishes that two-week-old In-and-Out strawberry shake in your freezer, or do you stick with it and eat it anyway?  Maybe with some sprinkles?  And a White Russian?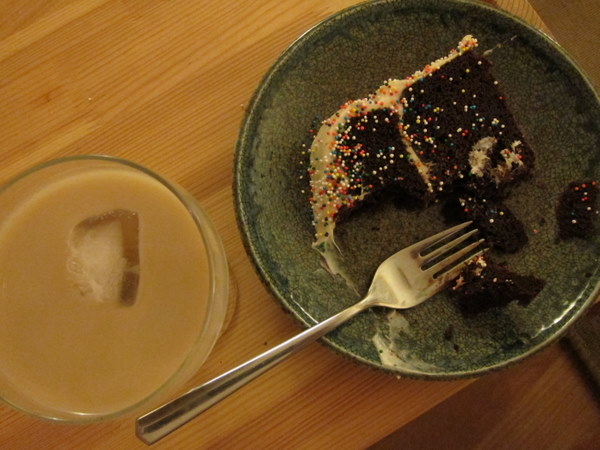 I have a few things to say. First: White Russians (and White Cubans – more on that later) are fantastically delicious. Please take this carton of whole milk out of my refrigerator before I finish it.  Second: Even imperfect cake can help an imperfect day.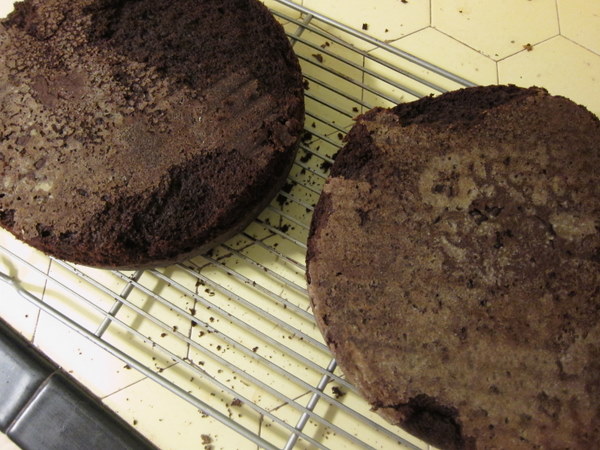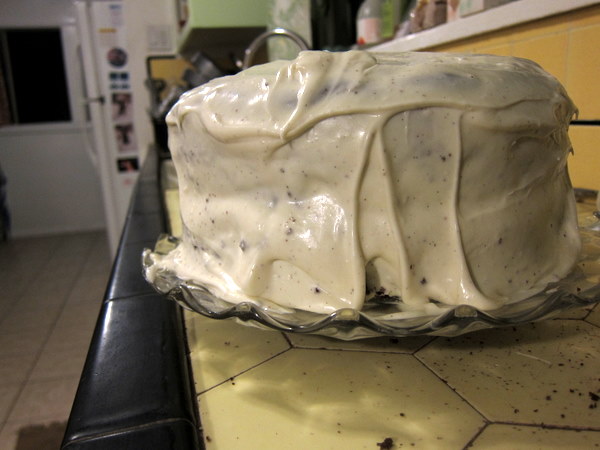 Sigh. Let's talk about some really good things have happened this week. Like homemade gnocchi with pesto and green beans. And roasted kohlrabi with Parmesan. Roasted fall vegetables with pear.  White wine pilaf, simple mushroom omelettes with pesto, and whiskey sours. And maybe some wine. And a White Russian. And maybe a White Cuban. Ahem.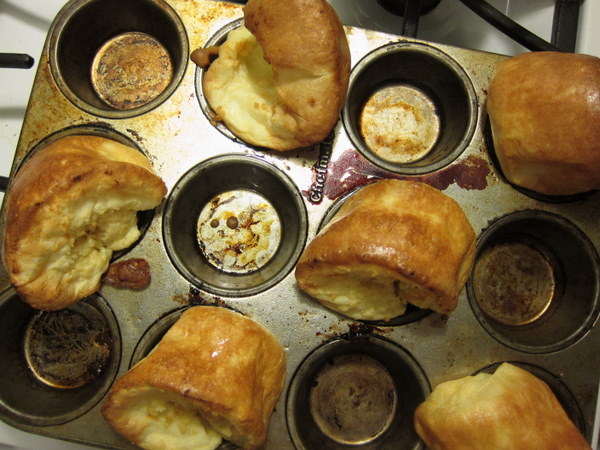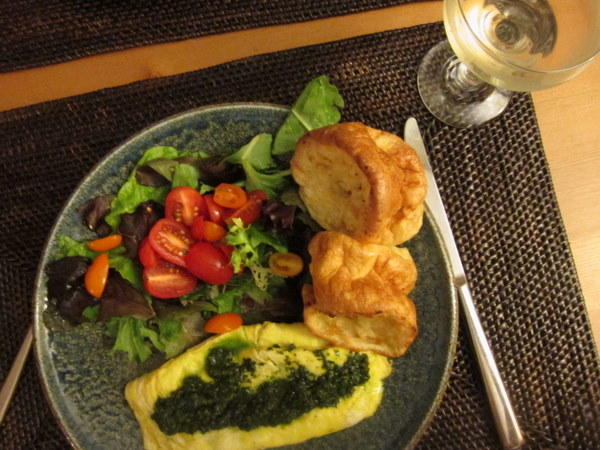 But really: I'm learning a lot by spending this much time in the kitchen. Yeah, I know how to make some tasty things. But I also know a lot more about how I deal with crisis (generally not well, but getting to the point that I can deal with it), about how I like to learn (by doing, not by reading), and about what gets me excited (pan flipping, citrus zest, the batter-dough spectrum).  I'm venturing into territory in which I'm not entirely comfortable, and that's a little intense for someone who generally likes to be on the know-it-all side of things. But it makes life a little more fulfilling on a day-by-day basis, and I'm pretty excited about what comes next.
And if sometimes I have to eat some mediocre cake along the way, well, I'll take it.
Fall dinner #1
Raw kohlrabi sliced with lime, salt, and chili powder
Homemade potato gnocchi with pesto, blanched green beans, and sauteed quartered mushrooms
Roasted kohlrabi with garlic and Parmesan
Red wine
Chocolate cake (another lackluster attempt in the go-to chocolate cake search) with cooked cream cheese frosting (a link I've been wanting to try – was extremely goopy to begin with, but once frosted and chilled actually firmed up to something pretty fantastic)
Fall dinner #2
Roasted carrots, potatoes, onions, garlic, and pears with thyme and garlic
White wine pilaf (see recipe below)
Salad greens with lemon, olive oil, and flake salt
White wine
Leftover cake
White Russian (see recipe below)
Fall dinner #3
Whiskey sour (see recipe below)
Popovers (a new cookbook try)
Omelettes (another cookbook recipe, and available online here) with leftover pesto and sauteed garlic mushrooms
Salad greens with lemon, olive oil, flake salt, and cherry tomatoes
Leftover cake
White Cuban (see recipe below)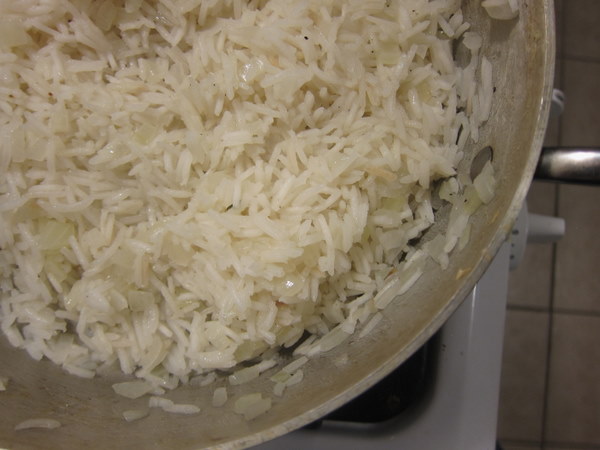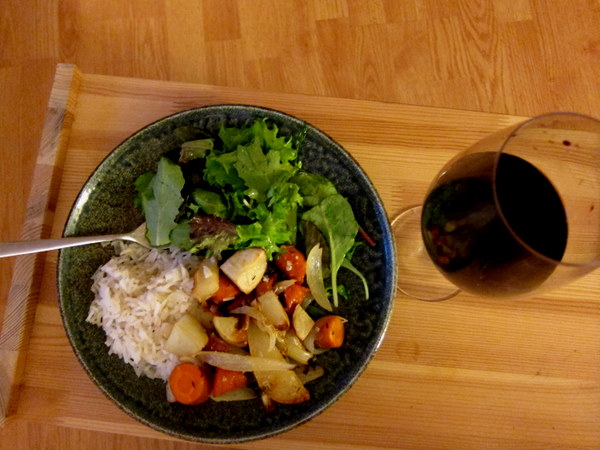 White wine pilaf
Adapted from Vegetarian Cooking for Everyone by Deborah Madison

2 Tbsp. olive oil and/or butter
1/2 diced yellow or white onion
1 cup basmati rice (or brown rice)
1 cup water
1/2 cup white wine (preferably not sweet)
1 small bay leaf
Salt and pepper

– Heat butter and onion in a medium saucepan and cook over medium heat until the onion is translucent (about 3 minutes). Add the rice, stir to coat, and cook for 3-4 minutes (don't let the rice brown). Add the water, wine, bay leaf, about 1 tsp. salt, and a pinch or two of pepper. Stir, reduce heat to low, and cover.

– After 20 minutes (40 for brown rice), lift cover and gently fluff rice with a fork. Test to see if it's done – if it's done and all liquid has been absorbed, cover and set off the heat for 5-10 minutes before serving (it can wait a bit longer if needed). If it's done and liquid has not been absorbed, turn heat up to medium and cook uncovered for a few minutes to help liquid evaporate.  If it's not done and liquid has not been absorbed, recover and continue to cook on low.  If it's not done and liquid has not been absorbed, add a bit more water or wine, recover, and continue to cook on low. Whenever it's done and liquid has been absorbed, let sit covered off the heat for 5-10 minutes (again, it can sit for a bit longer if needed).

– Salt as needed to taste.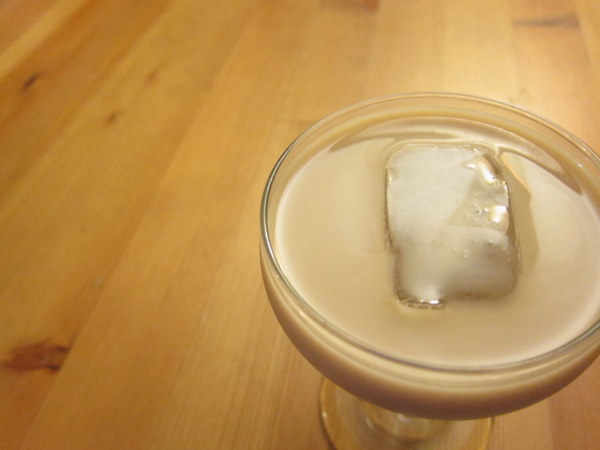 Go-to Cocktail: White Russian (or White Cuban)

1 1/2 ounces vodka (or rum, for a White Cuban)
1 ounce coffee liqueur (like Kahlua – I used homemade stuff I made around Christmas last year)
1 ounce cream, half and half, or whole milk (or really, any other sort of milk – I've used soy milk in the past even)

– Mix all ingredients together in a glass with a cube or two of ice.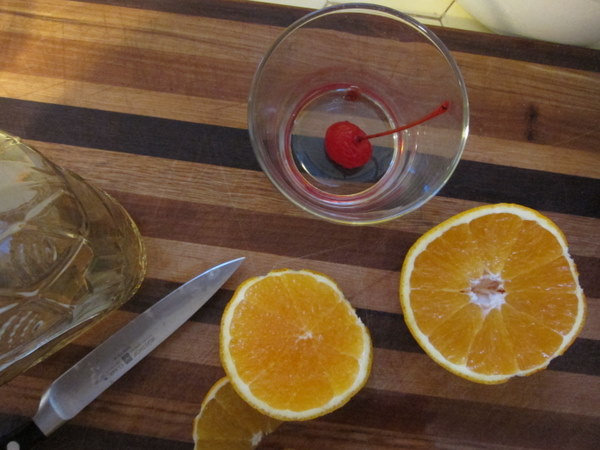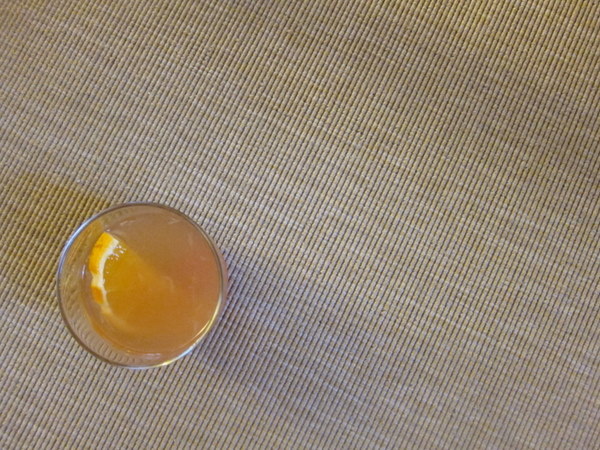 Go-to Cocktail: Whiskey sour

2 ounces blended whiskey (bourbon works well here too)
1 ounce lemon juice
1/2 tsp. powdered sugar
Orange slice and/or maraschino cherry for garnish, if desired.

– Mix whiskey, lemon juice, and sugar together in a shaker with ice. Strain into a small glass with one or two ice cubes. Garnish if desired.