Slowing down, preparing for change – Brown sugar apple crisp with rum-soaked currants
Being in the kitchen can be a great way to deal with everything else going on in your life. Need some excitement in your life? Douse something with brandy and set it on fire. Need to get out your aggression? Smash some candies for peppermint bark. Feeling disconnected or homesick? Chocolate chip cookies.
Having trouble focusing? Peel some apples. Need to slow down a bit? Soak some currants in rum for at least a day.  Feeling a little frantic? Bake them together, slowly, with crunchy bits of brown sugar crumble on top. Serve it warm, with a rather large dollop of softly whipped vanilla cream.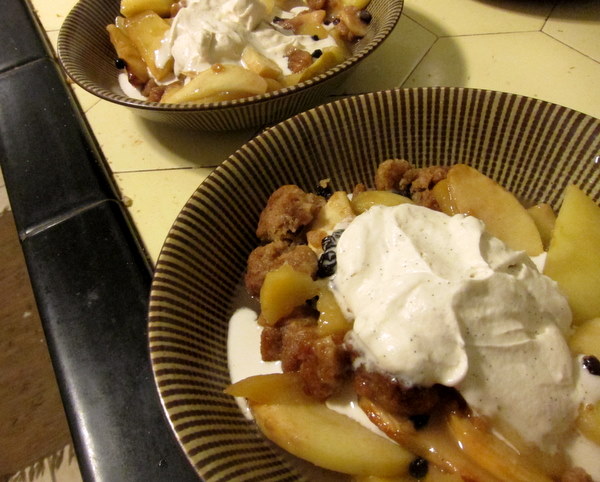 And that's a little window into my life right now – too frantic, too fast, too unfocused.  (And too much whipped cream, but that's another story.) I'm one foot in and one foot out, on the threshold of entering somewhat of a new life, and though that brings a sense of excitement that I haven't felt in quite a while, it also brings along a decent amount of stress and a frenetic pace that has kept me a bit bogged down as of late.
It's no secret that I'm leaving my job – the job I've thrown myself into for the last 40 months, each of those months with too little time untethered to my email and to my phone, too many early mornings and late nights and weekends working, and too little time spent with my hands deep in a bowl of flour, brown sugar, cinnamon, and butter.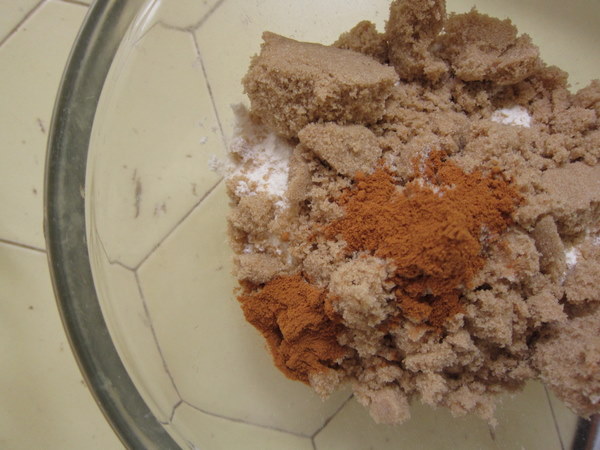 There was a lot to love about this job – rewarding projects, great relationships with students, visible forward progress. But two years in, questions began to eke into the back of my mind, distracting me during meetings and keeping me awake for an extra 15 minutes at night.
Is this it?
Is this why I've worked so hard my entire childhood and young adult life? Is this why I've spent so many nights sleeping too few hours? Is this why I've spent so many nights and weekends unable to shut off, unable to let the to-do list go, unable to enjoy the rest of my life?
Is this what I've been waiting for?
I don't mean to complain, and I'm certainly lucky to have had this job.  But it turns out the path I've been dutifully and actively following for the last 20-odd years isn't what I want. And I have the power and the luxury to make a change. So how can I not?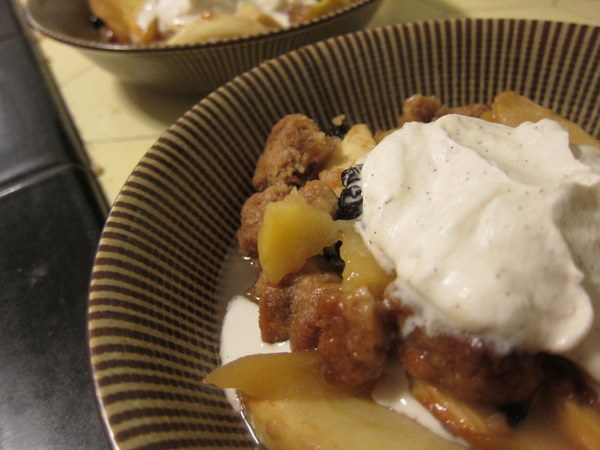 Today was my last full-time day at my job, and as I transition out of this one I'm taking up a few other opportunities – a part-time job as an instructor and kitchen assistant at a cooking school, a 20-week part-time culinary school program, and a renewed dedication to this space. A renewed dedication to cooking with heart and focus, instead of scrambling to get something out of the oven before it's too far past my bed time. I'm going to make the time to write about it, from the food itself to how all of this comes together in the coming months. I'm excited beyond belief, and completely terrified, and in a state of utter disbelief that I'm about to make my living in a kitchen. I'm not sure what will come next, but I'll just take things a week or so at a time for the time being, and get back to you later.
So here's to slowing down and exploring – new opportunities, new schedules. Time to study, to read, to practice, and to contemplate. To be outside in the middle of the day. To work hard, but with exuberance and joy instead of stress and exhaustion.  To slow-bake apples with rum-soaked currants, and serve it with that oversized spoonful of whipped cream.
Brown Sugar Apple Crisp with Rum-Soaked Currants
Adapted from Rustic Fruit Desserts by Cory Schreiber and Julie Richardson

1/2 cup dried currants
1/4 cup rum (I used a sweet, caramely rum from Belize)
1/2 cup (4 ounces, 1 stick) unsalted butter, melted, plus more for greasing the pan
3/4 cup packed (5 3/4 ounces) brown sugar
1 1/4 cups (6 1/4 ounces) + 2 Tbsp. flour
1 tsp. salt
1 tsp. ground cinnamon
3.5 to 4 pounds apples, peeled, corred, and sliced 1/2-inch thick (about 8 large apples)
1/4 cup granulated sugar
For whipped cream, optional: heavy cream, vanilla extract or paste, granulated or powdered sugar

– Soak the currants in the rum for 2 to 48 hours.

– Preheat oven to 375F. Butter a 9-inch square baking dish (or the equivalent – anything oven-safe will work, including ceramic dishes).

– Make the crisp topping: mix together the brown sugar, 1 1/4 cups flour, salt, and cinnamon in a medium bowl. Pres in the melted butter to form clumps. Put this topping in the freezer while you make the filling.

– Make the filling: toss the apple slices, sugar, and 2 Tbsp. flour in a medium bowl until slices are evenly coated. Spread in the prepared pan.

– Pour the currants and soaking liquid over the apples.

– Spread the crisp topping evenly over the fruit.

– Bake at least 40 minutes, until the topping is golden brown and the filling is bubbling. You can test with a fork to make sure the apple slices are tender all the way through.  Cool for at least 15 minutes before serving with whipped cream, ice cream, or a simple drizzle of heavy cream.  This dessert can be kept at room temperature, wrapped in plastic wrap, for up to three days. You can also refrigerate leftovers for up to five days.