A tale of two cakes
I've been trying to write this post for days.
I have things I want to say, but I just can't figure out how to get them out. I'm a little exhausted, and a little scattered. It's like how going on a trip is fantastic, but those few days ahead of time are chaotic, and stressful, and you can't figure out how to pack less than five pairs of shoes, and you're sitting on the floor surrounded by a monstrous pile of sweaters, and then you're raising your voice to your husband. "Why don't I have shoes that go with things? Why are all my shoes so awful? Why don't I have anything nice?! Why is life so miserable and WHY AM I SO BAD AT IT?!" And he says "here, love: you should drink a little of this bourbon."
(Two points: 1. Packing gives me major anxiety, and 2. Brett is pretty awesome.)
You could say I'm kind of in a trip preparation period right now, but it's lasting for weeks instead of days. And I'm organizing time and emotions and energy and focus instead of socks and pants and sweaters and shoes. (Side note: Seriously – why don't I have shoes that go with my clothes? It can't really be this hard. Can someone help me with this, please?) And instead of a trip to somewhere far away, it's more like a trip into a different everyday life. What comes next will be fantastic, but in the meantime there's much to do and lots of focus on at once, and I'm one foot in this life and one in the next.
Two more points: To deal with stress, we should eat some cake. And then some more cake.
Deal?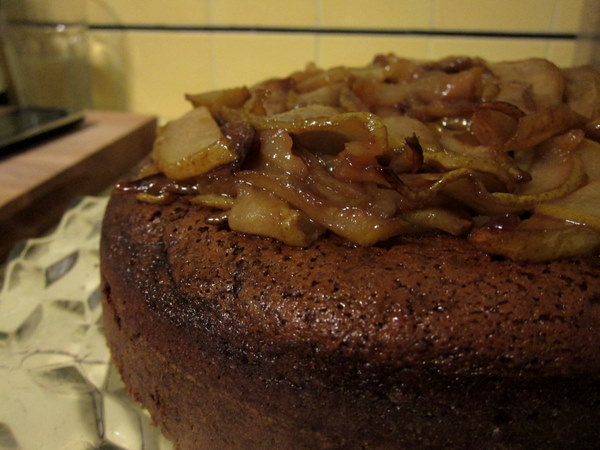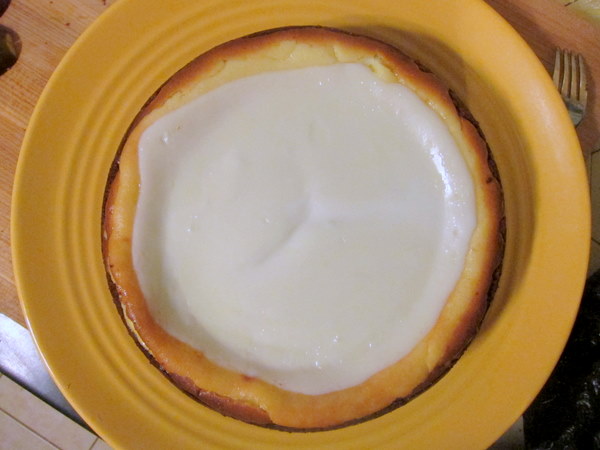 I could certainly use two cakes. Or two more, rather, since I made both of these last weekend for some dinner gatherings and finished the last slice yesterday. (Yes, we gave a lot away. No, I did not eat two entire cakes over six days. But I could. Just for the record.)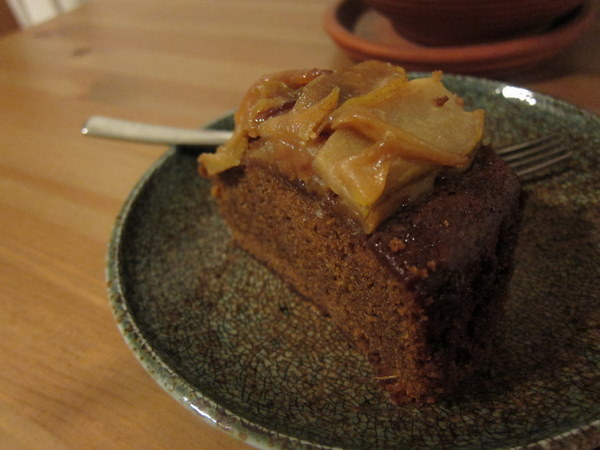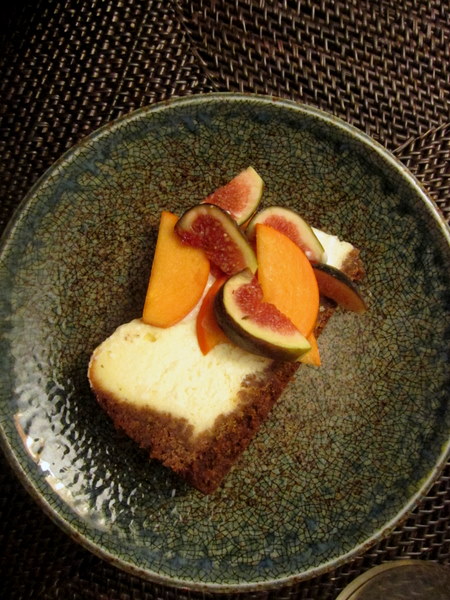 Should you find yourself needing two cakes because shoes/emotions also stress you out, these two make a pretty good pair. Fall-appropriate, delicious, beautiful, and great not only on their own but in contrast to one another. A spicy, everyday double-ginger cake topped with candied pears – a digestif-like end to a delicious Middle Eastern meal last Friday evening, and equally at home the next morning for breakfast (toasted, with a large dollop of tangy plain yogurt and a huge mug of mint tea).  And a dense, rich cheesecake with a crust of homemade graham crackers, topped with persimmons and figs – a decadent end to a vegetarian, fall-harvest type meal on Monday night (and not even remotely breakfast-appropriate).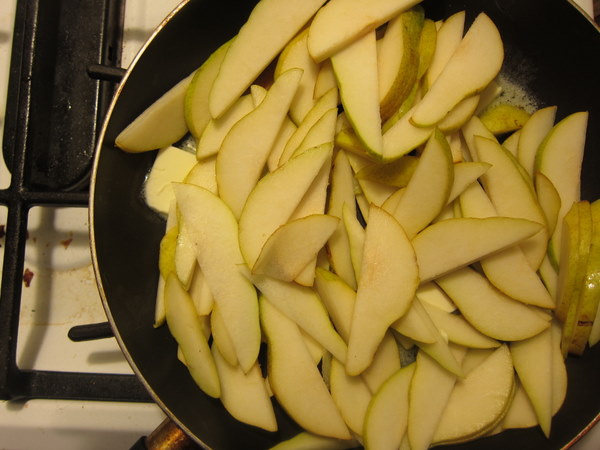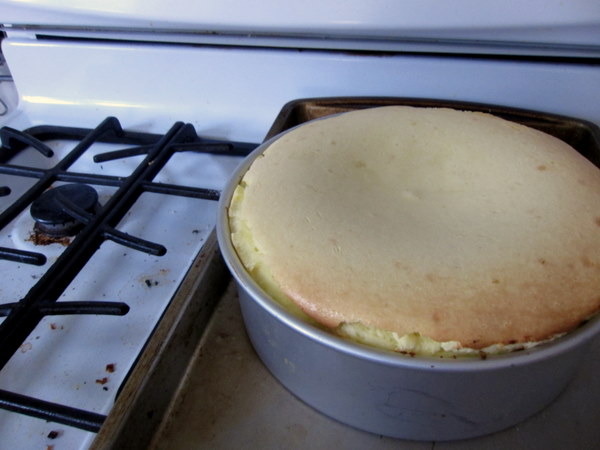 Both cakes were influenced by others I've known for years, infused with the flavors of home and a grounding sense of familiarity. The ginger-pear cake influenced by the Großmütter cake Brett usually makes on Thanksgiving, soft and pillowy, spicy with ginger and layered with soft pears that caramelize in the oven. And the cheesecake direct from my Gram's recipe – a cake I've known for as long as I can remember, with a thick, sturdy graham crust and a layer of sweet sour cream lathered on top.
I improvised a bit on both, emphasizing flavors and adding new elements. I made Brett's cake a bit denser and spicier.  I took the pears out of the bottom and added them instead as a separate topping, first caramelizing them with brown sugar and rum until until chewy and soft, the edges beginning to firm into candy. To Gram's beloved cheesecake I added boldly-colored fall fruits and made a crust with hearty, whole-wheat homemade graham crackers, crumbling them a bit less to impart an oatmeal cookie-like texture to the base for the creamy, lemon-infused filling.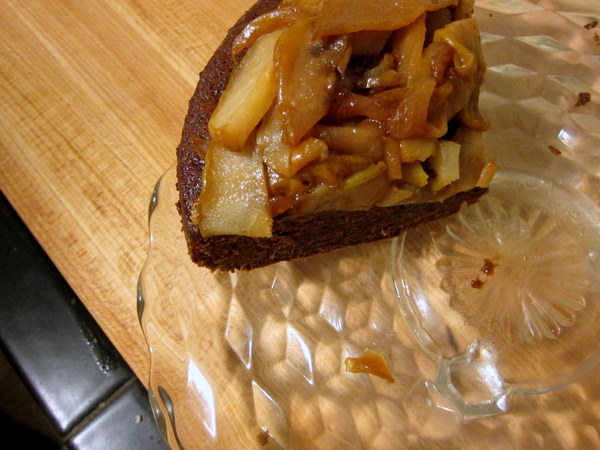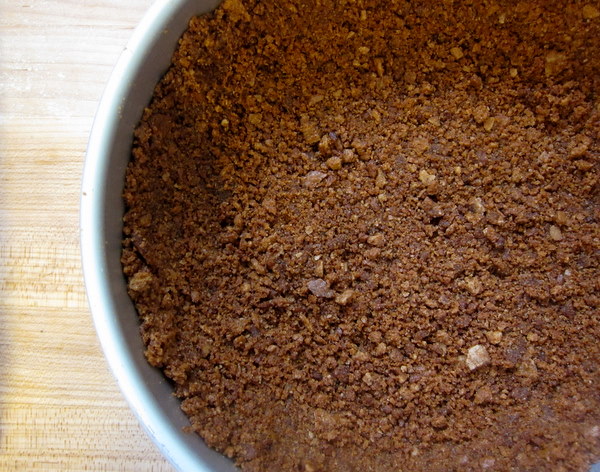 Sometimes, life needs cake. Whether that's because you need to celebrate or because things aren't going so well (and especially if you can't figure out which of those two circumstances applies), cakes will work. Cakes were invented for good.
Gingerbread cake
Adapted from The Grand Central Baking Book

Makes one 9″ cake, or equivalent – see this page for a great overview of baking pan sizes

2 cups (10 ounces) flour
1/4 tsp. salt
1/2 tsp. ground cloves
1 tsp. ground ginger
1/2 tsp. finely ground black pepper
1 scant cup (7 ounces) granulated sugar
3/4 cup (6 fluid ounces) vegetable, canola, grapeseed, or other flavorless oil
3/4 cup (9 ounces) molasses
2 eggs
3/4 cup (6 fluid ounces) boiling water
1 tsp. baking soda
1.5 Tbsp. fresh grated ginger

– Preheat oven to 325. Grease and flour a 9″ round cake pan.

– Whisk together flour, salt, cloves, ginger, cinnamon, and pepper in a medium bowl.

– Using a stand mixer or hand mixer, beat together the sugar, oil, molasses, and eggs on medium-high speed. Beat for at least two minutes to well combine the ingredients.

– Add all of the flour mixture at once and mix on low speed until incorporated.

– Stir together the baking soda and boiling water in a small bowl or liquid measuring cup, and add to the batter with the mixer on low. Add the fresh ginger and stir by hand with a rubber spatula or wooden spoon.

– Scrape the batter into the prepared pan and bake for approximately 50 minutes – until the cake begin to pull away from the sides of the pan and springs back slowly when pressed in the center.  Testing with a wooden skewer should come back with a few crumbs, but no batter.

– Cool on a wire rack in the pan for at least 10-15 minutes, then run a knife around the edges and invert to remove.

– Serve with candied pears and whipped cream, if desired.

Candied pears with rum and brown sugar

Makes about 2-3 cups of caramelized pears – enough to top a cake.   

3 firm pears (any variety will do), sliced into 1/4-1/2″ slices
2-3 Tbsp. unsalted butter
1/2 cup brown sugar
A splash or two of rum (optional, and could also use brandy, cognac, bourbon, etc.)

– Preheat the oven to 375F.

– In a large saucepan, melt butter over medium high heat. Add pears and panflip or stir (carefully, to not break pieces) to coat with butter. After pears begin to soften (5-10 minutes), add brown sugar and panflip or stir to coat.  You can add the optional alcohol at any point, and if there's not too much other liquid in the pan you can flambe them (for drama!) if you like.

– Cook, stirring occasionally, until sugar is melted. Put pan into the preheated oven for another 15-20 minutes, until pears are caramelized as much as you want. The longer you cook, the more they will brown and reduce and become chewy.  It's really a matter of preference.  If your pan has a plastic handle, you can wrap this in aluminum foil (shiny side out) and it will be fine in the oven. Otherwise, you can spread the pears onto a baking sheet to put in the oven.

Cheesecake with sour cream topping

1 recipe graham crackers (below), or 3 packages (approximately 14 ounces) graham crackers – one box of Honey Maid has 3 packages
1 stick butter, melted
32 ounces (4 standard 8 oz. packages) cream cheese
4 egg
2 egg yolks
1 1/2 cups sugar
1/2 cup sour cream
1 Tbsp. vanilla
Flavoring, if desired: citrus zest, liqueur, melted chocolate, strong espresso, pumpkin puree, spices, etc.

Sour cream topping:

1/2 to 1 cup sour cream
1/4 cup sugar

– Preheat oven to 325F. Line a bottomless or springform cake pan with parchment paper.

– Crush graham crackers in a food processor or blender or by hand. Traditionally these would be crushed until a fairly consistent dust, but this time I crushed them a bit less to have a coarser crust.

– Mix crushed graham crackers with melted butter and press into the bottom and sides of the pan. Try to make it as consistent as possible, but the corner will be thicker and it'll never be perfect.

– With a stand mixer, hand mixer, or blender, combine the cream cheese, eggs, egg yolks, sugar, sour cream, vanilla, and other desired flavors (I added the zest of a large lemon). Pour this batter into the pan – it will likely go over the edge of the crust, which is fine.

– Bake the cake on top of a baking sheet for approximately 1 hour to 1 hour 15 minutes, until fairly well set. It may look jiggly, but that's okay. If you want to test it with a wooden skewer to assess the consistency of the inside, that's fine. The skewer should have clumps of filling, not streaks of wet filling. During the baking process the top may puff perhaps even above the edge of the pan, and that's okay too. It will sink when cooling.

– Let the cake cool 15 minutes, but keep the oven on. Mix the sour cream and sugar in a bowl and pour over the top of the cake. Bake for 10 minutes.

– Chill the cake for at least two hours before eating. Can be chilled up to three days ahead, covered in the fridge. Served well with berries or other fruit, chocolate or caramel sauce, or other toppings.

Whole wheat graham crackers for cheesecake crust
Adapted from Smitten Kitchen

2 cups whole wheat pastry flour or 1 3/4 cups + 2 Tbsp. whole wheat flour
3/4 cup dark brown sugar, lightly packed
3/4 tsp. baking soda
1/2 tsp. salt
5 Tbsp. butter, cut into 1-inch cubes and frozen
1/4 cup honey
4 Tbsp. milk
1 Tbsp. vanilla extract or paste

– Combine the flour, sugar, baking soda, and salt using a food processor (pulsing), electric mixer (on low), or whisk. Add the butter and use the processor (pulse), mixer (on low), or by hand (pastry blender, hands, or two knives)  to incorporate until a coarse meal texture.

– In another small bowl, whisk together the honey, milk, and vanilla. Add to the flour mixture and pulse/mix on low/stir until the dough barely comes together. It will be soft and sticky, so dust with flour on both sides before patting into a rectangle on a large pieces of plastic wrap. It should be about 1 inch thick, and may crumble slightly. That's okay.  Wrap it in plastic wrap and chill at least two hours and up to a couple of days.

– Roll out the chilled dough in two batches. Continuously dusting with plenty of flour to keep it from sticking, roll out on a flour work surface until about 1/4-1/8 inches thick.  Trim into pieces about the size of a graham cracker – this doesn't matter much since you'll be crumbling it to make the crust, but baking time/temperature is based on baking pieces about this size instead of one large piece, for example.

– Place the crackers on two lined baking sheets (parchment or silicone liners). Chill again in the fridge about 30-45 minutes.

– Preheat oven to 350F. Bake 20-25 minutes, until browned around the edges. Rotate the sheets halfway through to ensure even baking.