Bowen Appetit 2011 holiday gift guide (for people who like things I like)
Here are some things things I hate:
Driving in traffic
Parking lots
Waiting in lines
Shopping when I know exactly what I'm looking for but can't find it
Shopping when I have no idea what I'm looking for and can't find it
Shopping when stressed
Shopping around other stressed out people
Holiday shopping season, how much I hate thee.
Don't get me wrong – I love gift-giving (and -getting, let's be real).  I love when I figure out the perfect gift for someone. I love making gifts. I love putting together a set of gifts. I love wrapping gifts. I love when I get it right.  But my god do I hate shopping and searching for gifts during the holidays.
To that end, I thought I might help you out a little. Let's say you or someone you love likes to spend some time in the kitchen, or would like some help spending more time there.  Let's also say it's mid- to late-November, and time to get some serious gift purchasing accomplished, because time only goes forward and Christmas will be here before you know it and if you like to spend your time trying to find parking in decent shopping areas once mid-December hits then you just go right ahead but I will NOT be there with you. 
So: here's a little guide to the kitchen-related gifts I'm thinking about this time of year.  Whether it's something I use on a daily basis, something I wish I had, or something that is always lovely to receive, this should have you covered for anyone you know who likes to cook (or wishes they cooked more).
Update: I've added a small Part II to the Gift Guide here (handmade gifts and charitable gifts).
INGREDIENTS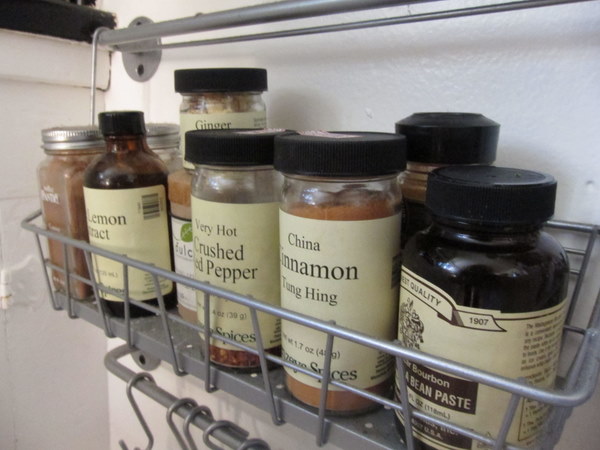 Spices Yeah, it's easy to buy those little packets of ground spices at the grocery store. But there's a big difference between those little bottles and the high quality spices available from a place like Penzey's.  Ground spices have a shelf life of 6-12 months (at most), and you'd be amazed at the difference between fresh and stale spices.  Buying from a place like Penzey's ensures that what you're getting is not only high-quality, but also that it hasn't been sitting in a warehouse for years. Ethnic food stores are also generally good options, because stock turnover rates are likely higher. It's always best to buy your spices as whole as possible and grind them yourself, but if the person you're buying for isn't likely to do that, ground is always a good option. Penzey's has great gift boxes, too!
Vanilla beans/vanilla bean paste If you have someone in your life who makes a decent amount of ice cream, custard, or items with pastry cream, they'll be head over heels for a gift of high-quality vanilla beans. Better yet, get them a jar of vanilla bean paste! All the goodness scraped out of the beans and suspended in a sugar solution – a direct substitute for pricey and labor-heavy vanilla beans, for a fraction of the price!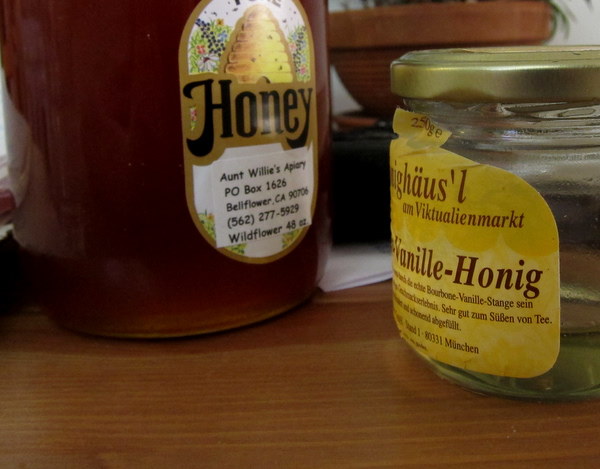 Good honey Everyone loves good, local, honey, especially if it's something particularly interesting – our farmers market sometimes has a deep, almost black avocado honey that would make a perfect gift. Check out what's special to your area and to the season.
Rancho Gordo heirloom beans/grains You may fancy yourself a connoisseur of heirloom tomatoes, but you probably haven't had much exposure to the variety of heirloom beans and grains available.  Rancho Gordo produces a large variety of high-quality, heirloom beans, grains, and more from their ranch in Napa.  They're a little pricey compared to the dried beans at the grocery store, but definitely worth it. A perfect treat for the home cook!
Community Supported Agriculture (CSA) subscription A CSA subscription gives the recipient a box of fresh, local produce (and sometimes honey, eggs, flowers, and more!) on a regular basis for a period of time.  Sites like Local Harvest can help you find a CSA option near your recipient.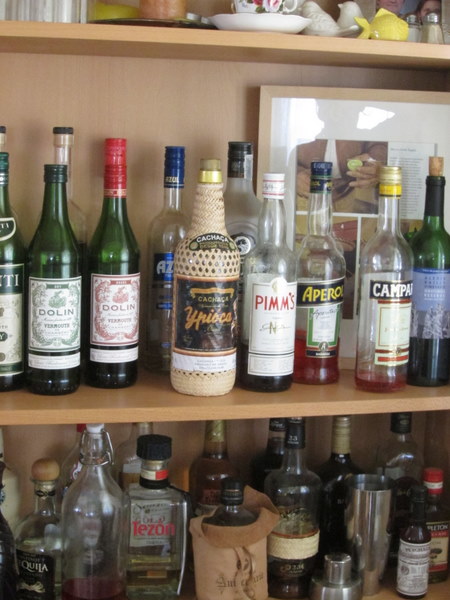 Nice bottle of interesting booze Giving a gift to someone who likes cocktails? Give them a bottle of something they may or may not buy on their own. Manhattan drinker? Try a bottle of nice bourbon or some higher-quality vermouth. Someone more adventurous? Try something a little different: aperol, cynar, pernod, or some interesting bitters.  Writing out recipes to go with the bottle is a nice touch, whether you come up with them yourself or find them in a bar book or online.
KITCHEN TOOLS
Citrus squeezer For cooking or cocktail making (margaritas and mojitos will never again be a hassle), an enameled cast iron or aluminum squeezer (choose this over plastic) makes juicing limes, lemons, and oranges a breeze.  Don't be fooled by the three sizes and colors – the largest orange one will fit all three sizes!
Dutch oven/Le Creuset Yes, it's pricey. But a good one will last you a lifetime and can be used for almost anything.  Soups and stews, curries, risotto, braising, bread baking, and on and on.  And the type does matter here – either go big with a high-quality enameled version (like Le Creuset), or go basic with a plain, unenameled cast iron type (like Lodge brand).  Mid-range enameled versions (avoid anything with the name of a celebrity chef) are risky, since the enamel can come off after repeated high temperature use.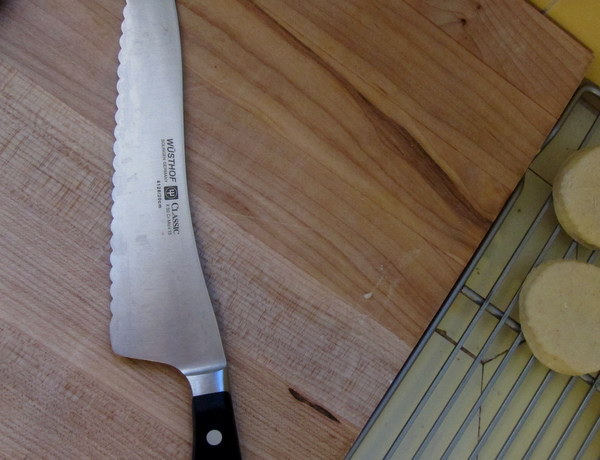 Good knives This is actually kind of a difficult one to put in the list. There's a lot to buying a good knife, and it's really important that the person using it go see for himself or herself what they like best – balance, weight, and feel make a big difference between a knife you love and a knife you hate.  Brand does matter with knives, and a good knife is going to be pretty pricey (but again should last you a lifetime).  Don't worry about fancy knives with all kinds of crazy features and different knives for every kitchen task – you really only need a few.  My knives are all Wusthof, and those happen to be what we use at work as well.  I don't know everything there is to know about knives, but if you have any questions or thoughts feel free to leave them in the comments and I will respond!
Good hot pads Here's kind of a ridiculous story: when I moved into my first post-college apartment and had a house-warming party, I realized I had nothing with which to take a hot dish out of the oven. A very particular hot dish, namely the one that was already both hot and in the oven.  When a friend called on the way to see if I needed anything, I said "yeah – a bag of ice and some hot pads." Until a few days ago, I still had one of those tissue-thin, palm tree-adorned 99 Center Store hot pads, along with one actually functional hot pad from Williams Sonoma. Apparently my desire to save money is greater than my desire to have unburned flesh on both hands, but last week I finally got with the program and bought another one of these.  It's like my hands get to go on a luxury vacation while taking a pan out of the oven.  Or something.
Digital scale For the baker in your life. You'd think a cup of flour is a cup of flour, but then you'd be wrong and your cake would be RUINED. Just kidding, sort of, but in all honesty a scale can be incredibly helpful in baking. Not only does it help you get closer to the intended recipe by eliminating measurement variation – for instance, a cup of flour can weigh anywhere from 4.5 to 6.5 ounces – but it also eliminates most measuring devices by allowing you to add ingredients directly into the mixing bowl (fewer dishes = happier Bowen!). I love my OXO scale, with both metric and imperial weight and a display that pulls out in case your bowl or container is fairly large.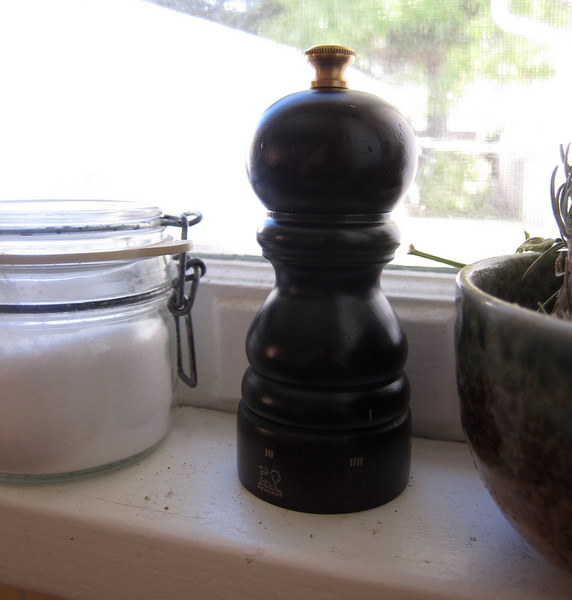 Good pepper grinder I'm about to say something kind of ridiculous, I admit: but I can't tell you how much time I spent over the last five years grumbling over our pepper grinder.  When you're trying to get something on the table or to the next part of the cooking process, it can be seriously frustrating to spend minutes just trying to grind some freaking pepper.  Finally Brett convinced me to spend the money on something I liked, and it was totally worth the $30 or so I spent on it.  Peugeot grinders are the classic I've heard about from many, and I can personally highly recommend it. Not that I really need six different levels of coarseness (three would probably be just fine), but oh well.
Herb garden setup Everyone likes fresh herbs, but not everyone likes putting the labor into starting their own garden. Buy some pots, some soil, some seedlings or seeds, and offer to help the recipient set up their own backyard or indoor herb garden.  Basic, classic herbs like parsley, basil, chives, cilantro, and thyme are good places to start.
Simple, classic serving ware Basic, unpatterned, classic-style platters, cake stands, bowls, and other servingware are always great things to have in the house. This is especially helpful for people you know who are just starting to build their kitchen.  Classic can always be jazzed up with decorations, so keep it simple and you won't risk getting something that isn't someone's style.  IKEA, Crate and Barrel, Williams-Sonoma, and Heath Ceramics (in increasing order of expense) are great options for classic items.
Aprons/linens Aprons, tea towels, and other kitchen linens are useful – and an opportunity to give someone a funny, creative, or light-hearted gift.  Anthropologie, Etsy, and stores that focus on local artists/artisans are great places to find unique items.  I'm currently drooling over Studiopatro's selection, and TheKitchn has this good overview on cheap(ish) linen aprons.
COOKBOOKS
Oh boy. If you've been in a bookstore with me sometime in the last five years you'll know I go a little crazy for cookbooks.  I've cut myself off recently in order to focus on the books I already have, but that doesn't stop me from buying them as gifts.  Here are some of my favorite books, which I would also heartily recommend as gifts.  (Note: I actually started writing this with only six books – and as I wrote, it grew. A testament to how many good books there are out there, and to how weak-willed I am when faced with a shelf full of books about food.)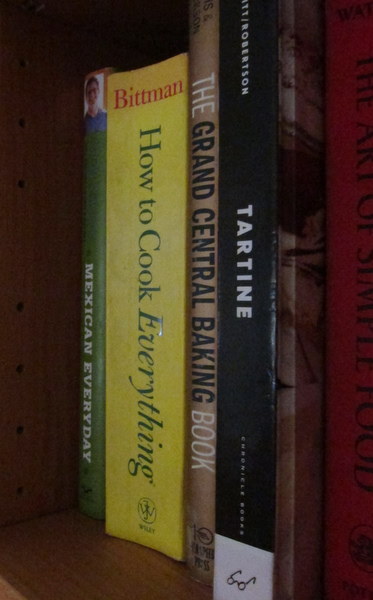 Everything-you-could-need classic cookbooks: The Joy of Cooking, How to Cook Everything, How to Cook Everything Vegetarian, Vegetarian Cooking for Everyone Each of these are a classic, thorough anything-you-could-ever-need type of cookbook.  These are especially good for someone just starting to cook, because each has a decent amount of instruction and encyclopedic-type entries on various ingredients, recipe types, and cooking techniques.  The Joy of Cooking is a little more old-fashioned than the others, but has been fairly well updated from previous versions and seriously has almost any recipe you could ever need.  Mark Bittman's How to Cook Everything and … Vegetarian are a bit more updated and less overwhelming, and I've heard people say that using them is a great way to learn how to cook.  Deborah Madison's Vegetarian Cooking for Everyone is actually just that – a great source for side dishes or things to which meat or seafood can be easily added, keeping vegetarians and meat-eaters alike quite happy – and a great resource for varied, exciting, vegetable-centered eating.
Baking/Dessert books: Grand Central Baking Book, Tartine These are my two favorite baking books at the moment – distinctly different, but each great in their own way.  Grand Central Baking Book is a great, basic resource for West Coast, rustic-style baking, with detailed and very helpful instructions for various types of doughs and batters.  Fresh berry galettes, craggly rustic scones, hearty meat pies, simple basic birthday cakes, savory breads, holiday pies, and much more.  Tartine is a slightly different beast – slightly more finicky recipes loaded with cream and butter and instructions that assume some familiarity with baking.  Any bakery-obsessed foodie with a penchant for indulgent desserts will love this book and its gorgeous photography.
Martha Stewart's Cooking School Ignore that it's Martha Stewart, and focus instead on the "cooking school" part. The book is organized by technique, with clear photographs and instructions for everything from poaching an egg to roasting poultry to making meringue.  Definitely a great gift for a beginner cook, but also for any cook with a desire for a little formal training.
Bartending guides A classic guide to bartending (none of those fancy, lounge-type cocktail guides) is key for anyone who likes to make cocktails at home.  Everyone wants to be able to whip out an Old Fashioned if a Don Draper-type stops by (I've been waiting, hasn't happened yet), and it's particularly helpful if the book is organized or at least indexed by type of alcohol (e.g. "I want something with gin – what can I make?"). Accompanying this with a bottle or two of classic alcohol (think: nice gin, nice bourbon) makes a great gift.
Home creamery books: Jeni's Splendid Ice Creams at Home, A Perfect Scoop I personally found making ice cream at home a little stressful until these books came into my life.  A Perfect Scoop is a little more basic, with good overviews of traditional ice cream making and a large variety of both traditional and unique flavors. Jeni's, on the other hand, also has a great general overview of ice cream but the flavor combinations are a little more extreme. Her technique is pretty unique, but I find it easier than the traditional technique and with great results.  The recipes in this book are also fairly easy to take apart – maybe chocolate with garlic powder and fairy dust (not an actual example, obviously) is not your cup of tea, but you can pretty easily omit the weird stuff and have a great chocolate ice cream recipe.
Mexican Everyday For anyone who loves Mexican food and would like to make it at home without a day's worth of work. This is one of the most commonly used cookbooks in our house, and includes a huge variety of fairly authentic Mexican recipes that can easily be made at home.  Rick Bayless is famous for good reason.
All About Braising, All About Roasting For anyone who loves to sink into a hearty, warm, homemade meal during the colder months, both of these books will be great resources. Vegetables, meat, poultry, seafood, and more.  All About Roasting is new and I actually haven't cooked out of it, but I've heard great things and have already bought it as gifts this year.
Ratio This book breaks down categories of techniques (from doughs and batters to stocks and soups to custards and sauces) into their basic equations – pie crust, for instance, is 3 parts flour, 2 parts fat, 1 part liquid. Biscuits are 3 parts flour, 1 part fat, 2 parts liquid.  A total game-changer for people learning to cook, and an eye-opener for even advanced cooks.
LAST BUT NOT LEAST …
Cooking classes! There are a huge variety of classes out there – from demonstration to hands-on, from one-time to an ongoing series, from small group to classroom.  Check out what's available in your area and pick something fun for your loved one (or for yourself!). A cooking class can be a great way to learn new techniques or become more familiar with a certain type of food – maybe a Thai class, or a workshop on pie crusts.  I can heartily recommend the school where I work for anyone in LA, Portland, Seattle, or San Diego, but there are likely plenty of schools wherever you are.