Red rice, green rice (here we go!)
by Bowen Appétit on December 12, 2011
Um, scratch that.
I just wrote a big, long, involved post about chocolate cake. But then I realized that it's December 12, which leaves me exactly exactly 19 days to finish that list over there to the right. Let me just say that in the last three weeks I have been home to cook dinner exactly four times. Four times. Not an excuse, but just to say that things have been a bit frantic around here lately.  My last day at Pomona is Friday. Brett's last day of graduate school is Friday. I started teaching solo (meaning I finished training) last week. Christmas and all of its travel-causing, gift-giving, craft-heavy glory is in less than two weeks. Let's ponder that.
And then let's get a move on.
After this, you're up to date. Chocolate cake, two rices, two new books, three new cocktails. What's left needs to happen in the next 19 days. Okay. Okay.
1. Chocolate cake
I've made a lot of chocolate cake over the past few years, always to be disappointed. Hence the list goal to find a good, reliable, conventional chocolate cake recipe (i.e. no souffle, no mousse, no molten – just a basic, conventional, layer cake-style chocolate cake). But in doing this, I realized that I don't really like chocolate layer cake. No wonder I haven't been able to find a recipe that I like for anything more than a frosting vehicle (peanut butter buttercream, I'm looking at you). Remember how I didn't really like chocolate cake as a kid? I do, now that I've spent so much time trying to find a good chocolate cake recipe. Thanks, selective memory.
But, wait. I do like this chocolate cake. I've made it a handful of times now, and every time I like it a little more. Not what I was looking for, but easy and delicious and what I now consider my go-to chocolate cake recipe. Dense and almost flourless, with intense but not overpowering nor bitter chocolate flavor.  Almost like a brownie, almost like a cake, almost like fudge – but better than any of them. Fantastic with whipped cream and fruit. Good freshly baked, even better frozen for a few days and then thawed.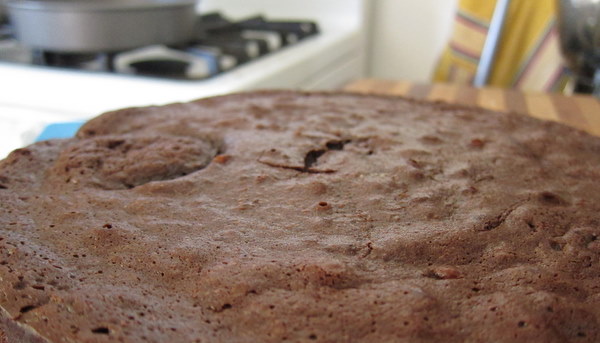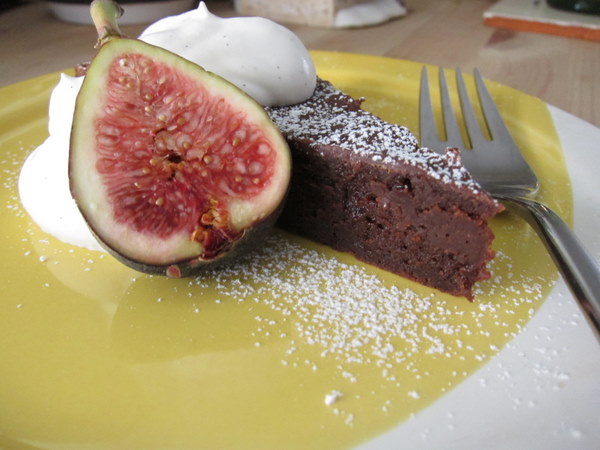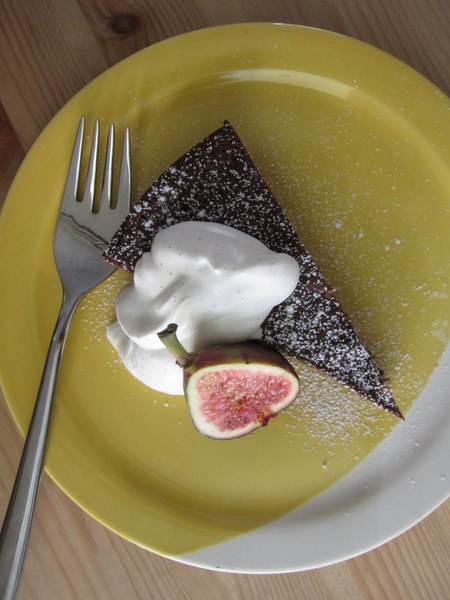 Almost Flourless Chocolate Cake
Adapted slightly from  A Homemade Life by Molly Wizenberg (Orangette)

Makes 6-12 servings, depending on size

7 oz. dark chocolate, finely chopped
7 oz. (1.75 sticks) butter
1 1/4 cups (8.75 oz.) sugar
1 tsp. vanilla extract (or other flavorings – peppermint extract, almond extract, orange blossom water, etc.)
Optional: orange zest, lemon zest, cinnamon, or other flavoring
5 large eggs
1 Tbsp. flour
1 tsp. salt
Whipped cream, seasonal fruit, berry compote, caramel sauce, or other items for serving (whipped cream and in-season strawberries is my favorite)

Alteration – bourbon chocolate: One of my favorite alterations to this cake is to add 3 Tbsp. of bourbon instead of vanilla, adding an additional 2 Tbsp. of flour to make up for the added liquid. It may take an additional few minutes of baking until the cake is set in the center. 

– Preheat oven to 375F. Butter a round cake pan, line with parchment, and butter the parchment.

– Melt the butter and chocolate in a double-boiler (or a heatproof bowl set over a pan of simmering water, not touching the water), stirring occasionally. When smooth, add the sugar and the vanilla. You can also add any optional flavorings, such as orange zest, cinnamon, or other spices. Set aside to cool, then add the eggs one by one, mixing well after each addition.

– Add the flour and the salt and mix well.

– Pour the batter into the prepared pan and bake for 22-28 minutes, until the top is somewhat crackled and the center of the cake is fairly set. A slight jiggle in the middle is okay – the cake will continue to bake from retained heat after removed from the oven.

– Cool the cake for at least 15 minutes before inverting. You'll need to flip it over again so the top is up, but remove the parchment paper while the bottom is up. The cake is fairly delicate, so be careful not to smash or bend it as you flip. I usually do this between two cooling racks, holding one on each side of the cake and flipping them over.

– Cool completely before serving. This cake can sit at room temperature for 3 days or in the refrigerator for 5 days before serving (wrapped well in plastic wrap), but is best served at room temperature. If you want to freeze it before serving, wrap in plastic wrap and then foil. Let sit at room temperature for 24 hours, fully wrapped, before serving.
2. Old Fashioned – Go-to cocktail
Like bourbon went to a party and went a little crazy with the fruit cocktail. In a good way. Speaking of good ways, this is one for playing Don Draper make-believe. (Hint hint, Brett.)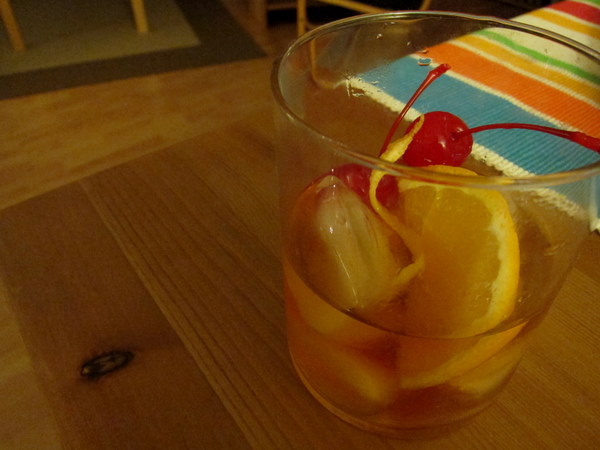 Old Fashioned

Makes 1, easily scalable

1/2 tsp. sugar
2 dashes Angostura bitters
2 ounces bourbon
Splash of soda water
Orange slice
Maraschino cherry
Lemon twist

– Add the sugar to a cocktail glass. Add the bitters over the sugar.

– Fill the glass halfway with ice. Add the bourbon and soda water and stir.

– Add the orange slice, cherry, and lemon twist as garnish.
3. Southern Sunday fall dinner with go-to cocktail
Let's say your coworkers give you a bundt pan as a going away present. Let's say you have a green pepper nearing the end of its useful life in the refrigerator. Let's say the butcher shop has pork chops on sale.  Let's say you've worked all weekend, and that calls for a meal of pork with a side of pork, cut with some spiked and salted grapefruit juice.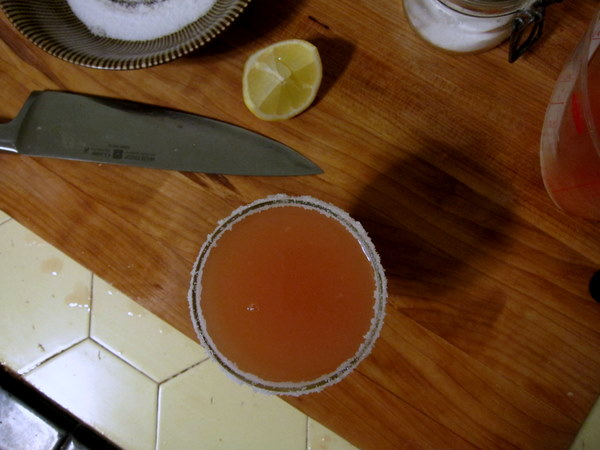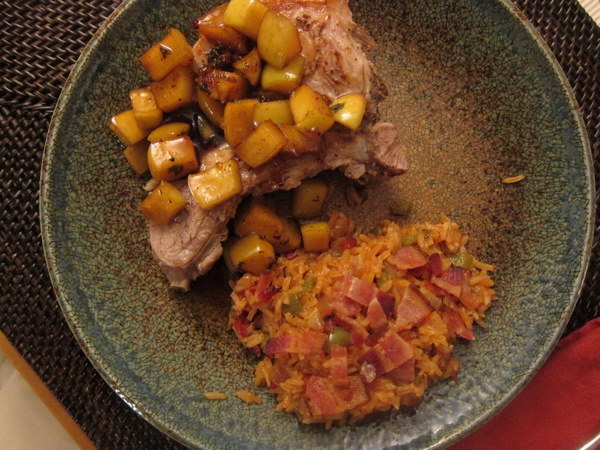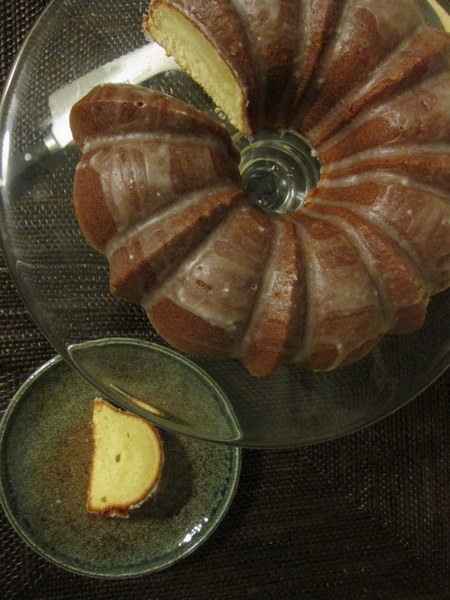 The menu:
Salty dogs (recipe below)
Red rice with bacon (recipe below)
Sauteed pork chops with apple compote and pan sauce
Lemon buttermilk bundt cake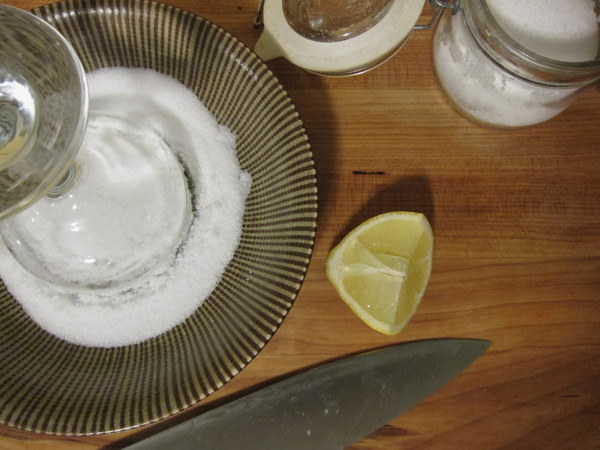 Salty dog (or greyhound)

Makes 1, easily scalable

2 ounces vodka
5 ounces Ruby Red grapefruit juice
Lime wedge and salt for rimming the glass
Ice (if your ingredients aren't cold, or even if they are)

– Run the lime wedge around the edge of a cocktail glass. Dip the rim of the glass in a saucer or shallow bowl of salt, to coat. (For a greyhound, skip this step.)

– Add the vodka and the grapefruit juice to the glass (and ice, if you want it).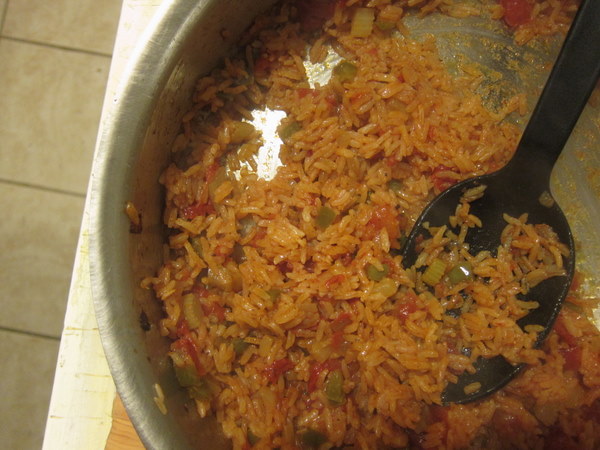 Red rice with bacon
Adapted from Saveur Cooks: Authentic American

Makes 4 hearty servings

4 slices of bacon
1 medium onion, diced
1 celery stalk, diced
1 green pepper, diced
1 cup long-grain rice
14 ounce can of diced tomatoes
Salt and pepper

– Fry the bacon strips in a large skillet. When golden brown, remove to drain on paper towels, reserving the grease in the skillet.

– Heat the bacon great on medium heat. Add the onion, celery, and green pepper and cook until soft, about 10 minutes.

– Add the rice and cook, stirring constantly, for 3 minutes. Add tomatoes and season to taste with salt and pepper.

– Reduce heat to medium low and add 1 cup of water. Cover the pan and let cook for at least 15 minutes, or until rice is tender and water is gone. Alternatively, cook covered with aluminum foil in a 350 oven for 20-30 minutes.

– Serve topped with crumbled bacon.
4. Monday night Mexican dinner with go-to cocktail
Because if Monday doesn't deserve fried tortillas, Mexican coke, and homemade crema, I don't know what does.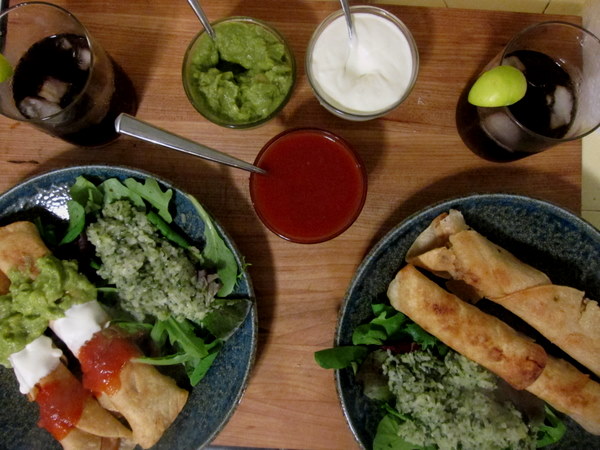 Menu:
Cuba libres, Nica libres (recipe below)
Turkey flautas: leftover Thanksgiving turkey (frozen and thawed), rolled in softened (dry-heated) corn tortillas and pan-fried in vegetable oil
Arroz verde (recipe below)
Red sauce (El Pato) and guacamole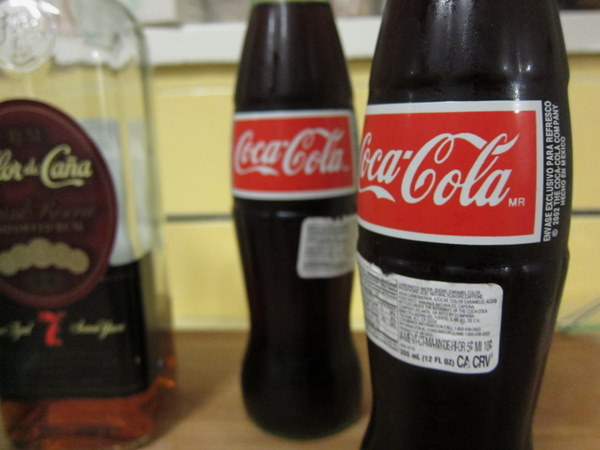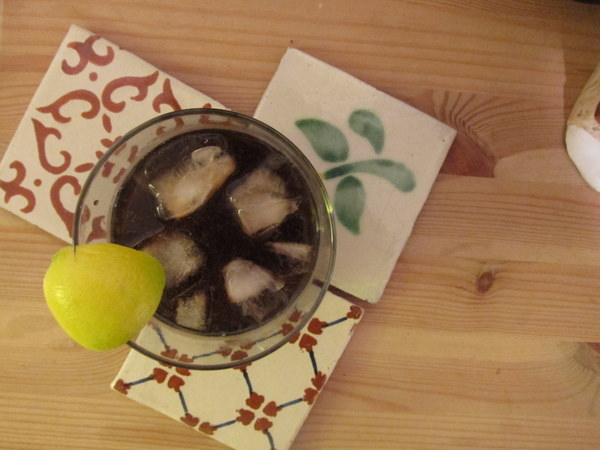 Cuba libre or Nica libre

Makes 1, easily scalable

2 ounces white rum (cuba) or Flor de Cana dark rum* (nica)
4 ounces cola (preferably Mexican Coca-Cola, with real sugar)
1/2 lime

– Mix rum and cola in a glass with ice. Squeeze in the half lime.

* You could probably use other dark rums for this recipe – but technically a Nica libre is with Flor de Cana brand rum, from Nicaragua. The Flor 7 year Grand Reserve rum is our favorite rum (and probably our favorite alcohol in general), so we almost always have it in the house.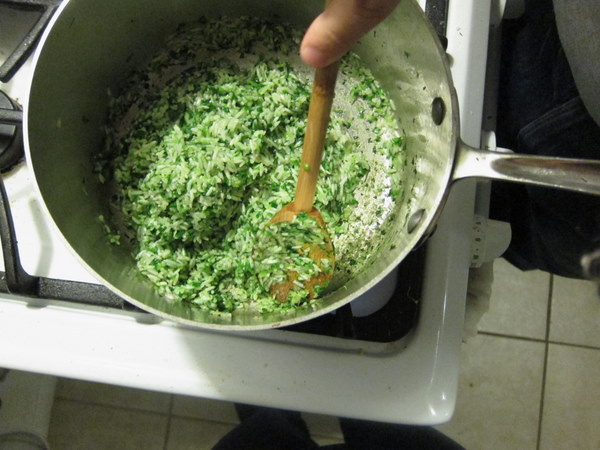 Arroz verde
Adapted slightly from Savoring Mexico by Sharon Cadwallader 

Makes 3-4 servings

1 cup long-grain rice
1/2 cup chopped parsley
1/4 cup chopped cilantro
4 scallions, chopped
Small handful mixed greens (optional)
1/2 serrano, deseeded and chopped
1 clove garlic
1/3 cup vegetable or other flavorless oil
1 tsp. salt, plus more to taste
2 cups chicken stock or water

– Rinse rice with cold water until water runs clear.

– Puree parsley, cilantro, scallions, greens, serrano, and garlic in a food processor or blender.

– Heat oil in a medium pot over medium heat. Add rice and stir to coat. Add pureed herbs and cook, stirring constantly, until mixture slightly dries (3-4 minutes). Mix the broth and salt and add to the pan and bring to a boil. Reduce heat to a simmer and cover. Cook without stirring until rice is tender and water is absorbed, 20-25 minutes. (If more time is needed for liquid to absorb, that's okay.)