Vegetables and whole grains. Vegetables and whole grains.
Vegetables and whole grains. Vegetables and whole grains. Vegetables and whole grains.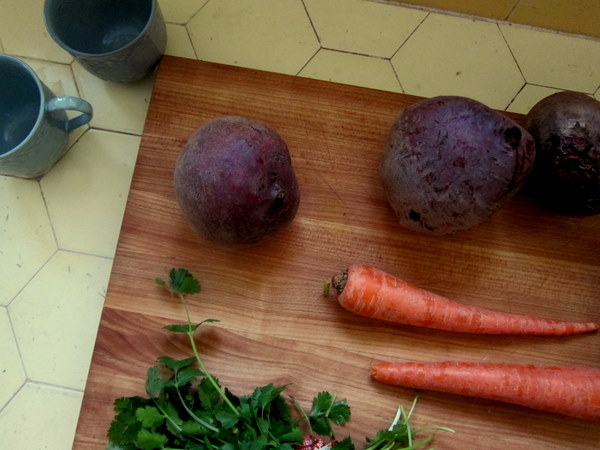 It started like a whisper, maybe on December 27th or so. It got louder, when we went to McMenamins for pints and burgers. It got louder, when we stopped at Eugene City Bakery to get pastries for the train ride.  It got louder, when I couldn't decide between Swedish Fish and Raisinets at the movie theater so got both.  It started screaming by the time we went to Burgerville for lunch, and I could barely hear anything else as I ate my Grand Central Bakery cinnamon roll waiting for our plane back home.  And then I spent two days celebrating new years and watching football (i.e. drinking champagne and sausage risotto, and eating pulled pork and drinking beer), and my body said "my god, I give up."
So tonight we had this for dinner.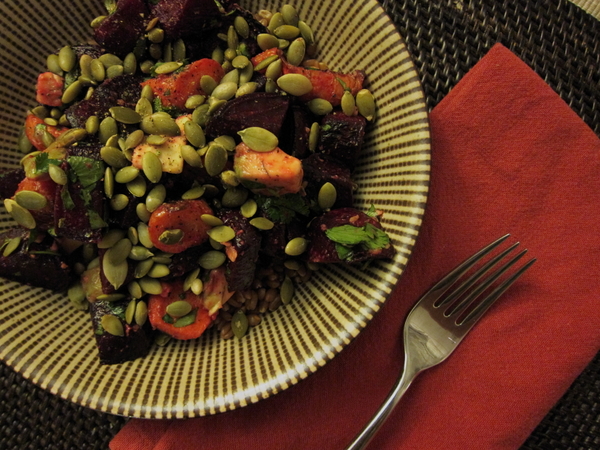 But don't let this whole "vegetables and whole grains" thing scare you away, because this salad is where it's at in 2012. Flavor, texture, unexpectedly amazing combination of items. Sweet, tangy, creamy, crunchy, nutty. If this is the stuff of resolutions, consider me resolved. (At least until I make that chicken curry tomorrow.)
I can't take absolute credit for the idea – we first tried a salad with roasted beets and carrots, chunks of avocado, pepitas, and cilantro at Gjelina Take-Away on my birthday a few months back. I fell in love. Sweet and salty roasted vegetables, creamy avocado, crunchy, nutty seeds, and the bright freshness of cilantro. Chewy, crunchy, smooth. Hearty and fresh. We've been making it at home ever since.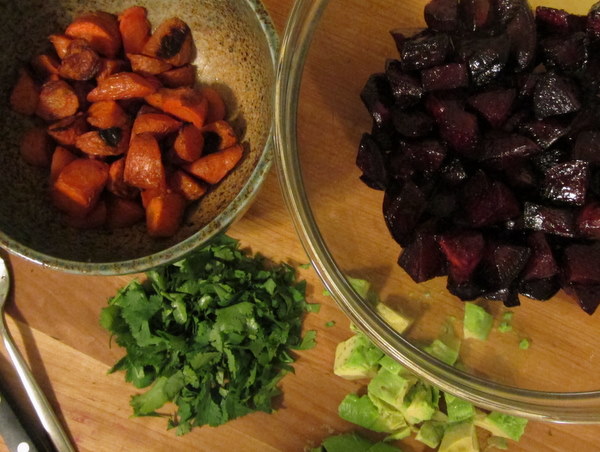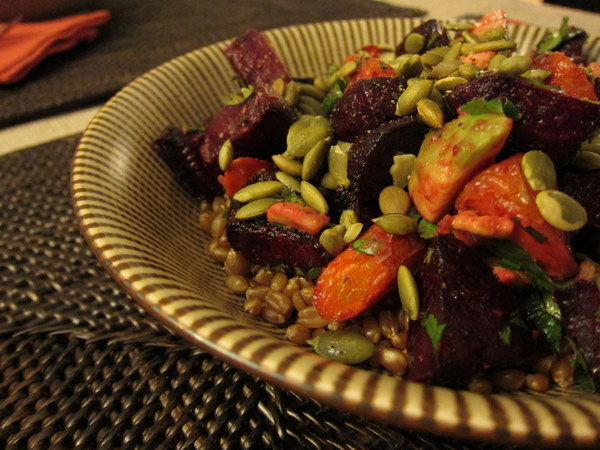 For those of you with whole grains and vegetables-type resolutions, consider this salad another support in your corner.  Another night or another lunch of delicious food that won't break your goals.  For those of you who, like me, just want that nagging inner nutrition voice to calm down a bit, consider this salad your hidden weapon.
Roasted beet and carrot salad with avocado and pepitas

Serves 2 as a light main dish, 4-6 as a side
With added grain, serves 2-3 as a main dish and 6-8 as a side

Tonight I added a grain for the first time, which helped to expand the salad into a hearty-yet-light full meal. It's not necessary, but nice to add if this is all you're having for a meal. I used hulled barley, but really any grain would work – particularly grains with a heartier texture and a larger grain (like farro).  

3 large beets (or the equivalent) – red beets have a great color, but I've made this with golden beets and candy-striped beets as well
6 large carrots (or the equivalent)
Olive oil
Salt
2 avocados, ripe but still fairly firm
Small handful (~1/2 cup) cilantro, roughly chopped
1/2 cup pepitas
1 lemon
1 cup uncooked hearty whole grain (optional)

– Preheat oven to 425F.

– If desired, begin cooking grain. Some heartier grains can take a while and you want it to cool a bit after cooking anyway, so might as well start this now.  For farro and hulled barley, I would mix 1 cup grain to 2 cups water and a pinch of salt. Bring to a boil, then cover and simmer until tender (farro for ~30 minutes, hulled barley for ~45). Drain as needed if not all water is absorbed.

– Peel and chop carrots and beets into bite-sized pieces, keeping in separate bowls.

– Toss carrots with oil to coat (~2 Tbsp.) and salt and spread on a rimmed baking sheet. Toss beets with oil to coat (~2 Tbsp.) and salt and spread on a separate baking sheet.  Roast carrots about 20 minutes and beets about 45, but check both every 15 minutes or so. Both are done when a fork piercing a large piece will enter all the way through with a bit of resistance. You can always taste-test a piece if you need to.

– Either ~5 minutes before the beets are done or after the vegetables are done, you can toast the pepitas if you want. This will make them crispier, but isn't necessary. If you'd like to do it, spread the pepitas on a baking sheet and put in the hot oven for about 5 minutes, until most of the seeds are a bit puffed.

– Cool vegetables on baking sheets until room temperature. If you're short on time, eating the salad slightly warm would be fine (but may not look as nice since it might soften and/or discolor the avocado).

– Right before tossing the salad, dice the avocado.

– Toss together the beets, carrots, avocado, and cilantro. Drizzle the salad with olive oil. Squeeze on lemon juice to taste, starting with about 1/2 of the lemon. Salt to taste. Toss and adjust seasonings as necessary.

– Spoon the salad over the grain, if using, and sprinkle the salad with pepitas to serve. If you have leftovers, don't add the pepitas until eating.