Bowen Appétit Bar Guide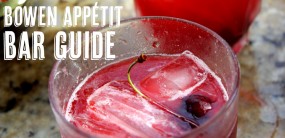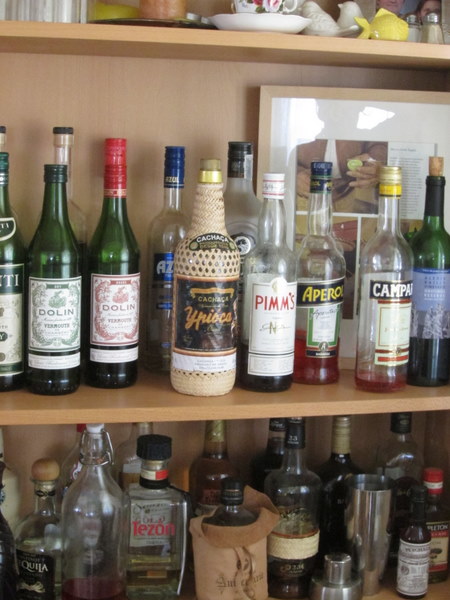 As I've spent more time in the kitchen over the past few years, I've also become increasingly interested in developing and utilizing a good home bar. The home bar that Brett and I have built is pretty well-known among our friends and is often one of the first things people notice when they come into the dining room, because we keep ourselves well-stocked with the materials to make most basic cocktails and have collected a variety of interesting and high-quality bottles when we've traveled (or, let's be honest – when there's a good deal). This isn't to say we go through these bottles particularly quickly (we still have tequila we bought on our honeymoon, and rum from our trip to Belize three years ago, and a bottle of Bacardi Solera that Brett bought in college), but we like to be able to make a variety of cocktails to go with a dinner or to offer guests
Developing a list of "go-to cocktails" was on my 2011 Food List so I could develop a good menu of options with items we're almost always guaranteed to have in our home bar. Based on my experience with our home bar and that list of 15 go-to cocktails, what follows is the Bowen Appétit Bar Guide for developing and maintaining a good home bar. From this guide you'll have the ingredients and tools you need to make most of the classics and some more unique options, as well as be able to utilize seasonal ingredients to make exciting drinks year-round. Have fun, be creative, and enjoy!
Cheers!
BOWEN APPÉTIT BAR GUIDE
Liquors | Liqueurs | Fruits/garnishes | Mixers
Miscellaneous (bitters, etc.) | Tools | Electives for creative cocktail making
Liquors
We generally keep ourselves stocked with the basics, and in each category below I make some suggestions on brands, types, and uses. In terms of quality level and cost, my general philosophy is this: keep on hand bottles good enough for drinking on their own but cheap enough and simple enough for mixing cocktails, plus select bottles of nicer versions for special occasions and/or for appreciating straight. In other words: a solidly mid-range selection of basics plus a few nicer options (all that without ever really venturing into anything truly expensive or high-end).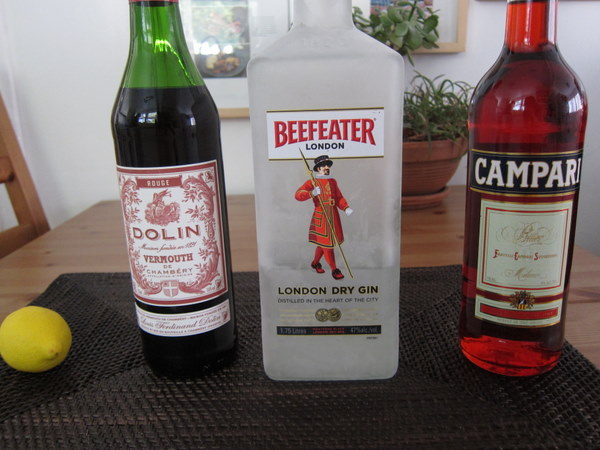 Vodka You may choose to have a higher-quality option for drinks like martinis where the vodka takes center stage and a cheaper option for mixing with strong flavored mixers, but we usually keep Skyy – solidly mid-range – in the house for both kinds of cocktails. I've been hearing great things about Tito's, but the one time we bought it I wasn't incredibly impressed. Perhaps I should give it another try.
Gin Similar to vodka, you may choose to have a nicer and a cheaper option on-hand. We always have something like Beefeater or Bombay Sapphire – solidly mid-range and suitable for a variety of applications, French 75s to gin and tonics to martinis. We also always have Hendrick's (a rose- and cucumber-infused gin) in the house, but it can't always be used interchangeably with other gins. It does make a fantastic martini with a cucumber garnish, just to note.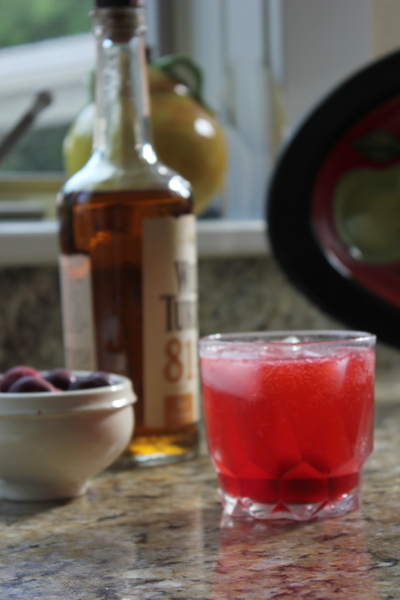 Whiskeys There are many types of whiskeys on the market and what you have in your bar will depend strongly on your tastes (and your budget), but you likely want to have something for mixing and something for sipping. We make a decent number of cocktails with bourbon, including Manhattans and various iterations of bourbon and ginger ale, so we alway keep bourbon (Maker's Mark unless I'm feeling particularly wealthy) in the house. We also generally have Irish whiskey (usually Jameson) in the house, plus a handful of scotches for sipping.  You may choose single-malt (single distillery, malted barley) or blended scotches, again depending on your tastes and your budget.
Tequila Always, ALWAYS 100% agave. Don't waste your money (or risk horrible next-mornings) on anything less. The most common types of tequila are blanco (un-aged), reposado (aged less than one year), and anejo (aged one to three years) – we generally keep reposado tequila in the house for margaritas and a few bottles of higher-quality reposado and maybe an anejo on hand for sipping. When made correctly, a margarita will enhance (not cover up) the taste of a good tequila.
Rum There are four general types of rum you are likely to have in your house: light/silver/white rum, gold/amber rum, dark/black/brown rum, and spiced rum. In general, the darker the rum, the longer it has been aged and the more flavor it has. For that reason, cocktails were until recently typically only made with lighter rums, but as cocktail making has become trendy once again I'm starting to see darker rums in all sorts of cocktails. In our house we generally keep on hand some white rum and a variety of dark rums. We've even been known to have some coconut rum in the house, which is delicious for mixing with juices. You may also like to have spiced rum on hand for particular cocktails, but it doesn't work interchangeably with other rums because of the strong added flavors.
This is the perfect time to mention that our favorite alcohol of all (and indeed my husband's favorite liquid) is Flor de Caña 7 year Grand Reserve rum. Great in cocktails (like a Nica Libre) but even better on its own, with a cube or two of ice and a wedge of lime, if you like. This was the alcohol that taught me to appreciate alcohol and to appreciate how the quality level can make a difference in how you feel and in how you enjoy what you're drinking, more than just by taste difference. We almost always have this in the house, sometimes in volume if we find a good deal on it.  For white rum we preferably have Flor de Caña 4 year, but sometimes something basic like a Bacardi. For dark rum we almost have "Flor," as it's known in our house, and a bottle or two of nicer sipping rums, often including Ron Zacapa Solera 23 year. We also very much like Belize Travellers 1 Barrel rum, which has incredible caramel flavor and which I am known to pour with abandon over apple or pear desserts – this one is a little more difficult to find in the US, but the website has a handy list of US distributors, and in some states you can special order it from "any store" (not entirely sure what that means, but I like it).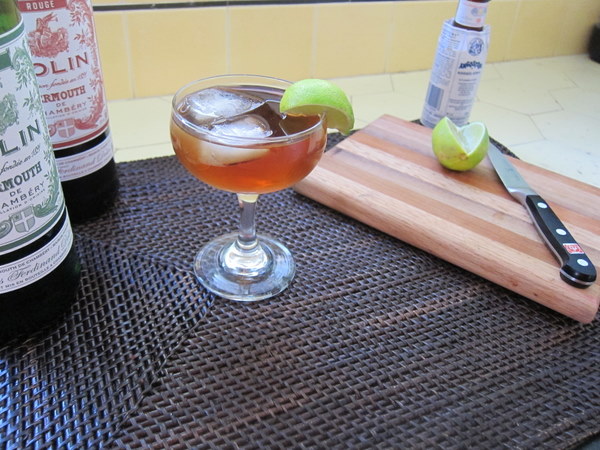 Vermouth I could technically put this under wines, but for cocktail making it deserves its own category. You'll want both dry and rouge/red/rosso/sweet vermouth on-hand, and we prefer Dolin, a higher-end variety because we drink a fair number of vermouth-heavy cocktails (see: Manhattan, Negroni, Leslie's Americano). Noilly, Martini & Rossi, and other more common brands are perfectly fine options. Dolin also makes a blanc vermouth, which is sweet like red vermouth but white and with a milder flavor.
Beer I don't use beer much for making cocktails, with the exception of a radler (beer and lemonade) or a michelada (sort of a Mexican beer bloody mary, with lime juice, tomato juice, and hot sauce) every once in a while. And that one time we made Irish car bombs on St. Patrick's Day (we shall not speak of that further). But we generally always have beer in the fridge, with the selection depending on the time of year, the weather, and the sort of food we're planning to eat in the coming days. Sometimes this consists entirely of six-pack stragglers, which I think is perfectly fine, particularly when people come over and you have a variety of beers to offer them.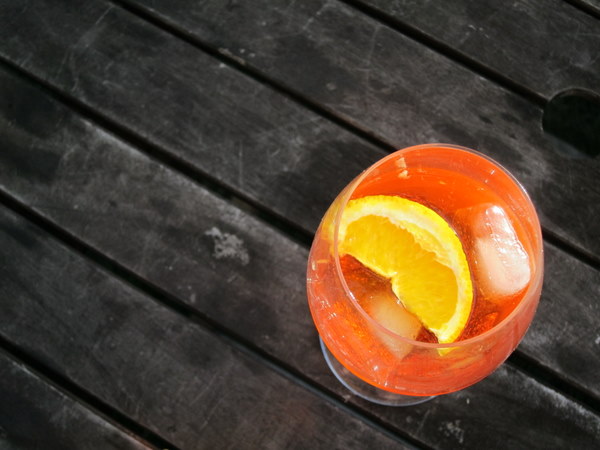 Wine Again, a home wine selection is kind of up to you, your tastes, your storage capacity, and your budget. We probably always have a case or two of wine on-hand, which I believe still includes a few bottles from our wedding and bottles we've received as gifts. We have probably a dozen or so nicer bottles for special occasions and always try to keep a decent selection of what I call "Tuesday bottles" – good, perfectly drinkable, everyday selections under $5 that we can drink or use for cooking.  In terms of making cocktails with wine (like kirs, French 75s, or sparkling wine with bitter orange), it's a good idea to have an everyday white with a fairly bright, neutral flavor – like a sauvignon blanc – and a good, inexpensive dry sparkling wine.
Liqueurs
Liqueurs provide important sweetness and flavor in cocktails, and there is an infinite selection of flavors and types of liqueur available. A good home bar will have a couple of classics, and you can grow a collection of your favorites as you travel or see interesting options in your favorite stores.
Sweet orange liqueurs There's a huge variety of orange liqueurs out there, including triple sec, Citronge, Gran Marnier, Cointreau, and many others. They run along a spectrum of sweetness, strength, and cost, so it's up to you what you're looking for. We tend to rely on Citronge, a mid-range Patron product, for most applications, but we also generally have Gran Marnier, a more strongly-flavored and more expensive option, in the house for splashing into margaritas or for use in cooking (like in Gran Marnier souffles).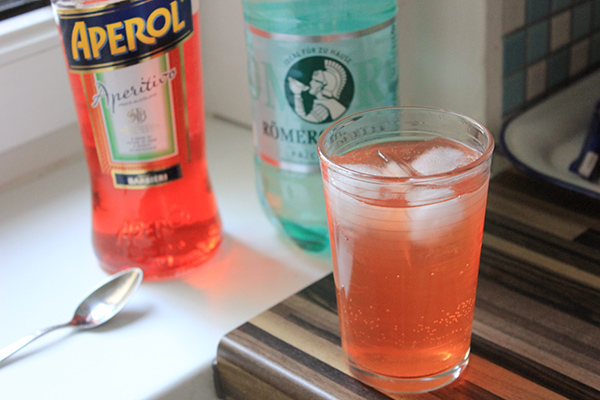 Bitter orange liqueurs Intensely bitter Aperol and Campari liqueurs are an integral part of many aperitifs and cocktails, including Negronis, and is particularly good added to sparkling wine. Many people drink them on their own as well, perhaps with a bit of ice or a splash of sparkling water.
Coffee liqueur Not to be confused with coffee- or espresso-flavored liquors. Coffee liqueur is sweet and often flavored with vanilla, cinnamon, and other spices. Most people think of coffee liqueur as Kahlua, but other varieties are available and it is incredibly easy to make at home.  Kahlua happens to be rum-based, but other varieties are made with vodka, tequila, or other base alcohols. Coffee liqueur is great for making coffee-based cocktails and is necessary for a White Russian, one of my favorite dessert cocktails.
Creme de Cassis Black current liqueur, less common and perhaps a little misplaced on a "bar basics" list, but necessary for a kir, a wine-based cocktail that became one of our everyday favorites after our trip to France a few years back. Having a bottle of this on-hand makes it easy to have a unique, refreshing, not-so-strong, easy-to-make cocktails when guests come over, particularly for people who avoid hard alcohol or strong cocktails.
Sweeteners
There are a variety of sweeteners available for making cocktails (including the liqueurs above), but the ones we use most commonly at home are:
Simple syrup A simple syrup made from water and sugar provides sweetness without worrying about sugar dissolving in liquid. Simple syrup is incredibly easy to make at home: combine granulated sugar and water in equal parts (some people prefer a stronger 2:1 syrup, but it's up to you) and heat over medium-high heat, stirring until sugar is dissolved. Let cool. Syrup will last in a closed container in the fridge for up to 6 months or longer.  See more about flavoring simple syrups below.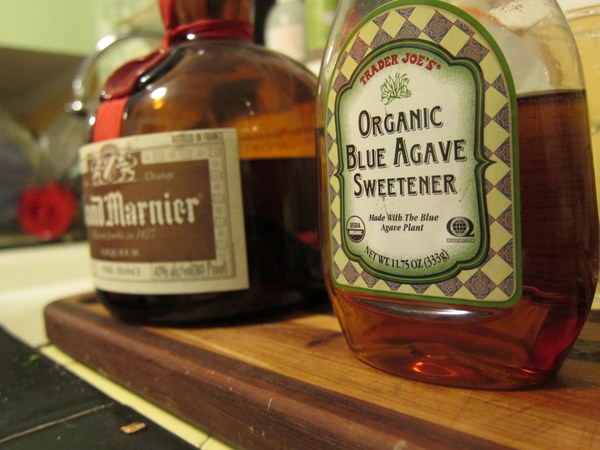 Agave syrup Agave syrup is a somewhat sweeter alternative to simple syrup and has a slightly agave-esque flavor, which makes it great for use in tequila-based drinks. We sometimes splash a bit in our margaritas.
Powdered and superfine sugars Some cocktails ask for powdered or superfine sugar, which are different but somewhat interchangeable. Superfine sugar is like granulated but with smaller grains, and it dissolves easily in cold liquids. You can make your own by processing granulated sugar in a food processor. Powdered sugar also dissolves easily in liquid but does include a bit of cornstarch to prevent clumping. Since you're generally using a fairly small quantity, you can experiment with substitutions.
Fruits & Garnishes
Fresh and preserved fruits are incredibly important parts of any home bar, used as a flavoring garnish, a decorative garnish, or for their juice.  We most commonly use the following: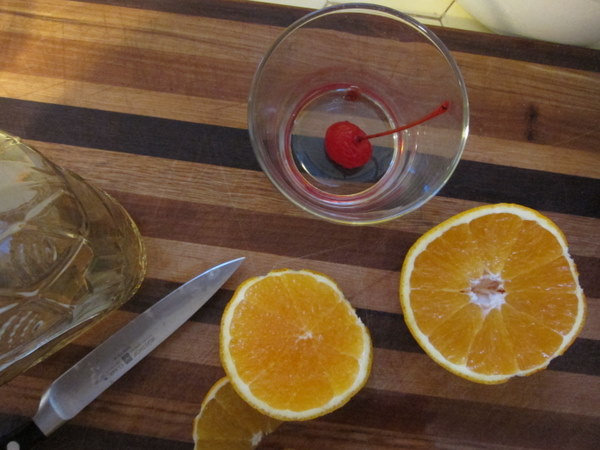 Citrus: Limes, Lemons, Oranges, Grapefruit We use these extensively for their juice and for garnish, particularly in the form of twists or pieces of peel, which add a fresh and distinct flavor.
Cherries, jarred with liquid If you can find maraschino cherries jarred without high fructose corn syrup or food coloring, use those. Trader Joe's also offers a more sour Morelo cherry in jars, which we've used for Manhattans for years.
Martini olives In the past we've purchased olives jarred with vermouth for use in martinis, and we've continued to add new olives to that same jarred liquid. But you can use almost any variety of green olive, including those stuffed with garlic, pimentos, bleu cheese, or other items.
Juices Always best if you can use fresh (see citrus, above), but if you use bottled try to find juices that have the least amount of added sugar. It can be difficult to find bottled lime juice (NOT Rose's, which is more like a syrup), but check Latin American markets.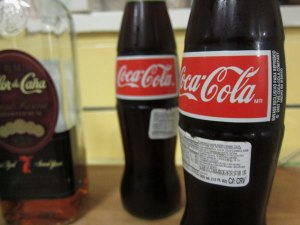 Tonic water It can be difficult to find good tonic without high fructose corn syrup that doesn't cost an arm and a leg, but there are more types available these days. We make our own with sparkling water and tonic syrup from Sodastream, and you could even consider making your own tonic syrup if you were particularly adventurous (google "tonic making" to find a bunch of sources).
Sparkling water/soda water Club soda, seltzer, sparkling water, and soda are all interchangeable here. We make our own at home using a Sodastream machine (which I would highly recommend to anyone), which also allows us to make homemade tonic, pops, sparkling juices, etc.
Cola Preferably Mexican or European Coca-Cola made with real sugar, versus high fructose corn syrup. The good stuff tastes notably different, and that difference is notable in something like a Cuba Libre.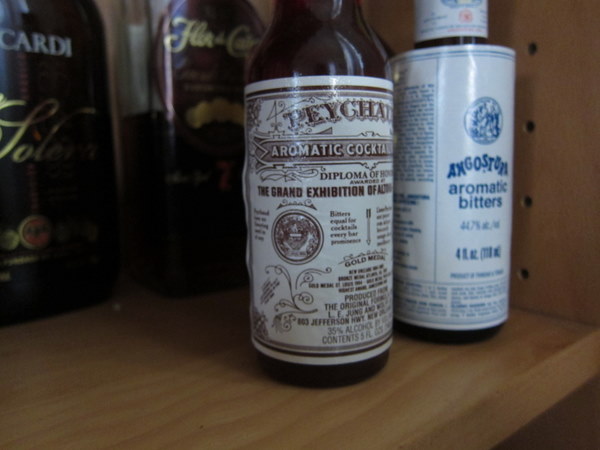 Bitters (Angostura) Bitters are herbal infusions used to flavor cocktails, and are generally used only a few drops at a time. In Europe and other countries, bitters sometimes constitute a cocktail on their own, but in the United States we generally use them only for flavoring. Bars and trendy liquor stores feature all kinds of bitters these days (e.g. root beer bitters, blood orange bitters, pineapple bitters, etc.), but all you really need for your home bar is a bottle of Angostura Bitters, the most commonly used in cocktail-making (see: Manhattan, Old Fashioned, Leslie's Americano). You may also want Peychaud's Bitters on hand if you like making Sazeracs or other New Orleans-style cocktails.
Cream, milk, and/or half-and-half If you like sweet, dessert-style drinks (like White Russians or Cubans), you'll want some sort of dairy. The type depends on how creamy you want it to be, or on what else you'll use it for since you probably won't go through the entire container on cocktails alone. I've even had White Russians with soymilk before, and that was actually pretty good.
Tools
Some people like to have a lot of tools on hand for particular cocktail-making techniques, but for a basic bar setup you don't need much. I'll just go over the basics: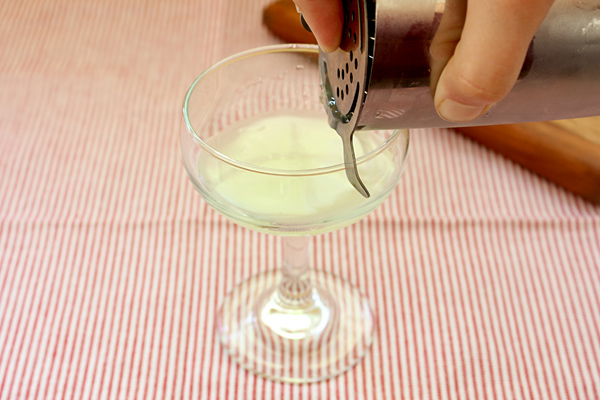 Shaker You need something to shake together the ingredients in many cocktails. Shaking not only mixes the ingredients well, but also chills the beverage without watering it down. Boston shakers and cobbler shakers are the most common types, and you can choose what you like.
Something to make citrus twists This something could be a knife, or it could be a tool specifically for the job. Maybe something like this or this.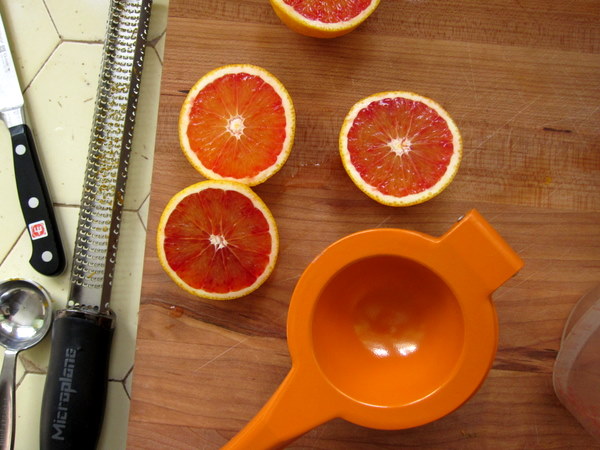 Citrus squeezer If you're going to be juicing lots of citrus, do NOT try to do this by hand. Cocktail making will quickly become frustrating and it will take twice the number of fruit to get the juice you need. There are many options out there, but I recommend something like this. Do not buy the green, yellow, and orange ones of different sizes – just buy large orange one, which you can easily use for limes and lemons as well. Also make sure you get one that is enameled, not the plain metal that you see at Latin American markets sometimes.
Glasses of different sizes Some people are picky about the right cocktails going into the right traditional glasses, but I don't think it matters much. Just get real glass glasses (plastic can stain and retain strong flavors), and you probably want some smaller and some larger.
Measuring devices You'll want a graduated shot glass or small measuring cup good for measuring liquids. We have this one, which has both ounces and tablespoons and I very helpful. Measuring spoons are useful for dry ingredients or small amounts.
Muddler You may want a muddler for incorporating herbs, fruit, or other solid ingredients, since muddling releases their juices and oils. Look for a double-sided muddler, which should have a squared-off edge on one end and a rounded edge on the other (for glasses with flat and rounded bottoms, respectively).
Ice Always make sure you have ice! Most cocktails are better with ice, whether in the shaker or the glass. If you're having a party or gathering, get a bag of ice. Better safe than sorry, especially when you usually end up making a round or two more than you expected (cocktail drinking tends to lead to more cocktail drinking).
Electives for creative cocktail making
This guide includes mainly the basics – you'll likely find yourself with additional items as you explore new cocktails or see things that catch your eye at the liquor store or the market.
You may add interesting flavored liqueurs or other liquors to your bar – we have probably a dozen different liqueurs in our bar that we've collected over the years (including some apricot and violet liqueurs we bought from the distillery in Austria this summer), and a variety of other liquors that don't fit in the guide above. You can even make your own liqueurs, like we did with cranberry liqueur and coffee liqueur last year.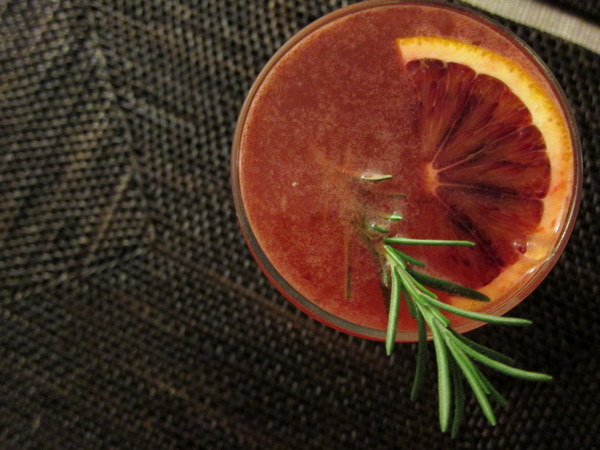 You may also use different fruits, juices, and herbs based on what's available in your garden or at the market. Play with new flavors! You can see on the recipe index of the site some of the cocktails I've come up with based on what we have around, like the basil gimlet, the rose gin rickey, and the grapefruit margarita spritz.
Flavored simple syrups are also fun to play with, since you can infuse them with a huge variety of herbs, fruits, spices, and other flavors. Including these items in the pot when you make the syrup infuses their flavor, and you can chose to leave the items in the cooled syrup or take them out depending on how strong you want that flavor. For instance: wintertime is perfect for a spiced simple syrup with cinnamon, allspice, star anise, and other warming flavors, and summer is great for a fresh mint simple syrup!
Other garnishes Keep on the lookout for fun garnish items for your cocktails. We've used pickled onions, okra, and tomatoes in martinis, and you can put almost anything savory in a Bloody Mary. Get inspired!