Taqueria night 2 of 2: Chipotle-tomato pork tacos with queso fresco and homemade crema, fried plantains with homemade cajeta
Two nights of authentic taqueria dinners. Why not? This post details night 2 of 2. 
Night two, quite different than the first, even with many of the same elements.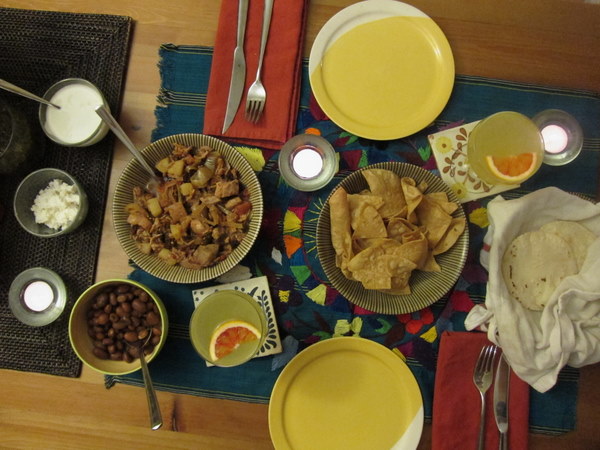 Start out with some sweet, tangy Mexican sangria. Bring out more of those homemade tortillas, heirloom beans, and tomatillo salsa.  Then some slow-braised pork tinga, packed with chipotles and tomatoes and onions. Maybe some creamy, tangy queso fresco and homemade crema for topping your tacos. Later, whip up some quick fried plantains with homemade cajeta caramel and more of that homemade crema.
Yes, on a Tuesday. A work night. Just a little planning ahead and when dinnertime came everything was almost entirely ready to go.
Plan ahead strategy #1: Bring on the slow cooker! Your hidden weapon! (I'm really excited about hidden weapons these days.) The basic gist: put stuff in slow cooker, many hours later come back to perfectly luscious, delicious stewed stuff. This is barely planning ahead. This is the key to lovely, low-and-slow braised weeknight dinners.
Note: I'm not actually including the recipe for this pork here. It was certainly delicious, but I didn't really adapt it from the original source and I'd like to play with it a little more before posting here. It's the pork tinga tacos recipe directly from Everyday Mexican by Rick Bayless, and if you want more information leave me a comment below.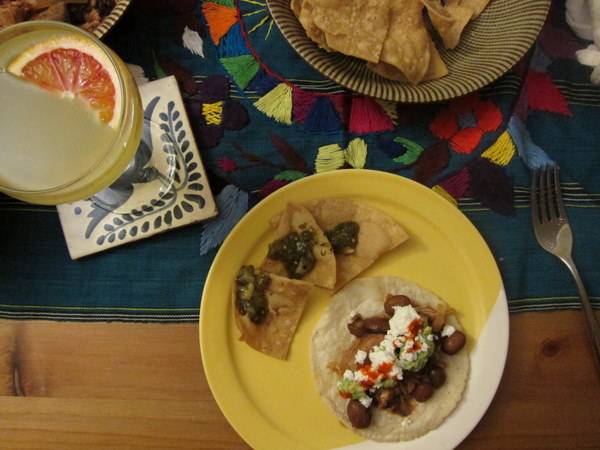 Plan ahead strategy #2: Making homemade crema. Crema, you know, like sour cream. Or créme fraîche. They're actually all the same thing, just with varying thickness (and conventional sour cream has a bunch of other additives). In essence: smooth, creamy, thick, a little sour-tangy. Perfect for tacos! And for pie. But that's a very different tangent for another time.
Homemade crema has incredibly high ratios of impressiveness:effort and tastiness:effort, so you should just do it. The basic gist: About two days before you want to eat it, put cream and a starterin a container. Let sit at room temperature, then let sit in the fridge. DONE. So easy I didn't even believe it would work. But it DOES.
Plan ahead strategy #3: Make your cajeta ahead of time (just try not to eat it all before you want to serve it). So this part doesn't even need to be planned ahead – you could make it right before you want to eat it – but the point is that you can make this days, weeks, even a couple of months ahead of time if you want, and then dessert is as easy as quick shallow-frying up some plantain slices. And in the meantime you have a jar of homemade cajeta, and the value of that should not be underestimated.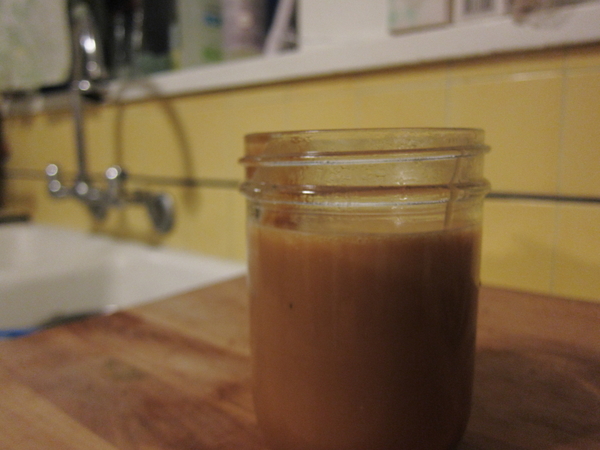 Wait, first: do you know about cajeta? I like it so much I wrote an entirely separate post for it … see it here.
When all of those things are done ahead of time, setting up for dinner consists of heating or making tortillas, crumbling cheese, spooning taco fillings into bowls, and making yourself a tasty cocktail.  For dessert you shallow pan-fry those plaintain slices in some oil (maybe with a bit of butter mixed in, if you're feeling fancy), and you are set.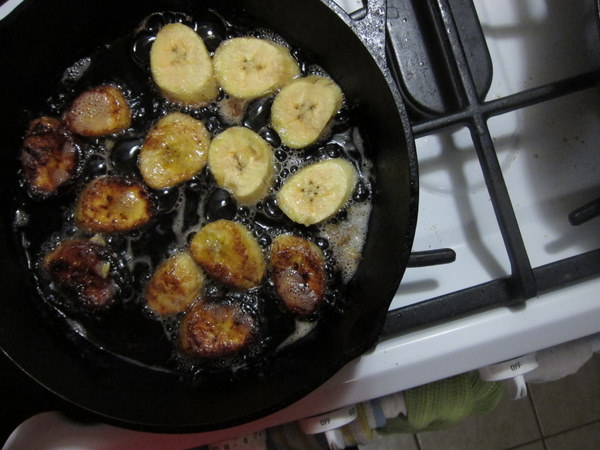 Mexican Dinner III Menu
Pork tinga (from Everyday Mexican by Rick Bayless)
Homemade tortillas (made with fresh masa purchased at a Mexican market)
Fresh avocado slices
Crumbled queso fresco
Homemade crema (recipe below)
Tortilla chips
Mexican sangria (recipe below)
Fried plantains with homemade crema (recipe below) and homemade cajeta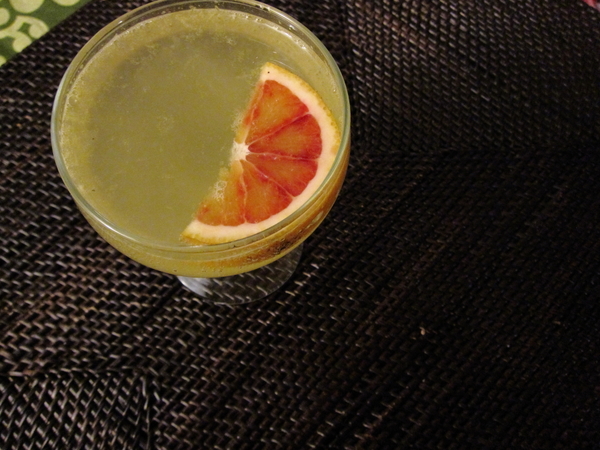 Mexican sangria

Makes about 4-6 servings (depending on the pour size)

3 cups white wine
1/3 cup sugar
1/3 cup lime juice
1/3 cup orange juice
1/4 cup tequila
1 cup sparkling water
Fruit for garnish, if desired: citrus slices, cut up melon or pears, berries, stone fruit, etc.

– Mix together all ingredients except the sparkling water and the garnish. This can sit for up to 48 hours before serving, but NOT in a closed container (the sugar and alcohol together will cause fermentation and release gasses).  If you want to add fruit garnishes ahead of time, you can do that too – heartier fruit like citrus and firm melons can go in a day ahead of time, where more delicate fruit like ripe pears, berries, or stone fruit should be put in no more than a couple of hours before serving.

– Before serving, mix in sparkling water (you can also do this in individual servings, which would allow people to adjust the strength of their cocktail if they want).

– Add ice to the glasses, if desired.

– Garnish as desired.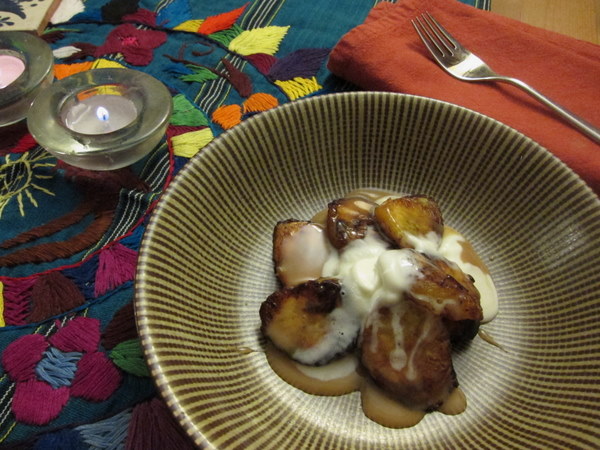 Mexican crema (or créme fraîche)

Makes 1 cup

I've seen a number of different recipes for homemade crema, with the difference being how much of the starter you add to the cream. Between 1 tsp. and 1 Tbsp., I think anything would work well.

1 cup heavy cream
2 tsp. buttermilk, créme fraîche, or sour cream (this is your starter)

– Mix the cream and the starter together in a small container. Cover loosely and place in a warm spot for 12-24 hours, until slightly thickened (the longer you leave it, the more it will thicken – just don't leave out for more than 24 hours).  You can stir to gauge thickness. Place in the fridge for at least a couple of hours before eating – it will continue to thicken there.