Bowen Appétit basic vinaigrette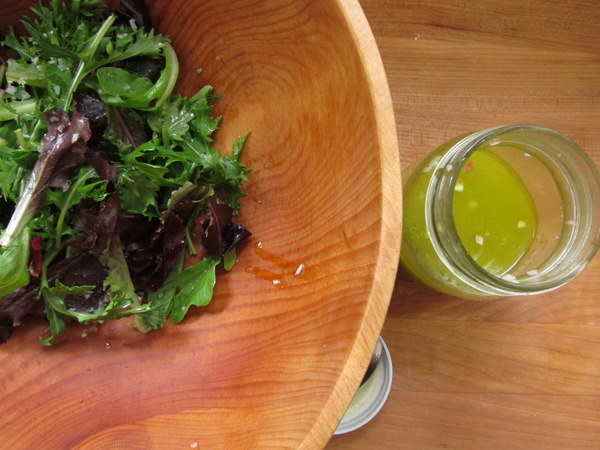 I've never been a big salad person – I rarely order them at restaurants, and we rarely (very rarely) eat one as a main dish at home (exceptions: add some roasted chicken and some lovely fresh croutons, and I'll be there). I don't entirely know why this is; I guess I've always just found salads kind of boring, or maybe I'm just not that excited by cold and crunchy things. I guess I'm more of a warm and/or soft sort of person.
(That might be in the running for the best sentence on this site.) 
(Also, major update, May 2013 – in the time since this post was written, we started eating tons of this kind of salad as main dishes. What a poached egg can do for things!)
There is one salad exception – when enjoying my warm and/or soft foods, I find the experience greatly enhanced by a side of baby greens, dressed in a simple vinaigrette and tossed with some crunchy flake sea salt. Sweet, tangy, cold, just slightly crisp. Doesn't matter if it's delicate and sweet like spring greens or hearty and slightly bitter like arugula. I'm big on flavor and texture combinations, and a side of dressed greens is perfect for cutting a meal that is otherwise mainly starchy, saucy, or generally soft and savory.  (See: risotto, pasta, savory hot dishes, braises, roasted meats.) Maybe we add some tomatoes in the summer, or some sliced scallions, or maybe some thinly sliced crescents of English cucumber – but most often it's just plain greens, dressed and salted.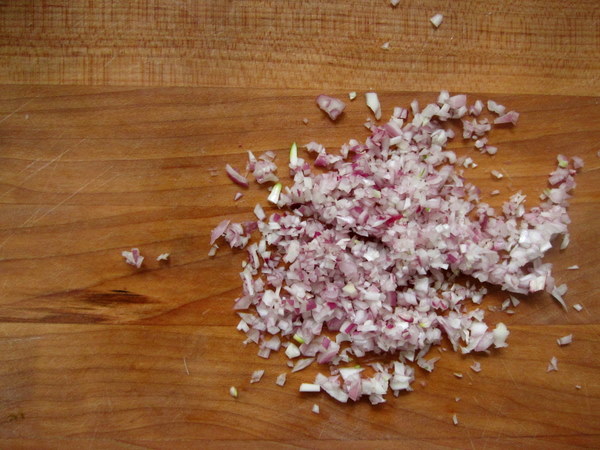 And after many years of toying with various vinaigrettes, I've settled on the one I like best. I usually don't measure the ingredients, which means each time it tastes a bit different, but it's generally in the same theme. I love the tangy kick of vinegar, the sweet notes of the agave, and particularly the grassy tones that come from the good California olive oil we usually use (though any good olive oil will work just fine). And if I've learned anything about vinaigrette through all of this, it's about the importance of seasoning a good one with salt and pepper (well, mainly salt – but pepper's nice too).  The salt comes in and amps up that tangy kick, those sweet notes, and those lovely grassy tones and turns this into a dressing I've downed in spoonfuls under the guise of "tasting for seasoning."
If you're eating basic salads a lot at home, start playing with your vinaigrettes. This recipe is a good starting point, but think about other oils (e.g. avocado oil, various types of olive oil), acids (e.g. other vinegars, lemon juice, or even a bit of wine), and other seasonings (e.g. dijon mustard, fresh or dried herbs, spices) to make your favorite everyday dressing.
Bowen Appétit basic vinaigrette

Makes about 1 cup of dressing, which is about 24 servings for side salads

Note: I usually mix up a few servings of this dressing at a time. Once you get the hang of the flavor you're going for, you can very easily mix this on-demand without much measuring. Stick with a general ratio of 1 vinegar : 3 oil and alter the other flavors as you like.  The amount of shallot you start with is very flexible – I try to balance ingredient quantities so the vinegar will cover the minced shallot in the bowl or jar, but sometimes that doesn't happen. If you make more than you need, it will store in the refrigerator for up to a week. 

Note 2: It is most convenient to mix this in a jar or a container with a lid that you can shake. Alternatively you can put in a bowl and whisk, which is often what I do when just making a serving or two at a time. 

3 Tbsp. finely minced shallot (about 1 large shallot)
1/4 cup white wine vinegar
3/4 cup high-quality olive oil
1 Tbsp. agave nectar or honey
1 tsp. salt
A few grinds (1/4 tsp. or so) black pepper

– Put the minced shallot in a 1 1/2-2 cup size jar, some other container with a lid, or a small bowl (appropriate to the size whisk you have).  Pour over the vinegar, and if possible arrange the shallots so they're submerged in the vinegar. Let sit at least 10 minutes.

– Add the oil, the agave or honey, and the salt and pepper. Shake or whisk to thoroughly combine the ingredients – the mixture will be opaque and creamy-looking.

– Taste. If necessary, adjust oil and vinegar to taste (e.g. add more oil if too tangy, or more vinegar if not enough flavor). You can likewise adjust the agave, salt, and pepper to taste.

– I don't usually measure a serving size, but today I checked and I like about 2 tsp. of vinaigrette to a very large handful of greens as a basic side salad.