Citrus-coconut tartlets with cream cheese pastry
by Bowen Appétit on March 14, 2012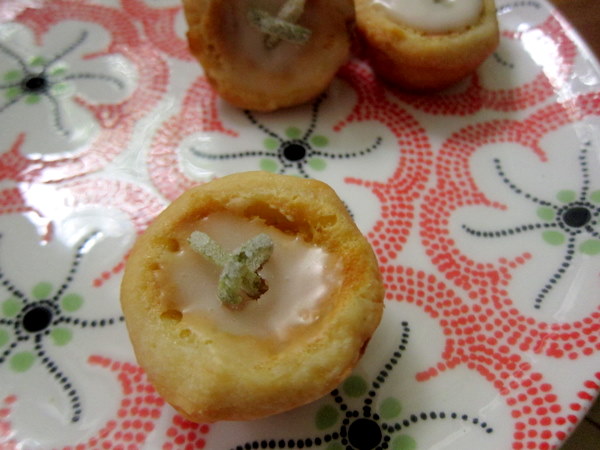 Just a quick post of a recipe that's unfortunately not entirely quick – but totally worth it.
I've made this one twice in the last week, first testing it for a little catering job I did last week and then tweaking it and sending it out to rave reviews. I'm glad I did the test, since the recipe definitely needed some re-working, and the end result was fantastic. These were the first thing to go at the event, and I had trouble keeping myself from eating four or five at a time from the test batch.  Super flaky cream cheese pastry, tart and sweet lemon-lime-coconut filling, and a crispy little layer of vanilla glaze on top. Topped with two strips of candied lime zest, if you want to get fancy.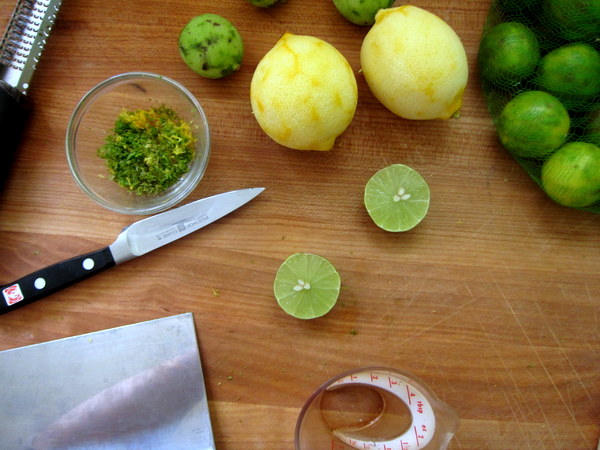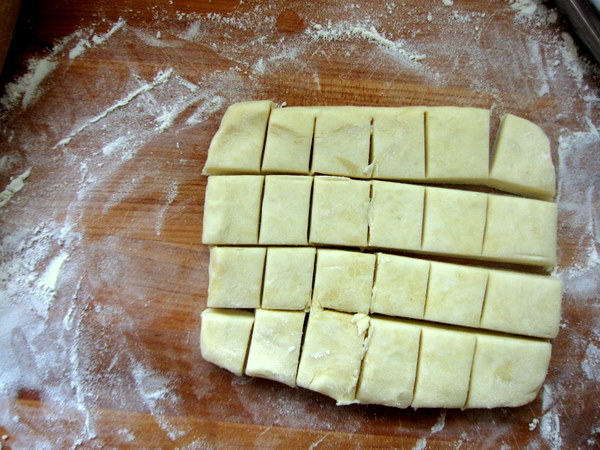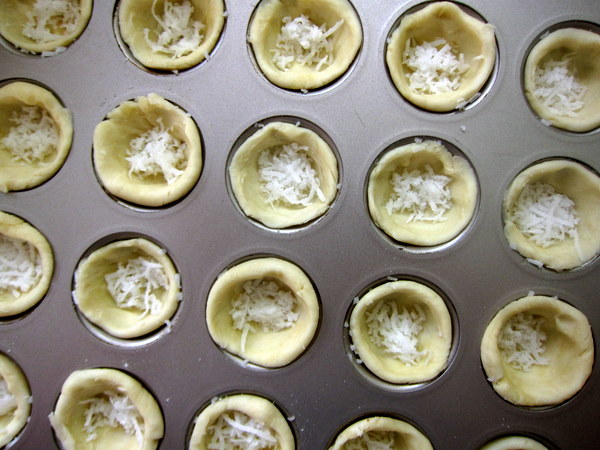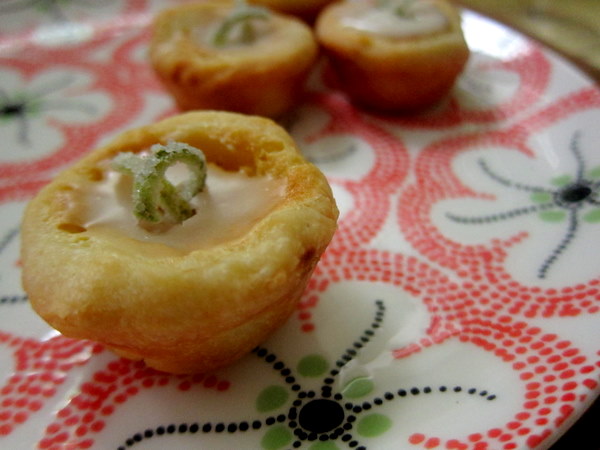 Bite-size, but packed with flavor and super addicting!
I'm looking forward to working more with this cream cheese pastry for both sweet and savory items – pie crusts, tart shells, turnover doughs. Much easier than other flaky doughs and puff pastry, but with delicious flavor and an amazingly tender, flaky texture. You'll be seeing more of it around here, I'm sure.
Lemon-lime coconut tartlets
Adapted from Great Cookies by Carole Walter

Cream cheese pastry

1 cup (2 sticks) butter, room temperature
8 ounces cream cheese, room temperature
2 cups flour, plus more for rolling out dough
1/4 tsp. salt

– Blend together the butter and cream cheese until thoroughly blended – either by hand or with the paddle attachment in the stand mixer.

– Mix in 1 cup of flour and the salt on low speed if using the mixer.

– By hand, mix in another 1/2 cup flour until just incorporated.

– Empty the dough onto a stable surface and knead in the last 1/2 cup flour, only until just incorporated.

– Divide the dough in half and form each half into a disk. Wrap in plastic wrap and chill for at least four hours or up to three days.

– Set out dough at room temperature for at least 20 minutes before rolling.

– Roll out dough on a lightly flour surface, as desired for application.

Filling and baking

3 Tbsp. flour
1/2 tsp. baking powder
1/4 tsp. salt
4 egg yolks
1 1/4 cup sugar
3 Tbsp. lemon juice
3 Tbsp. lime juice
2 tsp. grated lemon zest
2 tsp. grated lime zest
1/2 cup sweetened shredded coconut

– Preheat oven to 350F.

– Roll each disk of dough into a rectangle approximately 4×6″. Each disk will fill up one mini-muffin tin with 24 holes, so if you only have one tin leave one unrolled disk in the fridge while you bake the first batch, then take it out to warm up while you're baking the first batch. Cut each rolled disk into 24 pieces, roll each piece into a ball, and press into the holes of a mini-muffin tin. Press dough up each side, making as much room for the filling as possible. Put the tray(s) back in the fridge while preparing the filling.

– Whisk together the flour, baking powder, and salt in a small bowl. Set aside.

– Whisk together the egg yolks and sugar until thickened. Add the juices and zests and combine. Fold in the dry ingredients.

– Take the tray(s) out of the fridge and put one or two pinches of coconut in the bottom of each cup, dividing 1/4 cup of coconut among each tray.

– Fill each cup about 3/4 full with egg filling – likely easiest if you pour the filling into a spouted measuring cup.

– Bake for 25-30 minutes, until the pasry is golden brown around the edges.

– Let cool in the tray about 5 minutes, then remove and cool on a cooling rack. Have a paring knife on hand to help loosen any that get stuck in the tray. If you need to bake a second batch, run the tray under cold water and dry before using again.

– Spread a bit of vanilla glaze (recipe below) on top of each tartlet, spreading with the back of a spoon if needed. Add candied citrus zest (recipe below) if desired.

Vanille glaze

2 cups powdered sugar
2-3 Tbsp. warm water
1 Tbsp. light corn syrup
1/2 tsp. vanilla extract
Pinch of salt

– Mix together all ingredients, starting with 2 Tbsp. of warm liquid and adding more to get the desired consistency.

Candied lime zest

2 limes
1 1/2 cups sugar, plus more for coating zest
1 cup water

– Cut the peel off the limes, avoiding the white pith. Cut the peel into thin strips, each about 1″ long.

– Bring a small pot of water to a boil. Add the lime zest, boil for 1 minute, drain. Start with new water and repeat two more times.

–  Heat sugar and water in a saucepan over medium-high heat, stirring until sugar dissolves. Add strips of peel and simmer for five minutes. Drain in a colander and toss in a shallow bowl or plate with about 1/2 cup granulated sugar, separating pieces with your fingers.