Saffron-cardamom birthday cake with rosewater buttercream
It's no secret that I like to make food for other people (perhaps even more than I like to make it for myself), and something I've enjoyed most recently is putting together items at custom request. Someone dreams up something particular – maybe a little off the beaten path – and I test and experiment and tweak to put it together.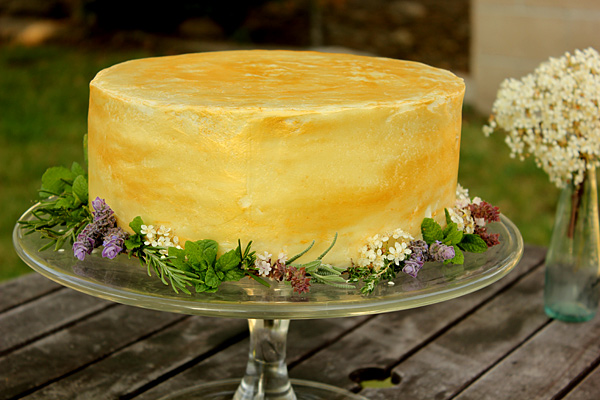 A "glitter Persian cake" was requested, and a glitter Persian cake was received.

A buttery yellow cake packed with saffron threads and ground cardamom, a rich buttercream flavored with rosewater, and a streaked coating of edible gold luster. It was a gorgeous cake with an incredibly unique flavor, and I think it was exactly what the birthday girl was hoping for.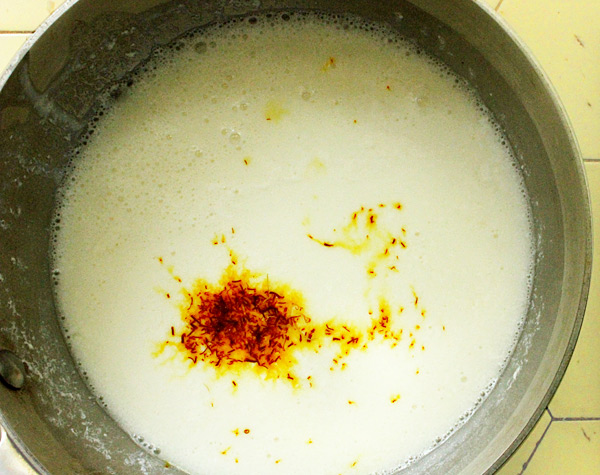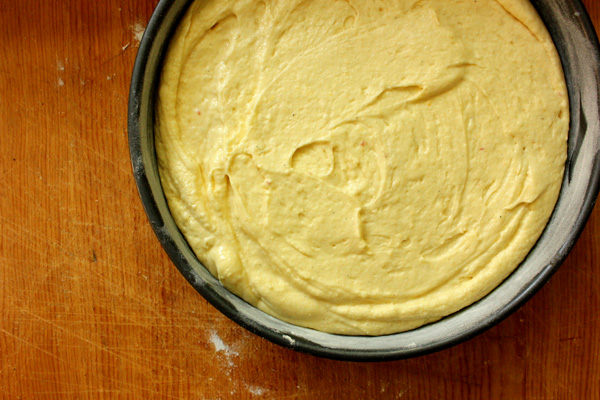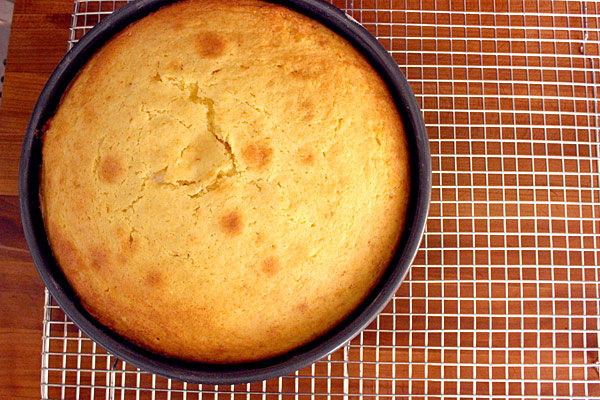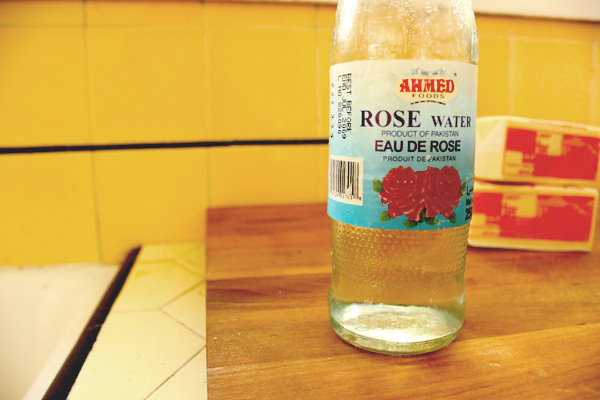 One of my friends smelled and took a bite of this cake and exclaimed "who ever thought – plants in cake!" And it's true, the saffron and rosewater and cardamom together created sort of a "floral spice" air to the whole thing that was pretty unique and really satisfying. The gold luster dust coating the outside and the improvised last-minute ring of herbs and blossoms around the bottom added an extra air of the exotic, making this perfect for a celebratory birthday occasion.
I've had quite a bit of fun experimenting with cakes, fillings, and frostings lately, and I'm working on putting together a menu of the options and combinations for whenever someone requests a cake or cupcakes. So if you have a wild cake dream you'd like to see fulfilled, let me know …
A few notes on making this cake: First, because applying the gold luster requires cold and firm frosting, timing gets a little more complicated here. You can refrigerate the cake up to three days ahead, but don't do more – I tested the limits by refrigerating for five days and it dried out a bit, though it was somewhat rescued with a light brushing of simple syrup on each layer before frosting. The cake needs to cool before frosting, then needs to be chilled until firm before applying the gold luster (maybe 12 hours or so). To apply the gold luster, streak luster onto the firm frosting with fingers (you might also try a pastry brush, but you'll need one with natural bristles – not the silicone kind). If the frosting isn't refrigerated, it'll be too soft to apply the luster dust. And as with all buttercream, leave the cake at room temperature for at least four hours before eating (up to 36 hours) in order to let the frosting and the cake layers come to room temperature, where they'll have much better flavor and texture. A good schedule might work like this: make cake three days ahead, frost two days ahead, apply luster the day before and leave out until eating. You could also bake the cake in the morning two days ahead, frost that night, then refrigerate overnight until adding the luster the day before. Maybe that sounds way too complicated, but I'm pretty sure you get it.
You might also need to search out the luster dust – this isn't something you'll find at your everyday grocery store. I found a variety of colors of edible luster dust at a restaurant supply store, and also found a variety of types and quantities by searching "edible luster" on Amazon.com.
Saffron cardamom cake
Based on Martha Stewart's yellow butter cake recipe

Makes 2 8- or 9-inch cakes.

1 pinch saffron threads, slightly crumbled
2 cups buttermilk, room temperature
1 1/2 cups flour, plus more for pans
3 cups cake flour, sifted
2 1/4 tsp. baking powder
3/4 tsp. baking soda
1 tsp. salt
1/2 tsp. ground cardamom
1 cup plus 2 Tbsp. (2 1/4 sticks) butter, room temperature, plus more for pans
2 1/4 cups sugar
6 eggs, room temperature
2 tsp. vanilla

– Heat oven to 350F.

– Butter two 8- or 9-inch round cake pans (square would work just as well, too) and line with parchment paper. Dust pans with flour and tap out excess.

– Pour the buttermilk into a small saucepan and carefully heat over low until just warm. Add the crumbled saffron threads and set aside to let the saffron flavor and color the buttermilk.

– Whisk together flours, baking powder, baking soda, salt, and cardamom in a medium bowl. Set aside.

– Cream together the butter and sugar until very light and fluffy, 4 to 6 minutes on medium-high using an electric mixer. Scrape down the sides of the bowl as needed.

– Add the eggs to the butter mixture one at a time, on medium speed if using an electric mixer.

– Reduce mixer speed to low (if using) and gradually add the flour mixture, alternating with the buttermilk-saffron mixture and ending with flour.

– Beat in the vanilla. The cake batter will be very smooth and thick.

– Divide the batter between the prepared pans, smoothing the top with a spatula. Bake approximately 40 minutes, or until the cake springs back when lightly touched in the center and a toothpick inserted into the center comes out clean or with only a few small crumbs. Rotate the pans halfway through baking.

– Cool the cakes on wire racks for 20 minutes before removing from the pans. Cool completely before trimming and frosting. If not using that day, double wrap in plastic wrap and refrigerate up to 72 hours or freeze up to 1 month.

Rosewater buttercream

There are quite a few different types of buttercream out there, and you might have a favorite you like to use. I find that a good middle ground recipe is Swiss meringue buttercream, which involves eggs but not boiling candied sugar. The good news is that you can add 2 tsp. of rosewater (or to taste) to any buttercream recipe – here I added it before adding the butter to the meringue, but it can really be added at any point. I recommend Martha Stewart's Swiss meringue buttercream recipe.