Whole wheat shortbread sandwich cookies
by Bowen Appétit on April 4, 2012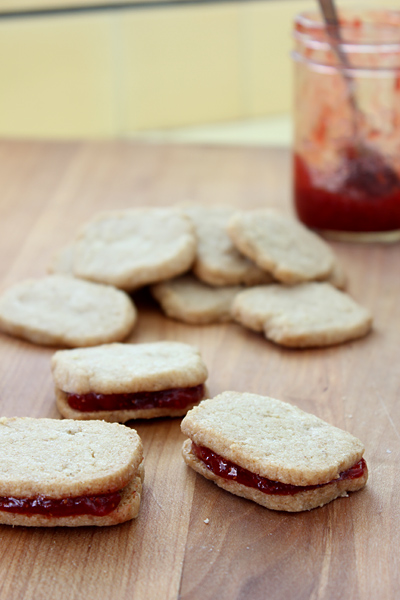 I'm pretty pumped up about my new jam making skills. Except that I'm not actually a big jam eater.  I'll have a piece of toast and jam every now and again, if it's particularly good jam, or maybe put some between some cake layers.
I actually once asked a professional jam maker what the heck he does with all the jam. I think he was a little offended, but it was a serious question. So much jam!
After I made a bunch of strawberry vanilla jam on Sunday and wondered what the heck I would do with it, the vision came pretty quickly – nutty, earthy, salty, sweet shortbread cookies.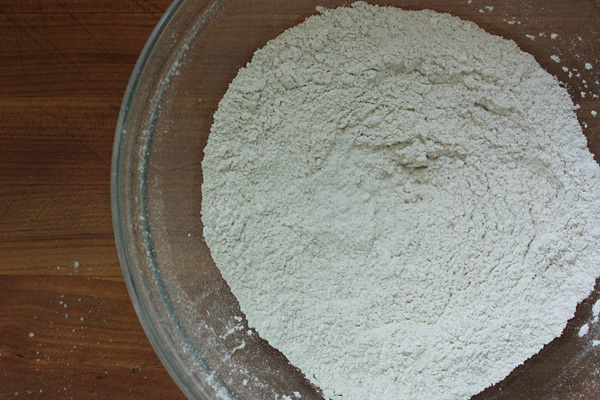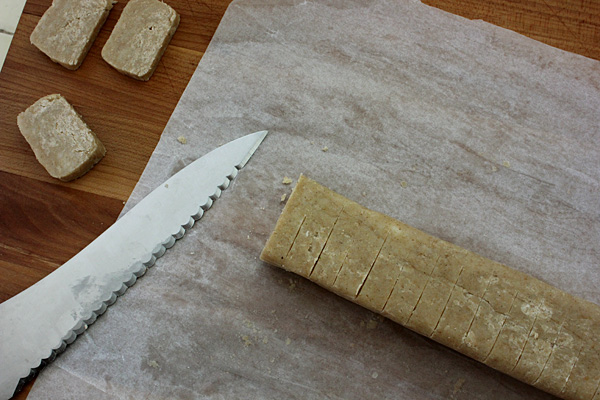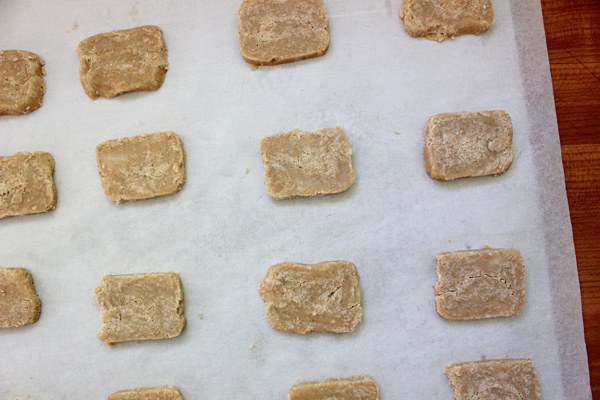 Whole wheat flour, butter, sugar, a healthy pinch of salt, and lots of little flecks of vanilla bean (if you're into that sort of thing). Delicate and flaky, but with a kind of sturdy, sandy texture from the whole wheat. Baked up in fun little rectangles, and sandwiched around some vanilla strawberry jam.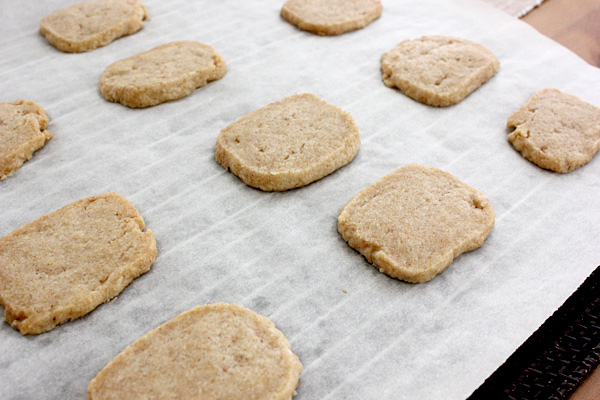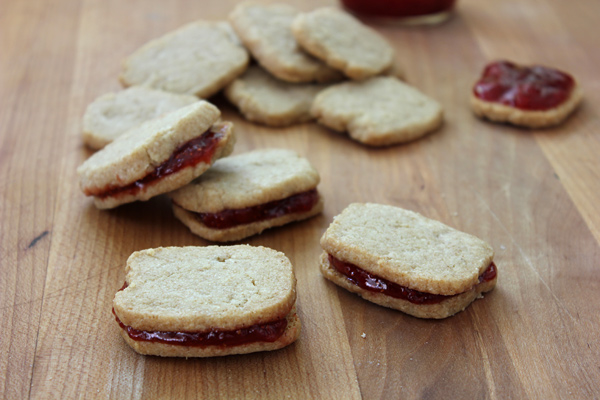 Done and done.
You could (should) also put some chocolate ganache between these cookies, or some salted caramel sauce, or maybe BOTH. Maybe with ice cream on top. Just a thought.
Whole wheat shortbreads
Adapted from Orangette

Makes about 4 dozen cookies (2 dozen sandwiches)

1 cup (4.5 ounces) whole wheat flour
1 scant cup (4 ounces) all-purpose flour
1/2 cup sugar
1 tsp. vanilla extract or vanilla bean paste OR 1/2 vanilla bean
14 Tbsp. (1 3/4 sticks or 7 ounces) butter, softened
1/2 tsp. salt

– Whisk together the two flours in a medium bowl. Set aside.

– If using the vanilla bean, slice open lengthwise and scrape the inner seeds into a small bowl with the sugar. Rub together with your fingertips. Put the vanilla-sugar mixture into the bowl of a stand mixer or into a large mixing bowl.

– If using vanilla extract or paste, add the sugar and the vanilla to the bowl of a stand mixer or into a large mixing bowl.

– Add the butter and salt to the bowl with the sugar and vanilla and beat with a large spoon, handheld mixer, or stand mixer until smooth and creamy but not fluffy (about 1 minute with either of the mixers).

– Add the flour mixture and mix until just incorporated. If necessary, work together a bit with your hands to make sure the flour is mixed in.

– On a clean surface, form the dough into roughly a 12×2″ log. I made mine rectangular, but you could easily make it circular or whatever shape you like. Wrap the log in parchment paper, wax paper, or saran wrap and refrigerate at least 2 hours and up to two days.

– When ready to bake, preheat oven to 350F. Line cookie sheets with parchment paper or silicone liners.

– Using a sharp and preferably serrated knife, cut the cold log of dough into 1/4″ slices. Because I am notoriously bad at doing this by eye alone, I used a ruler to mark inch increments with the tip of my knife, then marked half-inch notches by eye and sliced each of those segments into two. I find it easiest to delicately saw the log with the serrated knife. If the dough begins to soften too much, you can put it back in the refrigerator to firm up again. If your slices fall apart a bit, don't worry about pressing it back together or using crumbs to glue the cracks.

– Place the cookies at least 1.5 inches apart on the prepared sheet pans. Bake for 12-14 minutes, rotating the pans halfway through the baking time. Bake until the cookies are light golden brown around the edges.

– Let the cookies cool on the pans for at least one minute, then transfer to cooling racks (with or without parchment). When cooled, sandwich two cookies together with a teaspoon or so of desired filling (if you want). These cookies are hearty and without filling will stay well in an airtight container for up to one month (lifespan with filling depends on what type of filling you use).