Before the Table: New Frontier Family Farm
Yesterday I spent about 10 minutes at the bottom of a pile of the cutest, fuzziest baby goats you've ever seen.  Goats on my lap, goats on my shoulders, goats on my head. Nibbling at my fingers and my clothes and vying for the next scratch on the head.
It took me a shockingly long period of time to convince myself that I didn't need to buy my own baby goats, so that I could do this every day.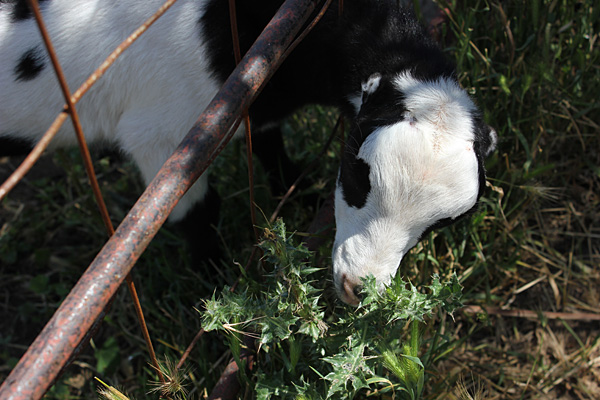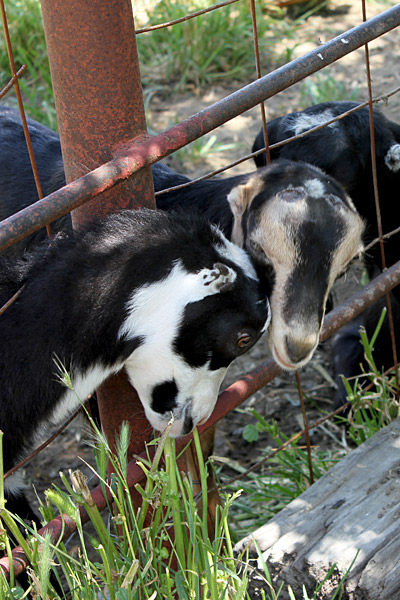 I was very happy to spend some time yesterday wandering around with my new friends (human and otherwise) at New Frontier Family Farm, a family-run farm about 10 miles from Claremont. We've been buying chickens from them for about 6 months now – incredibly delicious, humanely raised, locally grown and processed whole chickens – and I was excited to accept their invitation to come to the farm and see how they do things.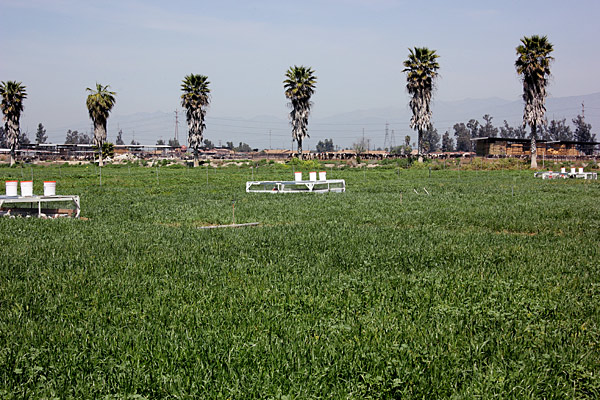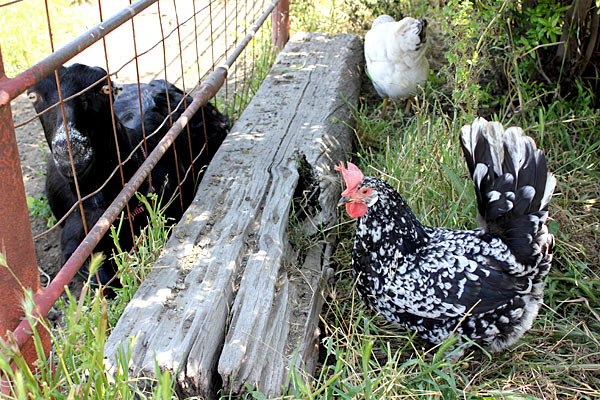 Dave and Heather Fikel and their two young sons have been farming at their property – an oasis tucked amongst the large-scale dairy farms and housing developments of Chino/Ontario – for about five months, inspired by their belief in sustainable, humane animal husbandry and in the benefits of a local food system. It was amazing to contrast their property with the large-scale dairy farms surrounding them on all sides. Theirs was lush and green, filled with songbirds, with plenty of room for the animals to roam, while the neighboring dairy farms swarmed with thousands of cattle, eating from food troughs and standing mainly on hard, parched ground or in puddles of mud and manure.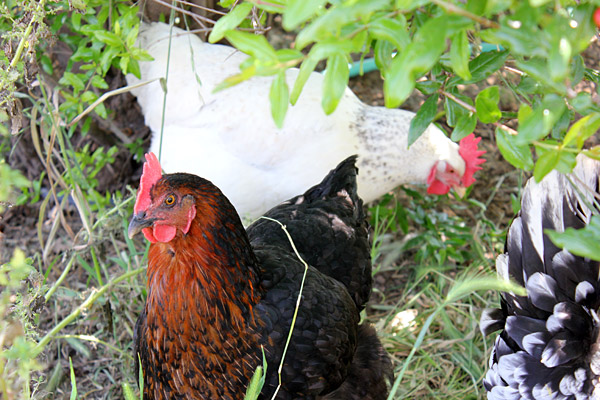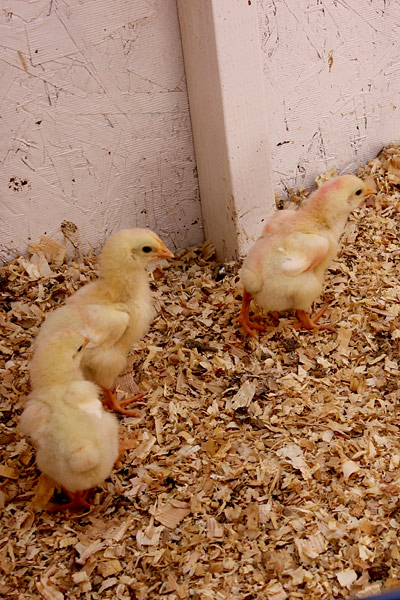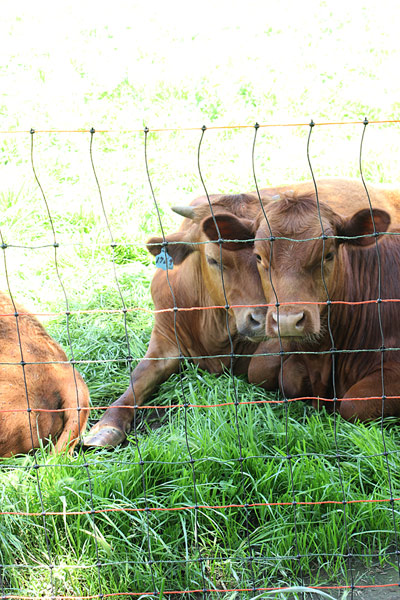 Dave and I talked extensively about the challenges facing such a small farm – like what words you're allowed to use in describing how you raise, feed, and process your animals (e.g. permutations of "organic" are out unless you're USDA certified), how much it costs to use water for irrigation (they're hoping to switch to reclaimed water in the near future, which will greatly reduce costs), and how they had to install a costly water filtration system because the water sources in the area are so heavily polluted with nitrates from the dairy operations.  They've struggled to sell their meat at local stores because it (rightfully) costs so much more than conventional meat from large operations, and they're still trying to find their base market of customers. Farming is incredibly hard work and it's difficult for most small farmers in the US (and in the world) to stay afloat financially in the world of large industrial agriculture.
But Dave's excitement and passion about what they're doing was apparent – like how they know that rotating their animals through the fields not only gives the animals the various grasses and plants they like to eat, but also how the various types of manure make the soil (and the overall ecosystem) healthier. And how he talked me through the process they use for processing the chickens, emphasizing how they take care to make sure the animals are treated humanely. I happened to be at the farm on processing day, which meant I was able to see how the chickens I put on my table are taken from field to packaging. I've always told myself that if I eat meat I have to be okay with what it actually means for those animals, and it was important that I see this.
The more I can learn about where my food comes from, the better.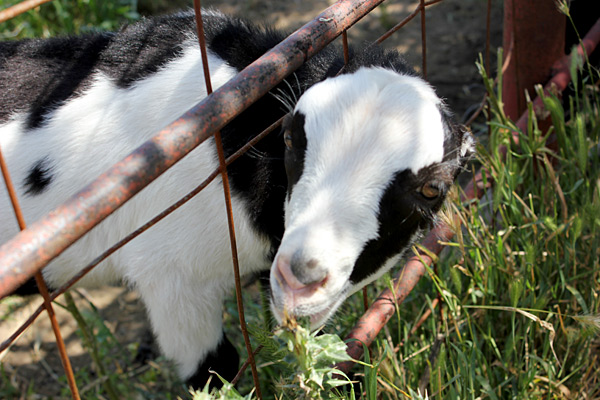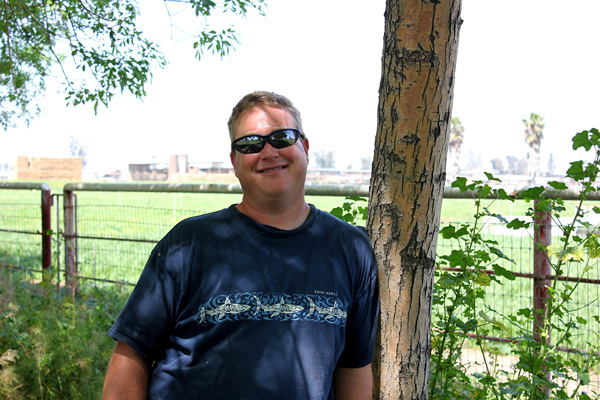 Dave and Heather make their products available in a wide range of areas across Southern California.  Check out their drop-off areas here, and fill out an order form hereif you're interested in getting some of their delicious chicken! They'd also love to start selling at local farmers markets, and requests or mentions to farmers market administrators always help.  At this point New Frontier mainly sells chickens, but they're planning to start offering other meats (including lamb, beef, and turkey) and raw milks (cow and goat) in the near future and are exploring CSA-type options with subscription boxes of various meat products.
p.s. I'm adding a new category of posts to the site – Before the Table – featuring my visits to local farms, producers, processors, and other business and organizations working hard to emphasize local food systems. Stay tuned for more!