Weekend links, March 30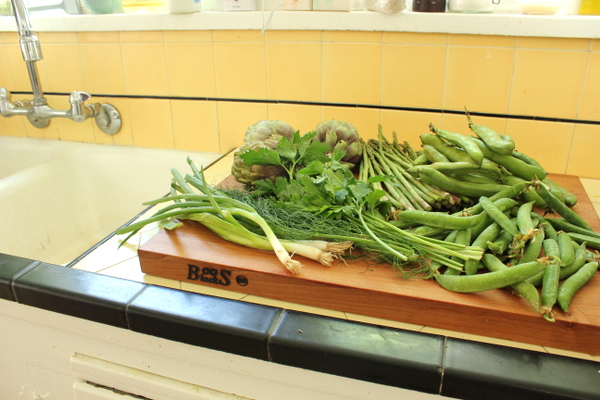 Sunday dinner. (Some weekends require a bit of nutrient catchup.)
I am completely smitten with Chasing Delicious' instructional cooking posters, particularly this new one about cooking methods. If you've ever wondered what the heck recipes are telling you to do when they say to "sweat" something, take a look.
I've almost (almost) mastered not absentmindedly sticking my fingers in my eyes after cutting up hot chiles, but I still end up with that "fingers on fire" sensation that plagues me for almost an entire day. But now I know how to avoid/cure it.
We all know food and plastic shouldn't mix, but I didn't realize it was quite this bad.
A short history of tacos in America. Reading this article made me want to produce a reenactment of a play I like to call "Tacos in my Belly (A Love Story)."
Mark Bittman on Wendell Berry (no other explanation needed).
Angry eggs. Better than I ever could have described how emotions affect what you do in the kitchen.
An interactive (and very well-designed) website with data on eating habits around the world. Give yourself at least 20 minutes to be distracted from whatever else you were doing.
p.s. Some of you know this already, but I've started contributing to the awesome online food magazine Honest Cooking. You can see all my contributions by clicking the "My Menu on Honest Cooking" button down there in the right sidebar. My content there will be very similar to what you see here, but not always the same!