BLT bread salad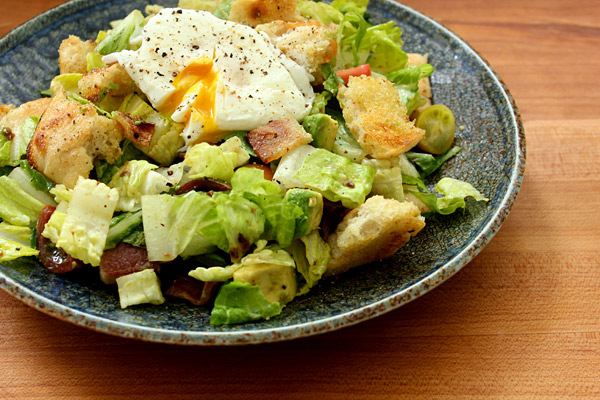 One of the things I love talking about when I'm teaching is how to take the flavor combinations of your favorite dishes and apply them to something completely different. It's all about food as a canvas for whatever sorts of additions and ingredients you usually love in a completely different context. 
Like just because you love the ingredient combination in a nicoise salad – tuna, potatoes, green beans, eggs – doesn't mean you can't put those same things on a sandwich, or in a pasta dish, or make it hot and turn it into a braised tuna roast with poached eggs. With a little creativity you can turn your favorite dishes into something new, and talking about this helps students become more flexible, intuitive cooks who know how to break away from routine and from the strict rules of recipes.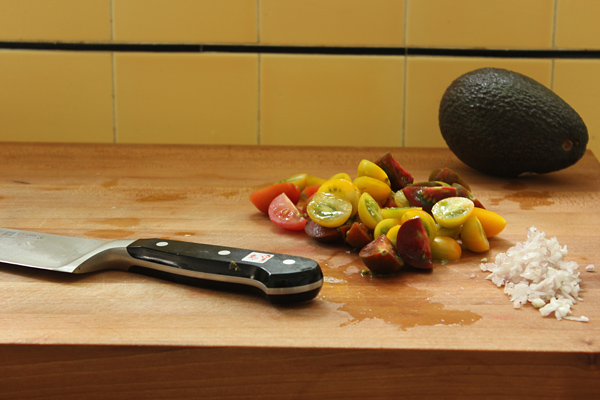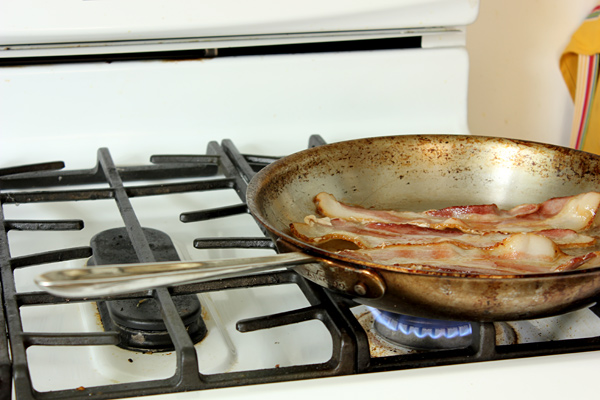 Take risotto, for example. (Yes, I will get to the salad, and that bacon you see above. Patience.) Risotto is a perfect example of a "canvas" for all sorts of flavor combinations. When we make risotto in class I talk with the students about how it can take on almost any flavor combination, from savory to sweet. During introductions at the beginning of class I have them tell me something they ate recently that they really liked, and when I start talking about potential additions for risotto I refer back to those and talk about how they could incorporate all those flavors and ingredients. They usually get pretty excited about this, and start making increasingly crazy-seeming suggestions to test me. Someone once joked (only half-joked, let's be honest) "pepperoni pizza" as a suggestion and was surprised to hear me respond "Absolutely! Risotto with chunks of pepperoni, ripe tomatoes, and herbs, with fresh mozzarella and basil stirred in right before serving, maybe some garlic bread crumbs on top."  Might not be the most traditional risotto in the world (nor my top choice for additions), but the point is that it's possible. If pepperoni pizza risotto is what it takes for someone to get in front of the stove and cook something, I'll take it.
And now is when I do the bait and switch from pepperoni pizza to salad.
But not just any salad. This salad has bread (huge chunks of toasty, chewy garlic bread, to be specific). This salad has bacon. This salad has tomato, and avocado, and a creamy poached egg. All messed together with super-crunchy romaine lettuce. This is a BLT bread salad.
I've been kind of obsessed with bread salads for a few weeks now. Zuni Café's recipe for roasted chicken and bread salad will always be near the top of my list, but I don't know why it took me so long to consider bread salads of all other sorts. Spring bread salad with toasted baguette, snap peas, goat cheese, and herbs. Summer bread salad with grilled ciabatta, tomatoes, basil, and burrata. Warm ingredients, cold ingredients – bread salads will take them all.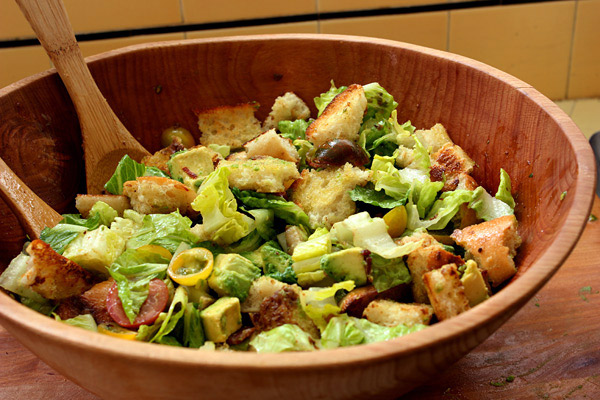 And let's be honest – sandwich to bread salad is a pretty easy translation of ingredients. Bacon, tomato, lettuce, and avocado can't really be beat on a sandwich, and together with some crudely torn hunks of garlic bread they can't really be beat in a salad.  And you can't forget the mayo and mustard – integral parts of the whole BLT flavor package – so add poached egg on top and a mustard-laden vinaigrette, and you're good to go.
BLT garlic bread salad

Serves 2 as a main dish

2 rolls or 2 fist-sized hunks of bread – baguette, ciabatta, or any sort of crusty bread will work well
1 clove garlic
2-3 slices bacon, thick-sliced if possible
1 shallot, minced
1 Tbsp. red wine vinegar
3 Tbsp. olive oil, plus more for toasting bread
1 Tbsp. dijon mustard
1 large or 2 small heads of romaine, ragged outer leaves discarded if necessary, roughly chopped into bite-size pieces
1 cup cherry tomatoes, halved
1 medium avocado, cubed
2 eggs
Salt and pepper

– Preheat broiler, grill, or toaster oven. Cut hunks of bread in half, or so there is some large non-crust surface on each piece. Brush or drizzle with olive oil and broil/grill/toast until golden brown and toasty, flipping once so both sides toast.

– Cut the clove of garlic in half and rub cut side over the part of the toasted bread that you drizzled with olive oil. (Now you have garlic bread!)

– Roughly tear or chop bread into bite-size pieces, and put in a large mixing or salad bowl. Set aside.

– Fry bacon in a large skillet until just slightly crispy – you want the bacon to stay somewhat chewy/soft. Drain on a paper towel-lined plate and set aside. When cool enough, roughly chop into 1/2″ pieces.

– While bacon is cooking, make the vinaigrette: Soak the minced shallot in the red wine vinegar for at least five minutes, then whisk together with the olive oil and mustard. Season with salt and pepper to taste.

– Add romaine and tomatoes to the bowl with the bread, and toss with the vinaigrette. Set aside at least 5 minutes so the bread can soak in the vinaigrette.

– Poach your eggs, as desired. I like to use a saucepan of water plus a dash of vinegar, at a light boil. Dump the eggs into the water and cook until whites are firm, about 2 1/2 to 3 minutes.

– While eggs are poaching, add chopped bacon and avocado to the salad and lightly toss (you don't want the avocado to get mashed).

– When ready to serve, plate the salad and place a poached egg on top of each salad. Season with freshly ground black pepper and flaky finishing salt, if desired.