Weekend links, May 7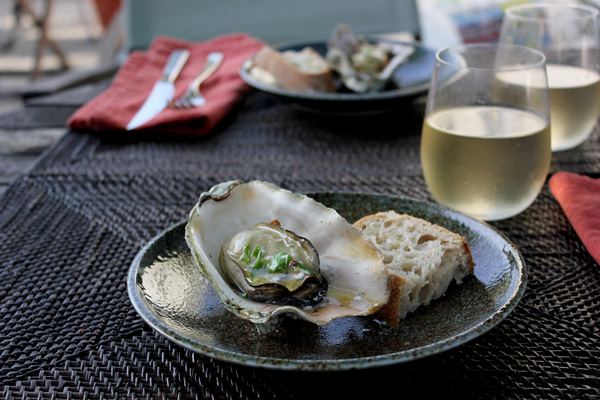 Grilled oysters with garlic butter, before Sunday dinner.
Lots to share this week!
First, I'm very excited to show you a glimpse of the photos my super-talented friend Adam took of me in the kitchen last week. You can see some of these new photos on the updated About page, as well as the new Working with Bowen Appétit page, which includes details about event menus and other work I do, as well as testimonials from previous events I've designed and catered (more coming soon!).  Now on to the links …
Brett makes Tartine-style bread at home (in fact, that's what in that picture above), so it's pretty obvious that we need to do this with it, ASAP.
I have a love-hate relationship with fava beans. In that I love to eat them, hate the double-peeling necessitated in prepping them. Perhaps this trick will help.
Slow-cooker greek yogurt! Must try soon.
Homemade marshmallow fluff (veg-friendly … no gelatin!). Fluffernutters and chocolate-marshmallow sundaes will be happening, no avoiding it.
Here's a summary of this article: Lard is back! And it's healthier than other fats. But it's still fat. And if you buy it with lots of chemical additives and preservatives, it's even worse for you. (Let's file this one in the Common Sense folder.)
Remember when the New York Times was looking for essays arguing the ethical reasons for eating meat? They just picked their winner, and I agree with lots of it (thanks, Jay Bost, for articulating many of my complicated thoughts about meat-eating). Also, "they" includes Mark Bittman, Michael Pollan, and Jonathan Safran Foer as judges, so you really should probably read this.
On a somewhat related note, "happiness shouldn't be associated with guilt."  A fairly simple interview, but the answer to question #3 has been in my mind for days. (Not the drinking part, let's be clear.)
On another somewhat related note, "the ground that something grows in is important, but so are the people who sell it to us, and the social structures we support by buying it from them." Because eating local is sometimes about the people, not just where the food comes from. Agreed.
Look, a person (an awesome person, at that) who likes to cook exactly like me. Roast vegetable + egg + toasty bread = reliable, easy, tasty meal.
Cook rice with beer instead of water! Brilliant. And some other good ideas here too, but for the record: I think pedicuring your feet with beer is a horrible waste of a glorious liquid.
Brett's parents are coming for his graduation this weekend, and I'm brainstorming cocktails. It'll be warm, so refreshing is the name of the game here. Perhaps this, this, this, or this?