Double emphasis on the cajeta
So I already wrote about cajeta in another post, a few months back.
But here's how good it is: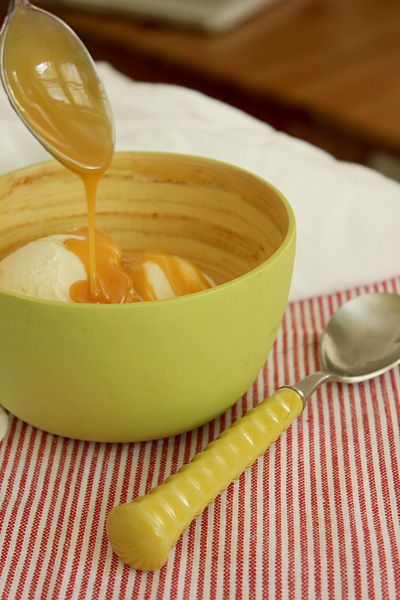 A WHOLE 'NOTHER CAJETA POST!
(Sidenote: Has anyone else always wondered how to write "a whole 'nother"? I do know those aren't actual words, but I say it often – take that, grammar – and would like to have it available in written as well as verbal communication.)
(Sidenote 2: I'm really sorry if I just lost readers because of that. I do actually know how to speak and write correctly.)
In any case – cajeta.
Do you know about cajeta?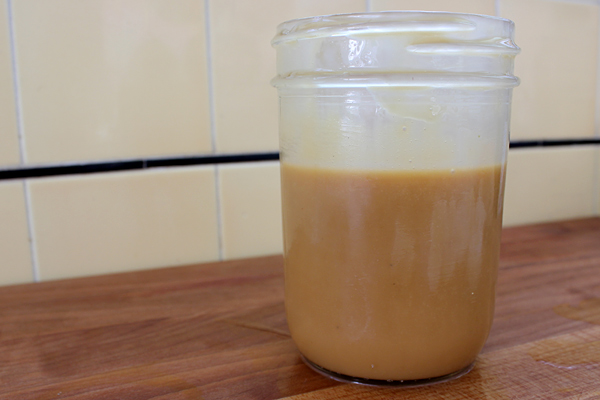 There's nothing quite like freshly made caramel – sweet and smoky and maybe even a bit salty, velvety and chewy and perfect on top of a scoop of vanilla ice cream – but cajeta adds another (a whole 'nother) layer of flavors, with the slight tang of goat's milk, the smoky spice of cinnamon, and the added creaminess of a slow (very slowwww) reduction.
Cajeta is caramel made in the traditional Mexican style, made with slowly-cooked sweetened milk (traditionally and preferably goat's milk) and infused with cinnamon, vanilla, or other spices and flavorings. The milk reduces and the sugar caramelizes very slowly, creating an ultra-smooth texture and a complex flavor that perfectly balances its sweetness. If you love caramel sauce but often find it too sweet, cajeta is your new best friend.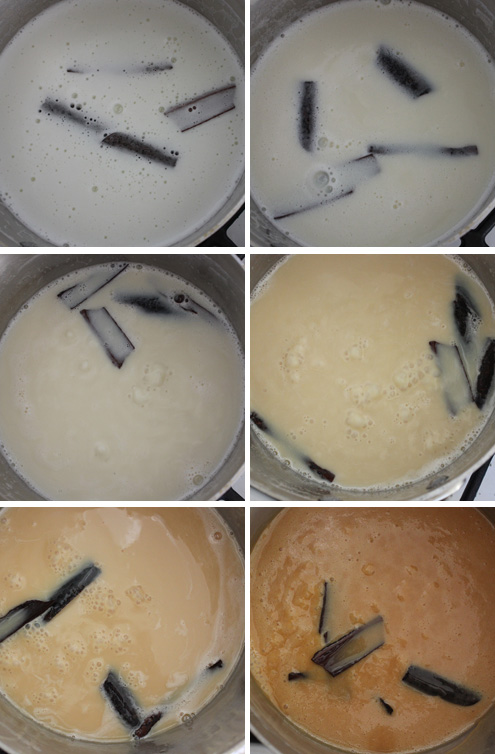 Cajeta adds a bit of exotic excitement to all the things you'd usually do with caramel – poured over ice cream, drizzled onto pound cakes, spread onto shortbread cookies – but is also fantastic for flavoring buttercream frosting (add up to 1/4 cup to a batch of your favorite buttercream), drizzling over fried plantains, spreading onto fruit … I'm sure you'll find plenty of ways to use it, once you have a jar of it in your house.
Cajeta is a great thing to make while you're doing other things in the kitchen, since it requires fairly frequent attention for upwards of 90 minutes. You don't need to be working with it that entire time, but you want to be able to check in on it and give it a stir fairly often.  In the last 15-25 minutes of the cooking process, it will need your almost-undivided attention as you stir constantly and bring it to the desired consistency without it scorching on the bottom of the pan. The photos below show the cajeta right after adding the dissolved baking soda, then again at the 15, 30, 45, 60, and 75 minute marks, so you can see how it proceeds.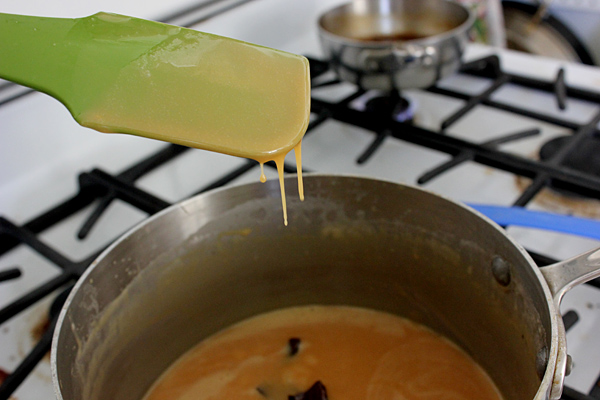 And as it cools on the counter and you're finally able to dip a finger in to get a taste, you'll know all that time and stirring was absolutely worth it.
Cajeta

Makes approximately 2 cups 

1 quart goat's milk
1 cup sugar
2 Tbsp. light corn syrup (optional)
1 cinnamon stick (I used 3 pieces of unrolled cinnamon bark, which is approximately the same thing) AND/OR 1/2 vanilla bean or 1 Tbsp. vanilla extract
1/4 tsp. baking soda dissolved in 1 Tbsp. water
2 Tbsp. rum, brandy, bourbon, or other similar liquor (optional)

– Mix together the goat's milk, sugar, corn syrup, and cinnamon stick in a large pot (at least 3 quarts). Bring to a simmer over medium-high heat, stirring so the sugar dissolves.

– Remove the pot from the heat and add the dissolved baking soda, stirring all the while. The mixture should froth, but if it doesn't your goat's milk just might not be very acidic (that's okay). Stir it until most of the foam subsides.

– Return the pot to medium-high heat and bring to a brisk simmer. Cook for an hour or so, or until the mixture turns golden (see bottom lefthand photo on cooking photo collage, above). Stir every five minutes or so to make sure it isn't scorching on the bottom of the pan.

– After the mixture turns pale golden, you'll need to start stirring more frequently. The mixture will darken to a caramely-gold color and thicken to the consistency of maple syrup – it should easily coat the back of a spatula or spoon. This should take another 15 minutes or so, but you can continue to cook until it is the color and thickness of your liking.

– Strain the hot caramel mixture through a sieve into a container (preferably glass). Remove the cinnamon sticks from the sieve. (If you don't have a sieve, it's okay – you may find a lump or two in the finished caramel, and just make sure to remove the cinnamon sticks.)

– If you want to finish with liquor, pour into the warm caramel and stir.

– The cajeta will thicken as it cools, and will keep in the refrigerator in a covered container for at least one month. If it is thicker than desired when cool, you can add warm or hot water to thin.