Rustic fruit galette, and a little bit about home
One of the reasons we're so excited to embark on this huge year-long adventure and to settle somewhere new is that we're looking for a place that feels a little more like home. Despite the fact that Southern California has technically been our home for the last ten years, it's never really been a great fit. Neither of us ever really intended to stay after college (in fact, at one point I didn't think I'd even stay all the way through), but things happen, and here we are.
A preview – I'm going to talk about home a little more, then you get this: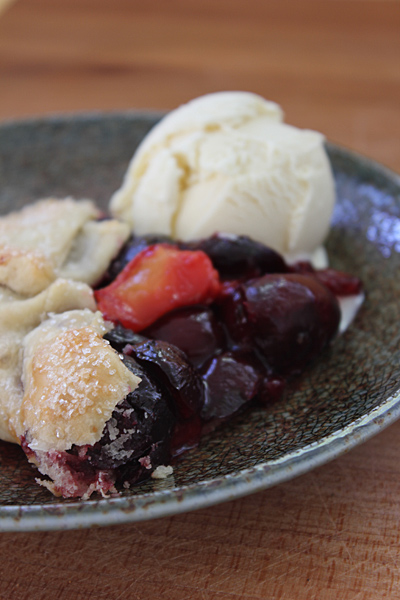 So we've been here for 10 years now. Four in college, two in grad school, four as full-fledged working people. But every time I go to San Francisco, or Portland, or Minneapolis, or Boulder, or plenty of other cities, I'm there for an hour and feel more at home than in the place where I've lived for the last decade.
We talk about it all the time (maybe I talk about it all the time and Brett indulges me, but he's a pretty fantastic husband so I'm not surprised either way). What is it that makes these places feel like home? Is it the stores? Is it the food? Is it the people, or the art, or the climate, or the foliage, or … what? Sometimes I see it in the littlest things – like how the normal, everyday grocery store in Eugene has a machine in the bulk section that allows you to grind your own wheat into flour (not sure I'd ever use it, but I love that it exists). Sometimes it's just a general feeling, like how I can spend an entire day climbing up and down the hills of San Francisco without doing or buying or seeing much in particular, and have it be one of the best, most fulfilling days I've had in months. If I spent all day walking around in LA, I'd just be bored, sweaty, and irritable.
Sure, Claremont is actually a pretty nice town. Perhaps not for people in their mid-20s, and perhaps not for people whose friends mainly live in LA, and perhaps not for people who like rain, and greenery, and seafood. But it's leafy, and idyllic, and picturesque, and increasingly (finally) full of good restaurants and things to do.
But still we find ourselves saying "when we live elsewhere, x wouldn't be a problem anymore," where x is any number of problems including: our friends living 45+ minutes away, traffic, finding good shoes that aren't 3″ heels, traffic, a selection of good jobs that don't require a 90-minute commute, traffic, the lack of seasons, traffic, smog, traffic, good grocery stores, and traffic. It's a pretty good sign that we were not meant to be Southern Californians.
With Brett applying to graduate schools, we could end up in any of more than a dozen different cities (most of which have been fully vetted and others of which will be visited over the next year). I'm sure we'll miss things about Southern California (mostly food-related), and there will be days we wake up in some sort of halfway-frozen or water-logged place and yearn for the endless stretch of mid-70s, sun-drenched days we've had for the last 10 years. But I can't wait to be in a place that feels more like home.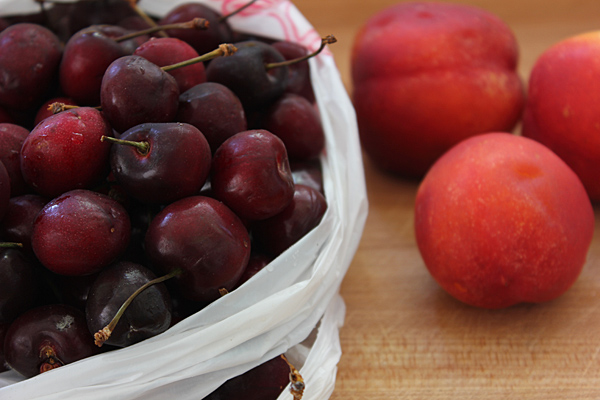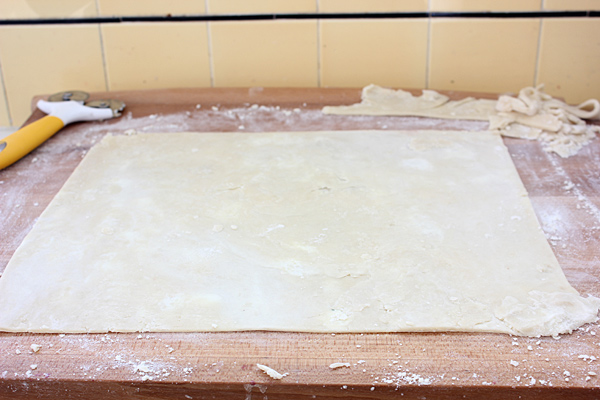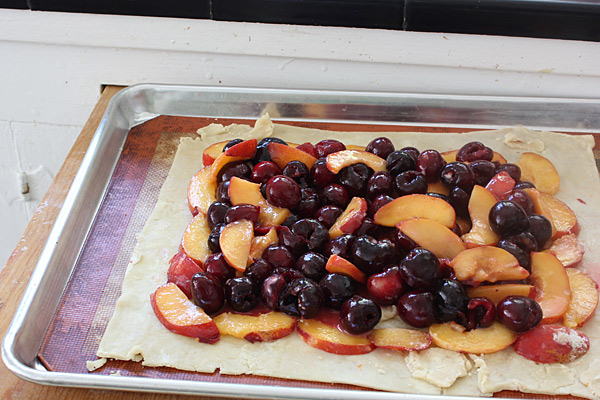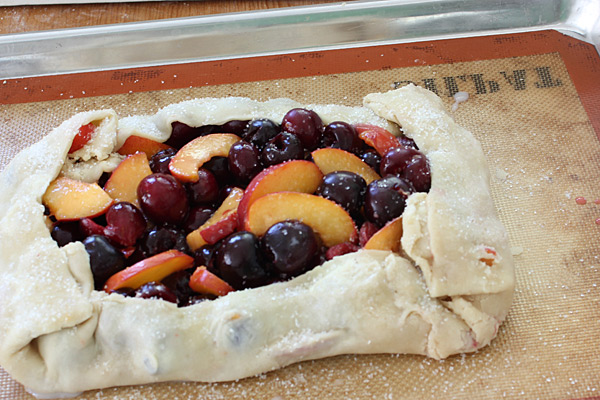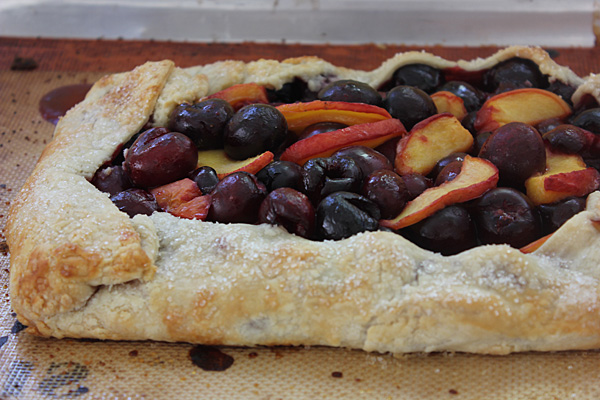 Now it's time for a tenuous-at-best transition to a recipe. But really it's more connected than you think, because I'm talking about something that can be made almost anywhere and given the flavors and character of wherever you consider home. Give me citrus in a Southern California winter, berries in a Pacific Northwest summer, apples in a Midwestern fall – I'll wrap it up in a dough with a bit of sugar and bake it until juices are running and the crust is golden and flaky, and we'll all share something delicious. (Or I'll tell you it didn't turn out well, and eat the entire thing myself.) It could be a pie, or a galette, or something like a crumble but with pie crust on top … in whatever form it might appear, I'll take it.
With how much I make things like this I'm kind of surprised I haven't posted them more (just these three: 1, 2, 3), but really the recipe is more of a template, anyway. Mix up some fruit with a bit of sugar and cornstarch and maybe some additional flavors, wrap in a flaky, buttery, toasty dough and bake, then smiles appear!
We picked up some cherries and nectarines at a roadside stand on our way back from San Francisco last week, and I almost immediately reserved them for the disk of pie crust I knew I had waiting at home in the freezer.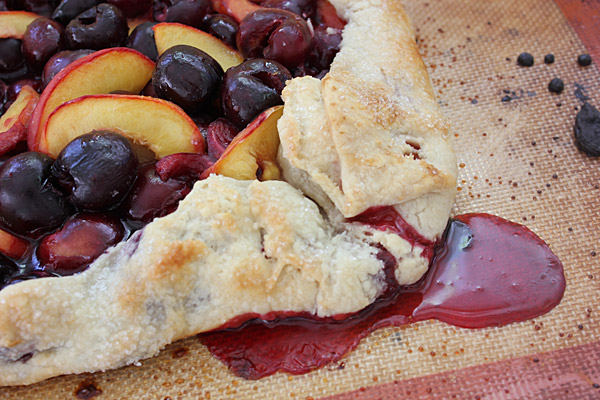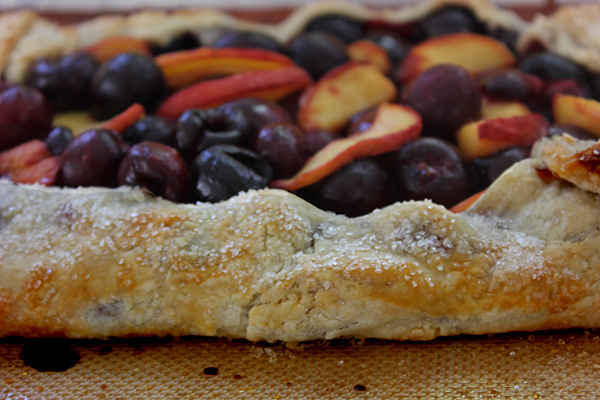 As usual when I post pie and galette recipes, I'm not going to give you a specific crust recipe. There are hundreds of recipes out there that are all slightly different than one another in ingredients or in technique, and you can really use anything that you like. I do think I have what is now my favorite recipe, and someday I'll write a huge post on it, but I want to work on it a bit more and make sure that it's absolutely the one that I want.
This galette takes either a single-crust batch of dough or half of a double-crust batch. (Remember you can always keep the other half of the batch in the freezer, which is how I ended up with the crust for this one! Just leave it in the fridge overnight or however long it will take to become pliable enough to roll out.)
Basic fruit galette (this time, cherry and nectarine)

Serves 5-6 with a moderate serving size

Approximately 1 1/2 pounds prepared fruit – I used just over 1 lb. Bing cherries and 3 medium nectarines, which amounted to just over 1 1/2 pounds after pitting the cherries and slicing the nectarines
2 Tbsp. sugar, plus more for sprinkling on the crust before baking (caster sugar is particularly great for the sprinkling, if you have it)
1 Tbsp. cornstarch (add a few teaspoons more if you're using particularly juicy fruit, like berries)
Pinch of salt
Additional flavors (optional): feel free to play around with spices and herbs and other flavoring, depending on the fruit you're using. I didn't add anything to the cherries and nectarines, but I could see almond extract, vanilla, ormaybe even thyme being a great addition.
1 single-crust batch of your favorite pie or galette dough
A splash of milk or cream for brushing the crust

– Preheat your oven to 400F.

– If you like, line a baking sheet with a silicone liner or parchment paper. You don't need to do this, but you can risk your galette sticking to the pan if some lovely sticky fruit juices sneak out of a crack or a corner.

– Toss together your fruit, sugar, cornstarch, and pinch of salt.

– Roll out your chilled or defrosted dough to about 1/8″ thick. This could be a circle (probably about 12″ in diameter), a rectangle, or really whatever shape the dough decides to become. Depending on the dough and how soft and moist it is, some will be easier to roll into a perfect-looking shape, and some will be more rustic. This time my dough was kind of crumbly, and decided it wanted to be a rectangle. I trimmed up the edges so they were a little straighter, for no particular reason other than the pastry cutter caught my eye – but otherwise just let the dough determine the final shape. You just want to be able to fold the edges on top of the fruit, and as you can see above the corners piled up with dough here, and that's totally fine (those are prime eating real estate, if you ask me).

– Transfer the dough to the pan (doing this before piling on the filling is a SUPER IMPORTANT step that I often completely neglect to do) and spread/pile your filling on top, leaving a ~1″ border around the edge.  Fold the edges of the dough up and over your filling. Feel free to nudge your filling around to get a good foldover. Galettes are rustic! Don't worry too much about how it looks at this point. Once it's golden brown and flaky and your fruit is all juicy and warm, nothing else really matters.

– Brush (or spread with your fingers) a bit of milk or cream (I find that soy milk even works well here) over the exposed parts of the dough. This helps you get that lovely, picturesque golden brown color. Sprinkle sugar over the dough (like I said above, coarse caster sugar is particularly great, if you have some).

– Bake for 35-45 minutes, or until golden brown and the fruit is cooked. Something like apples might take longer, while with softer fruit you really just want the crust to be beautiful and golden.

– Cool in the pan on a wire rack until ready to eat!

– I love to serve fruit desserts like this with ice cream, cream fraiche, whipped cream, yogurt, or other similar things – but that's all optional!