Lime cornmeal cookies (emotional distraction)
by Bowen Appétit on June 28, 2012
This quickly approaching life transition (11 days. 11 days!) means a lot of goodbyes. Goodbyes to favorite restaurants, goodbyes to old routines, goodbyes to most of our belongings (either stored or sold or donated), goodbye to Pomona, and – most significantly – goodbyes to all of our friends, colleagues, and mentors in the area. Most of the time it hasn't really sunk in that anything big is happening, but every once in a while I catch myself realizing that it'll be the last time I'm seeing someone or going somewhere, or that I won't have another chance to do something before I go.
I spent this last weekend gathered in Palm Springs with six of my closest college girlfriends, which coincidentally ended up being the last time we'll all be together before two of us move away this summer. We lounged by the pool, we sipped cocktails, we laughed, and we had the sort of serious conversations that come from our shared liberal arts college background – as we generally do when we're together. We managed to spend all three lovely days together without any sort of big teary goodbye, and I'm glad we spent the time laughing and acting like it was just another weekend, instead of something more intense. It was all left on a positive note, and I'm trying to focus on that memory as Brett and I speed through the next 10 days full of goodbye dinners and happy hours and brunches.
These might help.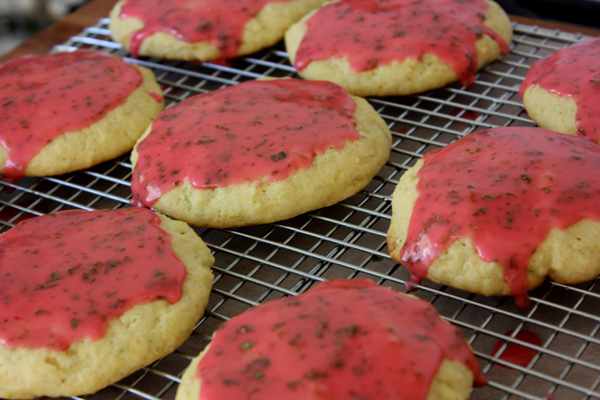 I brought these along for us to eat on our weekend, with an accidentally somewhat inappropriate little alteration (hot pink frosted cookies for a group that spends most of its time talking about feminism …), and we happily nibbled on them all weekend. Usually the frosting here would be a slightly opaque white, with little flecks of green from lime zest, but I went a little overboard with the raspberry juice and chopped mint for sort of a raspberry mojito-like flavor (girls' weekend! woo HOOOO, etc. etc. etc.).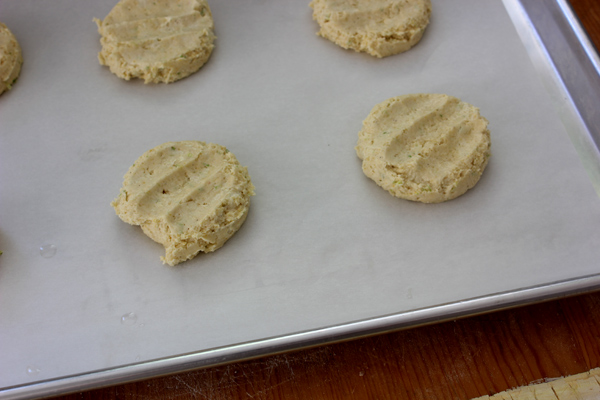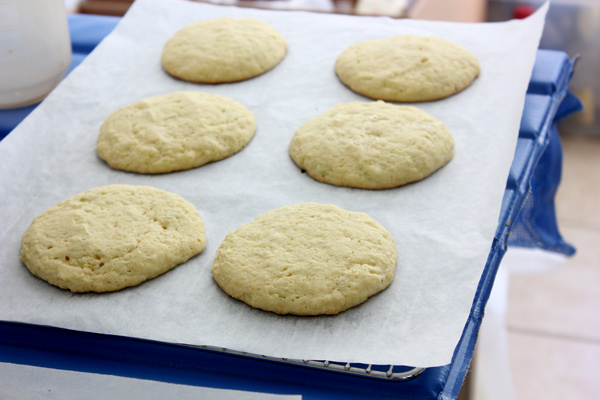 But in any case, the basic version of this cookie is all you really need to know. A good buttery, delicately sweet cookie, slightly zesty and with a zing from a lime glaze on top. The cookie itself is soft and cakey but with a distinct and slightly crunchy texture from the added cornmeal, and the combination of flavors and textures makes it perfect for anything from a casual backyard barbecue to a fancy tea party.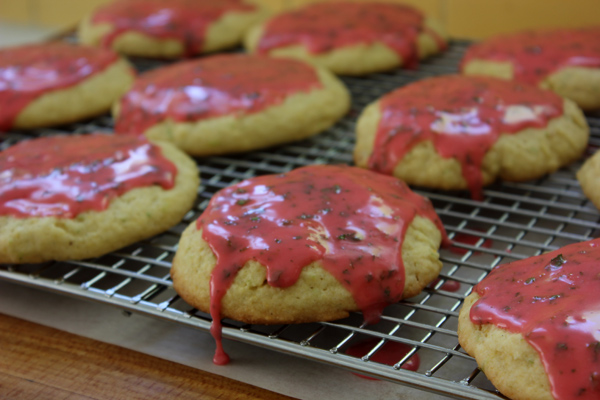 And if you want to play around with the glaze, like I did, there are plenty of things you can do. Lemon and rosemary? Blackberry and basil? Lemon and ginger? Grapefruit? Orange? The opportunities are endless. Think about other flavor combinations you love (cocktails can make for great inspiration) and go from there!
Lime cornmeal cookies
Adapted from Joanne Chang of Flour

Makes 14-16 large (1/4 cup) cookies, or more smaller cookies

2 cups (9 oz.) flour
1/2 cup (about 2 1/4 oz.) yellow cornmeal
2 tsp. baking powder
1/2 tsp. salt
1 cup (2 sticks, 8 oz.) butter, room temperature
3/4 cup (5 1/4 oz.) sugar
2 Tbsp. grated or minced lime zest (about 3-4 limes)
2 eggs
1 tsp. vanilla

Lime glaze

1 cup (4 oz) powdered sugar
2 Tbsp. lime juice (or other liquid, such as lemon juice, berry juice, or liquor)
1 1/2 tsp. grated or minced zest from lime or other citrus (about 1 lime)

– Preheat oven to 350F. If desired, line two or three baking sheets with parchment or silicone liners.

– Whisk together the flour, cornmeal, baking powder, and salt in a medium bowl.

– Using a stand mixer, handheld mixer, or wooden spoon, cream together the butter and sugar on medium-high until light and fluffy. This should take about 5 minutes in a stand mixer on medium speed or a handheld mixer on high, or about 10 minutes if using a wooden spoon.

– Add lime zest and beat on medium for another minute to release lime flavor.

– Add eggs one at a time, beating on medium until thoroughly combined after each. Add vanilla and continue to beat for another minute. Scrape down bowl and paddle to make sure everything is thoroughly incorporated.

– Slowly add flour mixture to butter-sugar mixture, reducing speed to low if using a stand or handheld mixer. Mix only just until flour is completely incorporated, finishing with a wooden spoon if desired.

– Drop dough onto baking sheets. I made large cookies (about 1/4 cup each) and smaller cookies (about 2 Tbsp. each), and both turned out well and baked for approximately the same amount of time. Larger cookies should be about 2 inches apart, and smaller about 1 inch apart. Slightly flatten each ball of dough with wet fingers or a wet palm of your hand.

– Bake for about 20-25 minutes, only until cookies are pale brown around the edges, pale in the center, and just firm to the touch. Rotate pans halfway through the baking time. Be careful not to overbake cookies – tops should not brown at all.

– Let the cookies cool on the baking sheets on a wire rack for 15 to 20 minutes, then transfer to the rack to cool to room temperature before glazing.

– To make the glaze, whisk together all the ingredients until smooth. If needed, you can add a bit of water to loosen. You'll want a glaze that will spread on the cookies with a few drips but that isn't thin enough that it runs right off.

– Use a spoon or spatula to spread each cookie with a thin layer of glaze. Let it sit at least 10 minutes before serving or storing. Cookies will keep well in a closed container for at least 3 days, and up to a week in an airtight container.