Peach upside-down cornmeal skillet cake (bye bye, CA!)
So. It doesn't really feel any different, really. We loaded up our stuff, we drove away, we unloaded our stuff, we set up our bed in a completely new room in a new city in a new state, and soon we'll even leave that. We drank beer at lunch today (on a Wednesday!), and if I didn't check my email for another five days there's not really anything that could happen to me.
But nothing feels significantly different. It's kind of like when we got married, and I took the fact that absolutely nothing felt different as a good sign (a very good sign – but we'll save more on that for some future installation of Bowen's Thoughts on Marriage). And this time, as we went through the motions of leaving, I kept telling myself to feel something BIG – like when we ate at our favorite bakery for the last time, and when we spent our last evening on campus, and when we handed over the keys to our house. (Funny story about that, below.) But everything just felt kind of … normal, and I'm taking that as a good sign that all of this is happening at the right time. When I've tried to force myself to see the significance of everything, I just see this sort of satiny, infinite ribbon spreading out ahead of me – I think it represents time, maybe? Or freedom? Something like that. I'm not really sure why I picture the next year as a ribbon, but in any case I have this really strong visual that I don't understand but that I associate with positive feelings, certainly. (Or maybe it's guilt at all that perfectly good leftover double-sided satin wedding ribbon I threw out as we cleaned out our house.)
So since I apparently don't need to spend any time "transitioning," I just get to focus on doing everything that catches my eye as worthwhile or fun or interesting (as long as it doesn't cost too much money).  Which at the moment means enjoying summer, especially a summer a little more temperate than our Previous Place of Living. We're in Eugene for the next 10 days or so, including a few days working at the Oregon Country Fair, plenty of time in the backyard, some exploring of what we're hearing is a pretty fantastic new "Brewery District" in town (more on that next week, I'm hoping), and lots of summer fruit.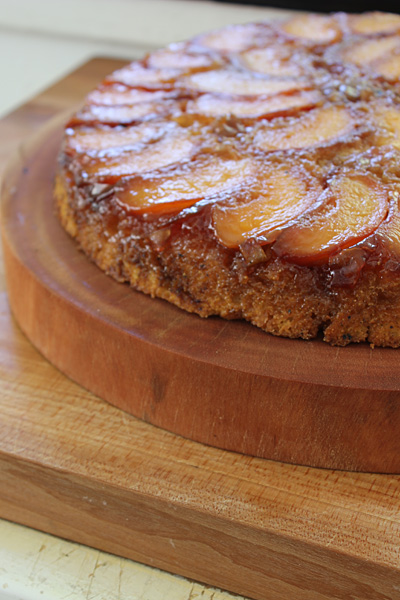 When we left Southern California, stone fruit was entering the height of its season, and we got in just a couple of weeks of peaches, nectarines, and a few plums.  I baked a peach upside-down cornmeal skillet cake to take to dinner at a friend's house in Laguna Beach – our last visit to the beach before we left – and it was a perfect end to a summer dinner.
I originally picked out this recipe because of a few peaches in the fridge quickly entering their softest phase of life, and knew I had to post it here because of its incredible resemblance to the cornmeal cookies I posted recently. A little less flour, a little more cornmeal, half the amount of butter, and the addition of just under a cup of buttermilk makes cookies a cake, apparently. Substitute a lime glaze for sliced peaches and caramel, and you have a beautiful, elegantly simple and rustic dessert.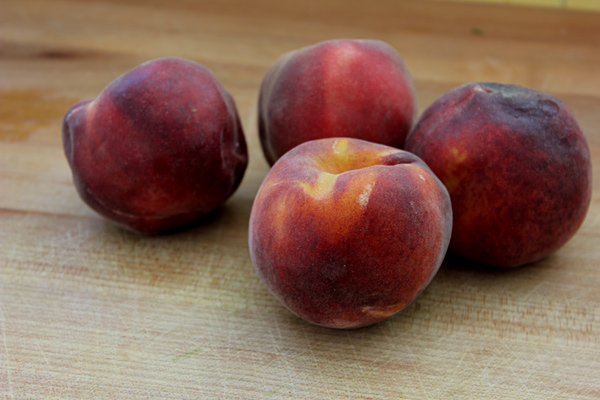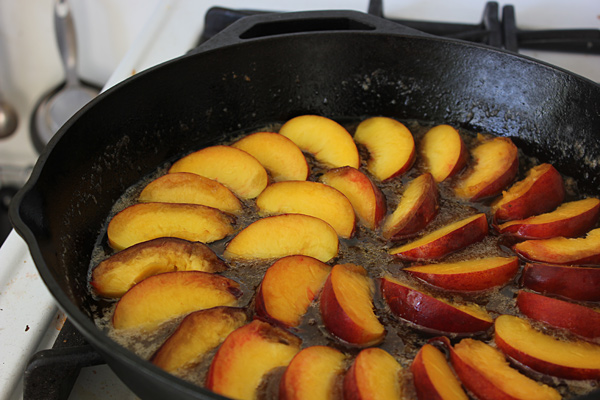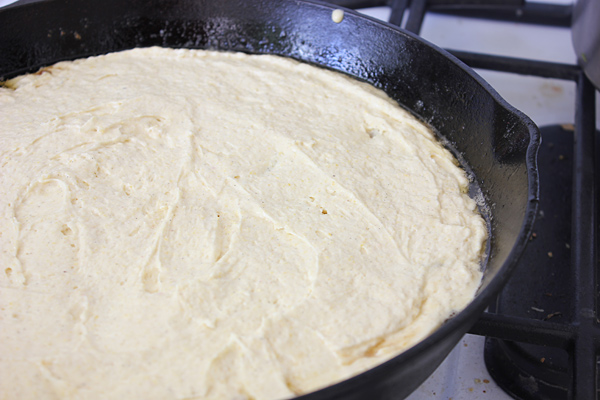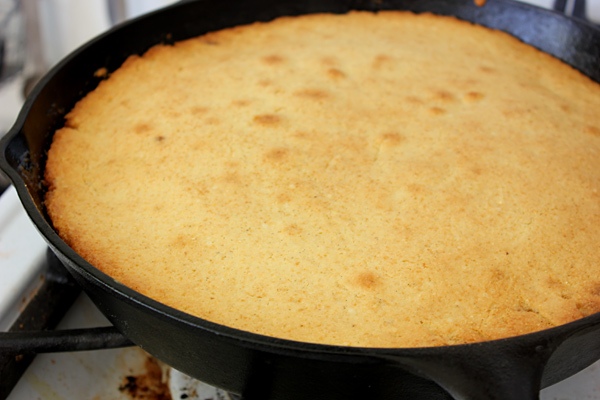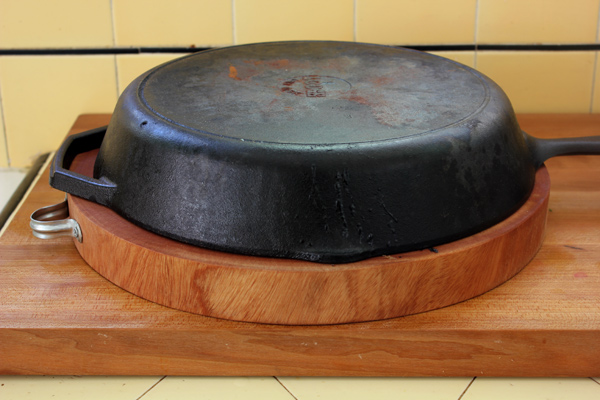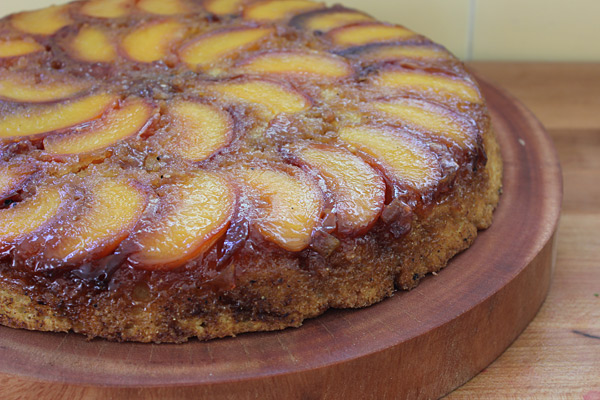 The cornmeal, the skillet, and the whole upside-down business make for a crispy edge on each piece of cake, with a soft interior and a gooey, sweet caramel glaze. The peaches and the cake sort of melt into each other on the top, making those fruit-adjacent bits of cake particularly delicious.
You can easily make this cake with any sort of soft fruit you have in the house, particularly stone fruits and berries. The peaches go especially well with the caramel sauce, I think, but I'm sure other fruits would be great too.
I used a 10-inch cast iron skillet here, but my guess is that a 9-inch cake pan would work as well. You may need to increase the baking time a few minutes to make sure the thicker cake is baked all the way through, and just make sure you let it cool significantly in the pan before you flip, to insure against the lovely fruit and caramel layer staying behind in the pan.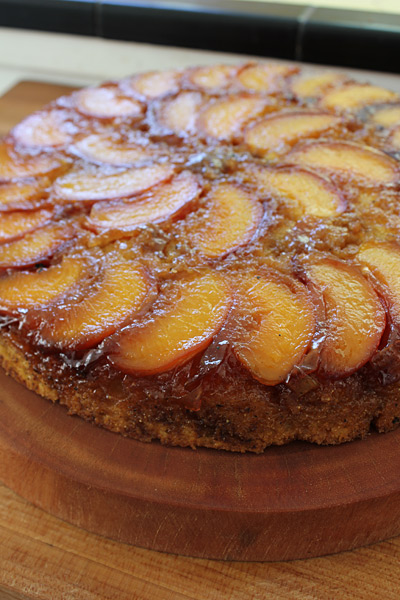 * Here's how I knew we had actually, legitimately, 100% moved out of our house: after we handed the landlord our keys but before we had even done a final walkthrough to make sure we weren't forgetting anything, we ran next door for a quick goodbye to our fabulous neighbors and their adorable baby. I walked back into our house, and the landlord looked straight at me and said "oh, can I help you with something?," as if I were some random person walking in off the street. Well, then.
Peach upside-down cornmeal skilletcake
Adapted from Rustic Fruit Desserts by Cory Schreiber and Julie Richardson

Serves 8 (or so)

4 peaches (or other fruits, enough to cover the bottom of your skillet or cake pan)
1/4 cup (2 ounces) butter
Approximately 1/2 cup brown sugar
1 1/4 cups flour
1 cup cornmeal
1 1/2 tsp. baking powder
1/4 tsp. baking soda
1/2 tsp. salt
1/2 cup (4 ounces) butter, room temperature
2/3 cup sugar
2 eggs
2 tsp. vanilla extract
3/4 cup buttermilk

– Heat oven to 350F.

– Halve and pit the peaches, then slice each half into approximately 6 slices. Set aside. (If you're using particularly small fruits – like small apricots – you may want to use whole fruit halves.)

– Either in a 10-inch cast iron skillet (in which you will bake the cake) or in a medium-size skillet, melt the butter over medium heat. Add the brown sugar and stir until the sugar dissolves and the mixture forms a fairly smooth caramel. Reduce the heat if needed to keep from burning the caramel.

– If using the cast iron skillet, arrange the slices of fruit on top of the caramel (if using fruit halves, either the cut or the peel side can go down). If using a cake pan, spread the caramel sauce into the bottom of the pan and arrange the fruit on top. Set pan, fruit, and caramel aside.

– To make the cake, whisk together the flour, cornmeal, baking powder, baking soda, and salt in a medium bowl. Set aside.

– Using a stand mixer, handheld mixer, or wooden spoon, cream together the butter and sugar on until light and fluffy. This should take about 3-5 minutes in a stand mixer on medium speed or a handheld mixer on high, or about 10 minutes if using a wooden spoon.

– Add eggs one at a time, beating on medium until thoroughly combined after each. Add vanilla and continue to beat for another minute. Scrape down bowl and paddle to make sure everything is thoroughly incorporated.

– Slowly add the flour mixture in three additions, alternating with the buttermilk and beginning and ending with the dry ingredients. Be careful not to beat any longer than necessary. Mix only just until flour is completely incorporated, finishing with a wooden spoon if desired.

– Spread the batter on top of the fruit in the pan. Bake for approximately 25-30 minutes, or until the top of the cake is golden brown and the center of the cake springs back lightly when pressed.

– Cool the cake on a wire rack at least 20 minutes before flipping over onto a flat surface. The cake is best eaten the day it is made, but also makes a fabulous breakfast the next morning.