Summer blended gazpacho
Summer in Oregon isn't exactly the summer I'm used to. I grew up in the rainy, humid, sweltering summers of the Midwest, then spent most of the last decade's summers in the dry, oven-like heat of inland Southern California. I'm not used to these overcast mornings and cool evenings, where dinner the backyard is more comfortable with sleeves. But don't take this as a complaint – I'd take chilly over sweaty any day, and am always more comfortable in a sweatshirt than in shorts.
I just say this to point out that gazpacho isn't quite as necessary here as it is in the sort of summer that keeps you out of the kitchen at all costs – but that doesn't mean it wasn't perfect for a post-travel light summer meal, and that I didn't happily eat it in the backyard with a sweatshirt on.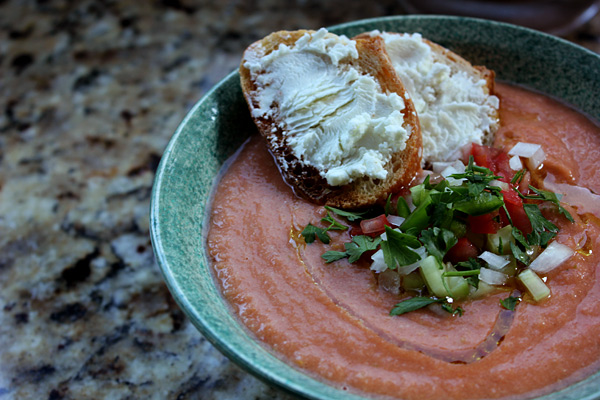 The first time Brett suggested making gazpacho for dinner some years back, I resigned myself to eating a glorified bowl of salsa for dinner and began strategizing some over-the-top, extra-filling dessert to make it feel like an actual meal.  Who eats a cold soup of tomatoes, peppers, and cucumbers and calls that a meal?
I take eating way too seriously to consider such a thing.
But then he came to the table with a bowl of something entirely different. Silky and cool, with the garden freshness of tomatoes, cucumbers, and peppers, and the flavor packed combination of garlic, oil, and vinegar. Crusty bread blended into the soup added texture, flavor, and heft, and emulsified olive oil made it creamy and thick.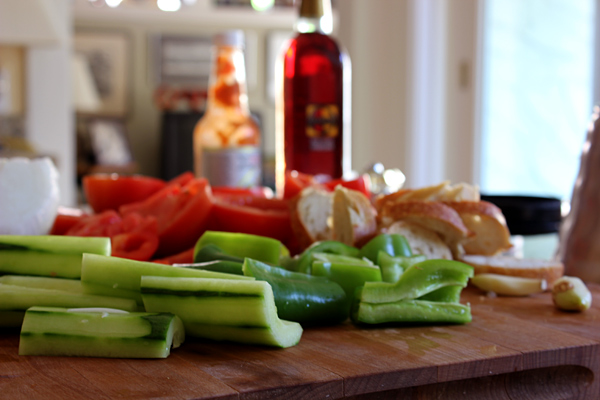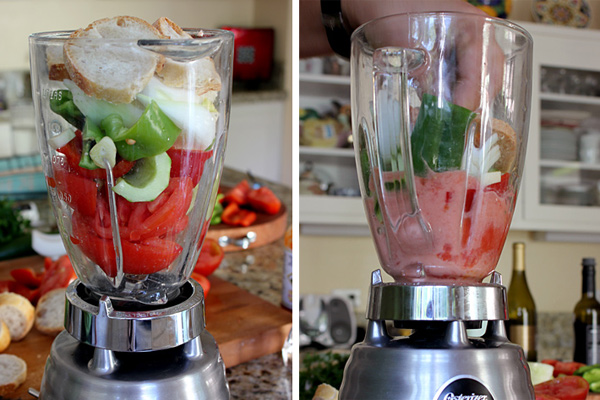 It's the perfect antidote to a hot day or a summer full of grilled meats and carb-heavy salads, and as easy as it gets. We now make it often during particularly hot times, or lazy times, or when we've been eating a little more heavily than we should be. I've added a few of my own touches as well – like goat cheese-spread croutons, and a few dashes of hot sauce for a bit of a spicy kick at the back end.
It may not be the most filling meal in the world, but it's full of flavor and you can always add more garnishes to help bulk it up (think chopped hard-boiled egg, bacon, and hard cheeses). It also makes a great side, particularly to grilled meats, if you don't want just soup for dinner.
A few crude strokes of a knife, a quick blend, and some adjustments to taste, and you can have in front of you a delicious and healthy dinner, no heat required. Can't really ask for more than that.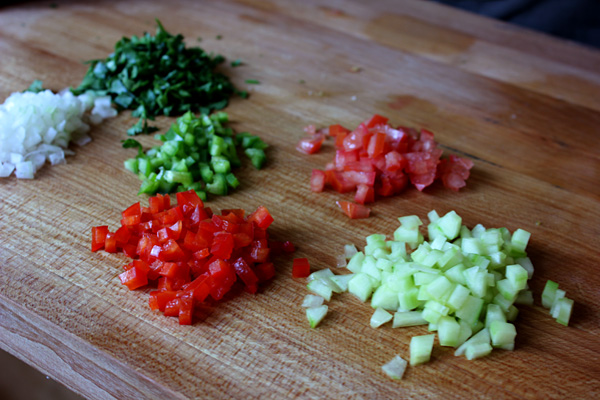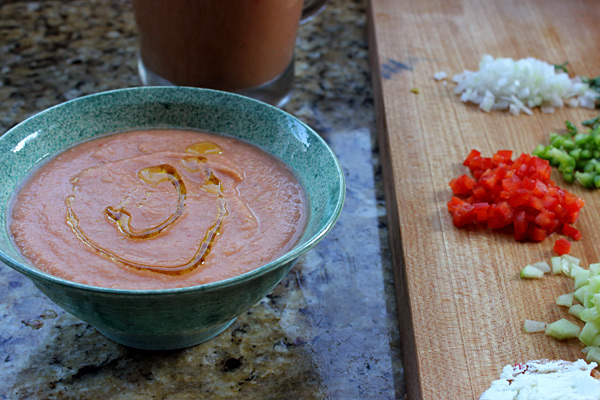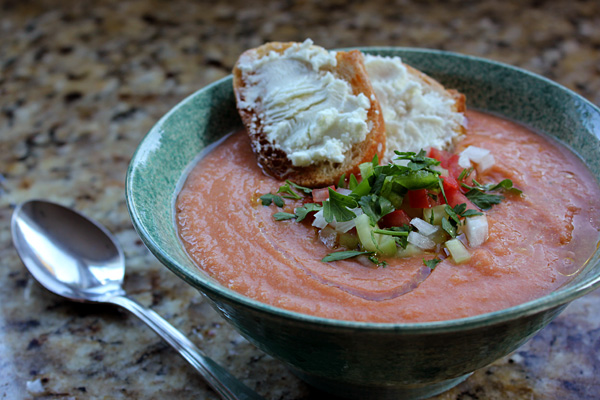 Blended gazpacho

Makes 4 dinner-size servings, easily scalable

The quantity of ingredients are not set in stone here – if you happen to have more or less of something, that's fine. 

5 large red tomatoes (or the equivalent, and any type will work)
1 medium cucumber (American-style or English/hothouse works)
1 medium red or white onion
2 large sweet peppers – I like to use one red bell pepper and one Anaheim/California pepper
2 cloves garlic, peeled
Crusty bread – around 1 baguette or mid-sized rustic loaf. About 1/3 will be blended in the soup and the other used for serving.
5 Tbsp. red wine vinegar, plus more as needed
A few dashes of hot sauce, or to taste (optional)
Salt, to taste (at least 2 tsp.)
1/4 cup olive oil, plus more for serving
Small handful flat-leaf parsley, for serving
2-4 ounces chevre-style goat cheese, for serving (optional)

– Prep the tomatoes: Halve each tomato and scoop out all the seeds using your fingers or a spoon. Cut or scoop out the stem end as well. Cut into 2″ish pieces (the more powerful the blender, the larger the chunks of vegetable can be). *Set aside a couple of pieces for garnish*

– Prep the cucumber: If the peel is thick/spiky, peel the cucumber. Slice it in half lengthwise. If the seeds are large/tough, scoop them out with a spoon. Cut into 2″ish pieces. *Set aside a couple of pieces for garnish*

– Prep the onion: Peel and cut into 2″ish pieces. *Set one aside one piece for garnish*

– Prep the peppers: Remove the pepper tops, bottoms, seeds, and inner veins. Cut the pepper into large chunks. *Set aside a couple of pieces for garnish*

– Prep the bread: Cut approximately 1/3 of your bread into large chunks for blending with the soup. Slice the rest for toasting.

– Blend: Depending on the size of your blender, you'll likely have to blend the soup in two batches. Our Vitamix can just barely handle a full batch, but our old blender couldn't. The following describes the process in two batches. Start by putting about half of your tomatoes in the blender, followed by half of the remaining vegetables, the garlic, and the bread. Adjust the contents and your blender until you're able to blend everything into a smoothie-like consistency. If you need more liquid to get things going, you can also start adding the vinegar (see below) at any point.

– Add half the vinegar, a few dashes of hot sauce (optional), at least 1 tsp. of salt, and blend to mix. Taste and continue to add vinegar, hot sauce, and salt until you get a flavor you like. It will need more salt than you think, most likely.

– Add olive oil With the blender on, slowly pour half the olive oil into the soup (most blenders allow you to remove a small center piece in the lid in order to do this). Try to pour into the center of the vortex created as the soup blends. This emulsifies the oil into the soup, creating a smoother, thicker, creamier texture, and ensures that the oil won't separate from the rest of the soup.

– Remove the blended soup to a pitcher or a large bowl, and repeat the process in the blender with the remaining ingredients.

– Mix the batches of soup together and chill until serving.

– Prepare fresh garnish: Finely dice the tomato, cucumber, onion, and pepper that you set aside earlier. Roughly chop the parsley.  Mix all these elements together in a small bowl and set aside.

– Prepare toasts: Toast your slices of bread and spread with goat cheese.

– To serve, pour soup into bowls. Drizzle olive oil over the surface. Scoop fresh garnish into the center of each bowl, then place croutons on top of the soup to the side of the fresh garnish.

Storage/making ahead: Soup keeps well in the refrigerator for up to 3 days. Adjust salt, vinegar, and hot sauce as needed, and make sure to drizzle with olive oil.