Olive oil cocktails – The Oliveto
If you've been patiently reading all those posts about travel and what I've eaten, you may have noticed that back in September I mentioned a drink that I was close to saying was the best cocktail I've ever had. And I even promised a recipe, once I was able to recreate it well enough at home.
Well, here you go.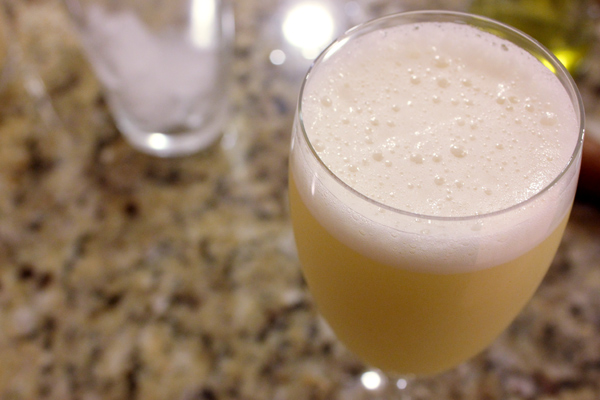 This cocktail is one of those successful culinary surprises, built on simple ingredients and techniques to produce something entirely new and innovative. I was intrigued from the first moment I heard about it – olive oil and egg white in the same cocktail shaker, opposing forces (what with fat being the number one inhibitor of an egg white's innate desire to foam) coming together in an emulsion to embellish a simple combination of gin, lemon juice, and simple syrup. It's the world's simplest, most classic cocktail recipe gilded in all the right ways, and the result is spectacular. Bright and sweet, tangy and creamy, complex and silky smooth. And it looks as much like a sunny day as it tastes, all creamy lemon yellow topped with thick, fluffy meringue-like foam. Like a lemon meringue pie, actually, which turns out to be the best approximation of the flavor (minus the pie's often cloying sweetness). There's something about egg and oil and lemon that together are much bigger than the sum of their parts, and the best part of making this drink has been watching people react to their first sip, trying to piece together all the flavors and textures.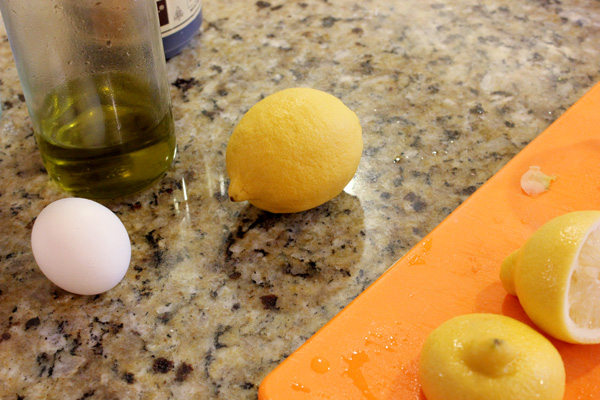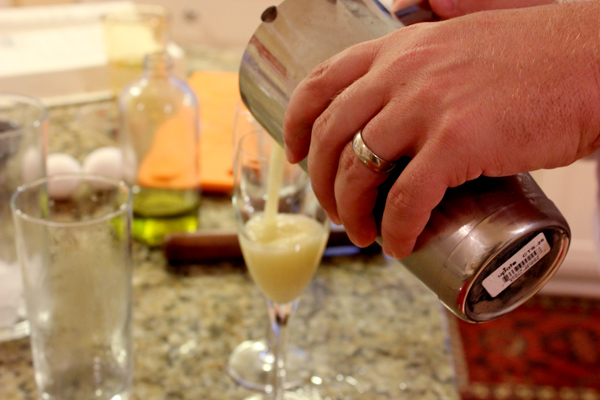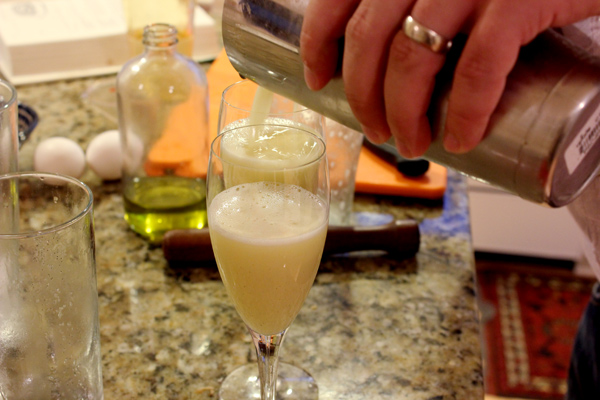 I first had this cocktail – the original version – at Marvel Bar, the sister bar to The Bachelor Farmer in Minneapolis (which I reviewed in a post last month). I was immediately smitten, and based off the instructions we pulled out of our waiter at the bar I put together something similar. I tweaked the quantities a bit here and there and substituted a few ingredients to make it a bit easier to apply to the home bar.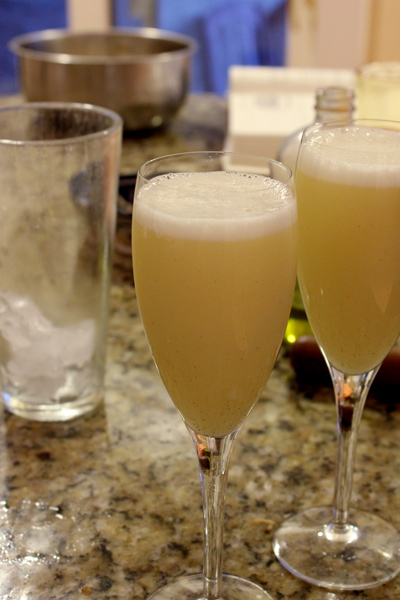 It's important to note that you need to fully emulsify the egg white and the oil for this cocktail to work, and that takes some effort. I recommend about 200 shakes to really get those two into compliance, since they'd really rather not work together if they didn't have to. Once you add the rest of the ingredients, you just need to shake until everything is combined. Once strained into the glass, the foam and the creamy yellow part of the cocktail will settle apart a bit, and that's okay. You can always swirl the glass to recombine a bit, but it's not necessary.
Oliveto cocktail (with gin, lemon, olive oil, egg white)
Adapted from Marvel Bar

2 oz. gin
1/2 oz. orange liqueur (preferably something like Citronge or Cointreau – if using triple sec or something equally as sweet, reduce simple syrup to 1/4 oz.)
1 oz. lemon juice
1/2 tsp. vanilla extract or paste
1/2 oz. simple syrup
1 egg white
1/2 oz. olive oil
Ice

– Combine gin, orange liqueur, lemon juice, vanilla, and simple syrup in a measuring cup or glass. Set aside.

– Fill a cocktail shaker halfway with ice, add egg white and olive oil. Shake heartily until fully emulsified, around 200 shakes (yes, really). Add the rest of the ingredients and shake until combined, about 10 seconds or so.

– Strain into a champagne flute or rocks glass and serve. As the cocktail settles the foam may separate out, and that's okay.