A weekend at the coast – sausages baked with lentils and bacon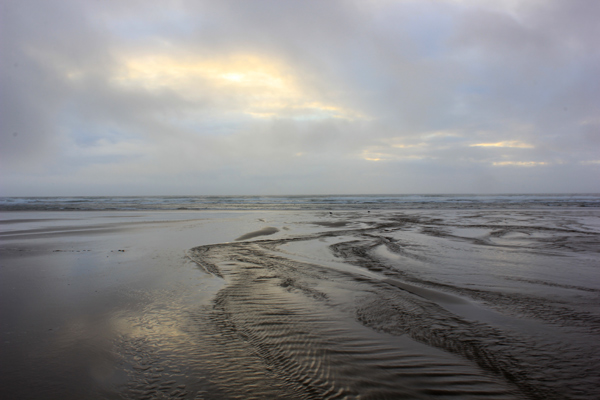 We spent the last four days on the Oregon coast, at the house built by one set of aunt and uncle, in part so Brett would have time to focus on his applications and so that we could have a bit of time and space to ourselves. We're long on time, these days, but fairly short on space and it's one of the things I didn't realize I would miss so much about not really having a home. Brett astutely pointed out that I probably was craving a bit of nesting, and if there's anywhere to do that, it's on the Oregon Coast.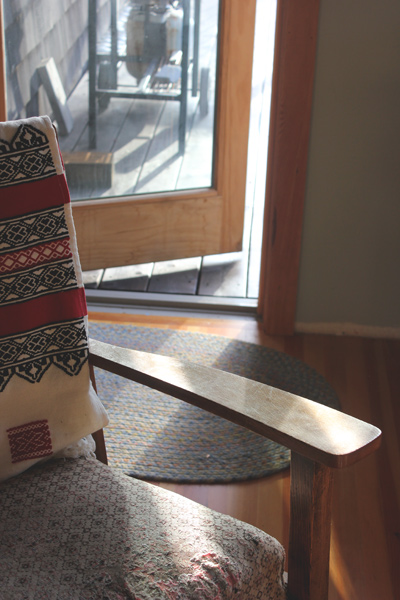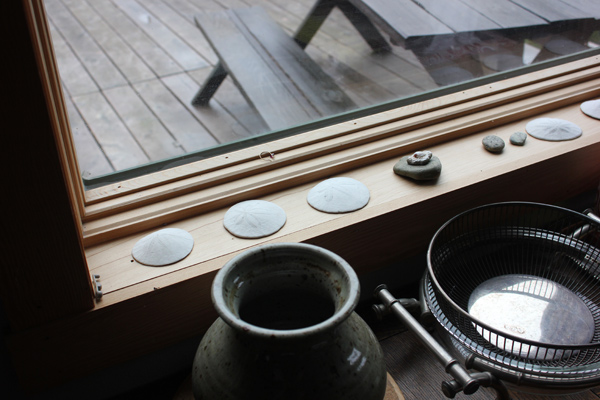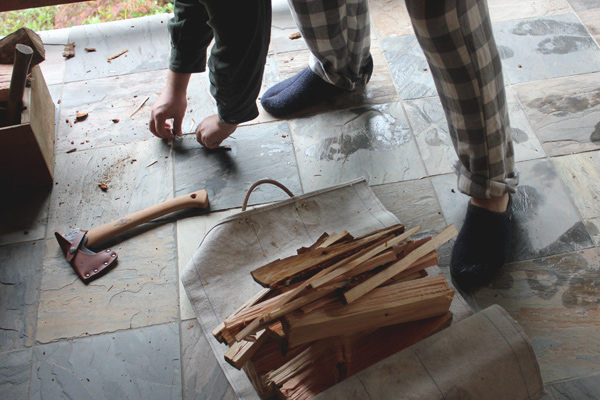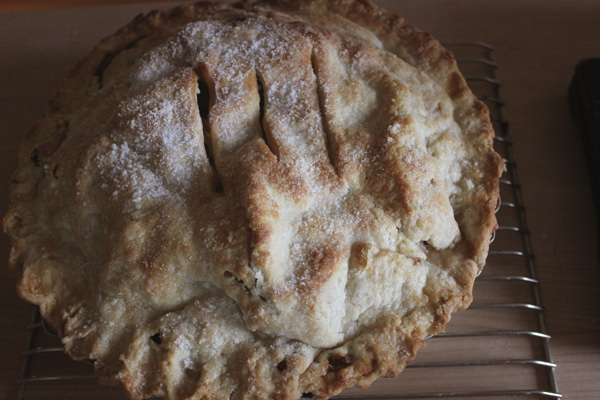 The Oregon Coast is an amazing and sort of haunting place, with deep dark forests full of moss and ferns, and swirling gray-blue waters and gusting winds and rain that falls in a nearly constant mist, enveloping everything. It makes the warm, dry places seem warmer and dryer and cozier, and every fireplace and glass of red wine and mug of tea seem like the most wonderful, natural thing the world has to offer. Not all days are like this, of course; some are beautiful and sunny and brightly colored. But my favorite days are the ones where it's hard to tell when the horizon over the ocean switches from the gray-blue of the water to the gray-blue of the sky, everything just swirling together in shades of blue and gray and beige and sage. It's all shockingly beautiful, and the perfect place to hole up inside, in front of the fireplace, with a pan of something cooking low and slow in the oven and something nice to read.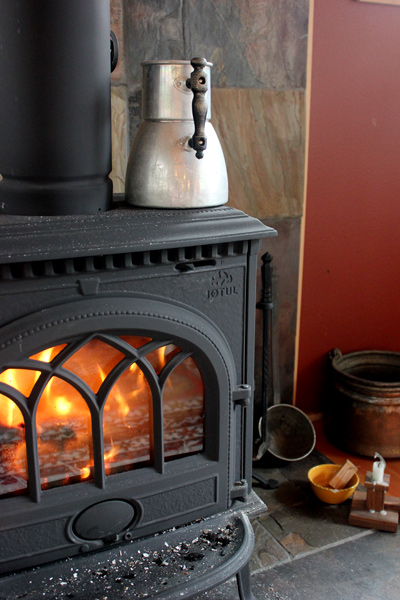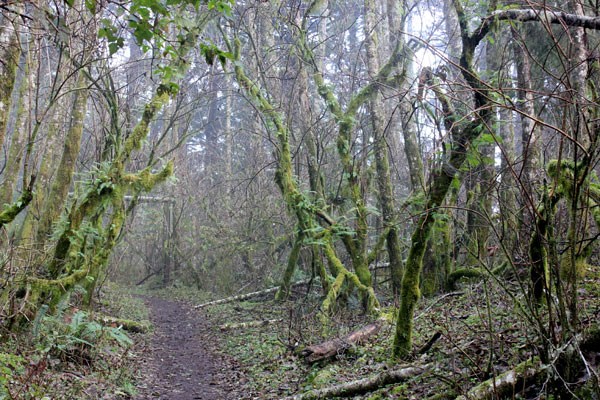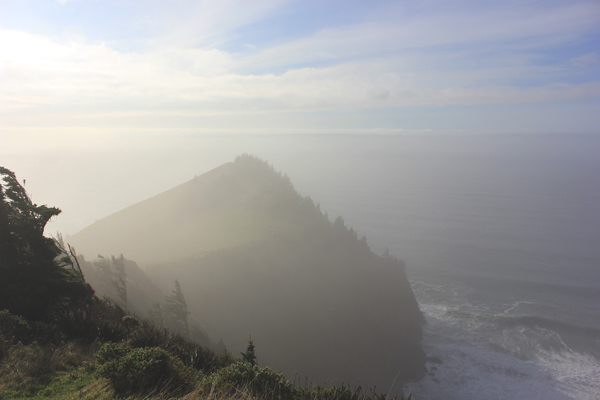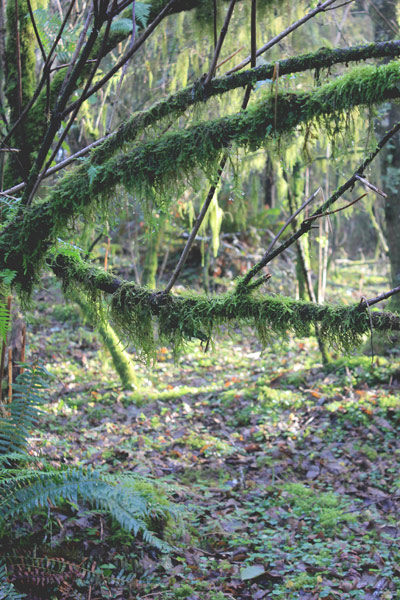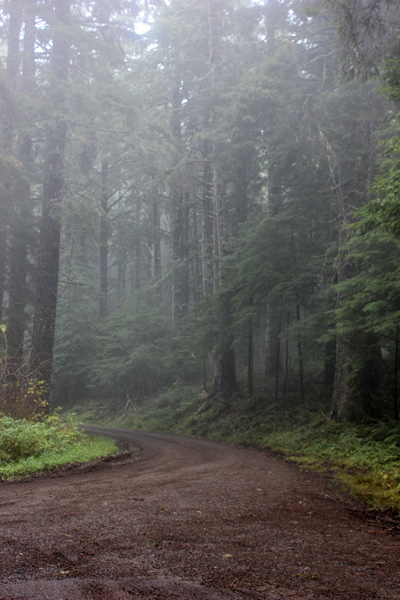 And we spent quite a bit of time doing just that, along with waking up late and taking long, wet, blustery walks on the beach, going on hiking adventures in the woods, watching movies on the couch, putzing around in the kitchen, and spending as much time as possible in our pajamas. My childhood best friend and her husband (who I've also known since before I can remember) live in Portland and drove out to join us for one night, and for dinner I made a pan of sausages nestled into savory, smoky lentils, all cooked low in the oven for a couple of hours while we busied ourselves with a very wet walk on the beach and a few hours in town watching football (very, very good football, it should be said). When we got back to the house the entire main floor smelled of sausage and vegetables and chicken stock and bacon, all of which are fantastic smells to return to when it's cold and wet outside and your favorite team just did something fantastic and you're with some of your best and oldest friends in the world.
I'd actually been thinking about this meal for a long time. When we went to Paris a few years back our favorite meal was at a tiny, unassuming little hole in the wall cafe near my friend's apartment, somewhere in the Eleventh Arrondissement. This dark, cozy little places was a one man show, and the host-waiter-chef-owner-sommelier was expressive and funny and entirely welcoming, a notable thing in that city. I ordered the lentils and sausage, and it was without a doubt the best thing I ate during my entire two weeks in France. I was awash in a sea of baguettes and cheese and wine and croissants and chocolate and escargot and duck confit, yet it is that dish of sausage and lentils that has haunted me for three years.
So I made lentils as savory and flavorful as I know how – cooked in chicken stock with more vegetable scraps, then drained and mixed with bacon lardons and a healthy dose of mire poix cooked in bacon grease and the juices from browned sausage – then nestled those browned sausages right into the lentils and baked it all at a low temperature until everything had stewed together and the sausages were cooked through. It all took a drizzling of cream before it went to the table, and a side of crunchy, lemony, salty green salad, and we drank more Oregon beer and ate every last bit of lentil and sausage and wished there was more.
Sadly, there's no picture of this dinner, but you can imagine it pretty well – a pan full of whole lentils, studded with orange diced carrot and bits of bacon, surrounding halves of browned sausages. It's all pretty rustic and flavorful and hearty without heaviness, and the idea of it all kind of makes me want to toast my companions with flagons of ale and a hearty fireside song, at an inn somewhere in the countryside.  Okay so that's a little dramatic (also, please help me stop thinking about Game of Thrones), but still I like the idea of it being the perfect thing to eat at a table full of friends and laughter and an appreciation for warmth and shelter, when things are a little tumultuous outside.
Sausages baked with lentils and bacon

Serves 2-4, depending on appetite, and is easily scalable by adding more sausages and/or lentils

1 1/2 cups whole lentils (brown, red, black, or French Green/puy lentils are all good options, but don't use split lentils), rinsed
4 1/2 cups stock, broth, water, or combination thereof
4 medium carrots, diced (scraps set aside)
2 celery stalks, diced (scraps set aside)
1 medium onion, diced (scraps set aside)
Small bunch parsley, de-stemmed and roughly chopped (stems set aside)
A few black peppercorns (optional)
2 thick-cut slices bacon (use 3 or 4 pieces if not thick-cut)
2 uncooked sausages – any type is fine, really, but probably avoid exotically-flavored ones like Thai sausages or things like that
2 cloves garlic, peeled and minced
A few tablespoons white wine (optional)
1-2 Tbsp. heavy cream (optional)
Salt and pepper

– Preheat oven to 250F (can be hotter if you want to speed things up, or less hot if you want it all to cook more slowly).

– Cook the lentils. Heat the stock and/or water in a medium pot over medium-high heat. Once it begins to boil, add the rinsed lentils along with the scraps from the carrots, celery, and onion, the parsley stems, and the peppercorns (try to add in only the bigger scraps, which will be easier to remove from the cooked lentils once they're done). Add a few pinches of salt. Bring everything back up to a boil, then reduce heat to a simmer. The liquid should cover the lentils by at least an inch, but some of the scraps might poke out a little. Cook until lentils are tender, about 35-55 minutes (French Green/puy lentils will be on the longer side). The lentils will cook more in the oven, so take them off the heat once they're just tender enough to enjoyably eat. Make sure to try a few to get a good sample size.

– While the lentils are cooking, fry the bacon and brown the sausages. Cut the bacon into 1/4″ squares or lardons, and prepare a paper towel on a plate for draining. Heat over medium high heat an ovenproof medium dutch oven or an ovenproof skillet with a lid – something that will fit all the lentils and the sausages in one layer. (We used a 12″ cast iron dutch oven, and that worked particularly well. If you don't have an ovenproof skillet, you can transfer the lentils and sausages to an ovenproof dish with a cover before putting in the oven.) Fry the bacon until browned, but not crispy. Remove to the paper towel for draining. Without draining or removing the bacon grease, add your sausages to the hot pan. Cooking each sausage for a few minutes, turning every once in a while so each side browns (the sausages are not meant to cook through). Remove from the pan and set aside, keeping the pan on the heat.

– Cook the vegetables to add to the lentils. Add the diced carrots to the hot pan with bacon fat and sausage juices. Cook, stirring, until carrots begin to soften, about 3-5 minutes. Add the chopped celery, onion, and garlic. Cook until all are tender and beginning to become translucent, another 3-5 minutes. Add a few tablespoons of white wine to deglaze the pan, and continue to cook until most of the liquid has reduced and the steam coming off the pan doesn't smell of alcohol. Add half of the chopped parsley and the cooked bacon, stir and cook for another few minutes, then salt and pepper to taste. (You can continue to cook all of this if the vegetables don't seem well cooked yet – they'll get more time in the oven though, so they don't need to be completely tender.)

– Finish the lentils. When the lentils are done cooking, drain them in a mesh strainer or colander with small holes, pouring the cooking liquid into another container (you may want some of this later).  Pick out the scraps you cooked with the lentils, using a utensil where necessary (those lentils will be hot!). Mix the lentils together with the vegetables and the bacon in the pan. Taste, and salt as necessary until delicious.

– Add the sausages and bake. Depending on how you'd like to serve (and how many people you're trying to serve), perhaps cut the sausages in half or into smaller pieces. Nestle the pieces of sausage into the lentils (they don't need to be covered with lentils, but can be), making sure to transfer everything to an oven-proof dish if your skillet can't go in the oven). If things look a little dry, drizzle on some of the lentil cooking liquid. Cover the pan and put it in the oven, baking until the sausages are cooked through. Timing depends on how cooked the sausages were in the browning process, the size of the sausage, the temperature of the lentils when the whole thing goes in the oven, etc., but should take somewhere from 25 to 45 minutes. At 250 degrees or less, you can easily keep it in the oven for a while after it's done, without risk of overcooking or drying out. Because we were not in the house and didn't know when we'd be back, I set the oven to go on automatically and the pot was in there for about two hours before we took it out. If it starts to look a little dry at any point during the cooking process, add more lentil cooking liquid.  You can also easily make this entire thing up to a few days ahead of time, refrigerate it all, then put back in the oven to heat up before serving. It would also work well at room temperature.

– Finish and serve. Before serving, drizzle a bit of heavy cream over the top. It will sink down into the lentils and does not need to be mixed in. Sprinkle the remaining parsley on top and serve, preferably with a simple green salad.