Prince Edward Island clam dig
We ended up in Prince Edward Island (PEI) at the tail end of their tourist season, a busy clamoring of folks from all over the world filling the island's beaches and restaurants and historical attractions from late June to mid-September. The tourist information office immediately on the other side of Confederation Bridge, the 8-mile behemoth linking the island with continental New Brunswick, informed us that much of the island's services and attractions would be shut down by now, with whatever little was left shutting down after Thanksgiving (celebrated in Canada almost 6 weeks before the one in the United States).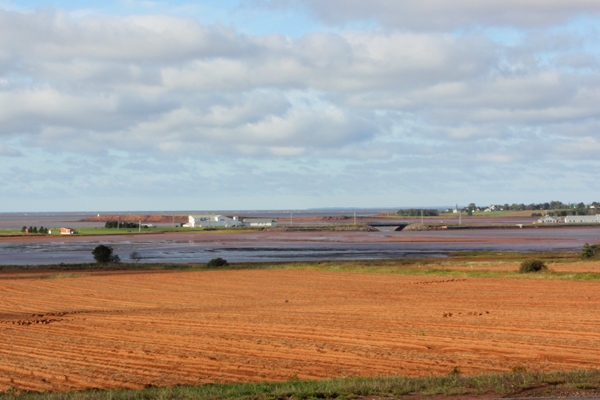 But while we did find an island much quieter than it would have been a month before, we still found ourselves surrounded by the beauty, the bounty, and the culture of Canada's smallest province.  Eager to engage ourselves in the island's incredible array of agricultural and culinary activities, we signed up for a clam dig organized by a local tourist group specializing in hands-on culinary and cultural experiences. We were attracted to the idea of harvesting our own meal – an activity that inevitably makes the resulting food far more delicious – but also to learning a new skill, one that has fed PEI residents throughout history.
PEI is Canada's smallest province and the location where the country's first provinces were originally confederated in the mid 1800s. With a population of less than 150,000, most of the island is pastoral or coastal, each of which provide for some of the island's biggest attractions and economic activities. Rolling hills of the famously red, iron-rich soil produce the island's uniquely flavored potatoes, produced in higher volume per-capita than in Idaho. The coves, bays, harbors, and salt mashes that make up most of the island's coastline provide ample habitat for oysters, lobsters, clams, and mussels, making fishery activities one of the island's largest economic activities and one of the area's longest standing cultural legacies.  The story of the province can't be told without farms and fisheries, and I wanted to experience it first-hand.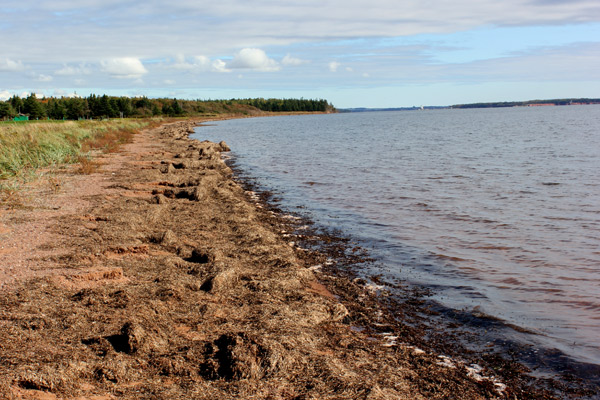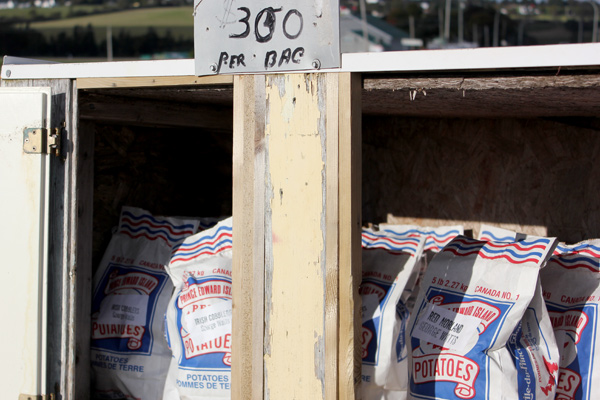 We booked a clam dig through Experience PEI, a local agency providing unique cultural and agricultural experiences, and woke up early Saturday morning to meet our clamming guide. We drove west across the island from Charlottetown, PEI's biggest city, cutting laterally through the center of the island across the rolling hills of green and rust-colored red. We passed smatterings of settlement, small groupings of homes, and more established villages of shops, churches, and other services, all of which sprouted at the intersections of highways and roads that virtually plaid the island. Many of these homes and businesses offered produce, seafood, or crafts for sale from their garages, porches, and driveway stands, and it was obvious that agriculture and tourism are important and inseparable forces on the island.
We met our guide, Ron Perry, at a gas station outside of Summerside, the island's second biggest town. Ron isn't a professional fisherman, but has been digging for clams on PEI since he was a child and could tell us everything we needed to know to collect our lunch.  Ron passed out pamphlets of information about the dig and about various types of clams found on the island, and we hopped back in our car to follow him to the dig site. Twenty minutes later we parked alongside a long, narrow spit of land jutting into the Northumberland Strait. We were at one of the island's public clam digging areas, officially approved by the federal government after testing for potential contamination or other health issues. The sand was heavy with clay, red like the soil, and mottled with puddles from low tide, all perfect conditions for finding the clams we were after.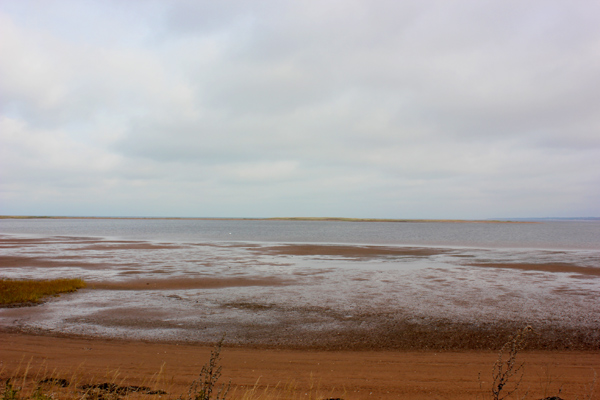 Our target for the morning's dig was soft-shelled clams, called such because of their thin and brittle shells, easily-broken by our shovels. Otherwise known as "longnecks" or "piss clams," soft-shell clams are common on the tidal mudflats along the Western Atlantic, from Newfoundland south to Boston. Under the sand, each clam extends a siphon toward the surface, creating breathing holds that are visible from the surface, and when pressure is applied to the surrounding sand (like by a shovel or a boot), these siphons expel sea water (hence the "piss clams" moniker).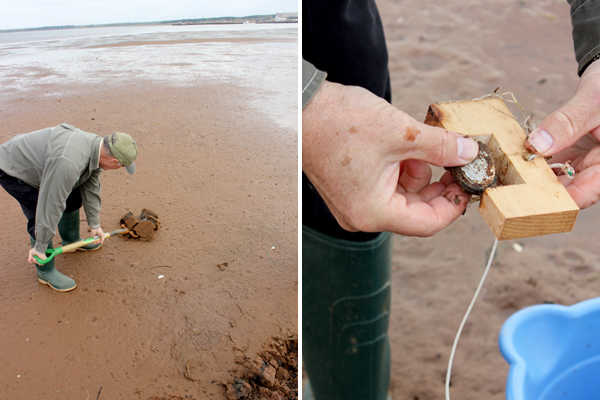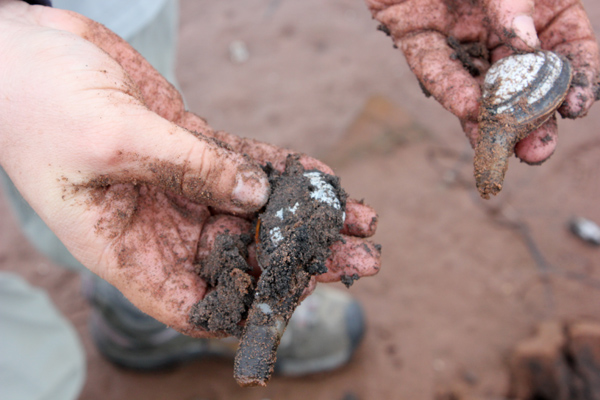 We'd dig for an hour, Ron told us, then we'd head back toward town to cook our catch and eat lunch together. He showed us how to find the right size and type of clams, jamming a shovel or pitchfork into the soil near the pockmark-like breathing holes scattered across the sand and levering up a chunk of wet sand sure to hold a clam or two, or maybe a small clustering of them. The larger the hole, the larger the clam underneath.  As we turned up blocks of sand, the clams sprayed our shoes and legs with jets of sea water and we discovered other tidal creatures, like thin, white sand worms and tiny scrabbling crabs.  We dug for a little more than an hour, collecting about four dozen clams each, all of the approved size and condition. (PEI conservation regulations permit a catch of up to 300 clams per person, limited to clams over two inches in size. It takes two to three years for clams to grow to this size, and undersized specimens can be tossed back onto the sand to dig back in and continue to grow.) When we were done, Ron trudged into the shallow sea water to wash off our sand-covered clams, re-covering them with clean seawater in a bucket before leading us back to our cars.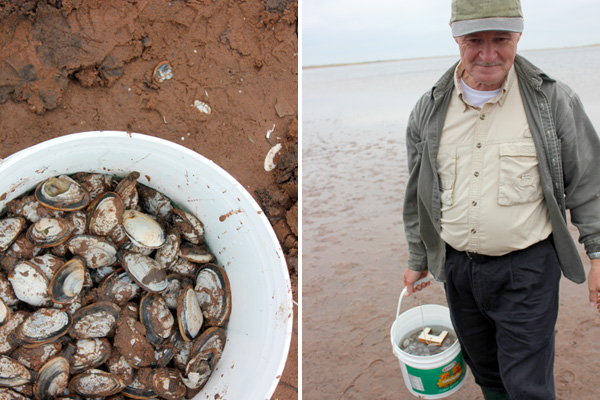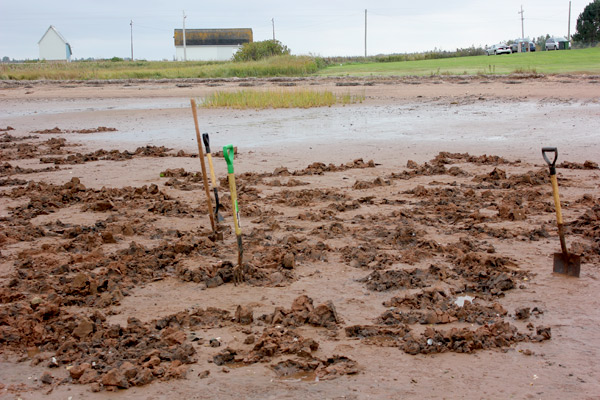 On our way back to our lunch spot, we made three stops – one at the neighboring fishery to buy jars of sweet bar clams (not for lunch, but because Ron so highly suggested them), another to buy a bottle of wine to share with our meal, and another for some bread.  After these stops we arrived at our makeshift kitchen and eating area, a bright orange authentic 1940s Pacific Canada Railway caboose, owned by a friend of Ron's. Ron fired up a large propane burner and in a large stock pot sauteed onions, garlic, and carrots in butter. He added a bottle of Canadian IPA and a good quart of seawater from the bucket of clams, and finally the shellfish themselves, careful not to pour in any of the sand that had settled on the bottom of the bucket.  Some folks recommend soaking the clams overnight to help rid them of any sand they might hang onto, but Ron told us how he preferred eating as soon as possible after a dig, getting the freshest clams possible. We'd eat the clams with a dipping sauce of the broth they cooked in augmented by a little butter, giving them another chance to lose any remaining sand or grit before going in our mouths.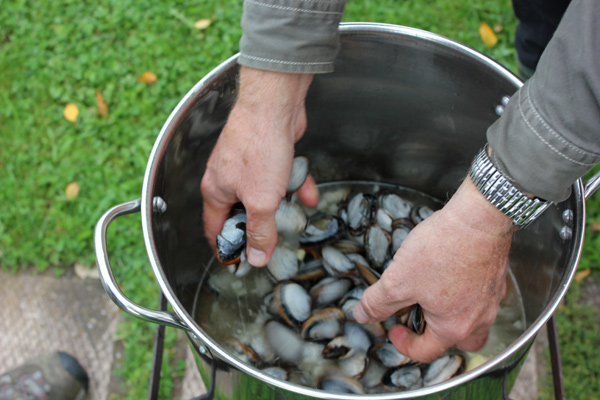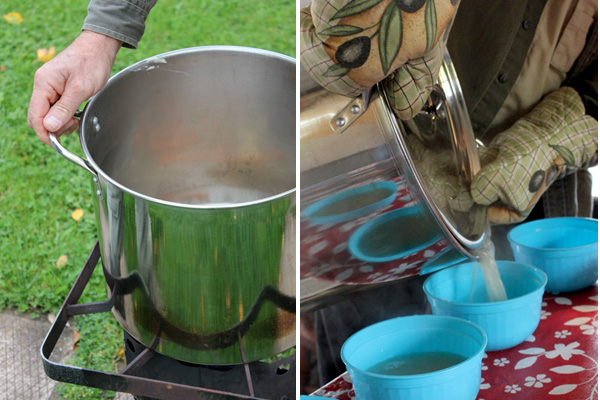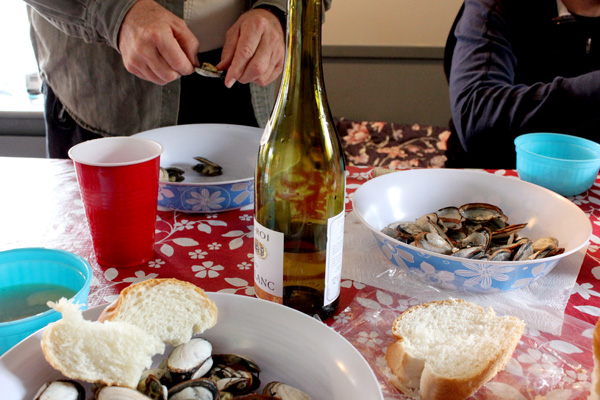 As soon as a thick steam began pouring out from under the lid of the pot, Ron let them boil for another 8 minutes, then served us large bowls of clams and a smaller bowl for dipping. Eating these clams required a bit more labor than the clams we're used to, since each one needs to be detached from the sheath of muscle in the shell and dipped into the dipping sauce, but I suppose that helped keep us from eating too many all at once. The clams themselves were incredibly flavorful – fresh, salty, sweet, and fishy, like a normal clam with the volume turned up.  Along with the bread and the bottle of white wine we purchased after the dig, we ate our fill of clams in the orange caboose, asking Ron about his life on the island and his experiences digging clams.  After I was sure I'd never be able to fit another clam in my stomach, we thanked Ron for all of his helpful knowledge and instruction and told him we'd highly recommend his trip to others.
Surprisingly ready for even more shellfish, we took a suggestion from Ron and stopped on the way back to Charlottetown at a nondistinct home advertising Malpeque oysters and quahogs for sale. In the garage we found the headquarters of Don Marchbank's seafood operation, and were treated to the best raw shellfish any of us had ever eaten.  We sat on old dining room and desk chairs as he opened quahogs – a member of the clam family, but eaten raw like an oyster – of two different sizes and then oysters, with some of the largest shells I'd ever seen.  As he shucked and we ate, he talked of the visitors that have stopped by this garage over the years, and the photos people have taken of him that have ended up around the world. Both the quahogs and the oysters were surprisingly sweet, shockingly briny at first taste but all the better to bring out the naturally creamy, sweet flavor of the meat. Don opened shell after shell and we ate without accompaniment or napkin, slurping heartily and licking the salty juices from our fingers and wrists. At the end we payed a shockingly small amount for everything we'd eaten, and headed back into Charlottetown.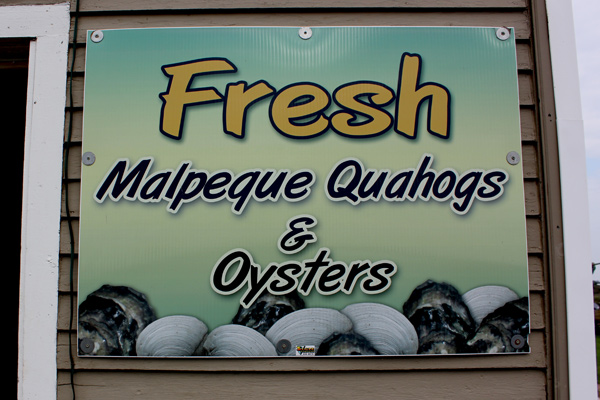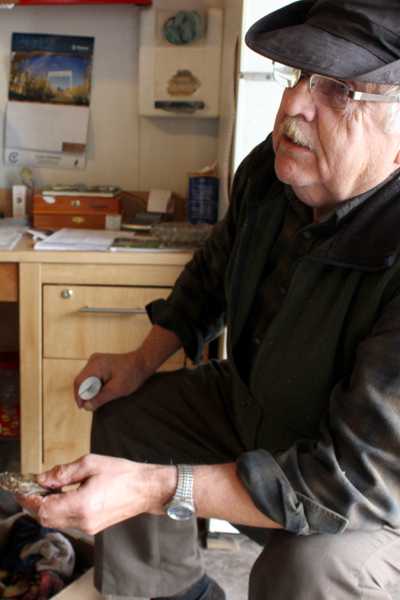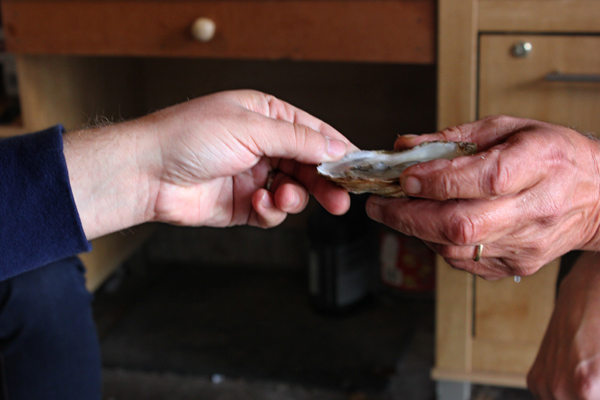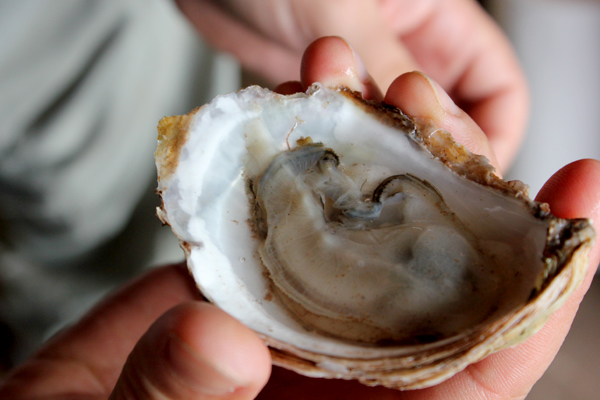 We were certain we wouldn't eat another shellfish for weeks, but couldn't turn down the chance to taste more of the island's oysters. This would be a great opportunity to taste and compare various types of oysters, since we were told all oysters from the island start out in one place, then are moved when still quite young to the various leases around the island. The spot in which the oyster is raised gives it a unique flavor and color, surprisingly varied considering their common beginnings. At dinner we couldn't keep ourselves from ordering a tasting platter, each of us tasting oysters from five different spots on the island.
It's no surprise that we were talking of return visits before we even left. We'd love to get back within the next couple of years, with more time for camping and exploring all parts of the island. And for more clams and oysters, obviously.