Chile: The Food
After Argentina, we spent five days in Chile before flying up to Peru. To get there we took an 8-hour bus over the Andes, slowly climbing up the range and plummeting back down the western side. The ride was full of breath-taking scenery and included a more literally breath-taking trip down La Caracol, perhaps the most frightening-looking strip of highway I've ever seen: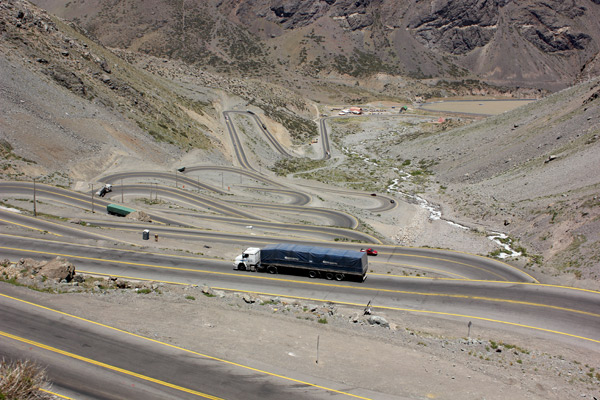 That's no guard rails, no shoulders, sheer-sided highway, as seen from the second story of a bus. Whew.
In Chile, we spent three nights in Valparaíso, a beautiful but somewhat rough-edged seaside town and UNESCO World Heritage Site. The town itself is famous for its cultural atmosphere – music, art, and poetry – as well as for its major port and its beautiful beaches. After Valpo we spent two nights in Santiago, Chile's capital and main metropolitan center. Santiago was far more bohemian than we expected, especially because of the neighborhood we stayed in, and overall we were pleasantly surprised with how much we liked it despite it being such a large, bustling city.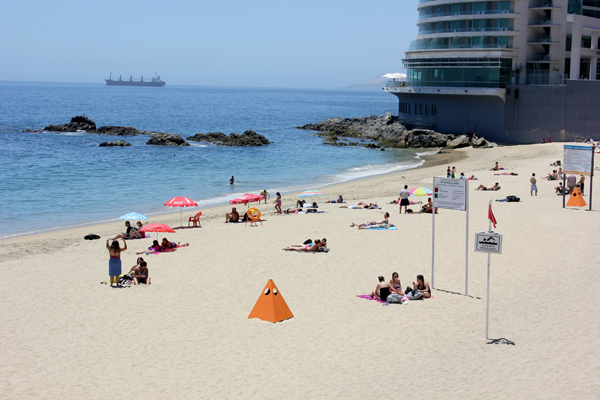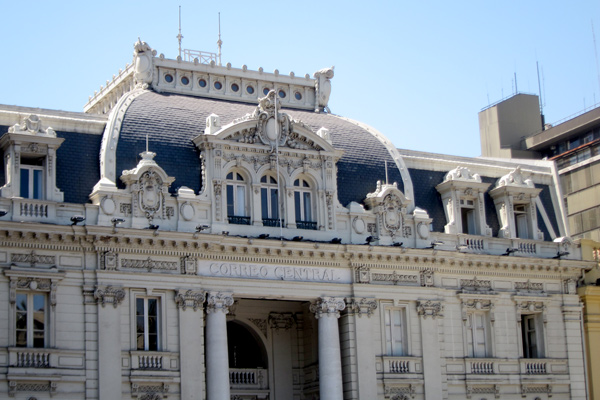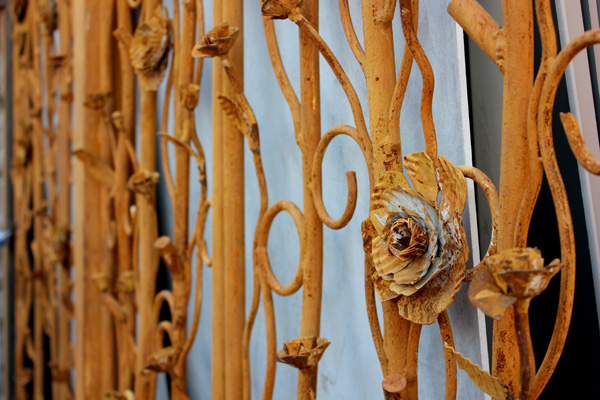 As far as the food goes, Chile was a bit of a welcome diversion from Argentina. Not that Argentinian food was bad, by any means, but if Argentina was beef and cheese, Chile was most certainly produce and seafood. The quality of the produce was one of the first things we noticed, especially after the generally abysmal quality of produce we saw in the markets of Argentina. Produce in Chile was absolutely beautiful, abundant, delicious, and fresh, and we ate it as much as we could. It's no wonder that when we talk about the globalization of food systems we always mention produce imported into the United States from Chile. All of this amazing produce meant we were able to cook with it more, which was fantastic.
Other notes about food in Chile (well, the bit of Chile we went to – I know there's a lot more to be said about its cuisine):
Santiago's central market and produce market are well-known for a reason (the central market was recently listed as one of the best in the world) – both buildings are absolutely overflowing with amazing produce and seafood and everything else you could ever want, and we could have wandered around both of them for days.
The produce in the street markets is also beautiful and fresh, and we wished we could have bought huge bags of fruit every day.
Avocados everywhere! We noticed them from the moment we got off the bus in Chile, and ate them happily every day, especially when we were cooking.
Because of the deep ocean trenches off the coast and the extent of the coastline, seafood was everywhere and we were happy to see it. A variety of fishes, shellfish, eels, and other seafood showed up in all types of restaurants and in a variety of preparations, our favorite being the super-hearty and rejuvenating soups and stews.
We happily started seeing more döner and Turkish food stands, always our favorite travel cuisine.
Pisco sours were everywhere, and we were happy to drink them.
Santiago itself has a variety of traditional foods and beverages, some more modern than others, and we were able to try a few. One particularly iconic Chilean cocktail is the terremoto, a strange (very strange) combination of a specific kind of sweet fermented white wine (called pipeño), pineapple sherbet, and fernet. We worked our way through one each, and actually began to take to it about half-way through. Certainly a recipe for a hangover, but all of the people drinking us around them didn't seem to worry about it too much …
Beer was still fairly light and still served mainly in large 1L bottles, but a bit darker and more flavorful than in Argentina.
Chileans have just as much of a sweet tooth as Argentinians, and ice cream was everywhere. Our favorite place for it was Emporio La Rosa in Santiago, which experiments with interesting flavors (think: rosewater, orange ginger, palm honey, and lemon with mint and basil) and offers a ridiculously delicious hardshell chocolate sauce for an extra dollar. Our fantastic coconut ice cream was packed with shredded coconut and chunks of dark chocolate.
Where food in Argentina is topped with ham, cheese, and egg, everything in Chile is topped with guacamole, mayonnaise, and chopped tomato. Hot dogs, burgers, and beef sandwiches with these three things are cheap and available almost everywhere. For the most part, there's far more of the toppings than meat.
Also on every street corner and at every market we saw was mote con huesillo, a sweet drink made with rehydrated peaches (or canned peaches) and cooked barley. Sounds strange, but was absolutely delicious and refreshing on a hot afternoon. We went on a fantastic free tour in Santiago and our tour guide said it was traditionally a small meal for workers in the field.