Simple garlic-herb yogurt dressing/sauce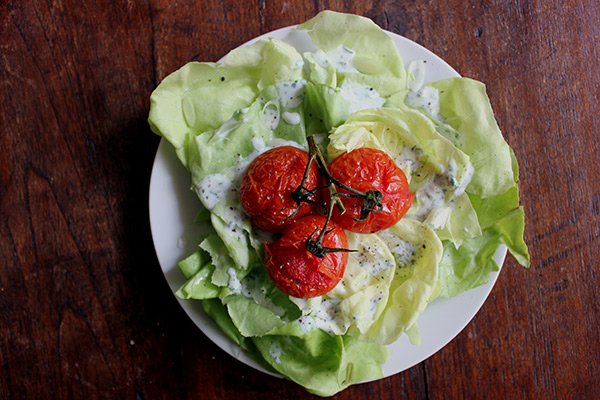 This is another one of those deceivingly simple recipes that came about from improvisation and immediately wriggled its way into regular circulation. Some of the best ones happen that way, another testament to how important and fun it can be to develop and then rely on those kitchen instincts.
When we arrived in Vienna we had no olive oil or good vinegar in the apartment, but after a week in the Czech Republic I was dying for some salad – something cold, green, and crisp to counteract day after day of stews and dumplings and potatoes. So I combined what we had that seemed right – yogurt, garlic, parsley and thyme, and plenty of salt and pepper. It took two minutes to make, and we ended up cleaning the bowl out with our fingers, wiping up the last streaks and drips and smears. It was tangy and fresh and delicious and I've made it half a dozen times since, completely forgetting about oil and vinegar and switching entirely to this. Each time we remark on how it's possible that something so simple could be so fantastic.
We've used it as salad dressing, we've drizzled it over roasted vegetables and plain cooked chicken, and once I put it in an omelet with caramelized onions (and the combination of warm eggs and sweet onions and cold, herby yogurt was really something amazing). We also ate it one night with some polenta, cooked chicken, olives, and tomatoes, and it readily took the place of something like a poor man's tzatziki.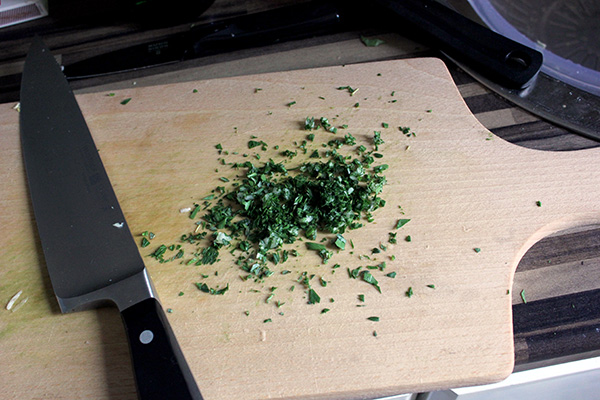 At home I usually buy thick, Greek-style yogurt, which I can eat with breakfast or just as readily scoop alongside desserts or plop on top of lunch or dinner. The yogurt here has a fantastic flavor (it's made from that amazing European milk, after all) but is generally far thinner, which makes it perfect for this recipe. We've been buying a low-fat variety (and usually do – whole fat yogurt is a bit rich for my taste) and in this case it works perfectly, since low-fat or even non-fat yogurt will lend the most tangy flavor and thin consistency.
And it's worth pointing out that this is an oil-free dressing; fat-free, even, if you use fat-free yogurt. I'm generally not a cheerleader for such things, but … I said it, and it's just worth knowing.  I'm nowhere near ready to say this is some sort of "diet ranch dressing" recipe, but the thought did cross my mind, fleetingly. (But really: there is no substitute for real ranch dressing, and I don't mean the kind from the bottle. If you want it, go for it, and be satisfied.)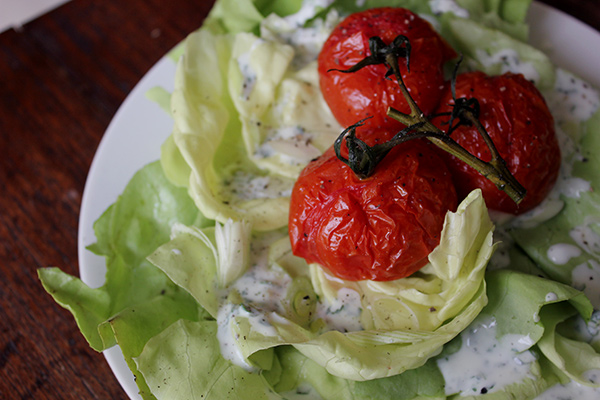 I've been making little batches of this as we need it, like a few nights ago when we had this little salad of butter lettuce, thinly sliced green onions, and roasted tomatoes, along with some leftover lentils and caramelized onions and some chicken just out of the boiling pot. Or just now for lunch, on a salad with leftover chicken and radishes, avocado, and cucumber. That's been a pretty typical sort of meal for us here, not requiring anything too special in terms of equipment, space, or ingredients (since we're short on all three, at the moment). Most things we make in big batches to last for a while, like big pots of lentils, beans, chicken stock, and caramelized onions, and then we combine them in various ways with eggs or salad or bread (or all three). It's a pretty good way to get by.
I'm not sure how the flavor in this dressing might continue to develop if you left it in the refrigerator for a couple of days (and you probably don't want to leave it longer than that). My experience with making tzatziki, which is pretty similar, indicates it would probably do well, though might need a little whisking or another splash of milk or water to get it smooth again after sitting for a bit. The garlic and herb flavors would probably ramp up a bit as it sits, so keep that in mind.
Garlic-herb yogurt salad dressing or sauce

Makes about 1/4 cup – enough for 2-3 salads – and easily scalable

Enough fresh herbs (parsley, thyme, rosemary, basil, sage, tarragon, and many others work well) to make around 2 Tbsp. finely chopped
1 small or 1/2 medium clove garlic
Around 1/4 cup plain yogurt (not Greek or strained), preferably lower-fat and thus more tangy
A splash of milk or water for thinning, as necessary
Salt and pepper, to taste

Note: Since yogurt (and personal tastes) certainly vary, keep in mind that you can always add a tiny splash of lemon juice or vinegar for more tang or something like honey or agave syrup for more sweetness.

– Prep herbs: Chop the herbs and garlic together until fairly finely chopped (see picture above). If you have a mortar and pestle, you can also separately grind the garlic into a paste with a bit of salt, which will have an even better texture. In that case, there's no need to combine it with the herbs before mixing in.

– Combine with yogurt: Add the herbs and garlic to the yogurt in a small bowl and mix to combine. Add a splash or milk or water if desired to thin (you'll likely need this if you want to be able to drizzle the dressing).

– Season: Salt and pepper to taste. Don't underestimate the salt here – it's what will take it from tasting like yogurt with herbs in it to a delicious, savory sauce.