Favorite spring and summer cocktails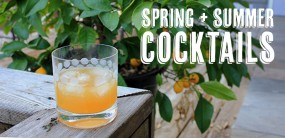 It seems a bit cruel to myself to post this while I'm stuck inside on a dreary, cold, rainy day week, but for most of you the warm afternoons and evenings of late spring/summer are here! Here's a compendium of all the springy/summery cocktails on the site, all perfect for enjoying outside on warm afternoons and evenings.
An asterisk (*) denotes a recipe that is particularly suited to making or serving in larger batches for parties. Many consist of some mixture combined with sparkling water, which should generally be done right before serving (you can also let people add their own sparkling water, which puts them in control of the strength of their drink).
(And please excuse that some of these older posts are in desperate need of new photos … I guarantee you the recipes are much better than my photography skills circa 2010.)

Bourbon:
Cherry bourbon fizz
*Front Porch Lemonade (w/o mint for a crowd)
*Honey Meyer lemon whiskey sour
Gin/vodka (which can be used interchangeably, despite what the post might say, unless otherwise specified here):
Basil gimlet
Blackberry fizz
*Cucumber rose gimlet
*French 75 (gin and sparkling wine)
*Frühling's 19 (gin and Aperol)
*Gimlet
*Gin/vodka tonic
Martini with a twist
*Rose rickey
Rum:
*Cuba/nica libre (light or gold rum)
Tequila:
*Grapefruit margarita spritz
*Margarita
*Mexican sangria (tequila and white wine)
Strawberry basil margarita
Wine/vermouth:
*French 75 (gin and sparkling wine)
*Kir (white wine and black current liqueur)
*Leslie's Americano (sweet and dry vermouth)
*Mexican sangria (tequila and white wine)
*Sparkling wine with bitter orange (sparkling wine and Aperol or Campari)
Beer:
Spring and summer are also perfect times to experiment with cocktails, since there are so many fruits and herbs in season. Infused simple syrups, fruit juices, muddled everything. Go crazy! Get inspired! Questions? Want help implementing an idea you have? Ask any questions you have in the comment area below and I can help make your summer cocktail dreams come true.