Homemade Toby's tofu paté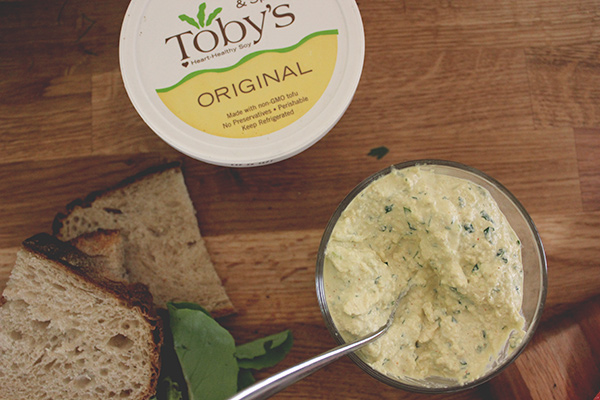 I've been nervous about this one for a while. I knew that someday I'd have this recipe to share with you, but I haven't been sure how best to break the news. Tofu is kind of a touchy subject to broach, and with a name like "tofu paté" I can guarantee I've already turned away a good number of people. But as someone recently separated from my regular Toby's source, I know this information might be valuable to a good number of people in need and I'm here to help.
Because there are many reasons people might be reading this post, I'll give you some options:
If the word "Toby's" really gets you going, read number 1.

If you don't know about Toby's but are potentially open to things made with tofu and the words "nutritional yeast" don't make you go "what now?" read number 2.

If you don't know about Toby's and are really, really not into the idea of tofu … I apologize. Go here to distract yourself.
1. You are in the know. You know what this stuff can do to your life. One moment you're an innocent sandwich eater/dip user, oblivious to the danger ahead, and the next you're a ravenous beast, ever-seeking more Toby's to put in your maw. It's a dangerous, dangerous thing. Perhaps you live in Oregon or some other Toby's adjacent area, you lucky beast. You can get this stuff in its original form, whenever you want. Or, perhaps you live somewhere where you can't get the stuff (e.g. Wisconsin), in which case, you're welcome. 

2. Oh, hello there. Here's the moment where you learn about Toby's. Congratulations! Toby's used to be called "Toby's tofu paté," which makes a lot of people scrunch up one side of their face, but now it's called "Toby's tofu dip and spread," which appears to be more palatable to people's dispositions. It's widely available in Oregon and I hear in some other states as well, but I've rarely ever seen it elsewhere. (I bet Seattle and the Bay Area have it, privileged as they are in various ways, and most of them probably have no idea what they have at their fingertips!) I've heard some people call it eggless egg salad (which is a thing, I guess, because they sell it at Trader Joe's), but that's sort of misleading because most Toby's varieties definitely have mayonnaise and thus eggs. Maybe it's because with mayo and mustard and celery it's sort of reminiscent of an egg salad? A fun spread for people who don't like eggs but can tolerate mayonnaise? I've never really connected the two in my mind, but I can certainly see it …
Okay so maybe I'm not doing the best job at convincing you that this is something you should make, but I have a feeling you're either on board based on the concept alone and willing to give it a shot, or you're not and … well then I'm not sure what else I should say. Either way, I'm just going to move along with the recipe, and you can decide for yourself whether you want to be addicted to something made with tofu. And it's easy enough to get more people on the bandwagon; just do what I did to my family that one time with the tofu pumpkin cheesecake, and let people flood you with compliments before you tell them what's in it …
(Actually, that particular event went terribly. Turns out my family really, really, really did not want tofu in their Thanksgiving dessert.)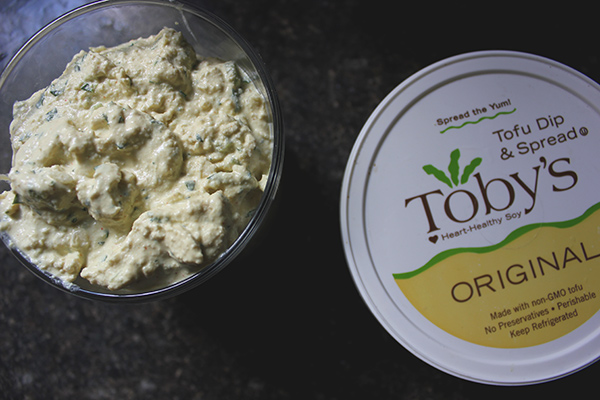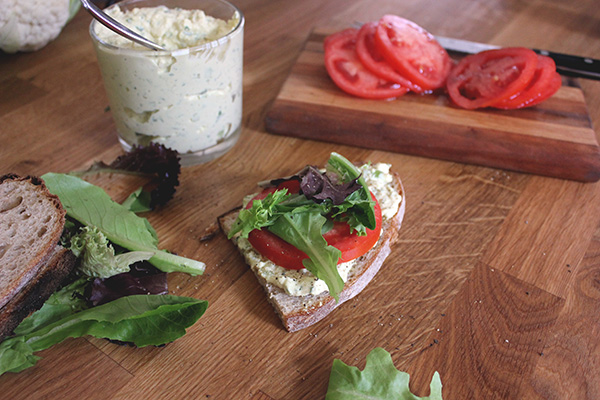 We eat Toby's in many ways, when we have it, but most commonly on sandwiches. It's also great as a dip for crudités, chips, or crackers. I used to be particularly keen on eating it with the pita chips from the Claremont Farmers' Market, and it eventually got to the point that I couldn't have both things in the house at the same time without it getting a little out of hand.
Homemade Toby's tofu paté (or dip and spread)

Based heavily – in fact, attempting to entirely recreate – Toby's tofu dip and spread

Makes 2 cups, easily scalable

8 oz. extra firm tofu (a little more than half of the average 14 oz. package size)
1 rib celery
2 Tbsp. parsley leaves
1/4 medium white or yellow onion (sweet onions work really well here)
1/3 cup mayonnaise
1 tsp. mustard
1 tsp. nutritional yeast
1 tsp. salt, plus more to taste (see note, below)
1/4 tsp. turmeric
1 pinch cayenne pepper

Note: Some folks below have noted that the recipe as made turns out too salty, which I can only guess is due to a variation in nutritional yeast. If your nutritional yeast is salty or if you're unsure, I would suggest making the recipe omitting additional salt and then add to taste. With the ingredients I use at home, additional salt is definitely necessary.

– Prepare tofu Drain the tofu and dry the exterior with a paper towel. Crumble into very small pieces and set aside in a small bowl.

– Prepare vegetables and parsley Clean and trim the celery rib and chop into a small dice (I do this by using the tip of my knife to cut the rib lengthwise into 3 or 4 pieces, then lining those up and slicing them into small cubes). Roughly chop the parsley leaves and put the parsley and celery into a medium mixing bowl. Remove the peel from the quarter onion, if needed, and use a cheese grater to grate the onion into the bowl. (If you don't want to do this, you can finely chop it – the flavor will be more subtle, but it will still work.)

– Mix all ingredients Add all of the ingredients, including the tofu, to your mixing bowl and mix with a spoon or spatula to combine. Use your fingers to break up any larger chunks of tofu that remain. Taste and season with salt as needed.

– Process half of the spread Put half of the mixture in a food processor and process until fairly smooth. Add back to the mixing bowl and mix everything together. Store in a covered container in the fridge for up to 1 week.

Note: After a few hours in the fridge, the flavors will meld and it will taste more like original Toby's than it does right after making. You may need to adjust the salt as the flavors develop.