Gribiche-dressed simple potato salad
This one's been on my list for a while.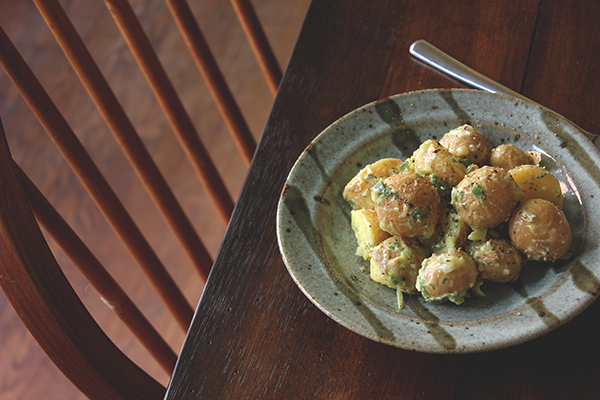 By "my list" I mean the running list of things I want to cook – recipes I've come across, ideas I've picked up from here and there, random inspirations that come to me at random. It's a long list, and until recently sort of wild and overgrown like an uncontrollable and unmaintained patch of land, growing far more quickly than I could make any progress on it. I'd throw almost anything on the list, from a full-fledged recipe to just a word or two. (Until recently, one entry said merely "bacon." Who knows.) It began to feel like a losing game, so a few weeks ago I culled and organized it, organizing it by type of dish and by season so I can more easily use it as a resource.
That's how I remembered about gribiche.
Gribiche has been on on the list since way back in May 2009 when Molly Wizenberg wrote about it on her site. It's a sauce similar to homemade mayonnaise, with egg yolk emulsified with oil and mustard, but it's also packed with bits of soft-boiled egg white, vinegar-doused shallot, a bit of something pickled (like capers or cukes), and plenty of fresh herbs, and it's the perfect thing to have in your back pocket to take hot or cold meats, vegetables, eggs, or salad to the next level. Scrambled eggs and tomatoes? Drizzle on some gribiche. Plain salad greens? Toss them with some gribiche. Roasted chicken, hot or cold? Gribiche, gribiche, gribiche. A secret weapon, of sorts.
This time I used much of my batch of gribiche tossed in a simple potato salad – just boiled Yukon Golds, chopped green onions, and gribiche. We brought it to a potluck picnic for Brett's new department, which is just about the best use for potato salad that I can think of.
Gribiche-dressed simple potato salad

Makes approximately 8-10 side servings, scales easily

About 4 lbs. boiling/salad potatoes – Yukon Golds or "new potatoes" work well
2-3 green onions (including light and dark green parts), roughly chopped
About 3/4 cup gribiche sauce (recipe below)
Salt and pepper, as needed

– Prepare potatoes Add cleaned potatoes into a large pot of cold water to cover by at least 1″. Bring to a boil and cook until tender, about 20-30 minutes depending on the size of the potatoes and the power of your stove. Drain potatoes and let sit for at least 10 minutes to cool and dry. Cut into bite-size pieces, if necessary.

– Combine ingredients Combine prepared potatoes, chopped green onions, and dressing. For optimal flavor, cover and chill for at least 8 hours before eating. Adjust with salt and pepper as needed.

Making ahead/storage: This potato salad will keep in the fridge in a covered container up to 1 week. Adjust seasoning with salt and pepper as needed, since flavors will mellow as it sits. 
Gribiche
Adapted from Orangette

Makes about 1 1/2 cups sauce

1 large eggs
1 large or 2 medium shallots, finely chopped
2 Tbsp. red wine vinegar (sherry, white wine, or apple cider vinegar would work as well)
1 Tbsp. Dijon mustard
1 cup olive oil
1-2 Tbsp. chopped soft herbs – chives, parsley, and dill are all nice additions
2 Tbsp. of something pickled (like a dill pickle or capers), chopped
Salt to taste

– Soft-boil the eggs Soft-boil your egg however you like (seems like most people have their methods). I like boiling water, bringing it back to a simmer, carefully putting the whole egg in the water and letting it cook at a simmer for 5 full minutes, then running it under cold water until it's cool enough to handle.

– Soak the shallots Meanwhile, soak the shallots in vinegar in a small bowl. Set aside.

– Emulsify the egg and oil Peel your egg over a medium mixing bowl, making sure to remove any bits of shell that might have gotten into the bowl. Since your yolk should by runny, it's safest to do this rather than peeling it like a hard-boiled egg and then putting it in the bowl. If your egg is less cooked than desired and it's too difficult to get the shell off the white, just scrape as much into the bowl as you can (speaking from experience, this works out just fine). Whisk together the egg and the mustard, using your whisk to break up any chunks of cooked egg white into smaller pieces. Now begin steadily and briskly whisking in the oil, starting with a thin drizzle and increasing flow to a steady stream as your mixture thickens. (This is exactly like making homemade mayonnaise or aioli, if you've done that before.) Your mixture should thicken and become satiny.

– Add flavoring elements Add your vinegar-soaked shallots, chopped herbs, and chopped pickles, plus salt to taste. The vinegar will likely thin your sauce quite a bit, and if you want it thicker you can add less of the vinegar.

Making ahead/storage: Gribiche will keep in a covered container in the fridge for up to 1 week. Salt may need to be adjusted as the sauce sits, so taste before serving.