Brussels sprout gratin with whole-grain mustard and caramelized onions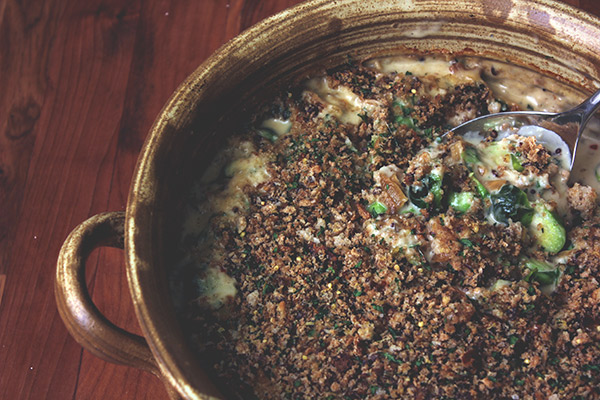 I did something exciting to these brussels sprouts. I did something fantastic to them, in fact, though in a way that might make some people feel a little nervous. "Gratin" means cheese and cream and butter, see, and sometimes those things induce a bit of anxiety. There's also gussied-up breadcrumbs and caramelized onions, which don't tend to turn people away, but the rest can b ea bit prickly.
But if you've been here for a bit of time you'll know that I'm a pretty fervent defender of the butters and creams of the world; always ready to push for the sorts of things our great-grandmothers would have eaten (was that not someone's – Michael Pollan's, perhaps? – advice; to eat only things made of ingredients our great-grandmothers would have understood as a child?). I just have trouble getting worked up over something made with ingredients I could (at least conceivably) get from a farm, and I generally choose to fully immerse myself in and enjoy these things rather than worry about how much or how little I'm allowed to have. I live a pretty healthy lifestyle, in general, and a gratin here or there will not be my undoing.
So, here I am turning perfectly innocent brussels sprouts into something a bit devious. If your eyes and hearts are turning toward the holidays already, then by all means let me kickstart things for you.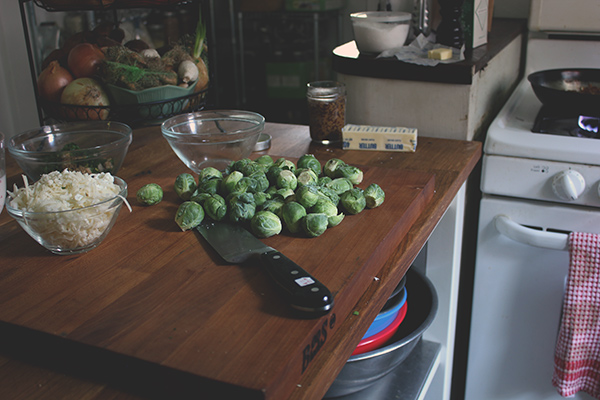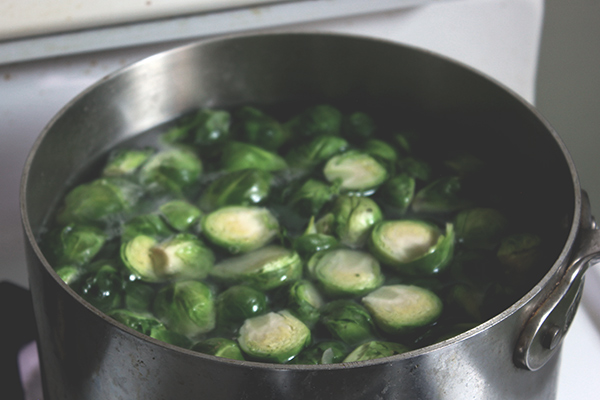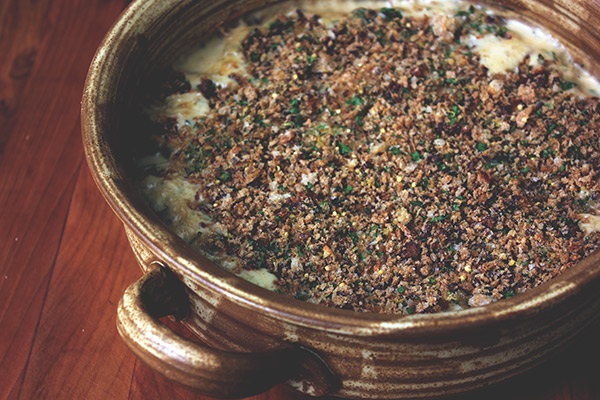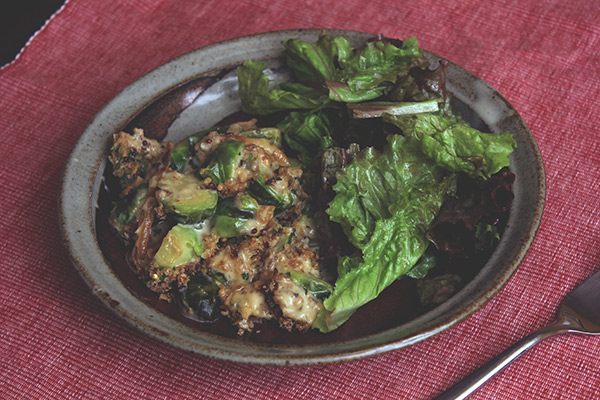 Also note that last plate there is a little more … moderate than what we usually eat for dinner. It was a busy night and there were snacks both before and after this meal, so the actual dinner was a little smaller than usual. We split the entire recipe into four servings (two moderate dinners; two full lunches) along with a salad or some other vegetables, and it was great that way.
I should also note that this would make a fantastic holiday side. I'm a bit of a traditionalist when it comes to Thanksgiving (here's my deal, done and done: classic bread stuffing, gravy, cranberry sauce, salad, rolls, pumpkin pie with heaps of whipped cream), but should you be in the market for a new luxurious vegetable dish for the winter season, here it is.
Brussels sprout gratin with whole-grain mustard and caramelized onions

Serves 6 as a side dish; 3-4 as a small (but rich) main dish along with a salad. Easily scalable – either deeper (keep the breadcrumbs ingredients the same) or in a larger dish (increase breadcrumb ingredients accordingly). 

2 Tbsp. butter, separated
1 cup bread crumbs (I have a mix of all kinds of wheat breads in my bread crumb bag; if you use white they may not end up quite as brown as the photos above)
2 tsp. lemon zest (around 1 small lemon)
Small handful of chopped parsley
1 lb. brussels sprouts, trimmed of rough/dirty outer leaves and tough ends and halved
1 Tbsp. flour
1 c. milk and or heavy cream
Around 4 oz. grated Gruyere/swiss cheese, or other cheeses (in this case I used a mix of goat cheese and grated mozzarella and Parmesan, because that's all we had – it ended up sightly too rich, though, so if you're using something richer than Gruyere consider reducing the amount)
1-2 Tbsp. whole grain mustard
Pinch of chili flakes (optional)
1/4 cup caramelized onion, about 1 onion's worth (and when I made this I was a little pressed for time, so I didn't fully go through the full caramelization process, just until it was deeply golden and tender – that's okay)
Salt and pepper

– Heat oven to 400F. Bring a medium pot of salted water to a boil.

– Prepare bread crumb topping Melt 1 Tbsp. butter and combine with bread crumbs, lemon zest, and parsley in a small bowl. Set aside.


– Cook brussels sprouts Boil brussels sprouts in prepared pot of water for 7 minutes. They should be mostly tender by this point, but will continue to cook in the oven. Strain in a colander or remove with a slotted spoon and place in a large mixing bowl.

– Make the sauce Melt the other 1 Tbsp. butter in a small-to-medium pot. Add the flour and whisk until combined; cook another minute while whisking to reduce the floury taste. Pour in the milk and/or cream at a moderate speed, whisking constantly. The mixture may thicken drastically at first; that's okay. Whisk until combined and cook for 2-3 minutes to help the sauce thicken. Turn off the heat and add the cheese, mustard, and chili flakes (if using). Stir to combine and salt and pepper to taste.

– Combine and bake Pour off any cooking liquid that has accumulated in the bowl with the brussels sprouts. Add the sauce and the caramelized onion, and salt and pepper to taste. Spread in a baking dish and top with the bread crumb mixture. Cover with foil and bake for 15 minutes, then remove the foil and bake for another 5 minutes or until golden brown and bubbly. Let sit for at least 10-15 minutes before eating.

Storage/making ahead: This dish can be prepared unbaked up to 5 days ahead of time, covering well and refrigerating until baking and not making or adding the bread crumb topping until right before baking. If baking from cold, bake for an additional 5 minutes with the foil and then without the foil as much as needed to be warmed throughout. Fully baked, it can be made up to 5 days ahead of time and stored covered and refrigerated, and can be reheated in an oven.