The Motley's vegan chocolate chip cookies
by Bowen Appétit on January 20, 2014
This is an update from a post I first wrote in 2010 – the recipe updated for clarity and ease, new photos added, and the commentary streamlined. Enjoy!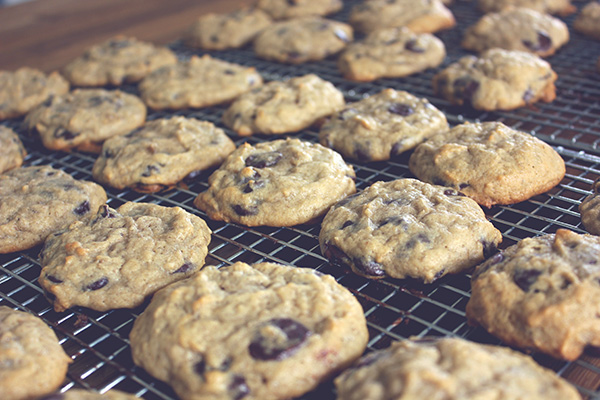 These cookies have an intensely strong flavor association for me – one bite and I'm taken immediately back to college, when I spent much of my time studying (or socializing, or wasting time) at The Motley, the student-run coffee house one campus over. When I was at the Claremont Colleges, most of the food at The Motley was prepared by some off-campus company, aside from the packs of vegan cookies prepared by students. The cookies were delivered every few days, wrapped in packs of three, and they were widely known across the campuses. I probably bought packs of these cookies at least half of my visits there, and together with how often they showed up at other campus events, I can tell you that I ate a lot – a lot – of these cookies between 2002 and 2006.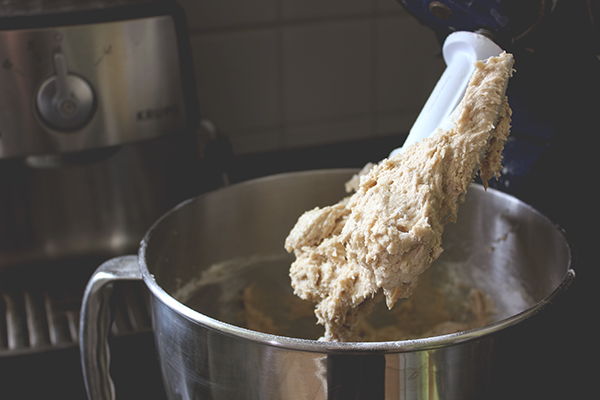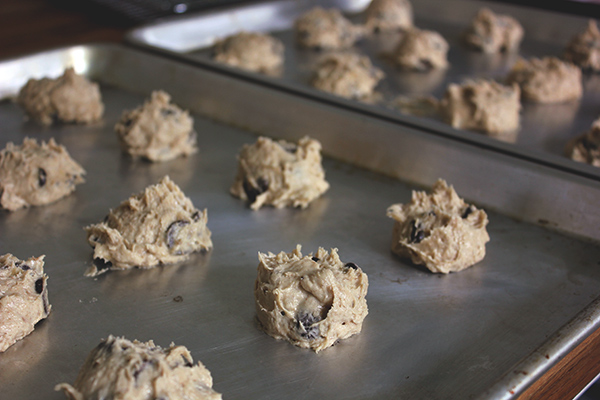 And if I can judge by the messages and emails I've received since I posted this recipe a few years back, I'm not the only one who loved them. Even back in college, the recipe for these cookies made the rounds, and since everyone graduated there's been a bit of a clamoring for it. In the chaos of graduating and moving I lost the recipe and eventually forgot about them, but a few years later they appeared in a dream (yes, really) and when I couldn't shake the memory of them I messaged someone in my graduating class who I vaguely remembered to be involved with the process. She responded with the recipe within the hour, and noted that I was at least the 12th person that year to have sent her the exact same message.
So here it is, slightly updated for clarity and ease since I first posted it in 2010. It's a fairly basic cookie, very easy to make, and wonderfully chewy and caramely-sweet, with barely noticeable hints of banana and cinnamon. And, of course, it's particularly great if you're looking for something specifically vegan.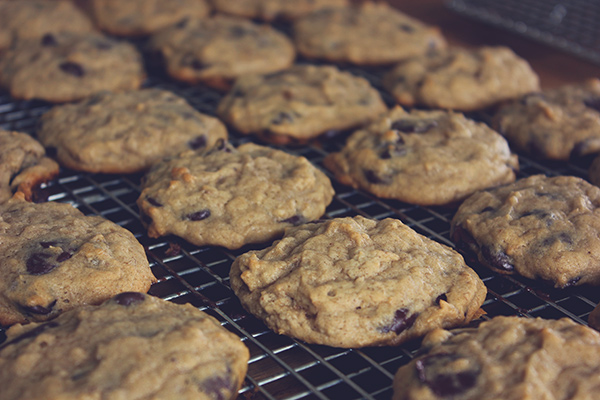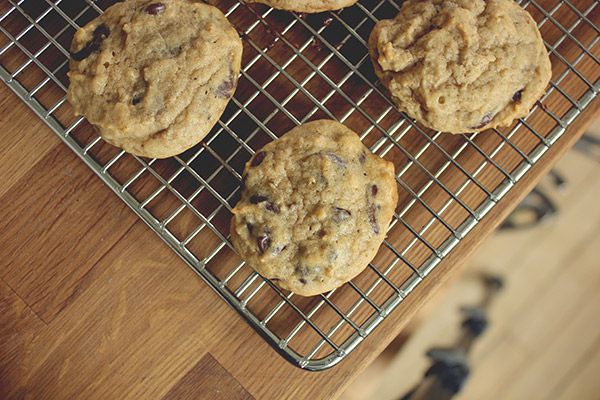 And now – if you need me, I'll be in my living room, eating cookies and time traveling.
Nostalgic Vegan Cookies

Makes approximately 36-40 2-Tbsp. cookies

3/4 cup (6 oz.) vegan margarine (e.g. Earth Balance)
1/2 cup (3 1/2 oz.) sugar
1/2 cup (3 3/4 oz.) lightly packed brown sugar (light or dark)
2-3 bananas, overripe
3 cups (13 1/2 oz.) all-purpose flour
1 1/2 tsp. baking soda
1-2 tsp. cinnamon
1/2 tsp.  salt
12 oz. chocolate chips (double-check that they're vegan, if you want to say these are vegan cookies, but most are)

– Heat oven to 350F.

– Mix wet ingredients Beat together margarine, sugars, and bananas either using a stand mixer or electric mixer on medium-high for about 2 minutes, or by hand for 3-5.

– Mix dry ingredients In a separate bowl, combine flour, baking soda, cinnamon, and salt.

– Combine wet and dry Add dry mixture to wet in three parts, mixing well to combine after each addition. It may get fairly thick after each addition, but will loosen up again as the ingredients are incorporated.

– Add chocolate chips and mix in with mixer or wooden spoon.

– Note: This is a great time to eat lots of dough. No raw eggs to worry about!

– Bake cookies Drop cookies onto baking sheets. I use a 2 Tbsp. portion scoop, which is about golf ball size. They won't spread too much, so you can fit at least 12 on a half-sheet-sized baking sheet. Bake for 12-15 minutes, rotating the sheets halfway through, or until the bottoms are golden brown. Cool.

Making ahead/storage: I've never experimented with chilling the dough before baking, but that is an option here. Baked cookies will keep well for up to 5 days at room temperature in a closed container.