Weekend Links, Jan. 21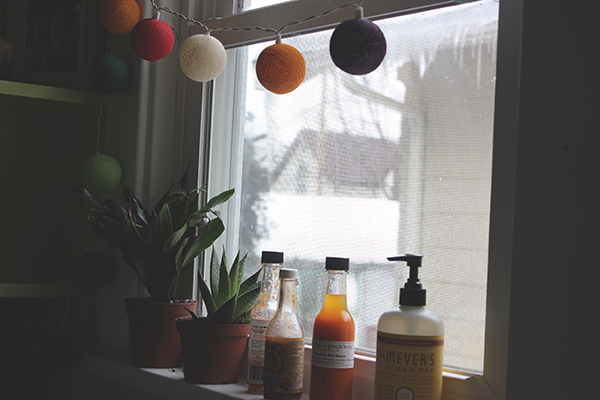 Kitchen window, snowy Monday afternoon. 
First things first – yesterday I posted an update on the famous Motley vegan chocolate chip cookie recipe. Since it was an update it won't go out to email subscribers, but you'll see it front and center right after this very post. I'm currently trying to decide whether I share the batch or keep it all for myself …
What does "natural" mean on food labels? (Spoiler: Not much.)
Clips from what appears to be a hilarious Japanese TV show in which people have to choose-by-biting which everyday items are made of candy and which aren't.
The global food crisis explained in 18 graphics.
As part of an all together fascinating project called "Artist Residency in Motherhood," a Pittsburgh conceptual artist asks mothers around the world to document their days.
And as part of my blossoming (heh heh) obsession with all things rose-flavored, these days I'm drinking this black tea with rose petals, from Oregon-based Townshend's tea. Many thanks to my mother-in-law for this Christmas gift, and to Laurel for first introducing me to it last summer.
Madison folks, here are two awesome events to look forward to: Slow Food Madison's First Annual Zymology Fest, and REAP's 7th Annual Burgers & Brew. (Full disclosure, I volunteer with or work for both of those groups.)
Brett goes back to school today and I'm headed into a work push that will last for a couple of months, and between time constraints and trying to use up our remaining few winter CSA boxes, we're trying to at least sketch out our meals for the week. As we do it, I'll be sharing in our Weekend Links post.
Smoked chicken thighs (peanut butter/curry slop), winter slaw, pinto beans
Poached chicken thighs (poached instead of grilled because we'll make a bit of stock with them), leftover pipián verde, pinto beans, corn tortillas
Parsnip gratin with poached eggs and toast
Brats and homemade sauerkraut
Breakfasts: Granola and yogurt, toast from the whole wheat sandwich bread I made last week and froze, coffee shop purchases
Lunches: leftovers or eating out
Desserts: vegan chocolate chip cookies, whole wheat apple-cinnamon hand pies
I was also hoping to get some clam chowder in this week, but since we've been trying to go out more (both to try new places in Madison and to get out of the house during the winter), we don't want to plan too much. That'll have to wait until next week …