Sauerkraut and sausage stew with dumplings
If I were to grade our adaptation to this whole winter thing, I'd give us a pretty solid A-. We've outfitted ourselves fairly well, aside from decent gloves and sufficient quantities of wool socks, and our busy schedules have distracted us from the fact that we can't go outside. We send each other and our friends pictures of our snowy faces and red cheeks and frozen neighborhood, and I've even learned how to at least partially participate when the people around me want to discuss the weather (a conversation topic I've never really understood). Warm beverages and heated rooms and a good fuzzy blanket have an entirely new appeal, and I've found myself actually loving the shock of cold air on my face when I bundle up and go out.
And while I spent most of our time in Southern California figuring out how to get as much winter-weather cooking into a few weeks of merely chilly weather, I'm now faced with the expanse of stews and roasts and hot toddies and everything else I'd been looking forward to in moving here.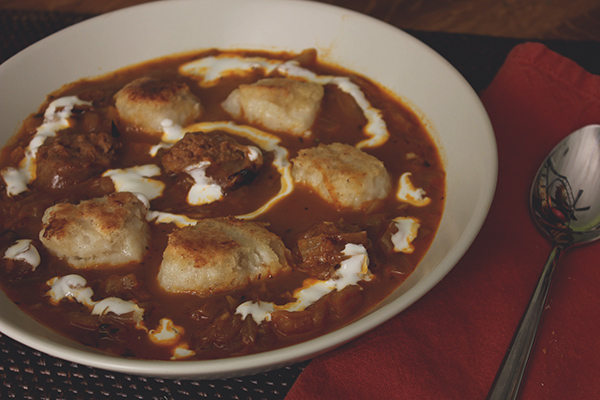 Brett made a large batch of sauerkraut back in the beginning of the winter, and since then I've been trying to come up with ways to eat it other than simply on a plate with sausages. I suppose this isn't too far from that – in a bowl with sausages, you might say – but as a stew packed with paprika, browned onions, and garlic, it certainly feels like a different meal.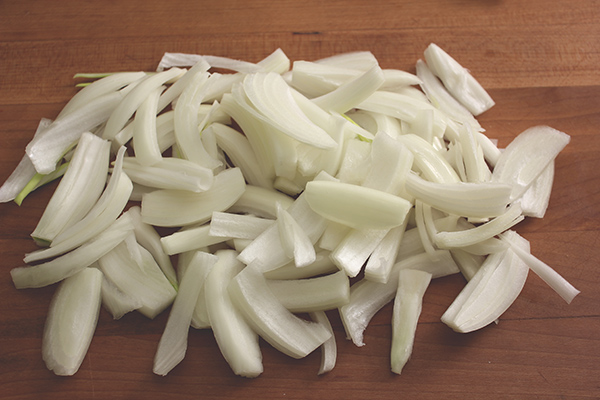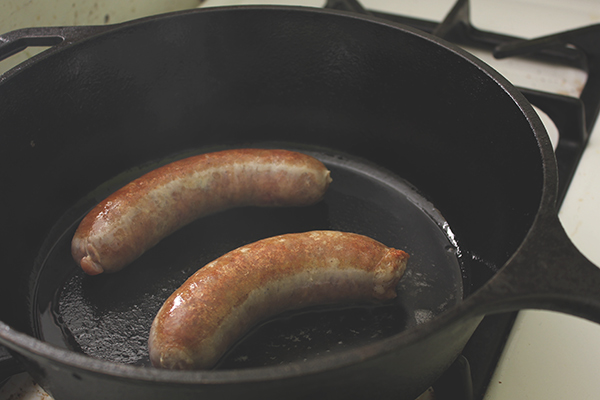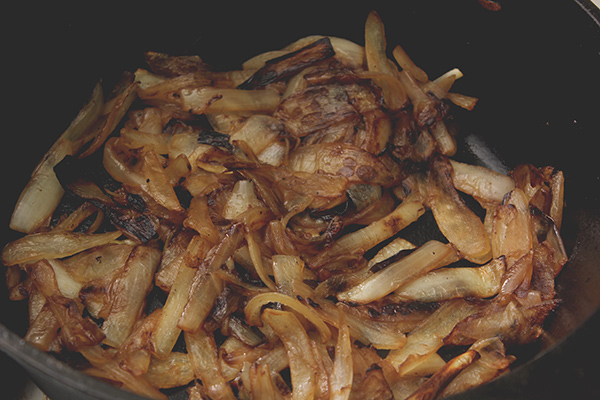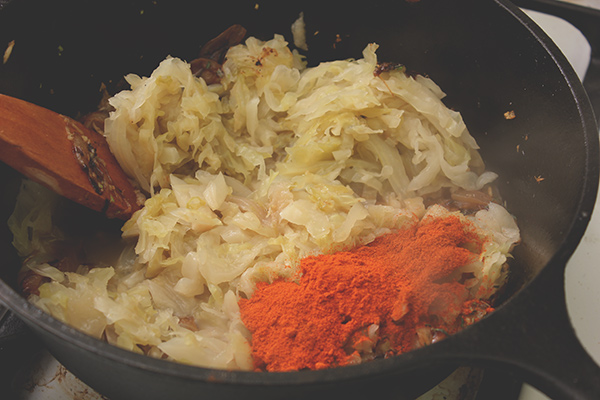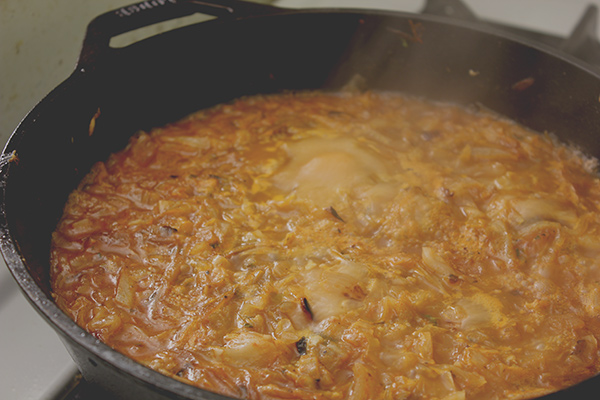 And: dumplings. Dumplings! How brilliant it is, to brown fluffy pieces of dough and put them into anything brothy. I'm not a big soup-eater, but I can't resist it when it's served with an added feature – a piece of bread topped with browned, bubbly cheese; a treasure trove of poached egg at the bottom; a puff pastry roof (particularly when that roof is cracked to pour in a floater of sherry).  And when we decided to move somewhere with a winter, I dreamt up a winter full of those meals. It hasn't happened quite as much as I thought (there are, after all, roasts and braises and plenty of other cold-weather cooking to do), but this is a pretty great start.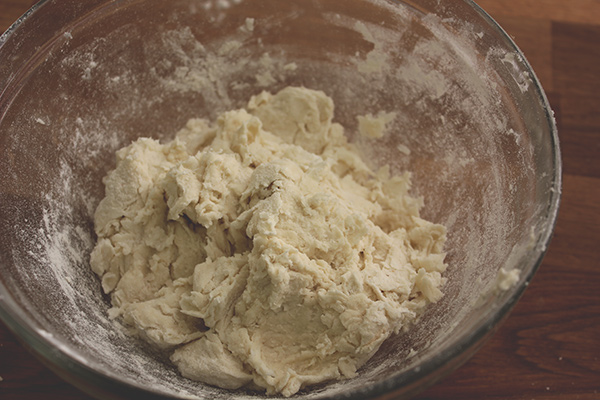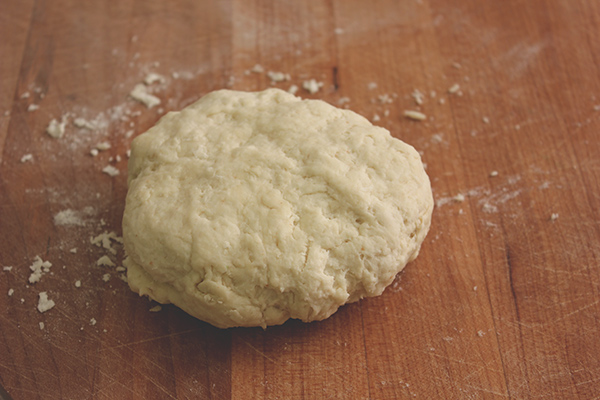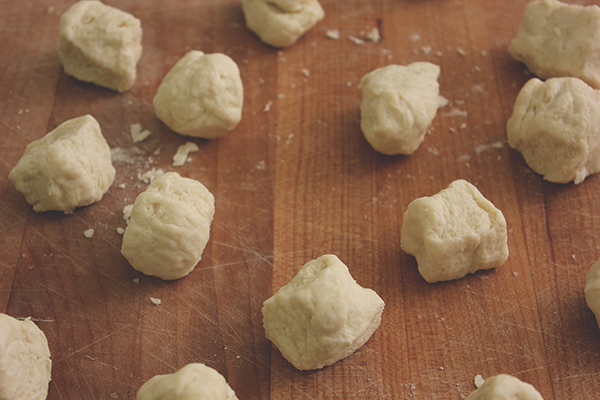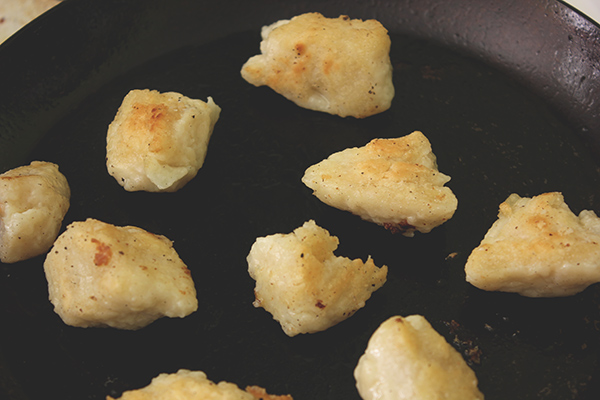 Sauerkraut and sausage stew with dumplings
Adapted heavily from Serious Eats

Serves 4, easily scalable

Note about paprika: Hungarian sweet and hot paprikas are best here, but any non-smoked paprika would suffice. If you don't have both hot and sweet but just basic "paprika," you can use 4 tsp. of that.

Note about dumplings: You can sub any recipe for the sort of dumplings you drop into a stew, if you have a favorite recipe. I've been on the lookout for a great recipe, and if I find one I like better than this one, I will sub it into this recipe.

1 Tbsp. cooking fat – lard or shortening is best, but olive oil or a combination of olive oil and butter will work nearly as well
4 sausages (I only had two on hand when I made this, but 4 would have been better) – smoked, sliceable sausage like kielbasa would be best, but a mild sausage like bratwurst works well too (that's what I used)
2 large onions, peeled and cut into crescents
8 cloves of garlic, peeled and minced
2 heaping cups of sauerkraut, drained (I ended up with about 1 lb. of sauerkraut after draining)

2 tsp. chopped fresh thyme leaves (dried thyme will suffice if needed)

2 tsp. sweet paprika
2 tsp. hot paprika
4 cups chicken or vegetable stock
Salt, to taste
Sour cream/créme fraîche/crema, for serving (plain yogurt would also work)

Dumplings:

1 1/2 cups flour
1 tsp. baking powder

1 large egg

1/2 cup water
1 tsp. salt
3 Tbsp. room temperature butter, lard, or shortening, plus another few tablespoons for browning

– Prep sausage Heat a heavy soup pot or dutch oven over medium-high heat. Add cooking fat and melt, tipping the pot to coat the bottom. If you're using a firm sausage like kielbasa, slice it diagonally on the bias into bite-size pieces. If you're using a looser sausage like a bratwurst, don't slice it. Add the sausage slices or the whole sausages to the pan with the melted fat and brown, cooking for a couple of minutes on either side. When browned on the outside, remove to a plate lined with paper towels, to drain.

– Cook onions and garlic, prep sauerkraut Add sliced onions to the hot fat in the pot and cook for 20 minutes, stirring occasionally, until slightly charred and deep brown (see picture above). Meanwhile, rinse the drained sauerkraut in a colander or mesh sieve, to reduce saltiness. When onions are done, add minced garlic and cook, stirring occasionally, until garlic is fragrant (about 1 minute).

– Add other ingredients and simmer Add the sauerkraut, thyme, paprika, stock, and sausage. Reduce heat until the contents are simmering, then leave to cook uncovered for 30 minutes, stirring occasionally.

– Make dumplings While the stew is simmering, make the dumplings (you can also do this process before starting the soup, if you want). Whisk together the flour and baking powder in a small bowl and set aside. In a medium bowl, whisk together the water, egg, and salt. Add the softened fat, then the dry ingredients. Mix together with a wooden spoon or rubber spatula until mostly combined into a shaggy dough (see picture above). Turn bowl out onto a counter top and knead lightly for a few seconds until the dough is entirely combined and more smooth (see picture above). Let rest for 10 minutes. Meanwhile, add 6 cups of water to a wide saucepan (with straight sides) or large pot and bring to a boil.

– Boil dumplings When dough is done resting, cut it into 16 pieces and roll them lightly into a round shape (I didn't do this, and they ended up oddly shaped after cooking). Add the dumplings to the boiling water, giving them enough room to expand (you may need to do this in two batches if you're not using a saucepan). Cook for at least 5 minutes, or until the center of the dumplings don't look like raw dough (remove one and cut into its center to see if it's done).  When the dumplings are done boiling, remove them to a baking sheet or large plate lined with paper towels. Use other paper towels to dry the top and sides, or leave to sit and dry. It's important the outside of the dumplings are as dry as possible, so they'll brown in the next step.

– Brown dumplings When you're ready for the next step, heat another few tablespoons of fat in a wide frying pan, preferably non-stick or seasoned iron. When the fat is melted, swirl the pan to coat the bottom, then add dumplings, leaving at least an inch around each dumpling (if they're closer together, they won't brown well). Brown on at least two sides and remove to a plate while you finish cooking the rest.

– Finish and serve soup Taste and season the soup with salt as needed. Ladle soup into bowls and top with 4 dumplings per serving. Spoon or drizzle sour cream (or alternatives) on top, depending on how thick it is.

Making ahead/storage: The stew can be made ahead and refrigerated in a covered container for up to 5 days; frozen for up to 6 months. Dumplings should be made fresh for serving.