Weekend Links, Feb. 24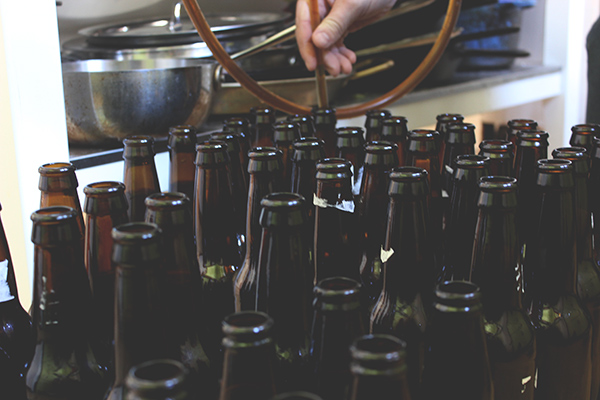 Bottling Nut Brown Ale
First, I'm very excited to share the news that Bowen Appétit was awarded silver in Best Local Food Blog in the Best of Madison survey! There are so many great winners in all the categories, and I'm honored to be among them. I love my new food community here in Madison and am excited to keep connecting and growing my efforts. Thanks to everyone who voted!
Second – as a follow-up from last week's links, I made the super-easy Water Lily cocktail on Friday night, to rave reviews. Even if you don't have violet liqueur, the gin-lemon-orange combination was wonderful, and I'm wondering why I don't see it more often.
When I realized years ago how different slow-scrambled eggs are, it was a revelation. (No exaggeration there – eggs have since become my absolute favorite food, in a variety of preparations.)
God, salt is amazing. I love talking to people about salt.
A new week, a new piece about olive oil. Here, an expert tries all the olive oils at Trader Joe's and tells you his recommendations. (His site has similar pieces about other stores, too.)
What do armies eat around the world?
Some Italian prisoners are receiving training in winemaking, and their product now sells for $95/bottle in the US. Huh.
Really enjoying these beautiful still-lifes of musicians' required backstage food. (I can't stop thinking about in what combination/order/routine Axl Rose consumes the Wonder Bread and Dom Perignon. It's bad.) The photographer has a variety of awesome food-related projects, like photos of prisoners' last meals and another series of images of high-calorie foods on fire. (Burning calories. Heh heh.)
Living through a Wisconsin winter is putting me on a bit of a health kick, for the first time ever. (Literally, the first time ever.) We'll see if I actually implement things, and if I do this salad will be an awesome place to start.
Meal plan this week (just a few dinners since I'm teaching tonight and we're headed to Chicago for the weekend):
Pasta with roasted sweet potatoes, chorizo, roasted red onions, cilantro, and chipotle cream sauce (inspired by an excellent pizza I had from Ian's Pizza a few weeks ago)
Roasted cauliflower with salsa verde (variation on this), plus goat cheese toasts and salad
Pork and napa cabbage Chinese steamed dumplings
More homemade bread with spent grains (last week's was amazing, so we're trying a new recipe)
Breakfasts: Homemade bread with butter and honey, more steel cut oats in jars (last week I posted the wrong link – I do the type where you boil for 3 minutes before putting in the jar, not the no-cook variety)
Lunches: Turkey sandwiches and a variation of that green salad I linked to above (I'm not a huge fan of raw kale, so we'll see how that goes …)
Desserts: leftover crêpes from recipe testing this weekend, Girl Scout cookies