Weekend Links, March 3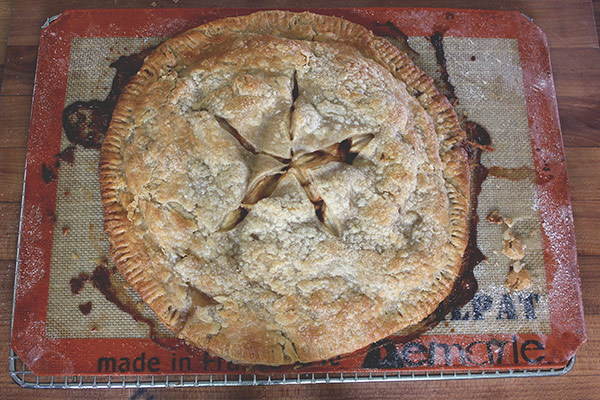 Double-crust pear galette, last week
A good overview of the proposed tweaks to nutrition labeling. A good start, though there's still a lot of work left to be done.
I will never order a small pizza ever again.
Perfect timing – you can make some homemade ricotta and then use it in this sandwich, which has been haunting my food daydreams this week.
Also perfect timing, after I spent some time in my class last week telling my students why I don't use pepper as a default in the same way I do salt, three articles exploring that very thought (1, 2, 3). "Why, too, do so many recipes invite us to season 'with salt and freshly ground black pepper' upon completion? Why isn't it salt and cumin, or salt and coriander, with every dish in the Western canon? What's so special about pepper anyway? Perhaps it's time to rethink the spice."
I haven't quite jumped on the drinking vinegar/shrub bandwagon, but I will definitely try this new brand coming out of Madison and this shrub-inspired cocktail with grapefruit juice and apple cider vinegar looks really, really good.
Why do we accept the "pseudoscience" of health foods?
I wish I knew more about the nature of the restaurants on Yelp's recently-released "Top 100 Places to Eat" list, which compiles the 100 restaurants across the country with top reviews. Looks like quite a range, and I wish I knew more about the patterns among them – good service? good food? good ambiance?
I should do a post like this one sometime soon. What are the things I always buy? I've been meaning to do a "Stocking the Pantry" post for a while, in the same vein.
A couple of great tips for inventing new cocktail recipes.
Speaking of which, we often start with our favorite cocktail recipes and make adjustments. Here's an overview of some interesting Manhattan variations (granted, some are a little fancy for a home bar).
This week's meal plan:
Wild rice gratin with kale, caramelized onions, and mushrooms, topped with poached eggs
Baked macaroni and cheese with peas, roasted onions, and bread crumbs
Eggs poached in thawed lentil-sweet potato stew, plus thawed Tartine-style bread with spent grains
Breakfasts: more overnight steelcut oats in jars, yet again (I'm thinking maybe toasted coconut and nutmeg this week?)
Lunches: A second round of adapting this salad, which was absolutely wonderful last week alongside bread with butter or crackers with cheese
Desserts: Either whole wheat trail mix cookies or my favorite oatmeal-maple cookies. Or both.
Drinks: I'm really excited to try out that grapefruit-vinegar cocktail I linked to above, and I'd like to play with a cardamom old-fashioned after having something like that at a friend's house on Saturday