Cardamom Old Fashioneds, adjusting old favorites
I had a lot of grand plans to write a post tonight about how I develop and test cocktail recipes. I was going to talk about ratios of ingredients and categorizing types of drinks and where to get inspiration and all sorts of other helpful tips and guidelines. But it's been a surprisingly long week, especially considering it's only Tuesday evening, and I'm ready to head on into the relaxation part of the evening. Apologies.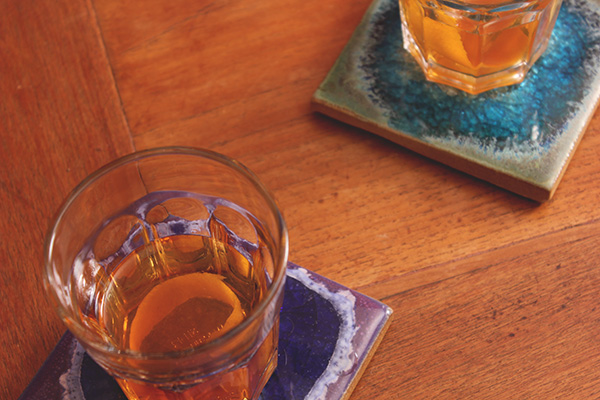 I will say this, though – flavoring simple syrups is one of the easiest and most adaptable ways to play with cocktails, and it's a method I rely on a lot when I'm thinking about new flavor combinations. The inspiration for this one came from a drink we made in Chicago last weekend, visiting a friend who is experimenting with making homemade bitters. (Hi, Todd!) After dinner on Friday we explored a bit with his bottles and jars of extracts and put together a drink resembling an Old Fashioned with rye, cardamom extract, bitters, and a bit of sugar. The combination of cardamom and rye was smooth, sweet, and warming, a completely natural extension of the flavors in both, and I knew I'd want to continue playing around with the idea when we came home.
We don't have the extracts at home and I know not everyone will want to embark on that project, but because there's already sugar in an Old Fashioned, it's easy to add flavors by way of an infused simple syrup. I made this batch double-strength (2 parts sugar to 1 part water) since I didn't want to add too much extra liquid to the drink, and after a bit of taste testing decided that a lemon twist garnish added a lovely bit of acidity to balance out the caramel and spice flavors. A splash of orange liqueur is a great addition if you want something slightly sweeter, and a splash of soda water would be lovely as well, should you like your Old Fashioneds that way.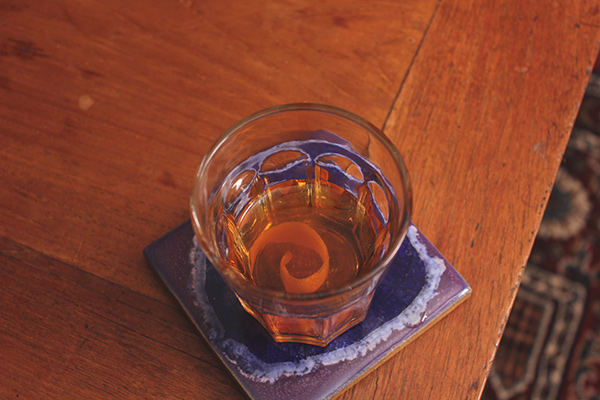 Cardamom Old Fashioned

Makes 1, easily scalable

2 oz. rye whiskey (bourbon or brandy will work here as well)
1 1/2 tsp. double-strength cardamom syrup (see recipe below)
1-2 dashes bitters
Splash or soda water and/or orange liqueur, if desired
Strip of lemon peel, for garnish

– Combine ingredients and serve Stir rye, cardamom syrup, and bitters in a cocktail glass, plus soda water and/or orange liqueur, if desired. Add ice, if you like, and garnish with a strip of lemon peel.
Cardamom simple syrup, double-strength

Makes about 1 pint

2 cups sugar
1 cup water
5 cardamom pods

– Make syrup and cool If you have a mortar and pestle, pound the cardamom pods briefly to break them apart. If not, that's okay. Heat sugar, water, and cardamom pods over medium-high heat in a saucepan or pot. Heat until boiling, stirring occasionally, until the sugar is dissolved and the mixture is completely clear. Let sit off heat until room temperature. Strain through a sieve to remove cardamom pieces, or remove them by hand with a spoon.

Making ahead/storage: Cardamom simple syrup can be stored in the refrigerator for up to 1 month.