Mohnkuchen, Austrian poppy seed cake
Everyone's getting a little excitable around here. A few days of above-freezing temperatures has turned a collective just-this-side-of-desperate sense of downtrodden winter defeat into a somewhat crazy-eyed and suspicious exuberance. Folks know full well that these conditions won't last forever and seem to be steeling themselves for the emotional roller coaster otherwise known as spring, but it's the first sign that things will get better, and that's notable. I'm mentally making lists upon lists of the things I will cook when the outdoor market returns and the selection at the grocery looks a little more lively, and I've never felt the inspirations of seasonality as much as I do living in the Midwest in late winter.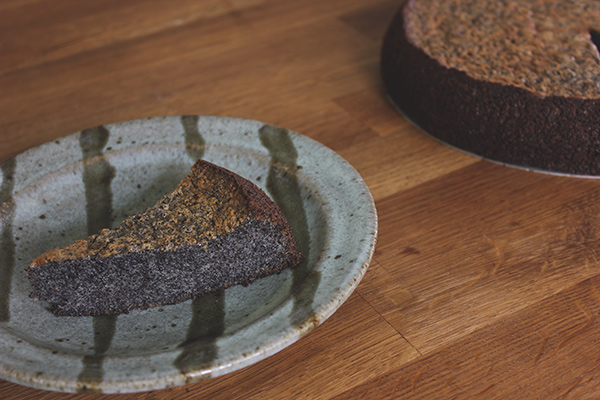 There's something about this poppyseed cake that makes me think of spring. Perhaps it's that our love of this cake is deeply rooted in our love of Austria, and both times we've gone to Austria it's been on that cusp of late spring/early summer, both times over our wedding anniversary, both times when we've desperately needed a little refreshing. It's one of the more rustic Austrian desserts and we saw it most often on the menus of Heurigen, the wine taverns that are so central to the Austrian sense of Gemütlichkeit.Versions differ slightly from place to place – some have streusel toppings and a shortbread base (the more German-style Mohnkuchen) or some sort of glaze or frosting. But all feature a base of poppy seeds ground into a texture similar to wet soil, nearly paste-like and colored midnight blue. Where in the United States poppy seeds are generally included in a recipe for appearance or texture or a slight flavor addition, in this cake the poppy seeds are the appearance, the texture, and the flavor. The cake is intoxicatingly dark in hue and flavored intensely of poppy seeds – nutty and slightly floral. The texture is toothsome, but with only the hint of the crunch you normally get with whole poppy seeds. It's unlike any traditional American dessert I've had, and has become one of our absolute favorites to make.
The Mohnkuchen recipe we love also just happens to be gluten-free, which makes this a unique and interesting dessert option for those who can't eat flour-based cakes. One of our best friends here in Madison can't eat gluten, and we're always happy to find new desserts to share with her (not that she needs me to bake for her – everything she's brought over from her home kitchen has been amazing).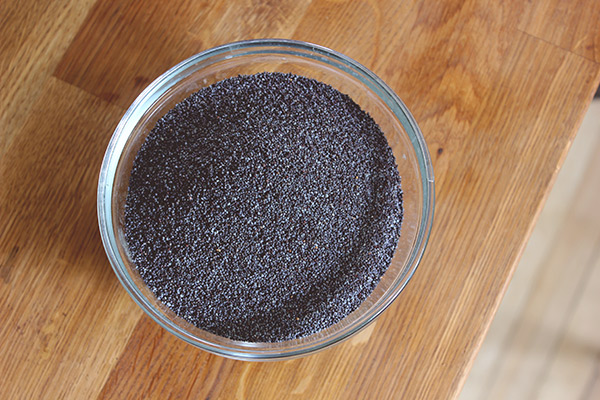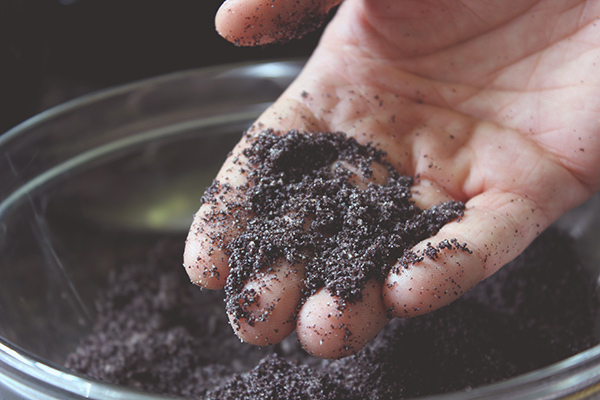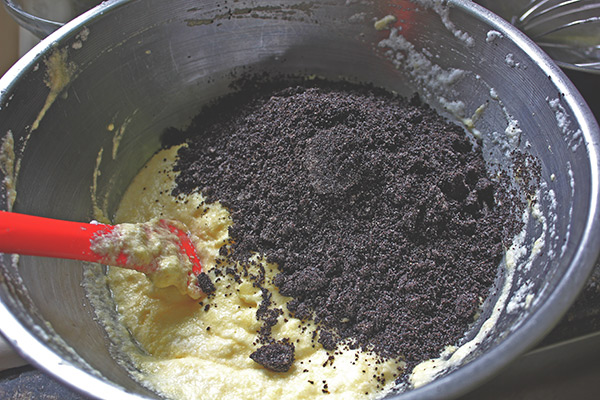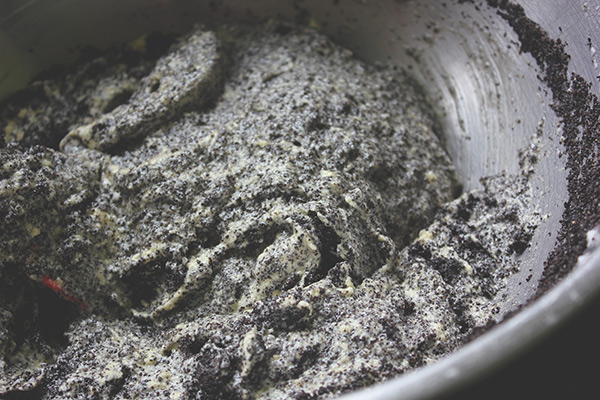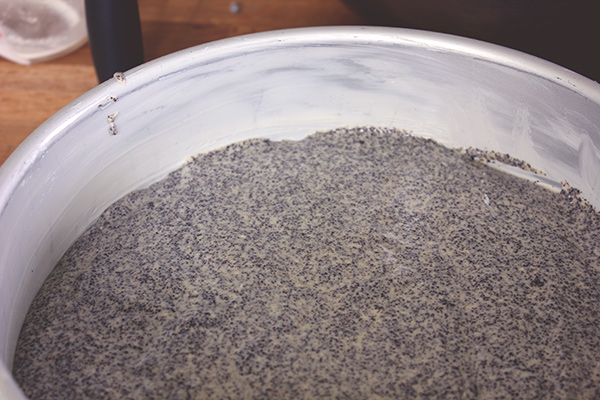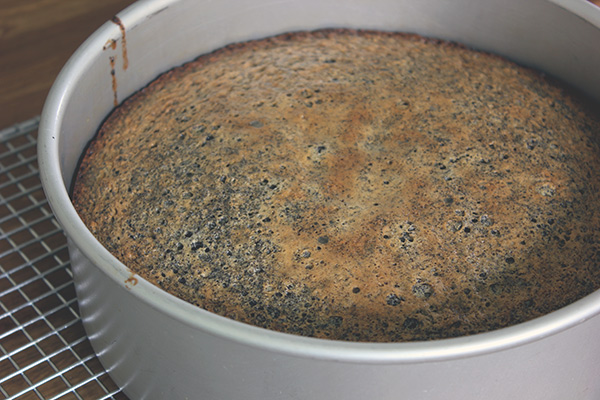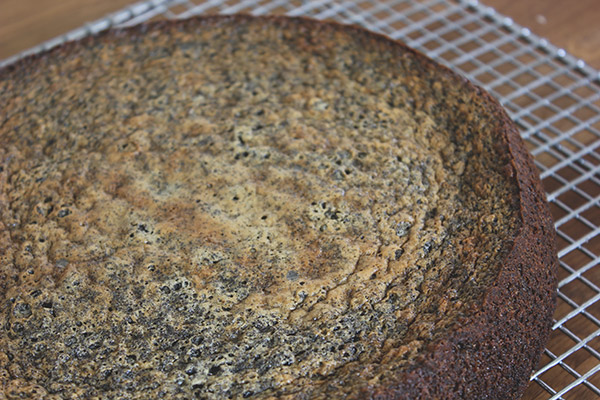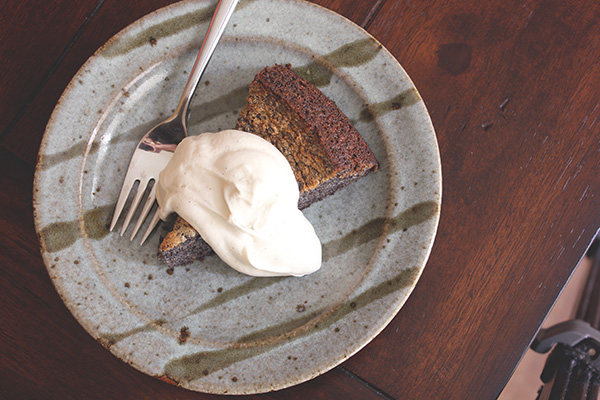 And one last thing – I've just posted three new classes in Madison for April and May, which you see on the Classes + Events page. I'm still on the lookout for new venues so I can be offering classes more often, but it's a good start for the spring! I put together three very spring-inspired menus, perfect for entertaining and home meals as the weather gets warmer. (Update: two are already sold out! But there are a few spaces left for the Elegant Spring Dinner Party class, which happens to be vegetarian.)
Mohnkuchen (Austrian poppy seed cake)
Adapted from this recipe

Makes about 12 moderate servings

Note: This recipe is definitely better with higher-quality, fresher poppy seeds. Most grocery store options will work just fine, but if you can get them from a nice spice shop like Penzey's or an ethnic food store with high turnover on spices and seeds, even better.

1 3/4 cups (9 3/8 oz.) blue or black poppy seeds
10 Tbsp. (1 1/4 sticks or 5 oz.) butter, room temperature
5 eggs, separated
1 cup (7 oz.) sugar
Pinch of salt
1/2 cup (4 oz.) heavy cream
2 tsp. vanilla
Whipped cream, Greek yogurt, or ice cream, for serving

– Heat oven to 350F.

– Prepare a 9-inch round pan by buttering lightly. A springform or removable-bottom pan is best here, but a regular cake pan would likely work okay.

– Grind the poppy seeds into a coarse paste, similar to the texture of wet soil or sand. I've found that a coffee/spice grinder or a powerful blender like a Magic Bullet or Vitamix works the best for this. If you're having trouble, add a small bit of water or other liquid and that may help get the grinding process going. You don't need a very find grind here, and you don't have to be incredibly picky. It will alter the texture of the cake a bit, but as long as the vast majority of the seeds have broken down somewhat, you should be okay.

– Beat the butter and eggs Beat the butter with a stand mixer or handheld mixer on medium-high until completely smooth, about 1 minute. Keeping the mixer on, add the egg yolks one at a time and continue beating for 2 minutes after the addition of the last yolk. Add the sugar and beat in until incorporated.

– Beat the egg whites If using a stand mixer, completely clean the butter mixture out of the bowl and put into a medium mixing bowl. It's important you wash the bowl with soap and water to remove all traces of fat, or the egg whites won't beat. (If you have a second mixing bowl, utilize that for the egg whites). If you're using a handheld mixer, simply wash the beaters. Beat the egg whites with a pinch of salt until they form soft peaks.

– Combine and add remaining ingredients Stir about 1/4 of the beaten egg whites into the butter mixture. (This helps lighten the mixture so that it can be more easily integrated with the rest of the egg whites.) Now fold the rest of the egg whites into the batter, trying to work them as little as possible. Fold in the poppy seeds, then the cream and vanilla.

– Bake Spread the batter evenly in the pan and bake until the cake is puffed and golden brown, about 40 minutes. The middle should feel somewhat dry but pressing lightly in the center may leave a slight indent. Let the cake cool in the pan on a wire rack for at least 15 minutes. The sides of the cake will likely pull away from the pan and the top will deflate slightly – this is fine. Depending on the pan you've used, you can either remove the bottom of the pan from the sides or invert the cake onto a wire rack or serving platter and then again to make it upright again.

– Serve the cake, preferably with whipped cream or ice cream or something similar (though I can attest that on its own it's perfectly fine, too).

Making ahead/storage: This cake lasts well at room temperature for up to 5 days. The edges may dry out a bit, but you can always cut those away if you want. I'm guessing this would also freeze (up to 3 months) and thaw well wrapped in plastic wrap and then foil, though I haven't tried it.