Grilled mozzarella, prosciutto, and ramp pesto sandwiches
Update: I've received a few comments/emails/phone calls asking me what the heck ramps are. I should have known better, having recently migrated from the West Coast where ramps are basically nonexistent. For most of the rest of the country, though, the painfully-short three-week ramp season is a thing to anxiously await – because of both how incredibly delicious this rare, wild ingredient is and how it acts as a harbinger of warmer conditions. I haven't experienced a day in the last two weeks where I haven't heard someone talking or read someone writing about ramps, and restaurants around here are featuring them in everything possible. It's somewhat surprising, then, how difficult of a time I had finding a good overview on the web. Here's the best I could come up with, plus a history of their popularity here. 
I'm fairly new to this whole ramp thing – they didn't really exist in Southern California – but I'm scrambling to do as much as I can with them during the short period of time they're here. Last week I chopped some finely, sauteed them in butter, and folded them into some spätzle with a bit of pumpkin seed oil, which was very Austrian and very delicious. On Sunday, I sauteed them in olive oil, whirred them together with lemon and Parmesan, and spread it on sandwiches with some fresh mozzarella and a few slices of prosciutto, which were pressed and grilled in a skillet. A wonderful spring dinner, and one I want to remind myself about for when the time comes again next year.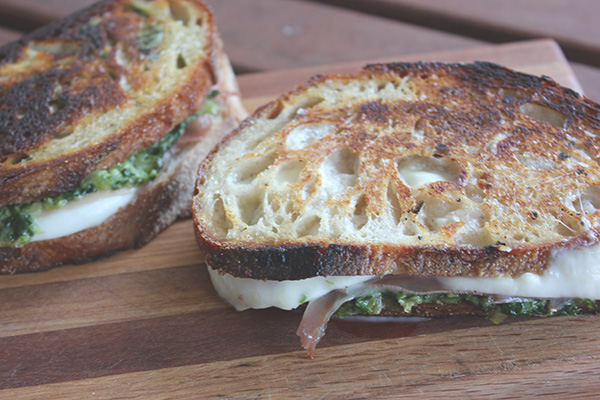 When you cook with ramps, choose preparations that won't overwhelm them much in flavor. Let them shine! After cleaning them, separate the flesh and the greens and sautee the flesh separately for a few minutes before adding the greens just to wilt. If you don't have a food processor, mortar and pestle, or other similar piece of equipment, chop the ramps very finely before cooking and whisk everything together in a bowl. It'll be a bit more rustic, but that's perfectly fine.
For the sandwiches, spread a thick layer of ramp pesto on one slice of bread. Top with prosciutto and thick slices of fresh mozzarella. Sprinkle on a bit of salt and top with another piece of bread. Sautee each side in a pan with olive oil and/or butter until the bread is toasted and golden brown and the cheese has softened and begun to melt.
Sauteed ramp pesto (nut-free)

Makes about 1/2 cup (enough for 4-5 sandwiches)

Note: This is a nut-free pesto because of my nut allergy. You can add up to 1/2 cup walnuts, pistachios, pine nuts, almonds, or other nuts for a more traditional pesto.

1 bunch ramps
1/4 cup olive oil, plus more as needed
Zest of 1/2 medium or large lemon
1-2 Tbsp. lemon juice
1 moderate handful grated Parmesan (somewhere around 1/2 cup)
1 tsp. salt, plus more to taste

– Cook the ramps Separate the bulbs and greens on the ramps. Roughly chop each group separately. Coat a small skillet with a bit of the olive oil and heat over medium-high heat. Sautee the chopped ramp bulbs, adding a pinch of salt, until they begin to tenderize and become fragrant. Add the greens and stir for a few seconds until the greens wilt. Turn off the heat.

– Process all ingredients together Transfer the cooked ramps to a food processor, mortar and pestle, or other piece of equipment. Add the rest of the oil, the lemon zest and juice, the salt, and the Parmesan. Process or mash together until smooth, adding more oil as needed to get a smooth, spreadable consistency. Taste and adjust lemon and salt as needed.

Making ahead/storage: Pesto will keep for up to 3 days stored in a covered container in the refrigerator. Salt and lemon may need to be adjusted and flavors meld and settle.