Sweet potato gratin w. Thai chilies, pepitas, and cilantro
Don't fault me for two sweet potato recipes in a row. When you're trying to focus on local ingredients during the winter in the Midwest (and when – shhh – I'm not the biggest potato enthusiast), sweet potatoes are going to show up fairly often. And I'm not too upset about that, at least at this point (ask me again in March).
A few weeks back I described this recipe to someone as my "it" recipe this season – when people have asked me for recipe recommendations lately, this is always at the top of my list. When we met up with some friends at a lake house earlier in the fall, I made this. When we had a "friendsgiving" in Brett's program, I brought this. When we made our own little repeat Thanksgiving dinner so we could have leftovers (you know what I'm talking about), I made this.
Sweet potato gratin with goat cheese, Thai chilies, toasted pepitas, and cilantro. Beat that.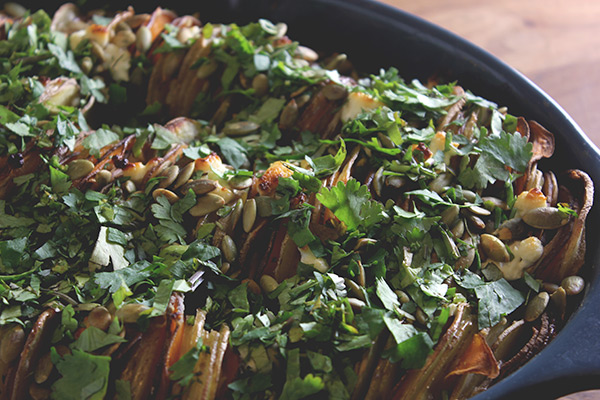 If you're a fan of Yotam Ottolenghi's books (if you're not, you're either not aware of him or we need to have a little talk), you'll recognize the basic structure of this gratin from Ottolenghi, where there's a recipe for a basic sweet potato-sage gratin with garlic and a hearty amount of sage. Cutting the potatoes thinly like this and standing them on edge make for deliciously crispy, chewy, caramelized edges, and it's brilliance.
You may also recognize signs of another Ottolenghi recipe here, from that same book's sweet potato galettes with Thai chilies, pepitas, and cilantro. That's no coincidence. After a few rounds of both the gratin and the galettes, I couldn't stop thinking about the combination of the two – the brilliant structure and process of the former, and the vibrant flavor combination of the latter.  So I put them together and, if my friends' reactions are any indication, it worked (understatement of the year).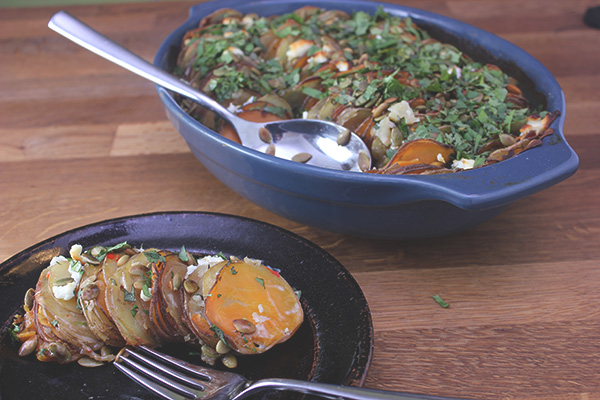 If you don't have a mandoline slicer, use your best knife skills to slice as thinly as you can – consistency is more important than thickness. Thicker slices will take longer to bake, but that's just fine. And one more note – you're welcome to use only sweet potatoes here, or the combination of sweet potatoes and regular potatoes that I used here. If you do use some non-sweet potatoes, try to find the waxiest varieties you can. In the pictures above I used a slightly drier, starchier variety, and they ended up absorbing more of the liquid than I was used to (there's usually more deliciously-thickened and seasoned cream coating the gratin).
Sweet potato and red potato gratin with chili, chevre, and pumpkin seeds

Makes 6-8 servings, easily scalable

Note 1: Try to select a baking dish that will be large enough to hold all of the potato slices upright on their edges, packed in tightly. For reference, a 9" square baking dish just about right (maybe a little small) for the quantity below (excess potatoes can be discarded or used other ways), and a shallow pan with a volume of around 2 1/2-3 quarts should work well. If your pan is too big, you can flay out the rows a bit so you see more of the face of each slice – perfectly delicious, though the edges won't get as crispy.

Note 2: Choose the fattest, thickest sweet potatoes you can find for larger slices, and try to select ones with all about the same circumference.

2 lbs. potatoes, the waxier the better, sliced 1/8" thin (mandoline works best here)
2 lbs. sweet potatoes, sliced 1/8" thin (mandoline works best here) (or omit the potatoes and use 4 lbs. of sweet potatoes)
8 cloves garlic, finely chopped
2-3 Thai chilies, finely chopped (1 jalapeño or 1/2 serrano pepper will work as well – or adjusted for spice level)
1 Tbsp. salt
A bit of butter, for greasing the pan
1/2 cup cream
3 oz. chevre-style goat cheese
1-2 small handfuls pumpkin seeds, toasted (directions below)
Large handful cilantro leaves and stems, roughly chopped

– Heat oven to 400°F.

– Bake potatoes, round 1 Combine sliced potatoes, garlic, chilies, and salt in a large bowl and mix until somewhat combined, shuffling together the red potato and sweet potato slices. Generously butter a baking dish and stack potatoes on their edges into the pan, tightly packing them in rows or rings. Tuck excess garlic mixture between the potatoes. Cover tightly with foil and bake for 45 minutes.

– Bake, round 2 Remove the foil from the pan, pour over the cream, and scatter crumbles of chevre across the top. Bake for another at least 25 minutes, or until the slices of potato are tender (use a small, sharp knife to test). If your slices are fairly thick, this can take up to an additional 20 minutes. If the chevre starts to brown too much before the potatoes are done, recover with foil and continue baking.

– Serve and garnish Let the dish cool at least 10 minutes before serving – the gratin will be quite hot! Either scatter the pumpkin seeds and chopped cilantro over the top, or provide them in bowls for people to scatter on their own servings. (To toast pumpkin seeds, cook them in a dry pan over medium-high heat, stirring or tossing frequently, until beginning to brown and pop. Seeds can be toasted up to a few days ahead.)

Making ahead/storage: Leftovers will keep well without the pumpkin seeds and cilantro, covered in the refrigerator for up to 5 days. The entire dish can be reheated in a 300°F oven, covered with foil.